Kadri's All-Star play, Laine-Dubois deal revisited, and fighting's resurgence
Michael Martin / Getty Images
What's driving Nazem Kadri's outsized production this season?
"Everyone keeps asking me that, and I'm not exactly sure how to answer," the Colorado Avalanche center told theScore earlier in January.
Kadri has erupted for 51 points in 35 games to rank fifth in points and fourth in points per game among all NHLers. He's already set a career high in assists with 36. After some prodding, the vote-in All-Star offered a few thoughts on why he's enjoying a career year at age 31 in his 12th NHL campaign.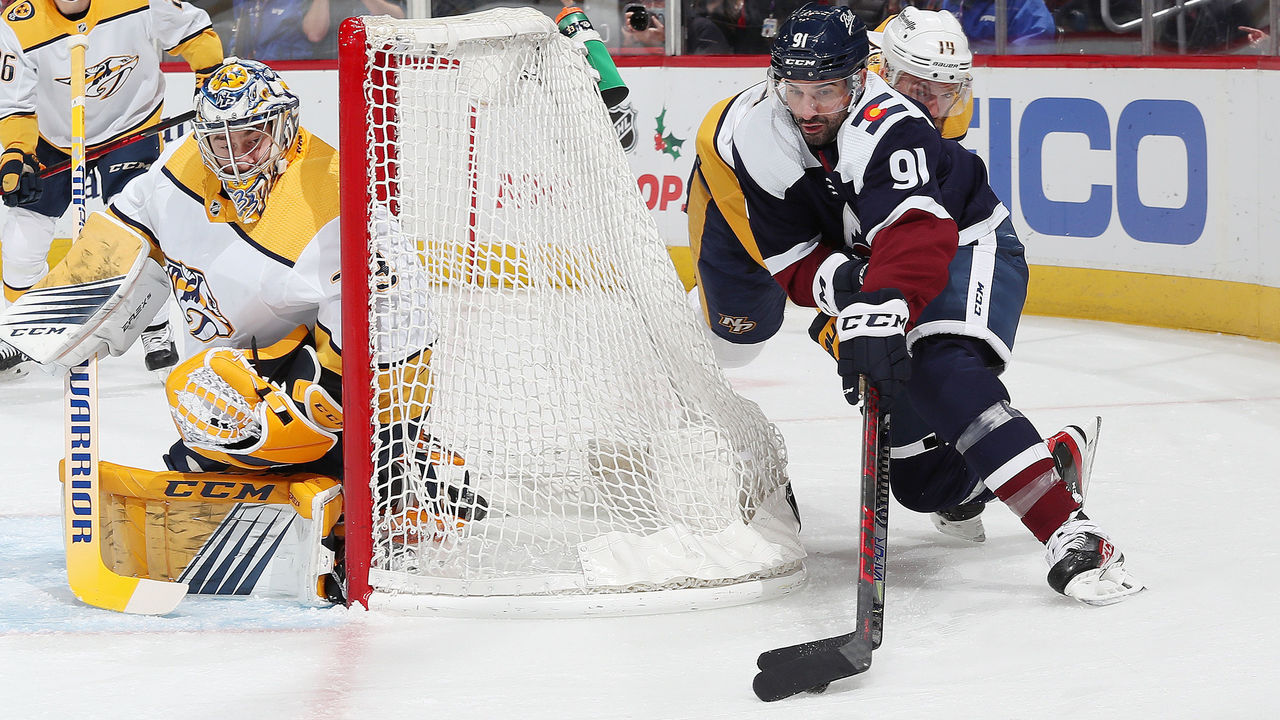 First, Kadri noted, Avalanche head coach Jared Bednar truly believes the forward is a "difference-maker" and "game-changer." That faith has seen Kadri average a career-high 18:50 of ice time per game alongside a group of wingers with complementary skill sets - Andre Burakovsky on the left side and Valeri Nichushkin, Logan O'Connor, or J.T. Compher on the right.
Secondly, Kadri believes his skating has never been this explosive, his shot has never been this accurate, and his release has never been this quick. Interestingly, unlike virtually all of his peers, Kadri opted not to work with a skills or skating coach this past offseason - a departure from previous training habits.
"I've been doing this for a long time, and at some point, you start to understand your body and what you need and certain drills that work for you," Kadri said of his offseason training regimen, which featured regular skates with NHLers. "I try to apply that mentality to each and every practice, and it seems to be paying off."
My two cents: There appears to be finer precision in Kadri's game this season. His timing around the puck has been just right, and he seems to activate "attack mode" - angling to the net intent on scoring, marching through the neutral zone with purposeful strides, etc. - more frequently.
Kadri admitted to entering 2021-22 with "a bit of a chip on my shoulder." He was suspended for eight games last postseason after delivering a blindside hit on Justin Faulk in Game 2 of Colorado's first-round series against the St. Louis Blues. The Avalanche were eliminated before Kadri returned from his sixth career suspension - and third during playoff action - so he sagged into the offseason with his approval rating at an all-time low.
Among the criticisms - most of which were fair, given Kadri's suspension history - was a scathing Denver Post column. It ran under the headline, "Avalanche should cut ties ASAP with cheap-shot artist Nazem Kadri."
"Stupidity," Mark Kiszla wrote, "is a drug Kadri can't quit. The Avalanche gave him a second chance after he wore out his welcome in Toronto, but general manager Joe Sakic would be foolish to think Kadri is capable of meaningful reformation."
Needless to say, Kadri's career year couldn't have come at a better time for his reputation or his wallet (he's a pending unrestricted free agent).
"And those people aren't so loud now," Kadri said, talking in general terms about his critics. "It's funny how that works. All of those naysayers come out after something like that (Faulk hit) happens, then you have a big performance, and everyone kind of fades away. For me, that's fuel to the fire. I want to be able to make these doubters look like fools."
Kadri has one thing left to prove: That he can play smart and continue this level of production - or some variation of it, anyway - over a long playoff run.
Revisiting Laine-Dubois trade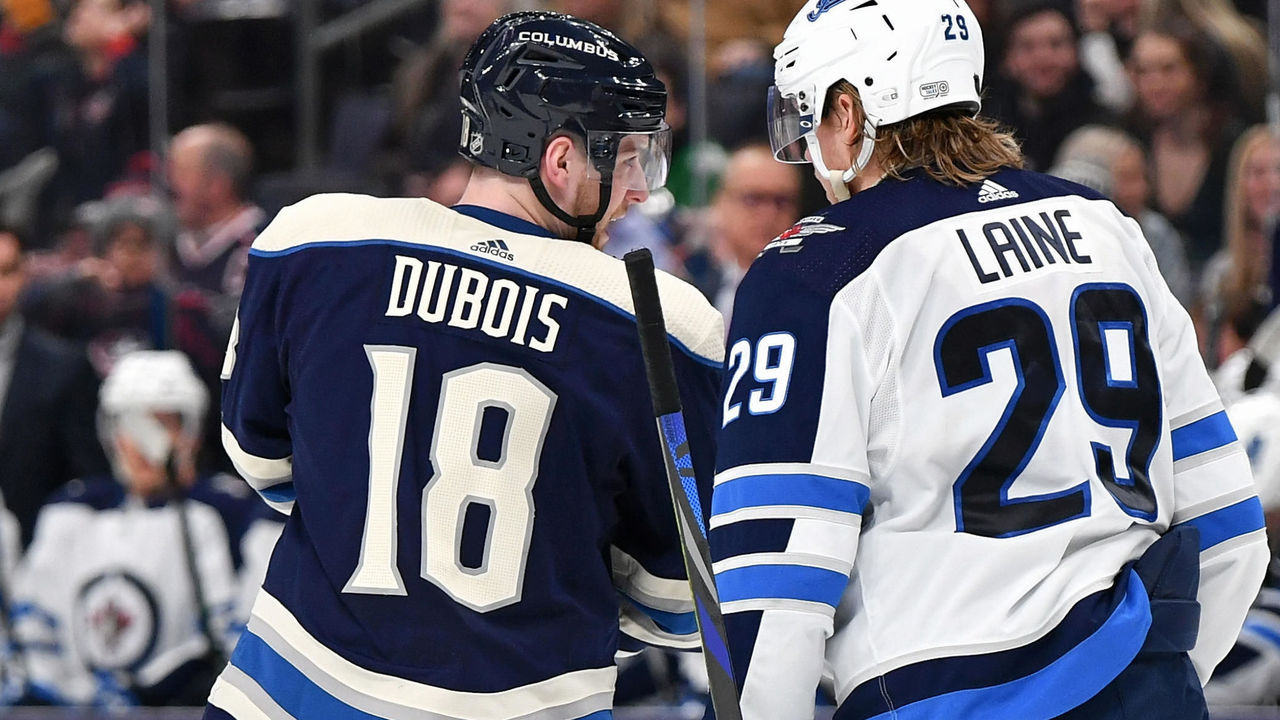 Sunday marks one year since the Winnipeg Jets and Columbus Blue Jackets swapped struggling, unhappy young forwards in a blockbuster deal. Center Pierre-Luc Dubois and a 2022 third-round draft pick went from Columbus to Winnipeg, while winger Patrik Laine and center Jack Roslovic went the other way.
It was hard to crown a winner at the time. Would the change of scenery help Dubois return to the trajectory of an elite two-way center? Would it help Laine rediscover the sharpshooting magic that allowed him to score 80 goals in his first two NHL seasons?
Even after a year, neither question has been answered fully - though Dubois is certainly closer to his ceiling than Laine is to his. (Roslovic's play, meanwhile, hasn't tipped the value of the trade beyond the future value of that third-round pick.) So, Winnipeg has made out better in the trade, but it hasn't necessarily hit a home run.
The 2020-21 season was disastrous for both Dubois and Laine. Quarantines, injuries, and the complications of joining a new organization contributed to the worst season of each player's career. The separator, then, is Dubois' strong performance so far in 2021-22:
Points aren't everything, especially for two 23-year-olds aiming to round out their respective games (more offense for Dubois, more defense for Laine). But the eye test and statistics both show clearly that Dubois has had a greater impact in all three zones of the ice. In fact, he's arguably been the Jets' best forward behind Kyle Connor.
Context is key, of course, and observers can't ignore what Laine has endured. The Finn suffered an oblique injury in early November. While he was sidelined, he traveled home to say goodbye to his father, Harri, who died on Nov. 21.
On the ice, Laine has mostly had weaker linemates than Dubois. The pairing of Boone Jenner and Jakub Voracek doesn't quite stack up to a duo of Connor and one of Nikolaj Ehlers, Evgeny Svechnikov, and Andrew Copp.
That said, the results at the one-year mark speak for themselves, and the Jets have squeezed more on-ice value out of the trade than the Blue Jackets.
It's probably best to judge trades five years after they occur, so we'll see how the next four seasons unfold. Laine and Dubois are both restricted free agents this summer and set to hit unrestricted free agency in 2023 and 2024, respectively.
Fighting numbers up
After watching Nicolas Deslauriers and Kurtis MacDermid throw down during Colorado's game against the Anaheim Ducks on Wednesday, I wondered if the recent rush of tilts I've seen was a trend or coincidence.
There have been 0.5 fighting majors per game this season, up from 0.46 in 2020-21. So, a small increase. But what about the per-game averages each season since 2010-11?
Fighting decreased significantly in the 2010s; the NHL went from an average of one fighting major per game to one roughly every three games. Over the past two seasons, however, the per-game average has crept back up.
Some theories as to why this may be: first, players are human, and some pandemic-related angst has been spilling onto the ice; second, empty or half-full arenas tend to breed energy-boosting acts - such as starting a fight; third, the addition of a 32nd team created 23 new roster spots league-wide, and some of those spots have been filled by less skilled, fight-happy players; fourth, there's been a small-scale swing back in the direction of brute physicality after a decade of obsession over skill and speed.
Though a span of last year's shortened season and this year's first half doesn't constitute a legitimate big-picture trend, the uptick in fighting is something to keep an eye on. As for the busiest fighters thus far, here's the leaderboard: Liam O'Brien (Arizona Coyotes, eight majors), Tanner Jeannot (Nashville Predators, eight), Mark Borowiecki (Predators, six), Deslauriers (Ducks, six), and Jacob Middleton (San Jose Sharks, six). Nashville has been particularly pugilistic with 27 fights, well ahead of second-place Arizona's 18.
Parting thoughts
Eastern playoff picture: The Eastern Conference standings are comically lopsided right now. Eight teams - four from the Atlantic Division, four from the Metropolitan - are firmly in playoff position with points percentages between .750 (Carolina Hurricanes) and .646 (Washington Capitals). From there, it falls off to .513 (Detroit Red Wings), .500 (New York Islanders and Blue Jackets), and so on. In other words, don't expect any thrilling playoff races out east.
Ryan Hartman: It sure looks like the Minnesota Wild have found Kirill Kaprizov's long-term center in Hartman, who thinks the game well, plays with an edge, and can really pick a corner. Hartman, 27, is a journeyman of sorts, having played for three NHL teams before joining Minnesota in 2019. The native of South Carolina has 16 goals and 14 assists in 35 games this season and carries a $1.7-million cap hit through 2023-24. He's a rare breed, too: a forward who's successfully moved from the wing to center. It's usually the other way around by the time a player reaches the best league in the world.
Montreal Canadiens: New Canadiens general manager Kent Hughes faces a unique challenge. His club isn't devoid of talent or weighed down by a bunch of immovable, albatross contracts. No, Montreal's roster is littered with guys who are in or around their prime, have been injured or haven't played well of late, and are signed for multiple years past this season (two examples: Josh Anderson and Brendan Gallagher). Keeping all of those pieces isn't the move for a rebuilding or resetting team. But the Canadiens have minimal leverage, so netting satisfactory returns via trade won't be easy either.
Takes, Thoughts, and Trends is theScore's biweekly hockey grab bag.
John Matisz is theScore's senior NHL writer. Follow John on Twitter (@MatiszJohn) or contact him via email (john.matisz@thescore.com).
Comments
✕
Kadri's All-Star play, Laine-Dubois deal revisited, and fighting's resurgence
  Got something to say? Leave a comment below!