NHL Power Rankings: 1 word to describe each team's start
National Hockey League / Getty
This is the third edition of theScore's NHL Power Rankings for the 2021-22 season. Check back for updated rankings every second Monday during the regular season.
In this edition, we pick one word to describe each team's start to the season.
1. Florida Panthers (10-0-1)
Previous rank: 1
Convincing: Often overshadowed by other talented stalwarts in the Atlantic Division, the Panthers are demanding the league's attention as a true Stanley Cup contender. The true exclamation point on their season thus far was when they dominated the previously undefeated Carolina Hurricanes. The Panthers are on the offensive.
2. Carolina Hurricanes (9-1-0)
Previous rank: 4
Surging: No, this isn't just because of their classic post-victory Storm Surge. What the Hurricanes have accomplished in the early goings is the sheer definition of "surging." They're a powerful force that's ripped through each of their opponents thus far, except for one. The Panthers are the only reason the Canes aren't No. 1 on this list.
3. Edmonton Oilers (9-1-0)
Previous rank: 2
Thrilling: The Oilers are easily the NHL's most watchable team this season, as Connor McDavid and Leon Draisaitl continue to create magic on a nightly basis. The pair finally seems to have a dynamic supporting cast with the likes of Jesse Puljujarvi and Zach Hyman pulling their own weight, and every game is a must-see.
4. Calgary Flames (7-1-3)
Previous rank: 15
Redemption: The Flames stumbled to a horribly disappointing 26-27-3 record in the realigned North Division last season after making the playoffs the previous campaign. Johnny Gaudreau, Matthew Tkachuk, and Jacob Markstrom, who currently leads the league with four shutouts, seem hell-bent on making sure they don't fall flat again this season.
5. St. Louis Blues (7-2-1)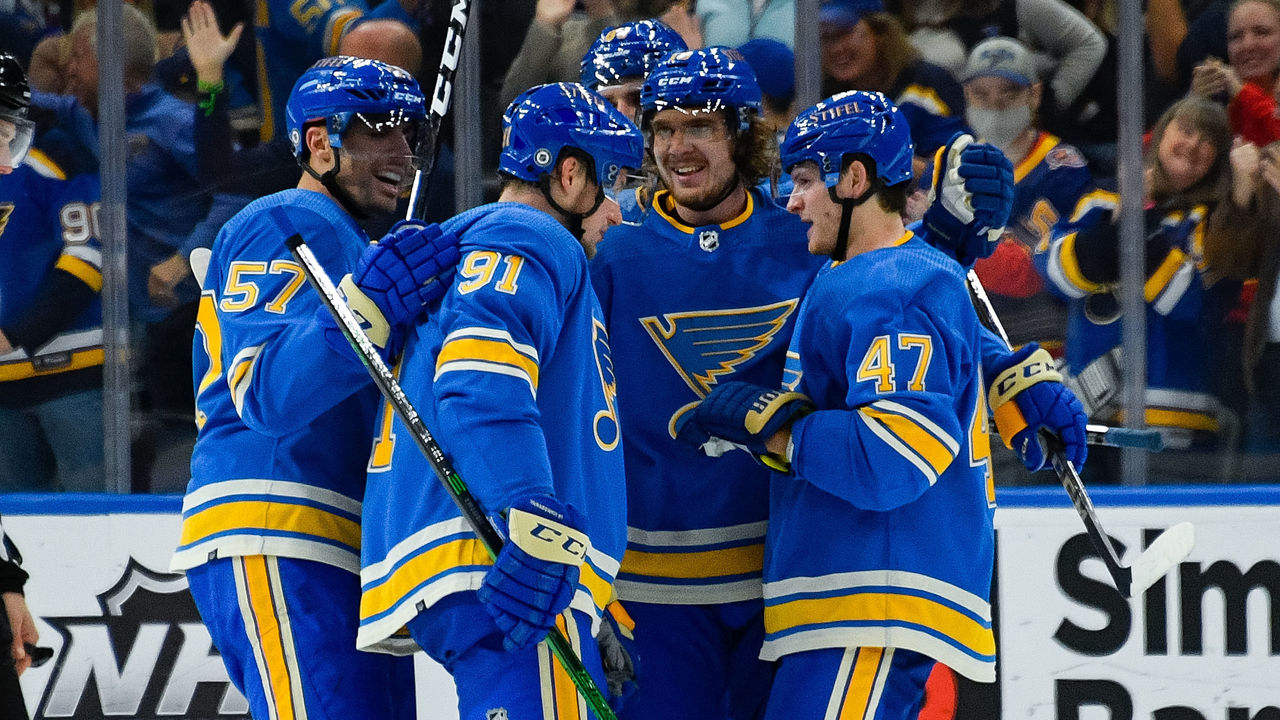 Previous rank: 3
Flashback: After sputtering in back-to-back playoff appearances since winning the 2019 Stanley Cup, the Blues appear to be back. Craig Berube's group looks as deep as ever, ranking in the top 10 in both goals for and goals against in the early stages of the season.
6. Philadelphia Flyers (6-2-2)
Previous rank: 16
Promising: The Flyers can't endure another season with poor goaltending. So far, so good. Carter Hart and Martin Jones have posted .926 and .950 save percentages, respectively, through 10 games, playing a large role in Philly's hot start.
7. Minnesota Wild (8-3-0)
Previous rank: 7
Tenacious: The Wild love having the puck. They lead the league in several key possession and offensive statistics at five-on-five, controlling the majority of the shot attempts for (55.3%) and expected goals for (58.3%). They're fourth in the NHL in scoring chances for (54.9%) and third in high-danger chances for (56.5%). Minnesota's real tough.
8. Tampa Bay Lightning (6-3-2)
Previous rank: 10
Recharging: Winning back-to-back Stanley Cup championships is tiring. The Lightning haven't gotten off to a dominant start, which is understandable since they lost their entire third line in the offseason and Nikita Kucherov is on the shelf again thanks to another injury. The Bolts are slowly finding their game, but they'll truly be put to the test as clashes against the Hurricanes and Panthers await them this week.
9. Winnipeg Jets (6-3-2)
Previous rank: 19
Precarious: The Jets are collecting wins but are doing so in an unsustainable manner. Winnipeg ranks 24th in five-on-five expected goals at 47.07%, but the team is third with a 9.42 shooting percentage. That can't last forever. If the concerning trends persist while Connor Hellebuyck struggles uncharacteristically, regression could hit hard.
10. New York Islanders (5-3-2)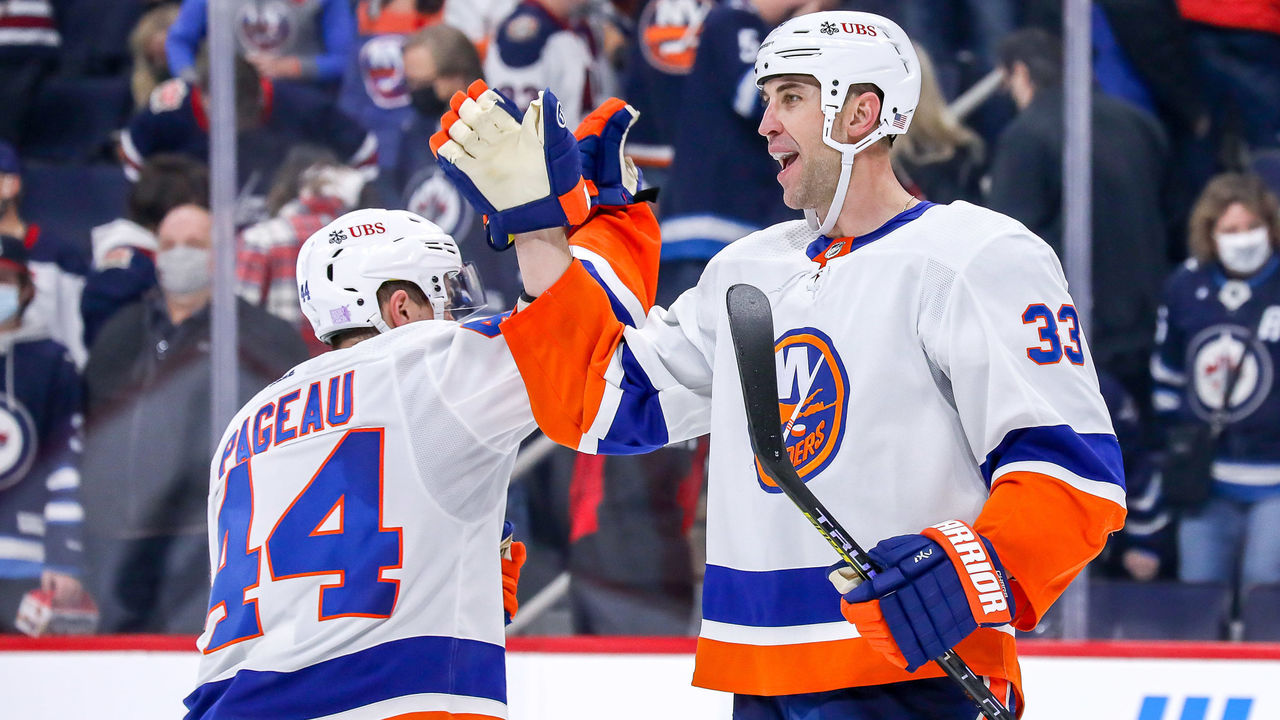 Previous rank: 12
Steady: What else can you expect from this group? The Islanders started a tad slow, but they refused to panic and have since heated up. To no one's surprise, the Isles have allowed the fewest goals thus far.
11. Toronto Maple Leafs (7-4-1)
Previous rank: 22
Huh?: What exactly are the 2021-22 Maple Leafs? They were shoddy throughout the first week and a half of the season and the sky almost fell in Toronto after an abysmal four-game losing streak. The Leafs have turned things around since then, dispatching the Lightning and the Boston Bruins en route to a five-game winning streak. Time will eventually uncover the true face of this Toronto team.
12. Columbus Blue Jackets (7-3-0)
Previous rank: 14
Comeback: This has been an unexpected statement start for new head coach Brad Larsen's Blue Jackets. His scrappy squad has won a league-leading four games in which it's trailed after the second period. Speaking of comebacks, goaltender Elvis Merzlikins has been outstanding, putting up a sparkling .940 save percentage and a 1.98 goals against average in six games. These Jackets have a lot of fight.
13. Boston Bruins (5-4-0)
Previous rank: 8
Drought: One wouldn't expect a team that boasts a forward group deservedly nicknamed the "Perfection Line" to have the third-least goals for (24) in the league, but here we are. The Bruins' stunted production isn't for lack of trying, though. They have the NHL's second-highest expected goals for rate (56.6%), and they top the league in shots for percentage (56.2%) at five-on-five. They're mostly just handcuffed by a lackluster shooting percentage (5.14%).
14. New York Rangers (6-3-3)
Previous rank: 11
Underwhelming: The Rangers were expected to take a significant step toward contention after wholesale offseason changes, but the blueprint hasn't gelled just yet. Adam Fox is outscoring all of New York's big-ticket forwards, and the club sits 28th with a 45.27% expected goals rate.
15. Washington Capitals (5-2-4)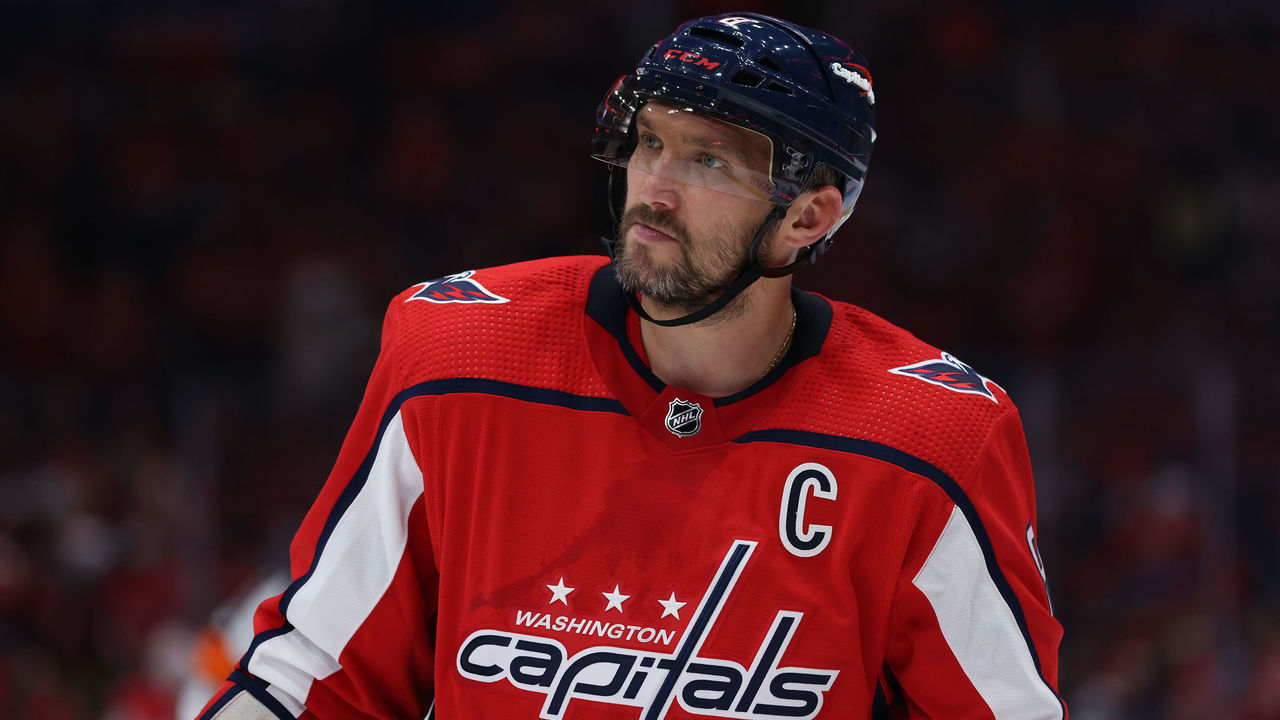 Previous rank: 5
Incomplete: Nicklas Backstrom started the season on injured reserve, and he's since been joined by T.J. Oshie and Anthony Mantha. Until the high-powered Capitals are operating at full strength, it's tough to judge the state of the perennial Cup contenders.
16. San Jose Sharks (6-4-1)
Previous rank: 9
Invigorated: Multiple key Sharks have stated chemistry within the locker room has drastically improved this season, and it's shown during San Jose's nice start. Hardly anybody expected this club to be competitive this year, and it'll be interesting to see how long a rejuvenated Sharks squad can keep it up.
17. Vegas Golden Knights (6-6-0)
Previous rank: 24
Overreliance: The Golden Knights are grappling with mass injuries to their forward group, but their defense just has to be better. Goaltender Robin Lehner is working overtime to cover up mistakes and has faced the most amount of high-danger chances at all strengths (104) in the league. Despite that fact, he's second in goals saved above expected (8.94) in all situations. Lehner needs better support from blue-line leaders like Shea Theodore and Alex Pietrangelo.
18. New Jersey Devils (5-3-2)
Previous rank: 17
Snakebitten: New Jersey is posting quality underlying numbers so far, owning 50.69% of shot attempts, 52.75% of scoring chances, and 55.05% expected goals. However, the Devils have a 6.35% conversion rate at five-on-five, which ranks 28th.
19. Pittsburgh Penguins (4-3-3)
Previous rank: 6
Exhausted: After fending off wave after wave of injuries and COVID-19 issues, the Penguins are hanging on by a thread. They've shown resiliency in the face of adversity, but that adversity is starting to catch up to them. Pittsburgh will need some consistency and better luck to find continued success.
20. Colorado Avalanche (4-5-1)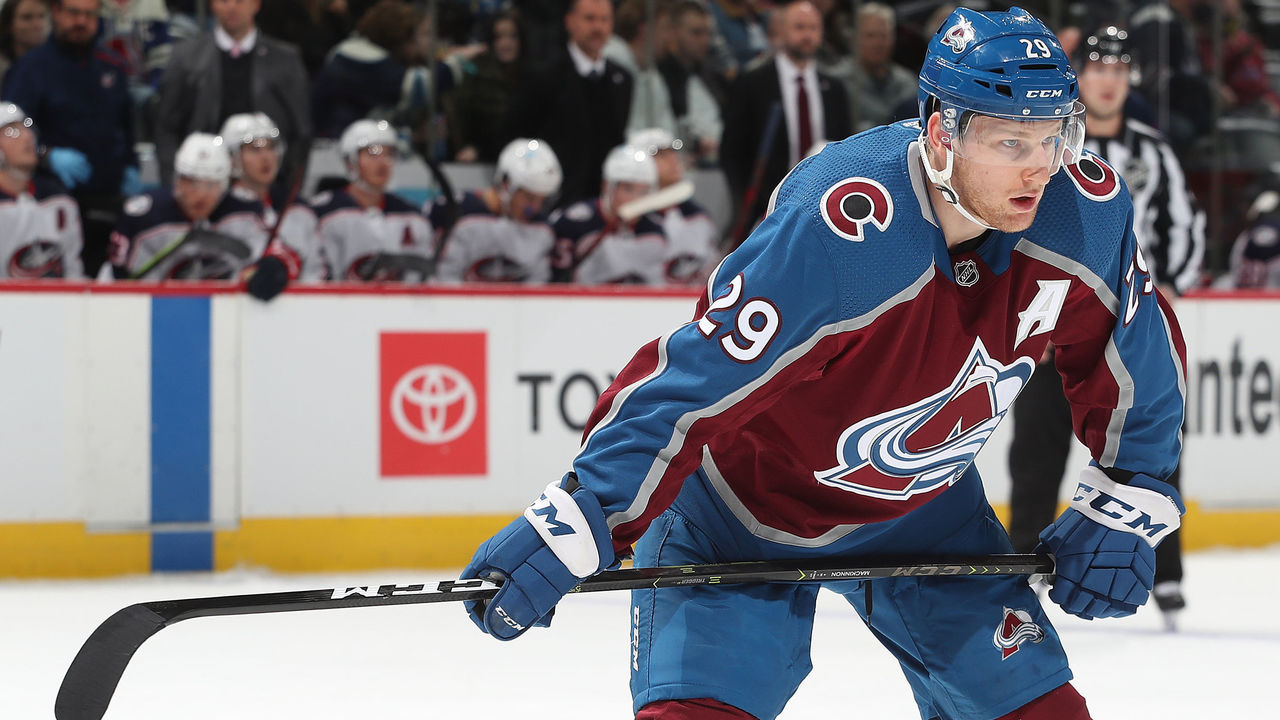 Previous rank: 20
Wounded: The Avalanche haven't been at full strength for a single game this season. On the bright side, only Cale Makar remains sidelined. Colorado will look to get back to its dominant ways once he returns.
21. Nashville Predators (6-5-1)
Previous rank: 27
Overdue: The Predators' highest-paid forwards - namely Matt Duchene and Ryan Johansen - are finally producing like they used to. That'll have to continue for Nashville to make any noise in the playoff race.
22. Buffalo Sabres (5-4-2)
Previous rank: 18
Relief: The Jack Eichel era in Buffalo is finally over, and a new chapter officially begins. The Sabres own an extremely impressive prospect pool and have a great group of young talent, too. With a slew of draft picks in the coming draft, Sabres fans hopefully won't have to suffer for much longer.
23. Anaheim Ducks (6-4-3)
Previous rank: 26
Floating: Ducks typically have two primary functions, and this Anaheim team certainly isn't flying up the standings any time soon.
24. Los Angeles Kings (5-5-1)
Previous rank: 28
Persevering: The Kings have been without defensemen Drew Doughty and Sean Walker since Oct. 25. In the four games since they lost the two vital blue-liners, the Kings have gone 4-1-0. Eating up Doughty and Walker's minutes is a tall order, but Los Angeles has held it together so far.
25. Detroit Red Wings (6-5-2)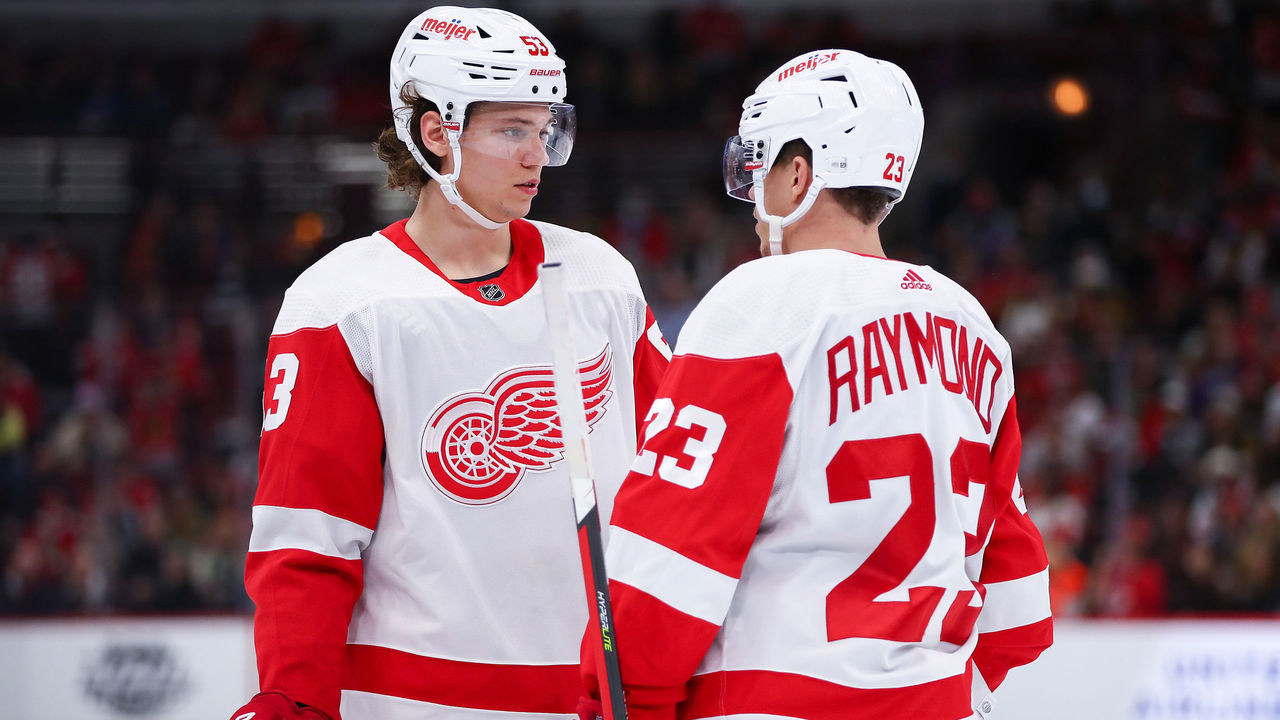 Previous rank: 23
Optimism: It's been a rough few years for Red Wings fans, but it finally looks like everything is coming together. Top prospects like Moritz Seider and Lucas Raymond appear to be developing into true studs, and the team looks as close to returning to being a contender as it has in a long time.
26. Vancouver Canucks (5-6-1)
Previous rank: 21
Stuck: The Canucks have a lot of players making great individual efforts. J.T. Miller is playing at over a point-per-game pace, Conor Garland has been a fantastic fit, Oliver Ekman-Larsson is off to a strong start, and Thatcher Demko has been an absolute stud. But with some of its stars like Elias Pettersson and Brock Boeser struggling to produce, Vancouver just can't put it all together. The Canucks aren't good, they're not bad, they're just stuck.
27. Dallas Stars (4-5-2)
Previous rank: 13
Misfiring: The Stars have plenty of potency in their lineup yet rank 31st in goals. They're too deep for this to last forever, but it's been a frustrating start for Dallas' offense.
28. Seattle Kraken (4-7-1)
Previous rank: 29
New: Duh. As the league's newest team, the Kraken are working on piecing it all together. They aren't clicking yet, and they're struggling to start games, having given up the second-most goals (14) in the first period. Seattle also has the NHL's worst power play, firing at just a 7.9% success rate. The lack of cohesion may be because the Kraken don't know each other well enough yet.
29. Ottawa Senators (3-7-1)
Previous rank: 25
Ouch: This entry is two-fold. First, it hurts to play the Senators, given they lead the league with 342 hits through 11 games. Second, Ottawa's fan base is in a different kind of pain watching its club stumble out of the gate in a season that was supposed to be a step forward.
30. Montreal Canadiens (3-10-0)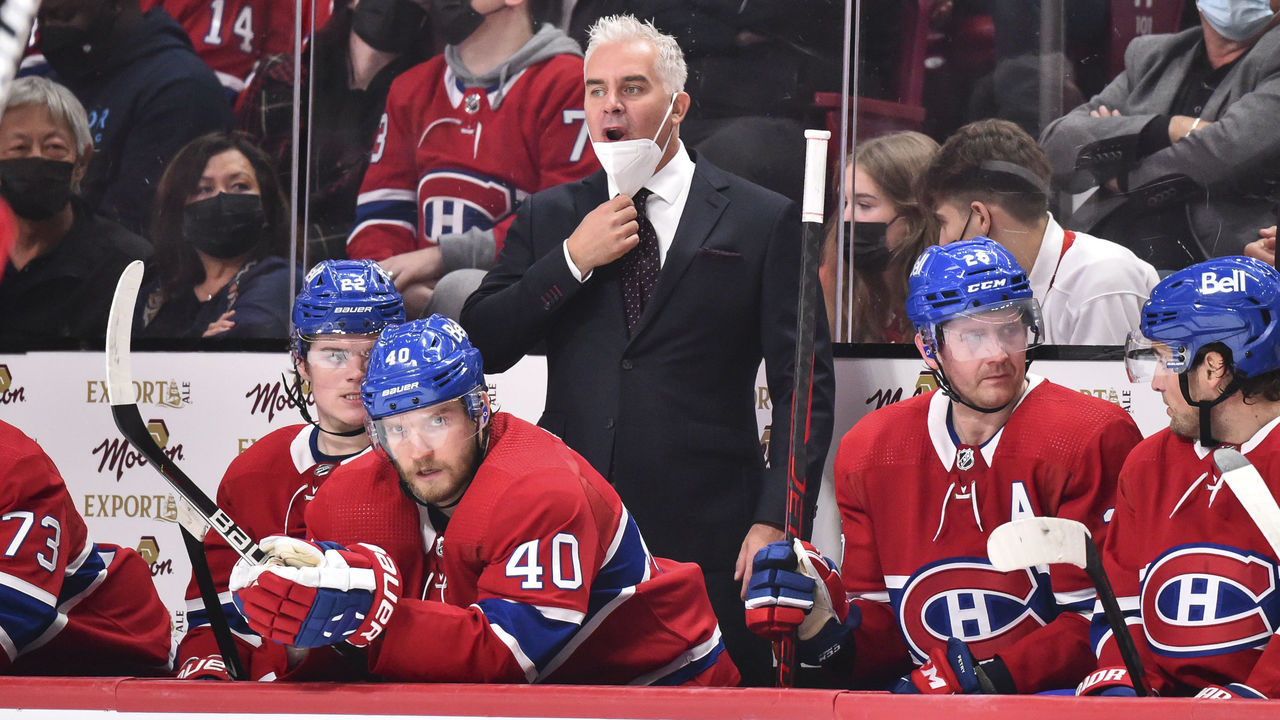 Previous rank: 30
Disappointing: Nobody expected the Canadiens to be one of the league's top teams this season, but not many pegged them to be as terrible as they've been. Nothing seems to be clicking, as the team owns an abysmal 66% penalty kill alongside a measly 13.6 power-play success rate.
31. Chicago Blackhawks (2-9-2)
Previous rank: 32
Disturbing: The Blackhawks' on-ice product is bad, but what's happening within the organization at large is distressing. The integrity of the team's veteran leadership is rightfully under a microscope following TSN's moving interview with Kyle Beach, and the Blackhawks currently have the same number of interim tags (coach Derek King and general manager Kyle Davidson) as they do wins. A lot needs to change for this club to regain any semblance of respect.
32. Arizona Coyotes (1-10-1)
Previous rank: 31
Disaster: The Coyotes finally won a game, but they're still really bad. We expected that, but Arizona is taking uncompetitive to new levels this season. The team has barely put up a fight in the majority of its 10 regulation losses, giving up 48 goals over 12 games for a terrible goal differential of -29. It's bad, man. It's real bad.
(Analytics sources: Evolving Hockey, Natural Stat Trick)
Comments
✕
NHL Power Rankings: 1 word to describe each team's start
  Got something to say? Leave a comment below!