Tampa's edge as repeat Cup winner? Being more than the sum of its parts
Dave Sandford / Getty Images
Of course it was Ross Colton.
With 6:33 remaining in the second period Wednesday, Colton - the Tampa Bay Lightning's most under-the-radar player - redirected a perfectly placed pass into the back of the Montreal Canadiens' net. It turned out to be the lone goal in the fifth and final game of the 2021 Stanley Cup Final, leading to the juggernaut Lightning's second championship in 282 days.
Colton, a 2016 fourth-rounder with 30 games of NHL experience coming into the postseason, was both the unlikely and likely hero. The Lightning have been built to overwhelm opponents with their star power. Yet endless depth is the club's true competitive advantage. The bottom-six forwards, Patrick Maroon, Barclay Goodrow, Blake Coleman, and Tyler Johnson, scored the five goals prior to Colton's memorable marker. In total, 16 of the 20 skaters who dressed for Tampa Bay in the 2021 playoffs scored at least once.
It's no fluke, either. The Lightning have boasted an enviable stable of role and bit players for at least three years now, long before superstar Nikita Kucherov's league-approved injury timeline became such a hot-button topic.
A core group of seven players has grown alongside head coach Jon Cooper since the organization's 2015 Cup Final appearance, with management tinkering with the periphery pieces each season. Prior to last year's trade deadline, for instance, the highly effective Goodrow and Coleman came aboard. This past deadline, Tampa Bay acquired veteran defenseman David Savard, who recorded the primary assist on Colton's clinching goal.
Through it all, the Lightning have developed an almost clinical way of operating, where a player like Colton can slide into the lineup seamlessly. They've also learned how to adapt on a dime. In 23 playoff games over four rounds this year, they flashed some version of a run-and-gun style versus the Florida Panthers and Carolina Hurricanes, as well as a more methodical, counter-attacking approach against the New York Islanders and Canadiens.
This Cup-winning squad will be remembered as the fully evolved version of the Lightning, a team that could beat opponents in so many ways.
"In 2015, we were the new kids on the block, this team that was young and so fun to watch," Cooper said during his celebratory press conference. "Then, we were labeled as the team that couldn't get it done. And now, we're throwing around the word dynasty. It's a huge wave of emotions."
"You win the Stanley Cup two years in a row, you deserve to go down in history," forward Steven Stamkos said. "No matter what happens from here on, this group will be etched together forever. That's pretty effing special."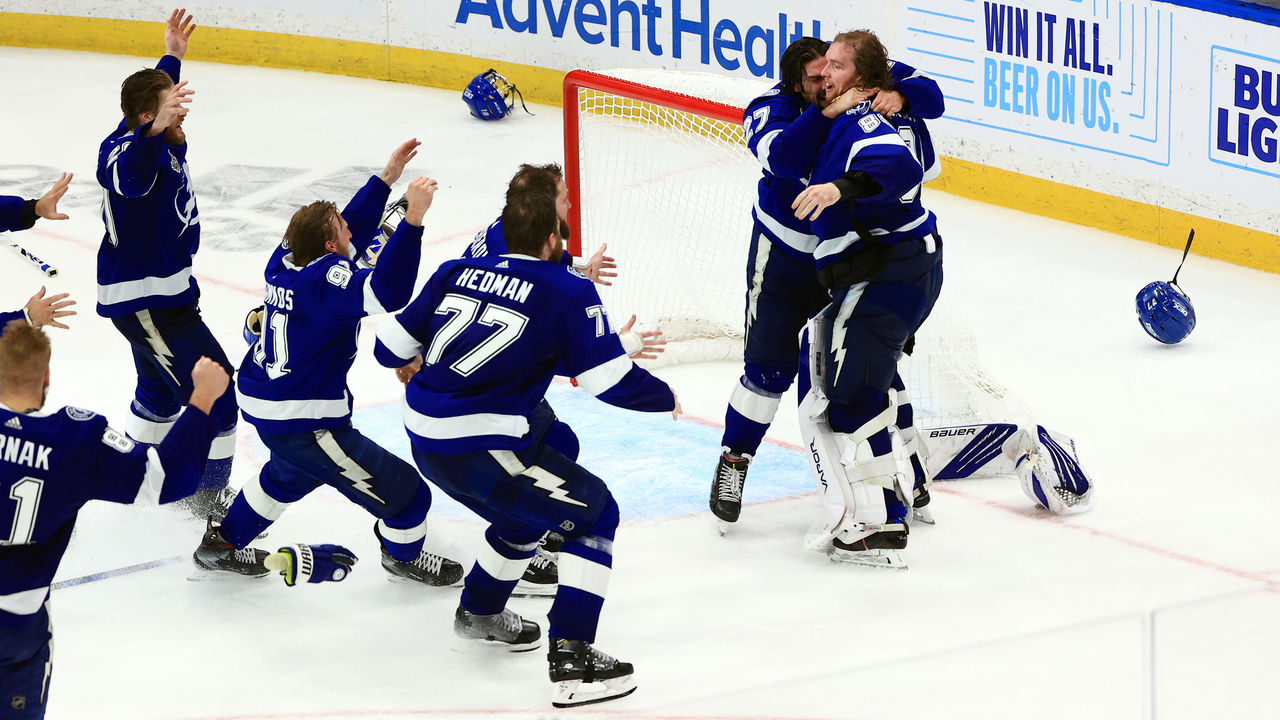 This Cup victory has a different feel for Tampa Bay players and coaches than last season's. They weren't confined to a bubble throughout the playoffs, and on Wednesday, most were able to celebrate the accomplishment with family. Additionally, Stamkos, the team captain, got to compete, pitching in eight goals and 10 assists after an injury limited him to only five shifts last year.
Stamkos, the longest-tenured Lightning player as the first overall pick in the 2008 NHL Draft, said he was especially proud of the way Tampa Bay responded to losses over the past two runs. Amazingly, the Lightning strung together a flawless 15-0 record in games following a defeat.
Despite similar end results, Tampa Bay's motivation wasn't quite the same year-to-year. In the 2020 playoffs, the Lightning were on a redemption tour after the previous season's 62-win team was embarrassed by a first-round sweep to the Columbus Blue Jackets. This year, to borrow Cooper's phrase, there were "last day of school" vibes around the cap-strapped club.
With Kucherov shelved for all 56 regular-season games, Tampa Bay finished behind the Hurricanes and Panthers in the Central Division standings. And with a different playoff format and formidable opponents in their way, nothing was guaranteed to the Lightning.
"Once the playoffs started, we kind of pushed the (go) button," said longtime Bolt Victor Hedman.
The last two months have been all about seizing the moment.
"We know going forward, with the salary-cap world, that this might be the last game that this particular group plays together. I can't (overstate) how much that motivated us," Stamkos said. "We talked about it midway through the playoffs, we talked about it going into Game 5 of the Islanders series: 'Let's take advantage of this opportunity.' It's not very often you get this chance to play with a talented team like we did, and we just believed."
The Lightning join the 2015-16 and 2016-17 Pittsburgh Penguins as the only teams to repeat as champs in the salary-cap era. The franchise, founded in 1992, now has three NHL titles. Since 2018-19, Tampa Bay has maintained a league-high .709 points percentage in regular-season action.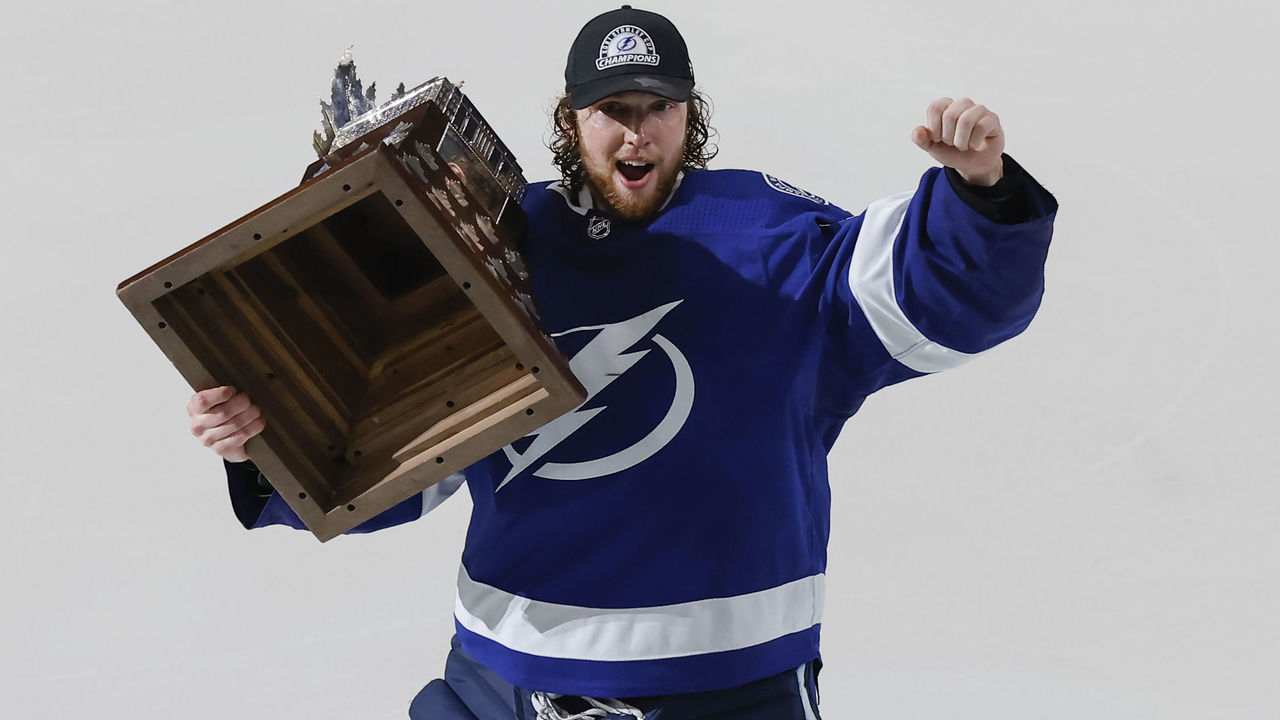 Andrei Vasilevskiy, the Conn Smythe winner ahead of Kucherov (32 points) and Brayden Point (14 goals), is on top of the goaltending mountain. The 26-year-old Russian manned Tampa Bay's net every single minute of both Cup runs, posting save percentages of .927 and .937 in 25 and 23 contests, respectively.
"I can't believe how he shuts the door in the biggest games of his career," Cooper said of Vasilevskiy's five consecutive shutouts in series-clinching contests.
"If he played in a different market," Kucherov added about his countryman in a zany press conference, "he would win the Vezina every year."
Vasilevskiy was the ultimate safety valve for when things occasionally went awry this postseason, though you could say the same about Kucherov. Or Point. Or Hedman. Or Stamkos, or Ryan McDonagh, or Tyler Johnson. The list goes on and on, because not only do the Lightning have incredible depth at all positions, but their best players almost always rise to the occasion. On any given night, at least one impact player affects the game at a high level.
"I mean, it's just, it's stupid. You miss an entire season and you lead the playoffs by (nine points)," Coleman said of Kucherov's brilliance. "The guy is just a special, special player. Obviously, a big reason why we're here celebrating, a big part of this team. He's just on another level."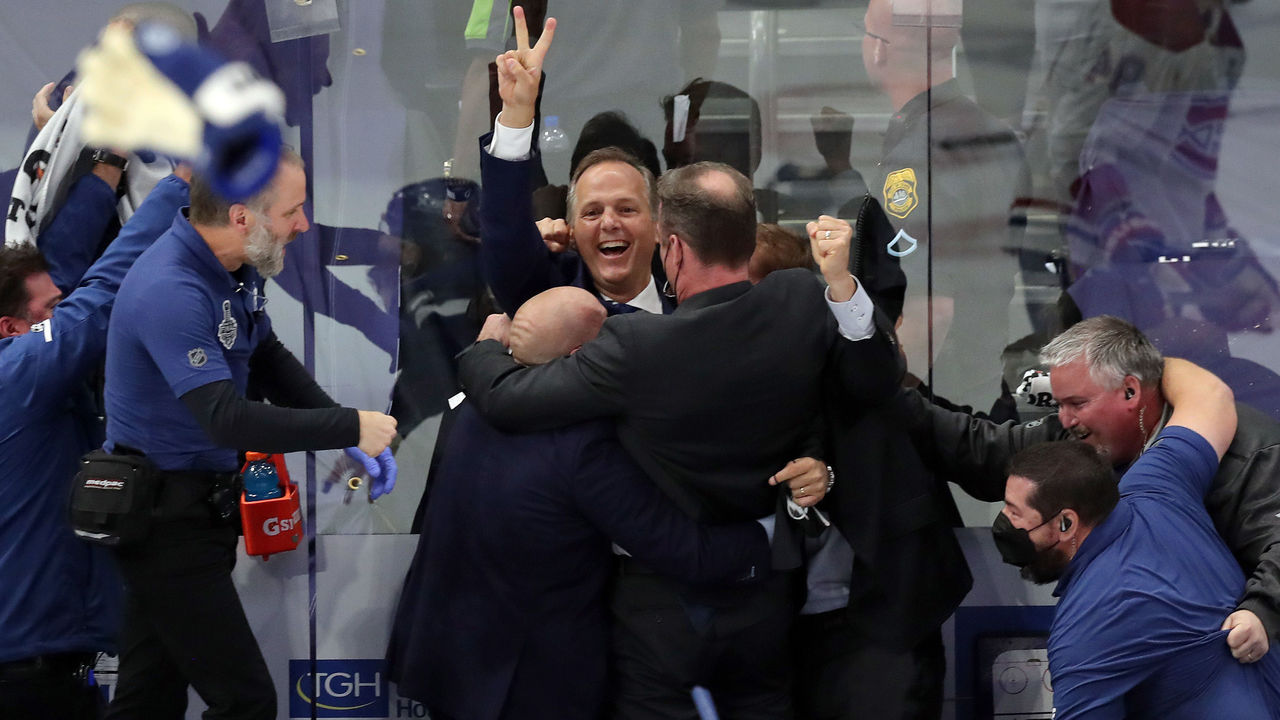 Years from now, when a handful of Lightning players, and probably Cooper, are enshrined in the Hockey Hall of Fame, we'll likely look back on this squad as the best collection of talent from the first 15 or so years of the cap era. Sure, there's a case to be made for the early 2010s Chicago Blackhawks and Los Angeles Kings, and the late 2010s Penguins, but no other team squeezed so much talent onto its payroll quite like Tampa Bay under the leadership of general manager Julien BriseBois and his predecessor, Steve Yzerman.
There are common threads among the vast majority of Lightning players, as well. They're intelligent, they're highly skilled, they skate well, and they're committed to taking care of the defensive side of the puck. This isn't a groundbreaking or unique approach, but there's no denying Tampa Bay drafts, develops, and acquires a specific kind of player. It's key to the club's culture, and the decision-makers rarely, if ever, stray from the plan. The Lightning's true edge, what really sets them apart, is being more than the sum of their parts.
Management has also done its best to keep the band together. It worked last offseason, in large part due to Kucherov's injury status. This time, it'll be borderline impossible to retain all 20 everyday skaters, though a three-peat isn't out of the question with the likes of Kucherov, Point, Hedman, Vasilevskiy, and a bunch of important role players all coming back.
For now, the achievement of back-to-back Cups is all that matters for these players - from a virtual unknown like Colton to the veteran captain.
"We won the Stanley Cup. We still have the Stanley Cup," Stamkos said.
"That's just amazing."
John Matisz is theScore's senior NHL writer. You can follow John on Twitter (@MatiszJohn) and contact him via email (john.matisz@thescore.com).
Comments
✕
Tampa's edge as repeat Cup winner? Being more than the sum of its parts
  Got something to say? Leave a comment below!