Oilers out, Jets rolling: 4 lessons from a Winnipeg sweep
Darcy Finley / NHL / Getty Images
The Jets bounced the Oilers from the North Division playoffs early Tuesday morning by winning 4-3 in triple overtime. Here are four reasons Winnipeg cruised to a first-round sweep.
Winning plays > losing plays
Two true statements: Edmonton got rocked in this series, and the series was close, more so than the idea of a sweep suggests. Each Winnipeg victory was settled late in regulation or in OT, and puck battles, turnovers, extra efforts, and split-second choices all were magnified in the meantime, as happens in tight games.
By Natural Stat Trick's count, the Oilers attempted 72 high-danger shots in the series to Winnipeg's 48. They led the Jets in total expected goals, 14.98 to 11.45. These advantages were hollow. Edmonton wasted Connor McDavid's marvelous season - easily his greatest yet - by finding ways to lose, and Winnipeg accomplished the reverse.
Think back to last week at Rogers Place. Because the Jets' stickwork and positioning thwarted McDavid and Leon Draisaitl in Games 1 and 2, they didn't require many highlight-reel saves - though Dylan DeMelo, as he killed a penalty from his back, denying McDavid with his hovering wrist sure qualifies. Sturdy, suffocating defense held Edmonton's big guns pointless for half the series.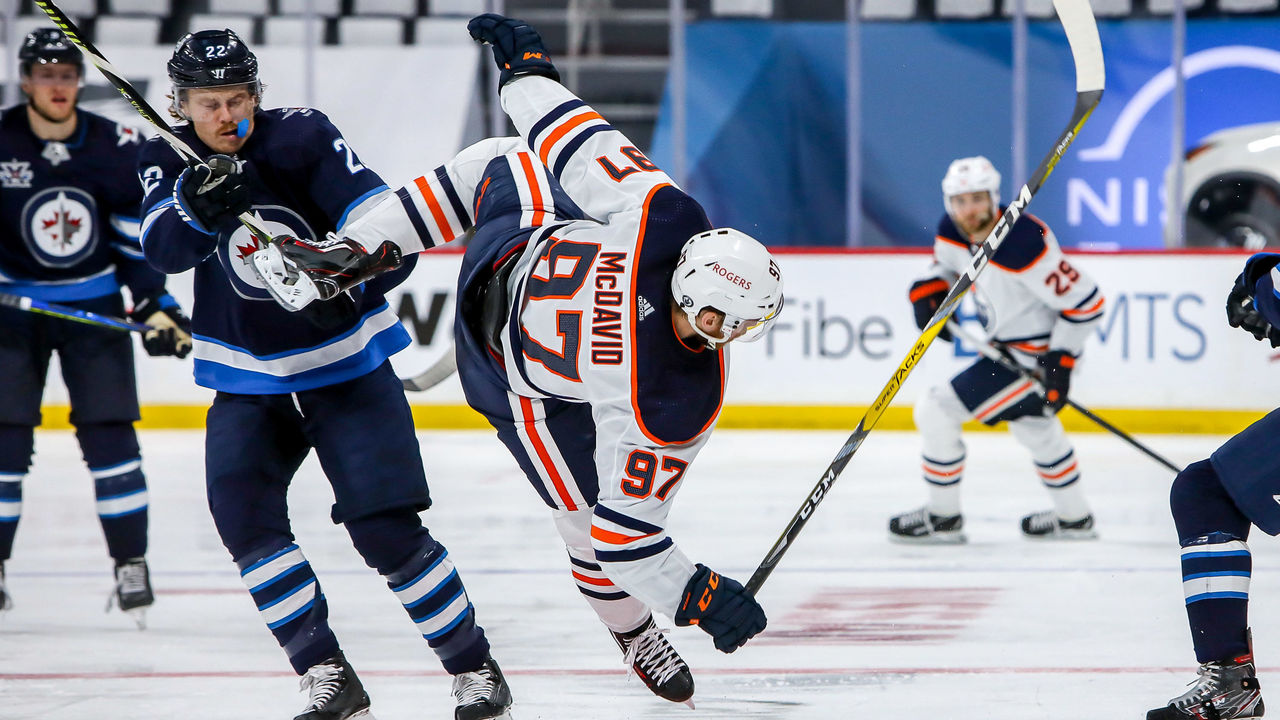 Discounting Winnipeg's Game 1 empty-netters, the aggregate scoreline was 12-8, the difference being one Jets goal per game that smart thinking or dirty work set up. Tucker Poolman and Blake Wheeler scored by slipping away from defenders on cuts to the net. During Winnipeg's Game 3 comeback, Kyle Connor and Adam Lowry forced turnovers that wound up behind Mike Smith within seconds. Connor got to clinch the series because Neal Pionk, 107 minutes into Game 4, knocked down McDavid's attempted flip-in and sprung his teammate on a partial break.
The opposite of the winning play is the backbreaking error, Edmonton's domain in this series. Dmitry Kulikov and Adam Larsson lost track of Poolman in Game 1 and screened Smith on Paul Stastny's Game 2 overtime winner. Up 4-1 late in Game 3, Josh Archibald clipped Logan Stanley and the Oilers didn't kill the minor, unlike the Jets six minutes earlier when DeMelo was dinged for airing the puck over the glass.
As for Game 4, there was Ethan Bear's intercepted breakout pass in the third period, the steal that Wheeler fed to Connor as the defense scrambled and left Mark Scheifele open to pot the tying goal. Sportsnet cameras panned throughout the night to McDavid barking on the bench. After that play, he wore a dazed, disbelieving half-smile.
Every team makes mistakes, and one that boasts McDavid and Draisaitl has extra leeway to cover them up. That's why losing by sweep is galling. This defeat wasn't akin to Colorado's first-round romp; the Avalanche outscored St. Louis 20-7 in four games. Edmonton was more dangerous than Winnipeg throughout the series, but plays matter most when they lead to goals or save them, and that's where the Jets manufactured the decisive edge.
Hellebuyck was brilliant
That Connor Hellebuyck headlines this rundown's second section probably is a slight to him. Log a .950 save percentage for the series and you deserve top billing. There's this, too: Hellebuyck didn't start on back-to-back nights all season, and then he went out Sunday and Monday and stopped 81 pucks across Games 3 and 4.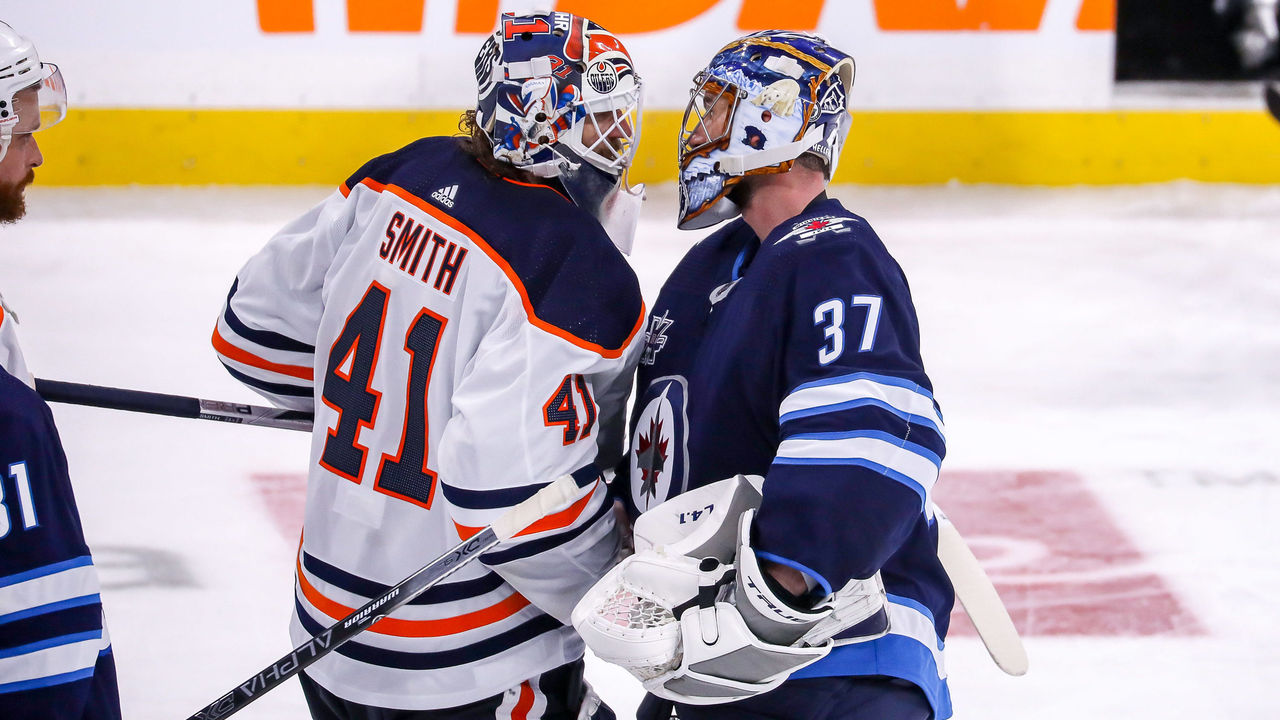 Unbeatable to open the series in Edmonton, Hellebuyck had to battle at home to stake his team to a sweep. In Game 3, Draisaitl solved him twice in the first 10 minutes, but Hellebuyck made 15 first-period saves and 44 total, affording the Jets the time they needed to rally back. In Game 4, McDavid and Ryan Nugent-Hopkins scored on two of Edmonton's first seven shots; Hellebuyck stoned 32 of the remaining 33 he faced, including every attempt that originated beyond the foot of the crease.
The consensus in hockey is that no goalie, and perhaps no skater except McDavid, is single-handedly as capable of stealing a game as Hellebuyck. He proved as much this series and set an unjustly high standard for Smith, who looked impenetrable at times - including in Game 4's OT periods - but not consistently and never outplayed his Jets counterpart.
Hellebuyck saved 6.82 goals above expected in the series, per Evolving Hockey, easily the postseason's top such number so far. Maintain this form in the North Division final and he'll enter Round 3 as the Conn Smythe Trophy front-runner.
Jets' depth reigned supreme
Poolman, the third-pairing defenseman with five career goals and none this regular season, was the first Jet to score on Smith in Game 1. Dominic Toninato, a fixture of Winnipeg's 2020-21 taxi squad, bagged his own first goal of the year later that night. Bolstered by their respective breakthroughs, 10 Jets tickled twine in the series all told.
A few telltale stats, moments, and decisions illustrate the depth imbalance at play in this matchup, starting with the cold streak that helped doom the Oilers: they scored twice in four games when McDavid was on the bench. Nikolaj Ehlers matched that in his Game 3 debut alone, his dynamism and lethal release combining to produce two snipes.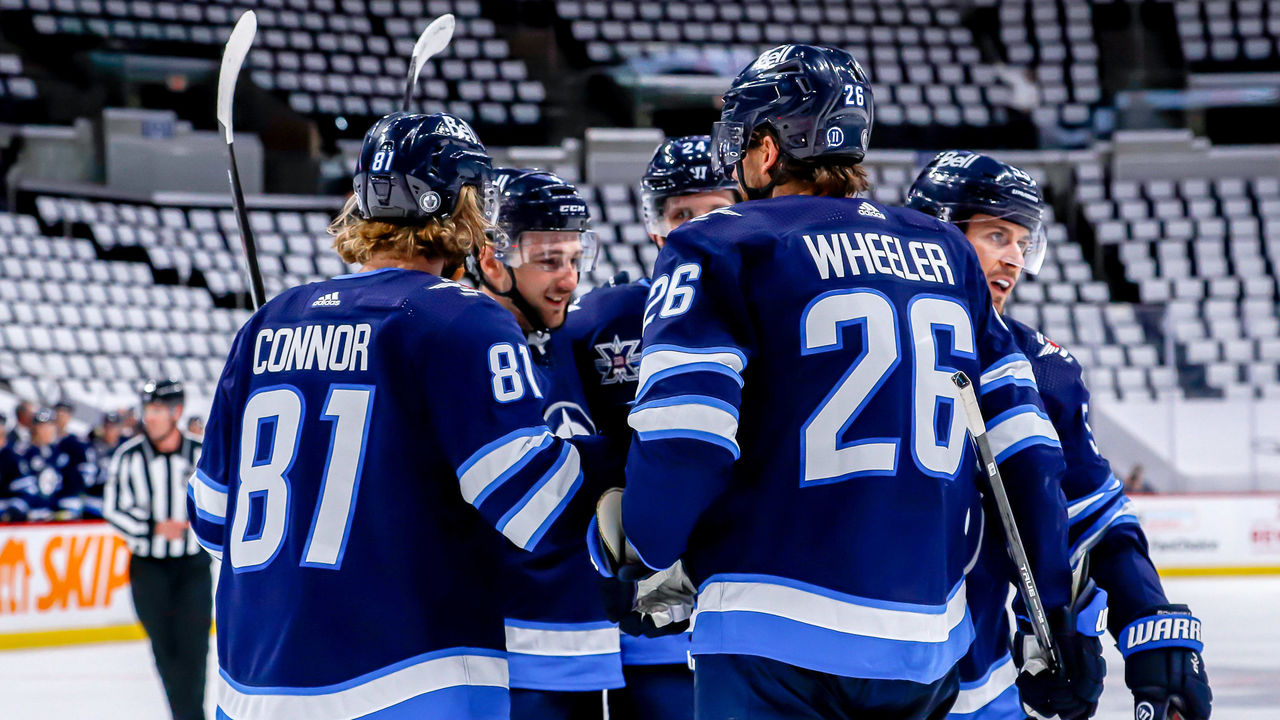 Once his usual top three lines were intact, Paul Maurice capitalized on Ehlers' return from injury by making a vital tweak. Confident that Lowry, Andrew Copp, and Mason Appleton could curtail McDavid, he relieved Scheifele's line of the responsibility late in Game 3. Galvanized, both lines created goals during the comeback, and then they accounted for all of Winnipeg's offense in Game 4.
Dave Tippett's corresponding adjustment was to partner McDavid and Draisaitl with a rotating cast of wingers - Jesse Puljujarvi, Zack Kassian, Kailer Yamamoto - from Game 2 onward. Pairing the superstars got them on the scoresheet, but limited the Oilers' creativity and finishing ability to a single line.
Draisaitl exits the playoffs with five points and McDavid with four, while Jujhar Khaira beat Hellebuyck on a Game 3 tip and Nugent-Hopkins retrieved his own rebound to score in the series finale. That was the sum of Edmonton's offense when McDavid took breathers, belated signs of life from the bottom-three forward units that amounted to almost no help at all.
The regular season doesn't matter
Not if you no-show in the playoffs, anyway. Edmonton had losing records against Toronto and Montreal this season, but pumped Winnipeg for 34 goals in nine games, seven of them Oilers wins. McDavid dominated everyone but especially the Jets, the only opponent that never held him pointless as he breezed to the Art Ross Trophy.
Rightfully, highlights of McDavid's 105-point year will be everywhere when voters award him the Hart Trophy. That said, it's worth restating here what he achieved - adjusted for era, it was the NHL's best individual season since Wayne Gretzky and Mario Lemieux's 1980s heyday - to emphasize how little it meant the past six days. Because of COVID-19 delays to Vancouver's season, the North Division playoff matchups were the latest to start, but Edmonton's cameo came and went so fast that five series are still happening.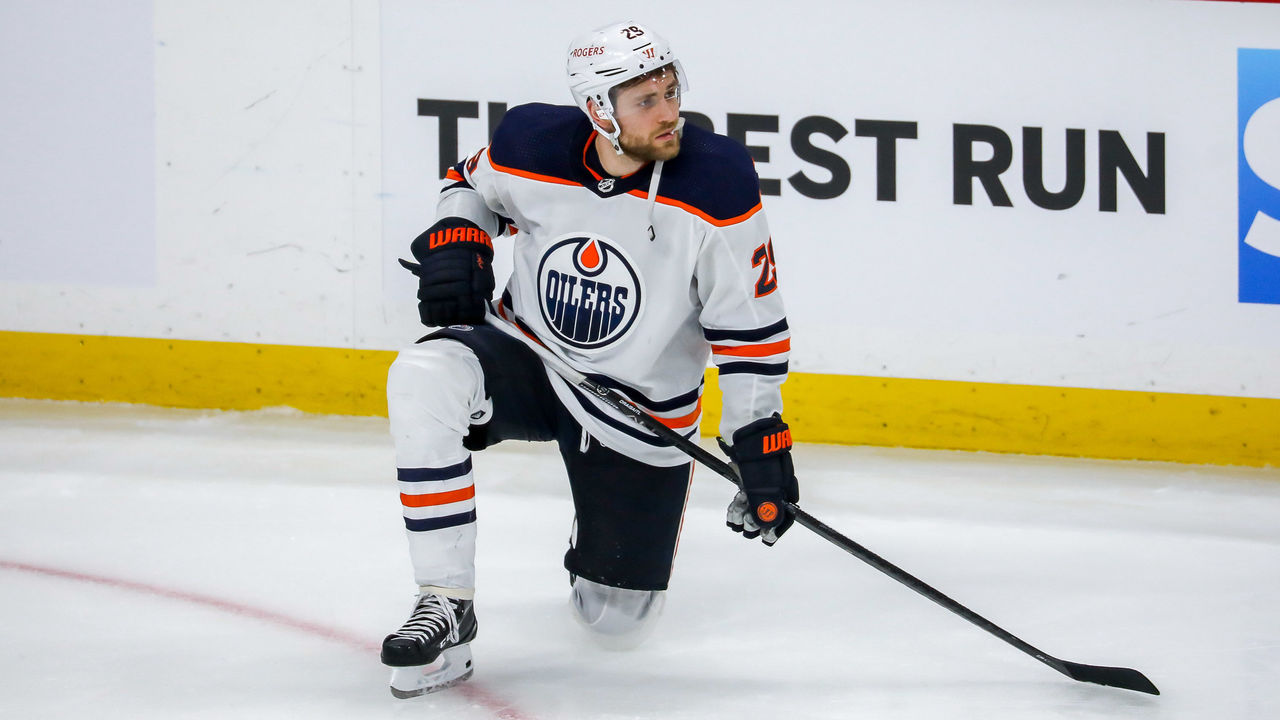 Game 3 marked the first time Edmonton lost in 2021 when McDavid and Draisaitl each recorded three points, a fitting prelude to this franchise's fourth consecutive end-of-year letdown. The Oilers beat San Jose in Round 1 in 2017 and then pushed Anaheim to seven games, but hadn't returned to the playoffs since. (Counting 2020, when 12-seed Chicago ousted them from the Western Conference's bubbled play-in bracket, wouldn't exactly strengthen the club's resume.)
Draisaitl and McDavid are signed through 2025 and 2026, but down the depth chart, there's a chance this veteran batch of underperformers looks a fair bit different next training camp.
Edmonton has 11 pending unrestricted free agents on the roster, ranging from Nugent-Hopkins to Tyson Barrie to Larsson to Smith, whose resurgent season at age 39 the Oilers just squandered, too. Down the stretch of Game 4, Tippett only trusted four defensemen, and Darnell Nurse had to shoulder 62:07 of ice time. (Genuinely, props to him; only Seth Jones and Sergei Zubov have ever played more.) Evidently, general manager Ken Holland and his players have soul-searching to do.
Meanwhile, the Jets motor on to face Toronto or Montreal, having relegated their downcast April and May to the rearview. They went 8-10-1 to end the regular season, amassing 10 fewer points than Edmonton across those final months to finish nine points back in the division.
That sentence reads as ancient history now, as irrelevant to the ongoing playoff conversation as McDavid's amazing year.
Nick Faris is a features writer at theScore.
Comments
✕
Oilers out, Jets rolling: 4 lessons from a Winnipeg sweep
  Got something to say? Leave a comment below!