The NHL shortened the 2020-21 season to 56 games, but the New York Rangers have still seen several years' worth of high-profile drama crammed into a single campaign.
There have been noteworthy on-ice accomplishments along the way - such as Mika Zibanejad's domination of the Philadelphia Flyers and Adam Fox's Norris Trophy-caliber season - but this timeline chronicles the controversies that have followed the team this season.
Jan. 16 - DeAngelo scratched vs. Islanders
Tony DeAngelo had a breakout season in 2019-20, ranking fourth among NHL defensemen with 53 points in 68 games. The Rangers rewarded him with a two-year, $9.6-million contract in the offseason.
But in his first game of the 2020-21 campaign, DeAngelo took an unsportsmanlike conduct penalty, was assessed an extra two minutes for slamming the door of the penalty box, and later ended up on the wrong end of the highlight reel when New York Islanders star Mathew Barzal waltzed past him for a goal.
Rangers head coach David Quinn decided to send a message, scratching DeAngelo in only the second game of the season.
Jan. 22 - DeAngelo returns to lineup
DeAngelo sat for an additional game but suited up in the Rangers' next five contests.
Jan. 31 - DeAngelo placed on waivers after altercation with teammate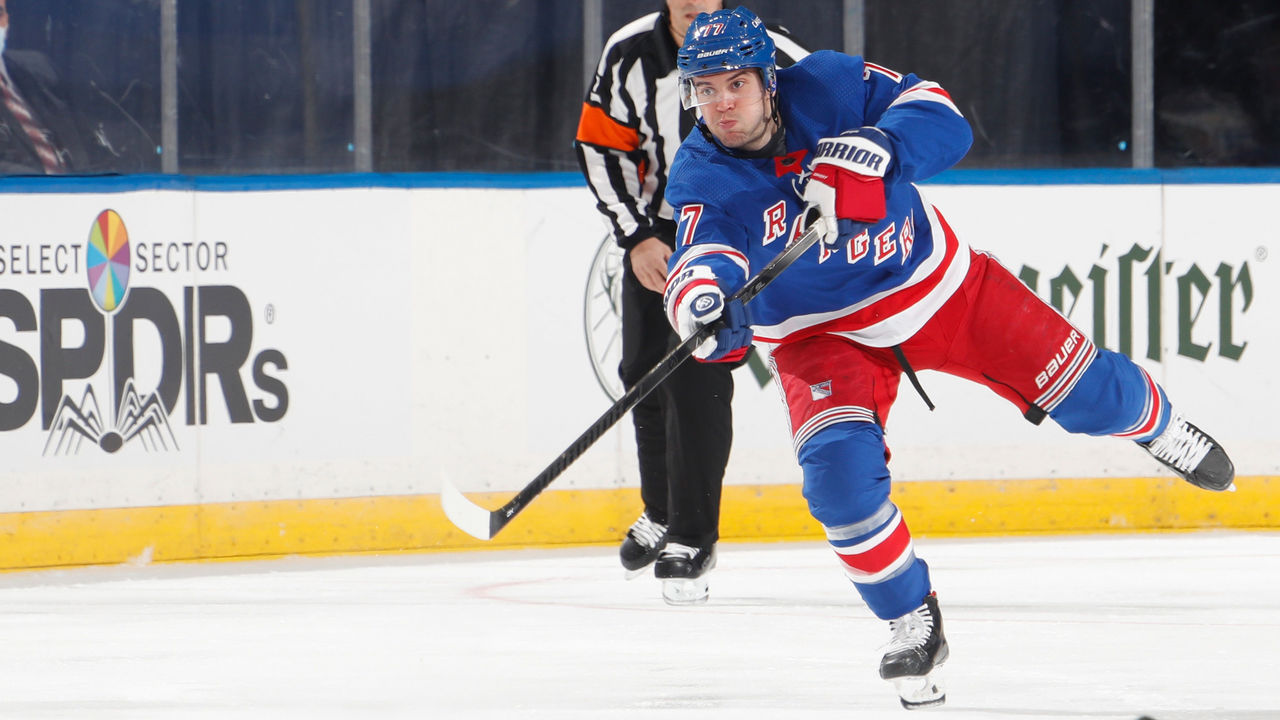 DeAngelo reportedly got into an altercation with Rangers backup goalie Alexandar Georgiev on Jan. 30 following an overtime loss to the Pittsburgh Penguins. New York placed the blue-liner on waivers the next day.
DeAngelo was apparently sour about Quinn's decision to scratch him earlier in the season, but Rangers general manager Jeff Gorton had previously told the defenseman that New York would place him on waivers "if his name came up in anything at all." Gorton stayed true to his word.
Feb. 1 - DeAngelo finished with Rangers
Gorton announced DeAngelo had played his last game for the Rangers and that the team would seek to trade him after he went unclaimed on waivers. But DeAngelo's $4.8-million cap hit wouldn't be easy to move, and he had a history of off-ice issues.
DeAngelo was suspended twice during his junior career with the Sarnia Sting for violating the OHL's harassment, abuse, and diversity policy. In one instance, he was accused of directing an offensive slur toward a teammate.
The defenseman has also been criticized for his outspoken nature on Twitter, where he propagated controversial statements regarding COVID-19 and former U.S. President Donald Trump's false claims about the security of the 2020 presidential election.
Feb. 2 - DeAngelo reportedly generates a 'ton of interest' on trade market
Narrator: He did not.
TSN's Darren Dreger reported that DeAngelo was generating a "ton of interest" from teams around the league and "could be moved within the next few days."
No trade materialized.
Feb. 2 - Penguins eye Drury for GM vacancy
Three days after Penguins GM Jim Rutherford abruptly resigned from his post, the Rangers reportedly granted Pittsburgh permission to interview Chris Drury - New York's assistant GM at the time.
Drury had already been a sought-after executive. During the 2019 offseason, the Rangers denied the Minnesota Wild's request to speak to Drury about their GM position that eventually went to Bill Guerin.
Feb. 3 - Drury withdraws from Penguins' GM search
A day after he was set to interview with Pittsburgh, Drury reportedly withdrew his name from the running. Six days later, the Penguins announced Ron Hextall as their new general manager.
Feb. 5 - Rangers change Drury's title
Two days after Drury withdrew from Pittsburgh's GM search, the Rangers promoted him from assistant general manager to associate general manager.
Feb. 22 - Panarin takes leave of absence
The Rangers announced superstar Artemi Panarin was taking a leave of absence after his former KHL coach, Andrei Nazarov, publicly claimed that the winger had been involved in a physical altercation with an 18-year-old woman in Latvia in 2011.
The Rangers called the allegation a "fabricated story." Panarin had publicly criticized Russian President Vladimir Putin in the past and had voiced support for Russian opposition leader Alexei Navalny.
"This is clearly an intimidation tactic being used against him for being outspoken on recent political events," the Rangers said.
Feb. 23 - Ex-KHLers question assault claim
Two of Panarin's former KHL teammates, Jon Mirasty and Kip Brennan, disputed Nazarov's claim.
"I'm pretty sure I would have heard something like that, you know, being one of the older veteran players there," Mirasty said.
Brennan added: "I didn't know or hear that something like that ever happened."
Two other anonymous teammates concurred with Mirasty's and Brennan's assessments.
Feb. 24 - KHL confirms no complaint against Panarin
The KHL said in a statement that it had "not been aware of or received a complaint in relation to any incident involving Artemi Panarin in December 2011."
No victim ever came forward, and no evidence to support Nazarov's claim was ever presented. There were also no court or police records corroborating the allegation.
March 10 - Panarin rejoins Rangers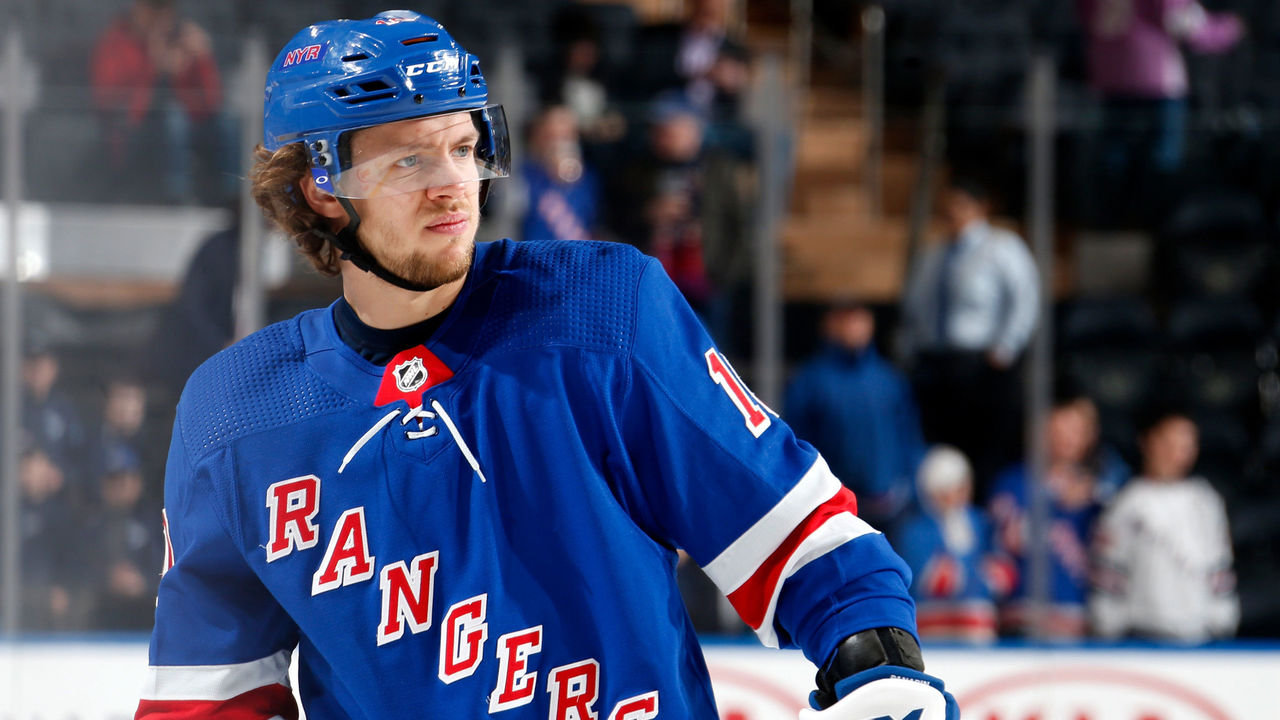 Panarin rejoined the Rangers and made his return to the lineup three days later. He missed nine games in total.
March 16 - Panarin says he'll address allegation after season
Questioned by reporters about the allegation, Panarin said he would wait until after the season to address it.
"It's probably not the time to discuss it right now," he said. "I have nothing to hide. I will address everything after the season, but right now, the focus is on the game and not these discussions."
March 27 - Rangers trade Lemieux to Kings
More than two weeks before the trade deadline, the Rangers shipped 25-year-old winger Brendan Lemieux to the Los Angeles Kings for a fourth-round pick. The son of longtime NHLer Claude Lemieux recorded just two goals and five assists with New York during the 2020-21 campaign, though he did provide the team with an element of toughness.
It was the only trade Gorton made during the 2020-21 season.
April 12 - Rangers to reportedly buy out DeAngelo after season
It was reported on the day of the trade deadline that the Rangers would buy out the final year of DeAngelo's contract after this season. Here's how the buyout will affect the Rangers' salary-cap situation if it occurs on June 15, according to CapFriendly:
| Season | Cap hit |
| --- | --- |
| 2021-22 | $383K |
| 2022-23 | $883K |
It was also reported that the Rangers were willing to terminate DeAngelo's contract before the deadline to allow him to sign with another team as a free agent. The Montreal Canadiens apparently showed interest, but DeAngelo seemingly rejected New York's offer.
May 3 - Wilson sucker-punches Buchnevich, rag-dolls Panarin
In the second period of Monday's game between the Rangers and Washington Capitals, Tom Wilson sucker-punched a defenseless Pavel Buchnevich - causing all hell to break loose.
After Ryan Strome pulled Wilson off Buchnevich, Wilson started throwing punches at Strome before Panarin jumped on Wilson's back. Wilson engaged the Rangers superstar and continued to attack him after Panarin had lost his helmet.
Wilson received a four-minute roughing penalty and a 10-minute misconduct. Buchnevich, Panarin, and Capitals defenseman Brenden Dillon were all issued roughing minors.
May 4 - Wilson avoids suspension, Rangers rip NHL
Wilson avoided suspension for his antics and instead received a $5,000 fine for roughing Buchnevich.
The same day, the Rangers announced Panarin would miss the final three games of the season due to injury.
The Rangers issued a blistering statement on Wilson's punishment, saying they were "extremely disappointed" that Wilson - who has a lengthy history of disciplinary issues - wasn't suspended. They added that George Parros, the head of NHL Department of Player Safety, "is unfit to continue in his current role."
May 5 - Rangers fire Gorton, chaos erupts in rematch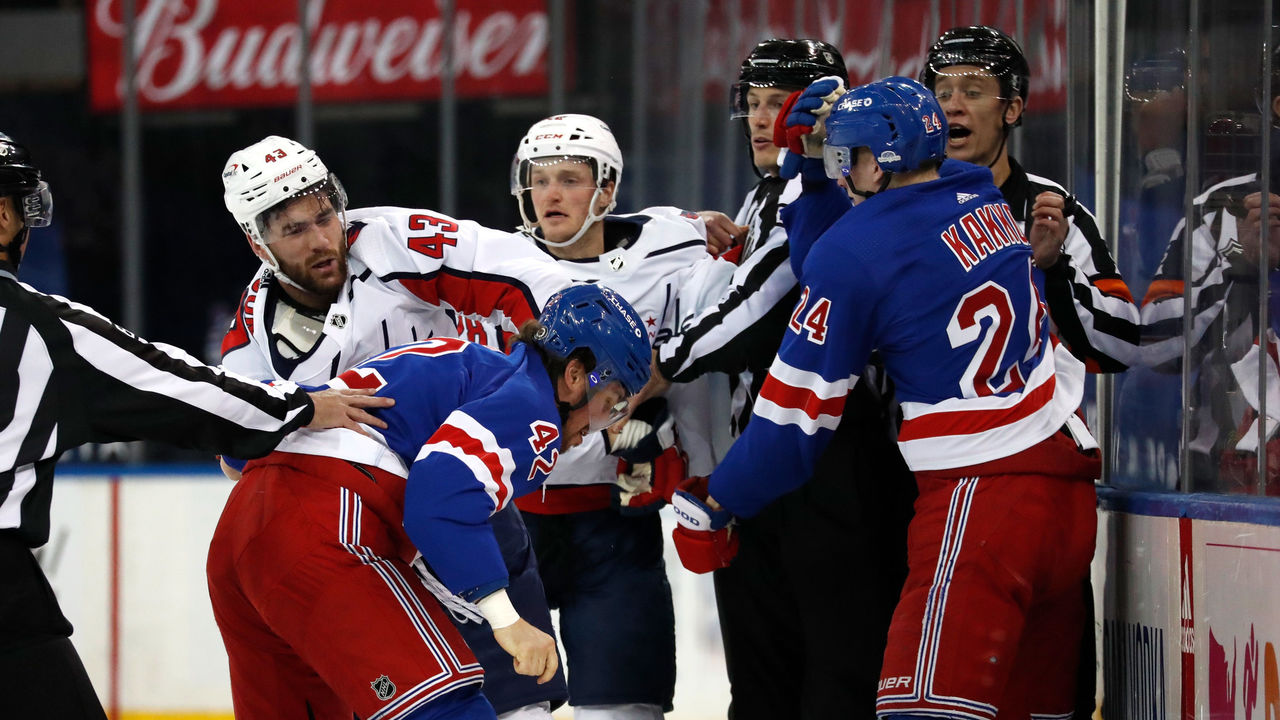 Rangers owner James Dolan dropped a bombshell Wednesday, firing Gorton and team president John Davidson. The team promoted Drury to immediately take over both roles. The firings were reportedly unrelated to the Rangers' statement on Wilson and Parros.
Ahead of Thursday's rematch with the Capitals, Rangers legend Mark Messier criticized Gorton's team-building philosophy.
"In my opinion, if you're going to win, you got to be able to win in the street and the alley," the Hall of Famer said. "I, particularly, would not have built the team that didn't have answers in this regard."
As expected, the rematch was full of fireworks. There was a line brawl off the opening faceoff, followed by three more fights - including a tilt between Wilson and Brendan Smith - in the opening period.
The animosity didn't end there, though, as Buchnevich cross-checked Anthony Mantha in the face during the second period.
May 6 - Rangers fined, Buchnevich suspended
The NHL fined the Rangers $250,000 for their fiery statement.
"Public comments of the nature issued by the Rangers that were personal in nature and demeaning of a league executive will not be tolerated," commissioner Gary Bettman said.
"It is terribly unfair to question George Parros' professionalism and dedication to his role and the Department of Player Safety."
For those keeping score at home, the Rangers' fine is 50 times greater than Wilson's. Still, it's pocket change for Dolan, who has a net worth of $2.5 billion.
Buchnevich, meanwhile, had a hearing for high-sticking Mantha and was suspended one game. He was already set to miss the final two contests of the season due to an injury.