NHL Power Rankings: One eye-popping stat from every team
Mark LoMoglio / National Hockey League / Getty
This is the third edition of theScore's NHL Power Rankings for the 2020-21 season. Check back for updated rankings every second Monday during the regular season.
In this edition, we provide one incredible stat from each team during the early part of the season.
1. Tampa Bay Lightning (7-1-1)
Previous rank: 3
Andrei Vasilevskiy has been a workhorse, as he's played every minute of the Lightning's nine games. The Bolts lead the NHL with a .949 save percentage at five-on-five.
2. Vegas Golden Knights (7-1-1)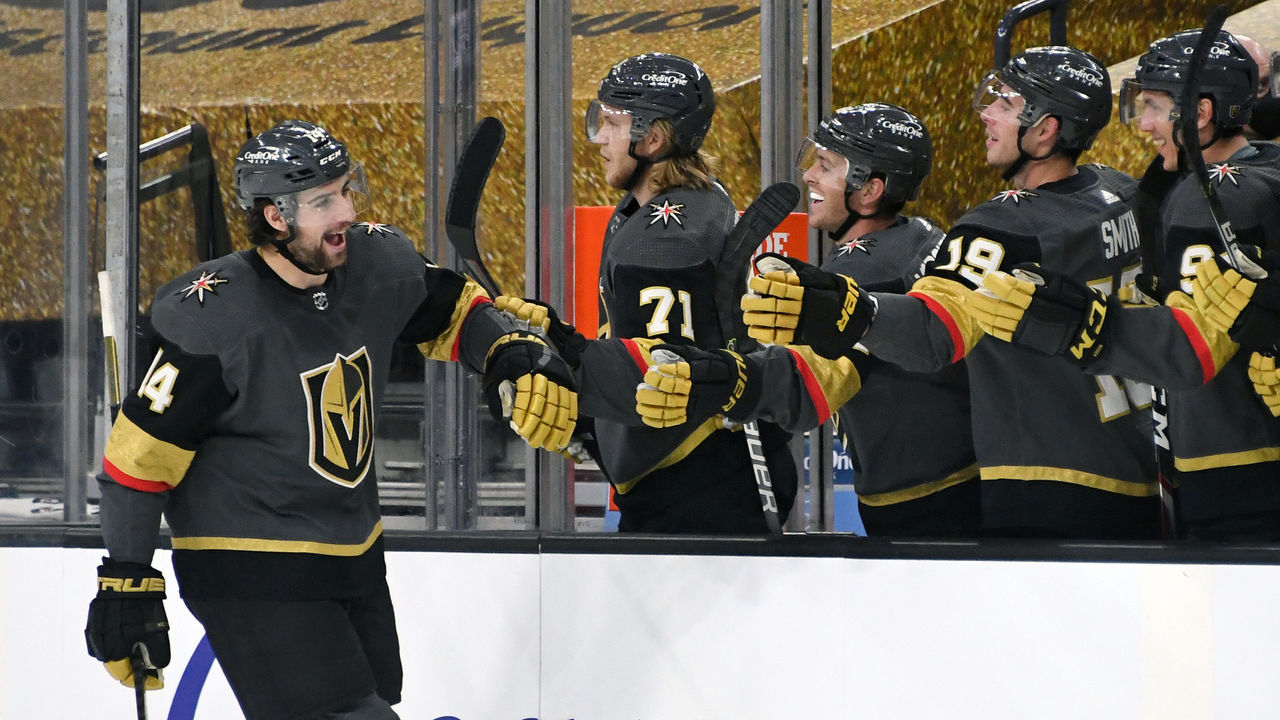 Previous rank: 1
Sophomore blue-liner Nic Hague is turning into a stud for the high-powered Golden Knights. The club owns a 73.29% share of expected goals for at five-on-five when he's on the ice this season, which is the best mark among all defensemen.
3. Boston Bruins (8-1-2)
Previous rank: 5
The Bruins are the NHL's best faceoff team, winning 56.7% of their draws.
4. Toronto Maple Leafs (9-2-1)
Previous rank: 4
The Maple Leafs' power play is operating at a league-best 38.5%. They've scored on the man advantage in 11 of their 12 games this season.
5. Montreal Canadiens (8-2-2)
Previous rank: 2
You could make the case the Habs should be higher on this list, as they lead the NHL with a plus-17 goal differential.
6. Colorado Avalanche (7-3-1)
Previous rank: 6
The Avs own the NHL's best penalty kill at 89.7%.
7. Florida Panthers (6-1-2)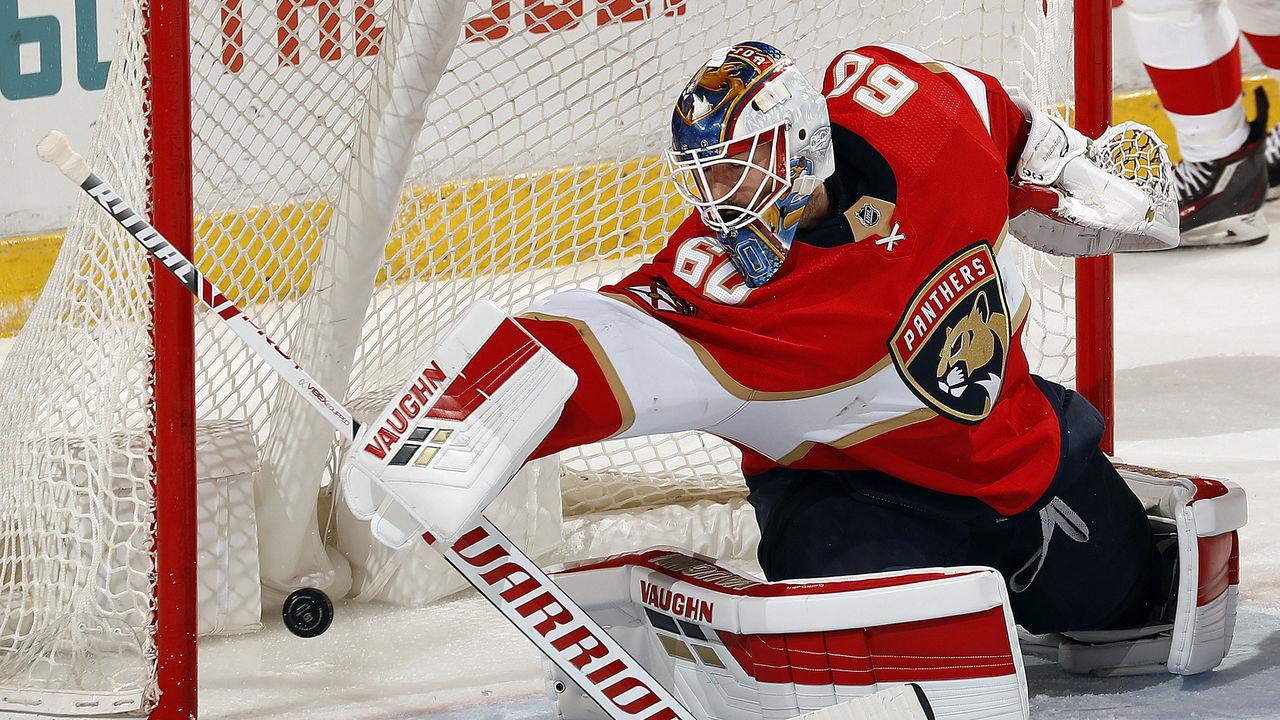 Previous rank: 19
With Sergei Bobrovsky struggling in net once again, goaltender Chris Driedger has been red-hot. Despite entering the season with 15 career appearances, he has a minuscule 1.97 goals-against average and .937 save percentage in five games this year.
8. Carolina Hurricanes (7-2-0)
Previous rank: 11
The budding Hurricanes are off to a torrid start. They won six of their opening seven contests in consecutive seasons for the first time since the franchise moved to Carolina in 1997-98.
9. Winnipeg Jets (7-3-1)
Previous rank: 12
Adam Lowry has enjoyed a breakout campaign for the Jets. The 27-year-old had four goals and 10 points through 49 games in 2019-20 and has already tallied four goals and nine points through 11 contests this season.
10. Philadelphia Flyers (8-3-2)
Previous rank: 15
James van Riemsdyk was a healthy scratch at times last season, but he's collected 18 points in his first 13 games of 2020-21, putting him on pace for 114 in 82 games. The 31-year-old's career-best season was his 62-point 2016-17 campaign with Toronto.
11. Washington Capitals (6-3-3)
Previous rank: 10
After blasting the 710th goal of his career past Carter Hart on Sunday, Alex Ovechkin has now scored against 144 different goaltenders since breaking into the league.
12. Dallas Stars (5-2-2)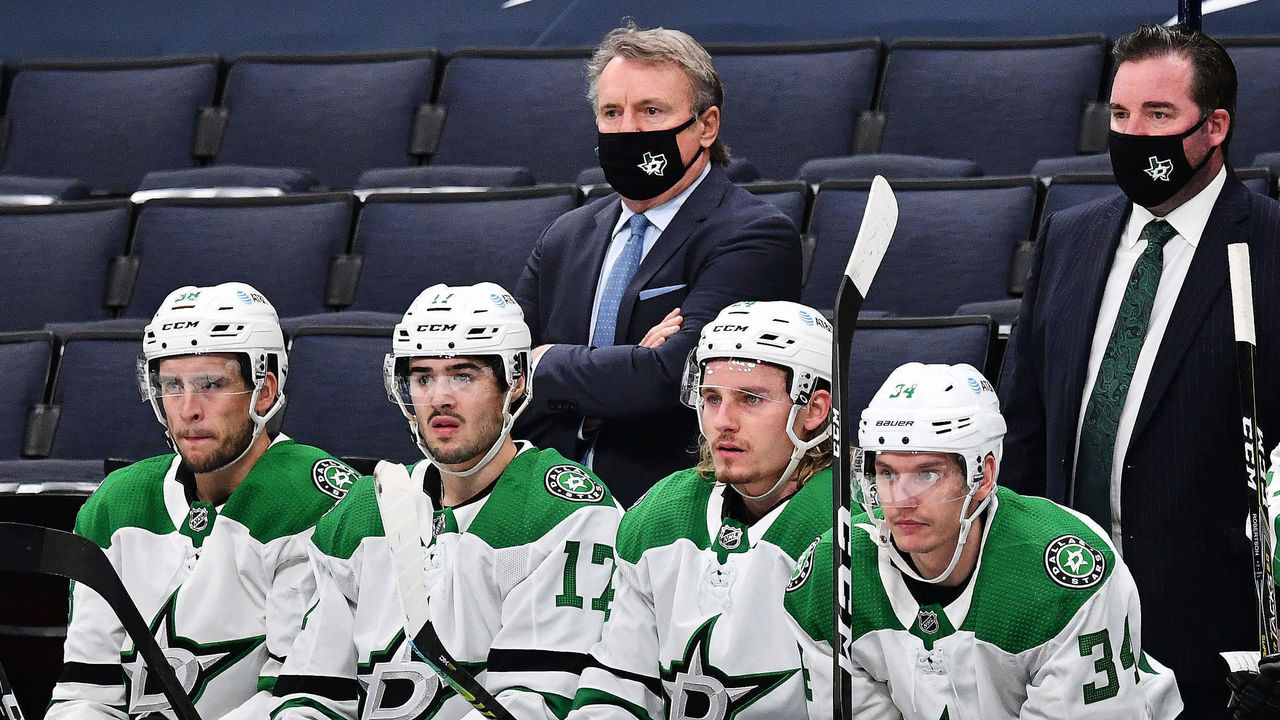 Previous rank: 13
The Stars entered Sunday with the fewest slap shots taken in the NHL (17), but they've converted on them at a league-best 17.7%.
13. St. Louis Blues (7-4-1)
Previous rank: 7
The Blues have the worst net penalties in the league with a minus-14 rating. They've drawn 45 penalties but have taken 59.
14. Columbus Blue Jackets (5-5-3)
Previous rank: 18
The Blue Jackets have been outshot in all five of their wins this season. In fact, Columbus has outshot its opponent just once in 13 outings.
15. Calgary Flames (5-5-1)
Previous rank: 14
Johnny Gaudreau became the fifth-fastest left-winger in NHL history to reach 300 career assists on Saturday.
16. Minnesota Wild (6-5-0)
Previous rank: 17
Minnesota's defense has been rock solid at limiting opponents' opportunities to start the season. At even strength, the Wild have allowed the second-least high-danger scoring chances against (56).
17. Pittsburgh Penguins (5-5-1)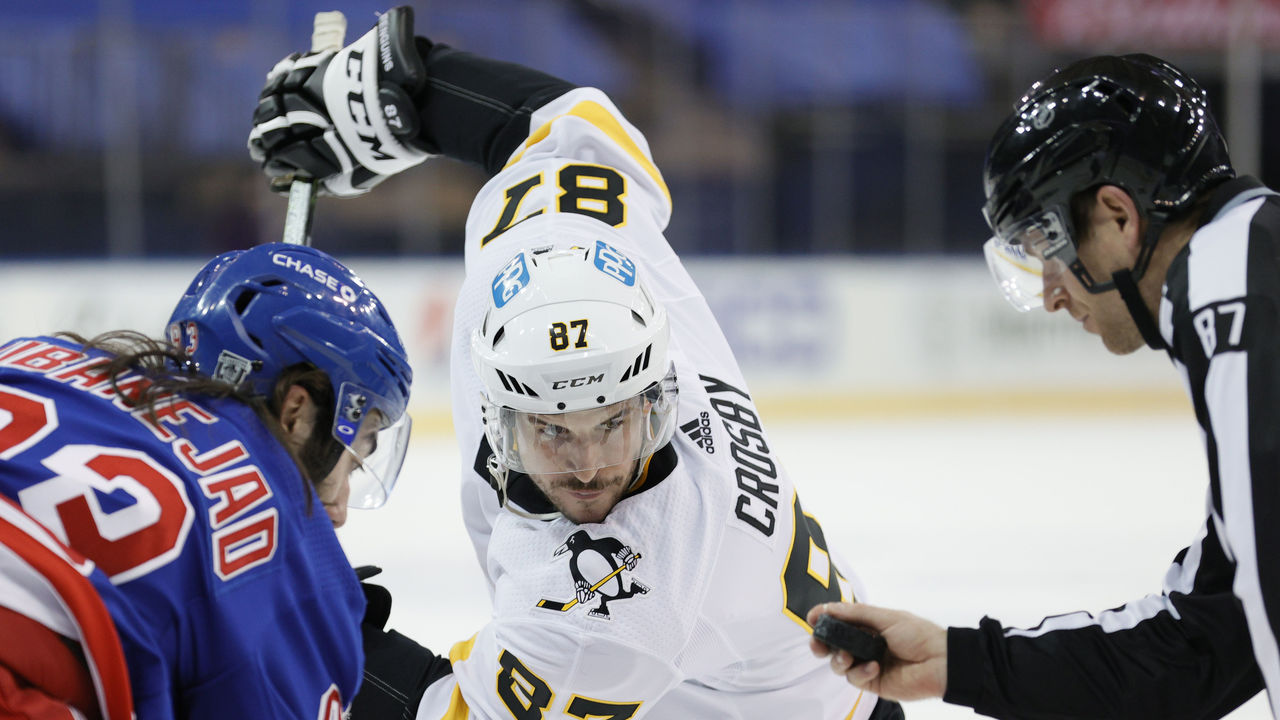 Previous rank: 9
The Penguins have saved their best hockey for last. Pittsburgh has won three of its five games when trailing after two periods, which is the most in the league.
18. Buffalo Sabres (4-4-2)
Previous rank: 23
Jeff Skinner has managed to collect just one assist and no goals through his first 10 games of 2020-21. Since his rookie year, he's averaged 8.4 points over the first 10 games of a season.
19. New Jersey Devils (4-3-2)
Previous rank: 16
Mackenzie Blackwood's .982 save percentage at five-on-five leads all goaltenders.
20. New York Islanders (4-4-2)
Previous rank: 8
The Islanders are one of the best at closing out games. In 10 contests, they've allowed just four goals in the third period, which tops the NHL.
21. Arizona Coyotes (5-5-1)
Previous rank: 20
The Coyotes own the best penalty kill on the road (96%), giving up just one power-play goal away from home.
22. New York Rangers (4-4-2)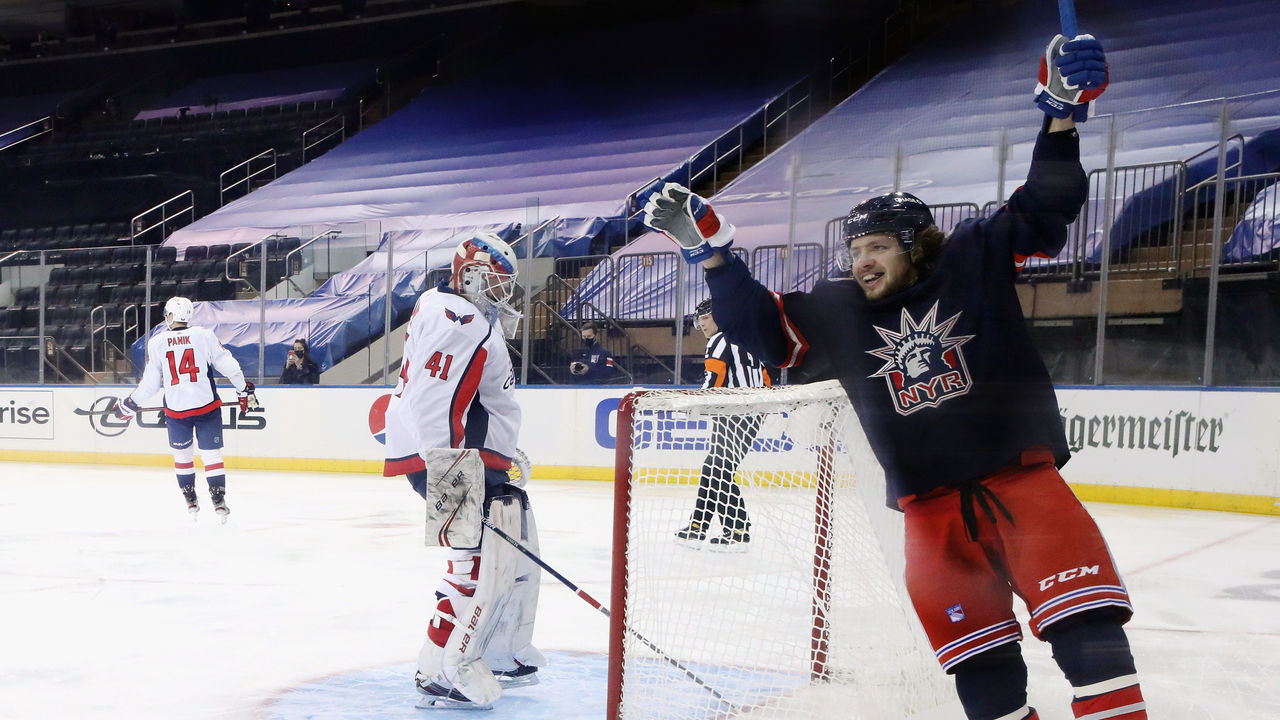 Previous rank: 24
The Rangers aren't going anywhere this season if they can't muster more offense late in games. Of the club's six third-period tallies, a pair were deposited into an empty net, and only two came at even strength.
23. Edmonton Oilers (6-7-0)
Previous rank: 21
Connor McDavid leads the NHL with 26 points in 13 games. This puts him on pace for 112 over 56 contests or 164 over 82 games. The latter would be the most in a season since Wayne Gretzky (168) and Mario Lemieux (199) in 1988-89.
24. Nashville Predators (5-6-0)
Previous rank: 22
The Predators' offense has been almost nonexistent until the final frame on most nights. Nashville has scored just five goals in each of the first and second periods compared to 16 in the third.
25. Chicago Blackhawks (5-4-4)
Previous rank: 29
Rookie puck-stopper Kevin Lankinen's sparkling .928 save percentage has kept the Blackhawks afloat.
26. Anaheim Ducks (5-5-3)
Previous rank: 27
Ducks goalie John Gibson has been busy to start the campaign. He's faced the most high-danger shots against (102) in the league and has the second-highest expected goals against (28.68).
27. San Jose Sharks (4-5-1)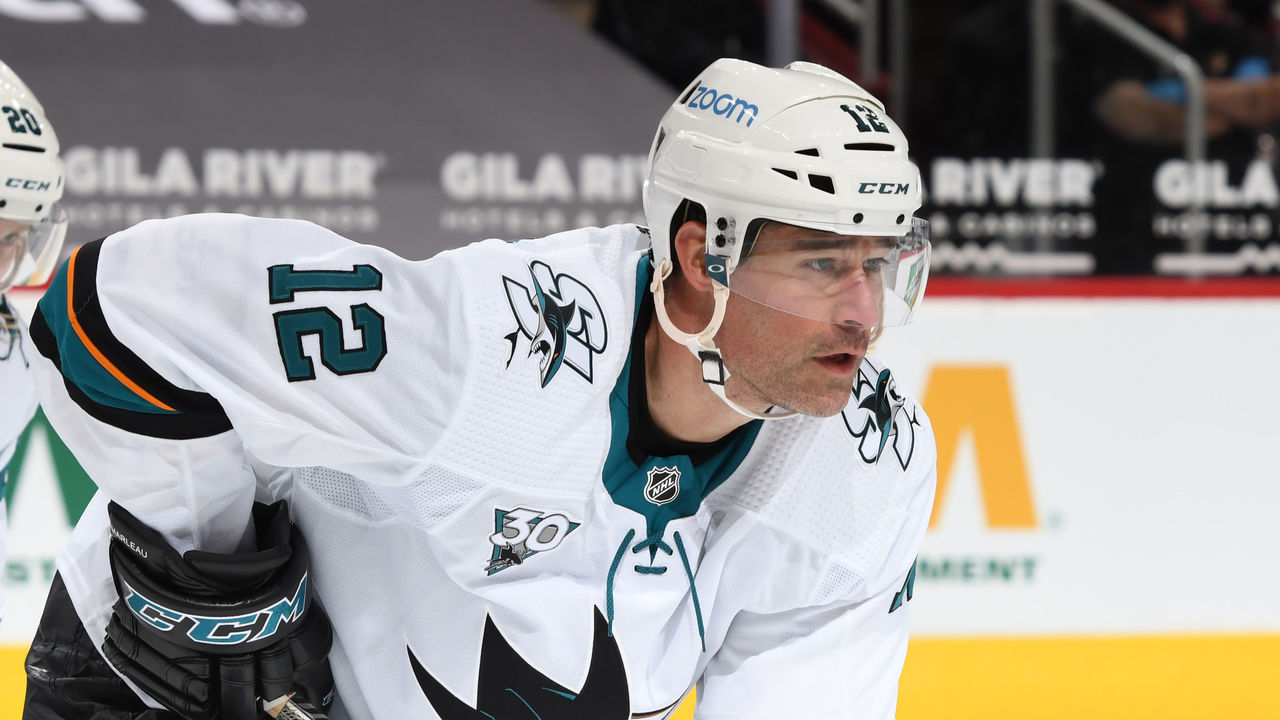 Previous rank: 25
Patrick Marleau can move into sole possession of third place on the NHL's all-time games played list on Tuesday.
28. Vancouver Canucks (6-9-0)
Previous rank: 28
The Canucks have allowed the most goals against (60) and shots per game (35.7) in the entire league so far but have also scored the most at five-on-five (35).
29. Los Angeles Kings (3-6-2)
Previous rank: 26
Anze Kopitar entered the season needing 50 points to reach the 1,000-point milestone. His scorching start has seen him rack up 14 points in 11 games, putting him on pace to get there easily.
30. Detroit Red Wings (3-8-2)
Previous rank: 30
Until Sunday, the last time a goaltender other than Jonathan Bernier won a game for the Red Wings was on Oct. 29, 2019 - or 467 days ago. Thomas Greiss helped snap that streak with a win against the Panthers.
31. Ottawa Senators (2-9-1)
Previous rank: 31
Brady Tkachuk continues to be the focal point of Ottawa's offense, leading the team with seven points. His continuous effort on the ice is evident. He leads the league in shots on goal (51) and has also drawn the most penalties (15).
Comments
✕
NHL Power Rankings: One eye-popping stat from every team
  Got something to say? Leave a comment below!