The final score will paint an optimistic picture: The Winnipeg Jets defeated the Calgary Flames 4-3 in overtime on Thursday night. Patrik Laine scored two goals and added an assist. The Jets are off and running with a 1-0 record.
The real takeaway is that Winnipeg's blue line wasn't the story. After a shaky opening 20 minutes, the unheralded six-pack of Josh Morrissey, Neal Pionk, Tucker Poolman, Derek Forbort, Nathan Beaulieu, and Sami Niku did an adequate job insulating goalie Connor Hellebuyck. Calgary mustered just four high-danger shot attempts at even strength.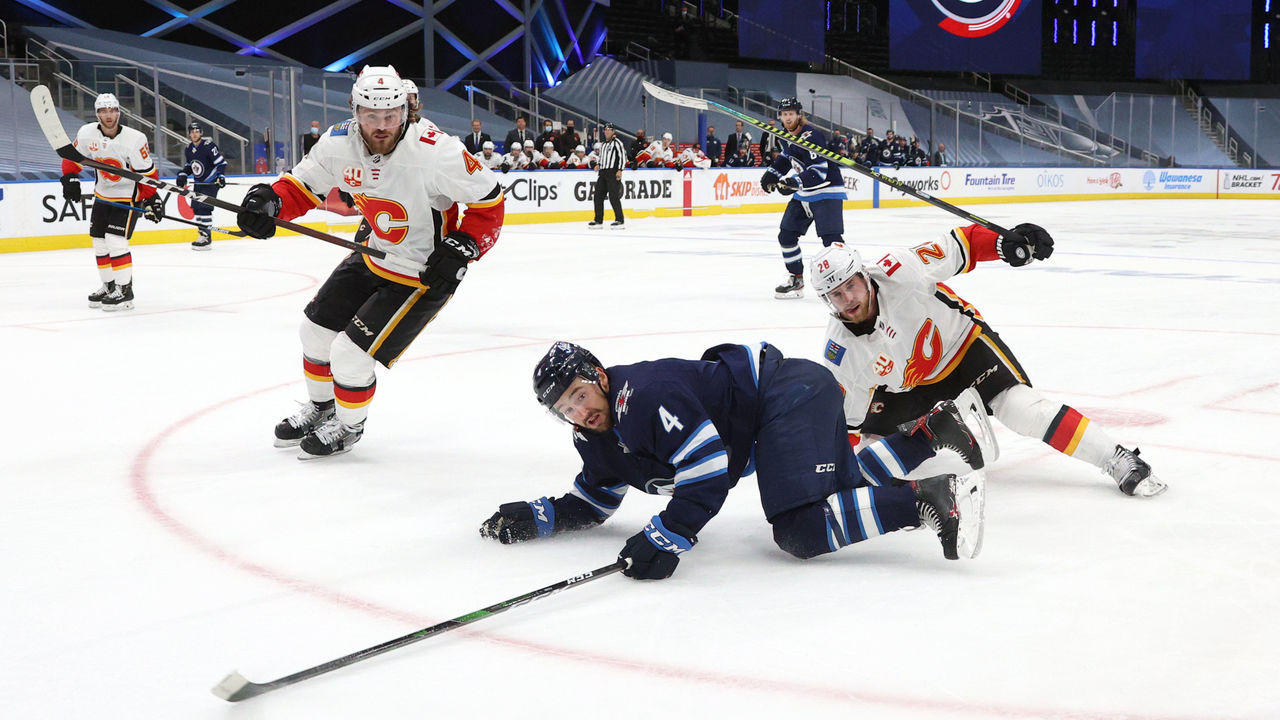 That last stat is not something you could write often last season. The Jets were a train wreck in their own end, ranking near the bottom in virtually every defensive metric. After a relatively quiet offseason, they've brought back basically the same personnel.
In an interview on Tuesday, Pionk spoke about how the blue line must change its approach to defending. Being proactive is at the core of the game plan.
"I wouldn't say it's necessarily a magic potion that we have," Pionk said. "But, for myself personally, just watching video in the offseason, a lot of it is going to have to do with anticipation.
"There's a big difference between anticipation and guessing. You can't just guess a play is going to happen. But if you know a guy is going to cycle down low, then go confront that player, go down low, and kill that play as fast as you can. The best defense is when you have the puck and can get going on offense, right? We've talked a lot about that in training camp. As long as we can kill plays in a quick way, we're going to eliminate a lot of those chances."
Pionk's words immediately came to mind Thursday as I watched Morrissey confront Sean Monahan deep in Winnipeg's end as the Calgary forward tried to generate a scoring chance in the third period, with the score tied 3-3:
Morrissey's aggression and Poolman's quick cross-ice pass to Kyle Connor is exactly what the coaching staff is asking for. Kill the play and get the puck to one of the team's talented forwards as soon as possible.
So the first game went well - all things considered. Only 55 remaining in this offense-first division. We'll see if this grounds the high-wire act the Jets played last season.
Mental challenges ahead
Binging on live hockey these past two days, it's been easy to forget how fragile the whole operation is amid a raging pandemic. The NHL is, to nobody's surprise, running into the same COVID-19 outbreak issues as other pro sports leagues that staged games outside a bubble.
A list of "players who are unavailable to play or practice" is being released by the league office on a regular basis. Wednesday's opening-day report included 22 names. That count doesn't even include Dallas, where the Stars are dealing with a significant spread that's sidelined 14 players, causing the postponement of their first three games.
"We're all human beings. You can't do a bubble for an entire hockey season. I think that's well-known," San Jose Sharks goalie Devan Dubnyk said earlier this week.
"You can drive yourself crazy if you're overanalyzing and overthinking every single move you make - who you're talking to, what you're doing," added Dubnyk, a longtime NHLPA team representative. "But it's just about being smart and not taking unnecessary risks, and just following the (NHL/NHLPA COVID-19) protocols that have been laid out as best as you can."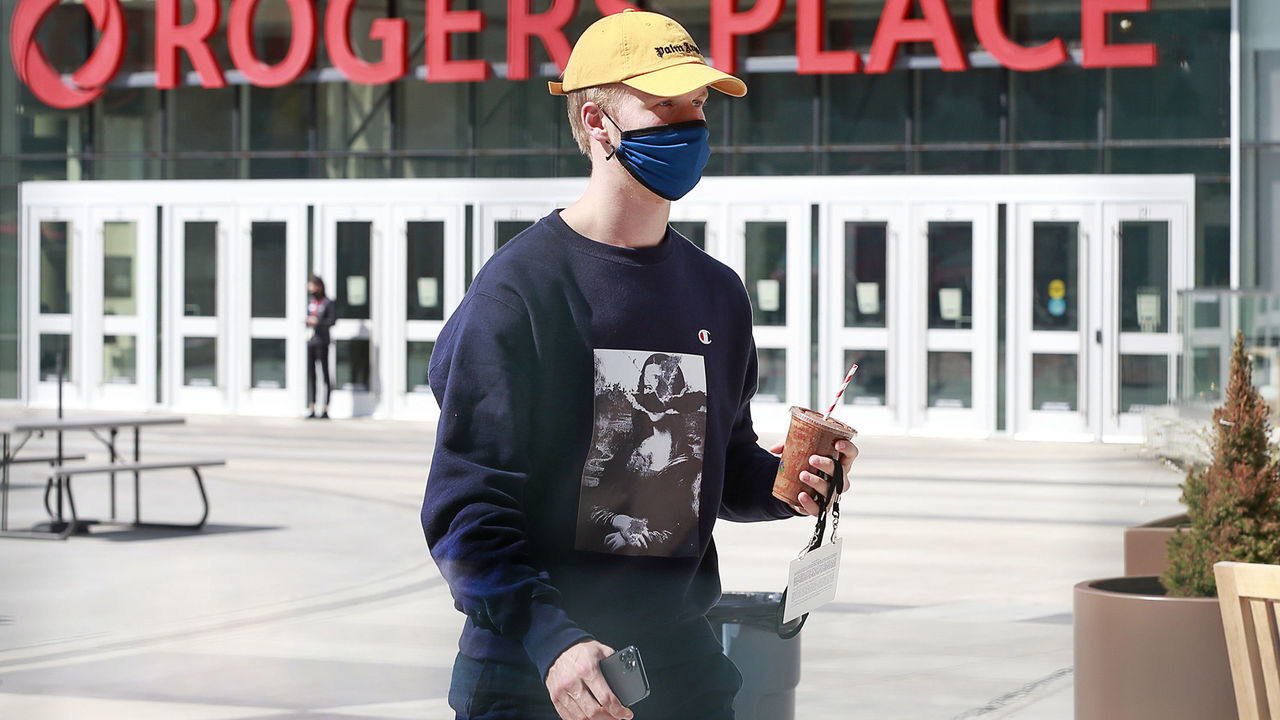 The bubbled postseason was tough on mental health. The current setup is a little kinder overall, though players, coaches, and staff are still confined to the rink and hotel while on the road for their multi-game series.
"The mental side of it will be a trade-off. There's pros and cons," Anaheim Ducks defenseman Kevin Shattenkirk said. "The ability to play a game in, say, Arizona, and then even if it's a back-to-back, staying in town and being back in your room at 11:30 after your game rather than flying overnight to play the second game in a back-to-back, that'll work out in your favor. So there are ways in which the baseball-style schedule is good.
"But the fact that we're playing 56 games in 118 days, or whatever it is, that's going to be a grind. Guys will get used to it, and it'll be a lot of what we experience in February and March of a normal year. But to do it for such a long time is going to be something where we have to make sure we're keeping our minds fresh and keeping our bodies as healthy as we can."
Svechnikov's the 'full package'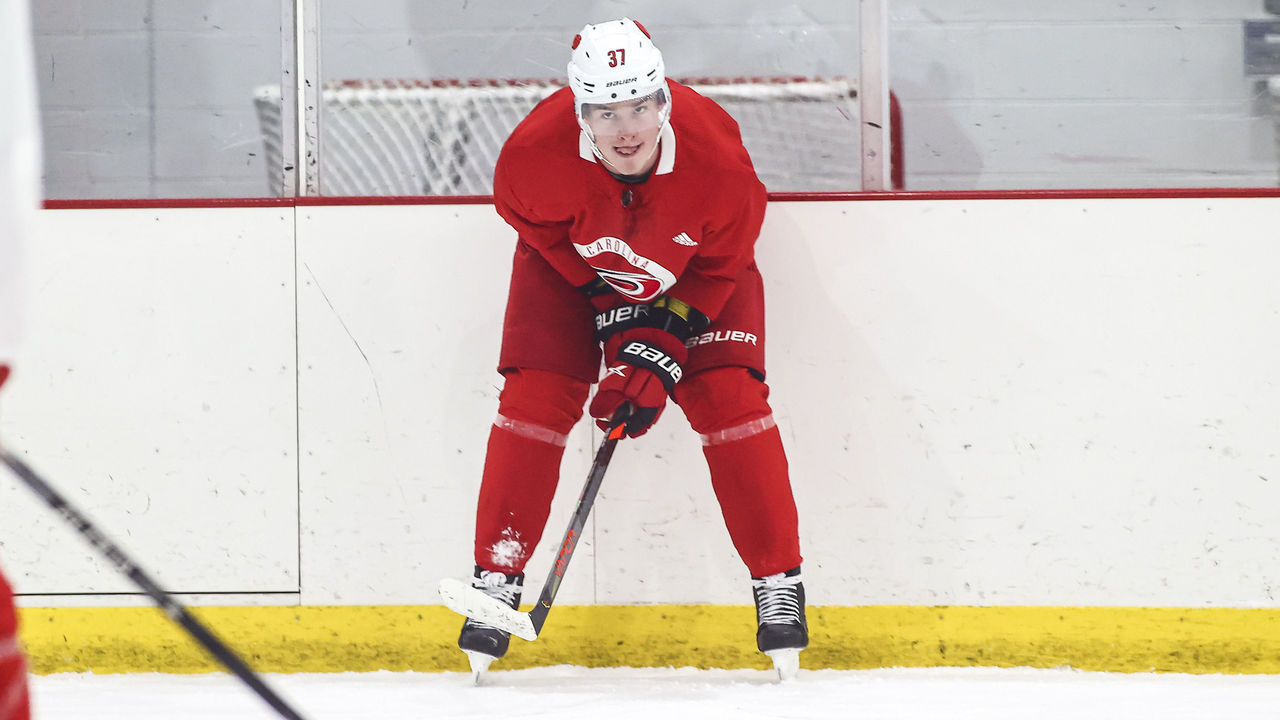 If Andrei Svechnikov's name was Joe Smith and he played for the Vancouver Canucks, I'm convinced we'd be hearing about him ad nauseam.
Last season, Svechnikov very quietly bagged 24 goals and 37 assists for 61 points in 68 games as a second-year winger for the Carolina Hurricanes. He did it by skating the equivalent of second-line minutes, ranking fourth among Carolina forwards at 16:44 a night. In the bubble, the Russian was dynamite before getting injured midway through the second round.
"He's got so many top skills. I don't know if you can say just one," Hurricanes teammate Warren Foegele said of Svechnikov, who scored a goal in Carolina's opener on Thursday. "He's the full package. The skating, it's really good. He's strong. He's physical. His shot, his skills. He's just a special player."
"I think he initiates a lot, too," Foegele continued. "If you watch some of the games closely, you can see that he's laying some big hits out there. I know that in the playoffs you can just see him knock some big guys. He's battling against (Zdeno) Chara before he got hurt. He's not afraid. He's not stepping down. He just wants to win."
That physicality is rare for a guy who's skilled enough to pull off two lacrosse-style goals in one season. In fact, according to Natural Stat Trick's database, Svechnikov finished fourth in hits per 60 minutes (6.12) among the 46 players who scored at least 24 goals last season. Not bad.
Slow death of the slap shot?
Micah Blake McCurdy, the creator of the indispensable HockeyViz.com, ran the numbers recently on shot types and found that slap-shot use in the NHL declined significantly over the past decade or so.
In 2007-08, when the league began tracking shot types, slap shots represented 35% of all shots at even strength and 35% of all shots on the power play. Those percentages have sunk to roughly 15% at evens and 22% on the PP.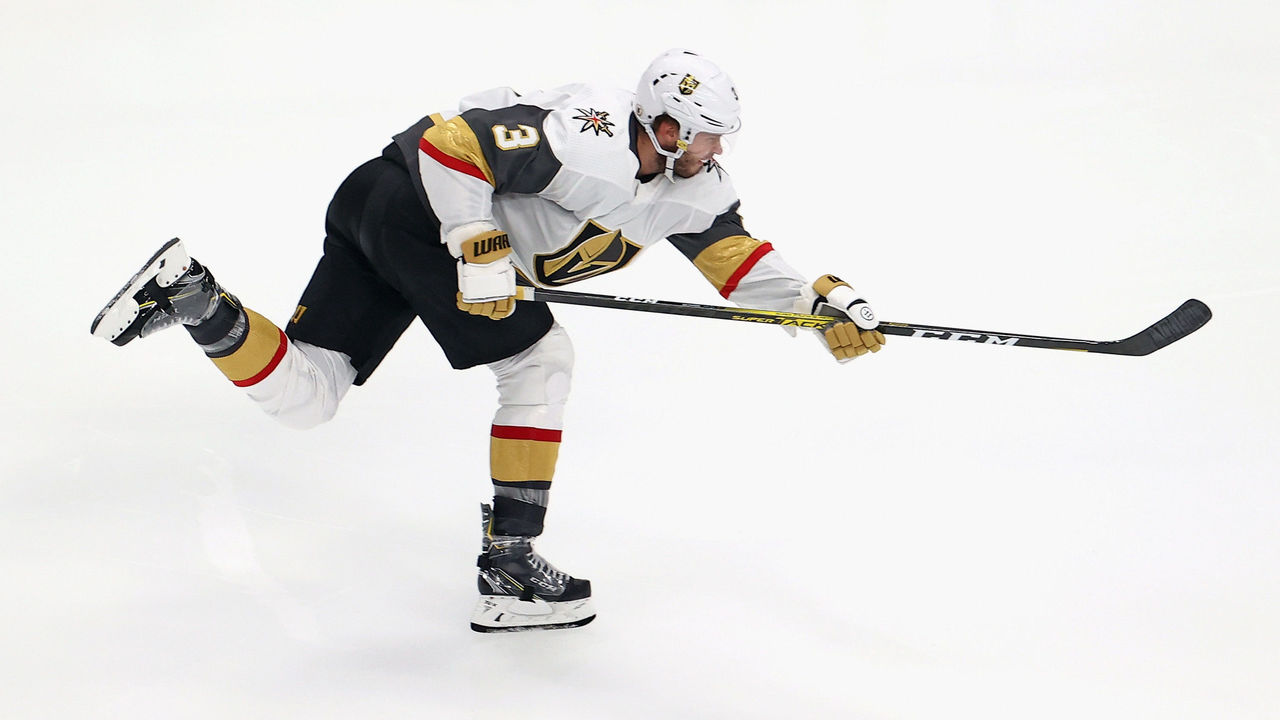 Asked for his take on this trend, Flames defenseman Noah Hanifin opined that a dramatic shift in game speed is one of the driving forces.
"As a defenseman, you have such limited time when you get the puck at the blue line. Guys are right in your shooting lane. Guys are getting out quick on you and they're trying to take away the ability for you to shoot extremely fast," Hanifin said, before adding: "The time to wind up and take a slap shot just isn't there anymore."
Hanifin also noted that thanks to advancements in stick technology, players in 2021 can generate almost as much velocity and accuracy on a well-taken wrist shot or snap shot as they can with a rushed clapper. The difference, of course, is the length of time it takes to get rid of the puck.
Pionk agreed while offering another theory: Defending players deploy their sticks differently nowadays, with more versatility, which is stymieing more slap-shot attempts from the point.
"My guess is that the stick detail has improved so much that there's not as much (attention on) hooking or hitting. Especially for a small guy like me," said Pionk, who is 6-feet, 186 pounds. "Your stick is your biggest weapon. You can kill a play, you can deflect a puck into the netting. So maybe that's the reason?"
Norris and that booming shot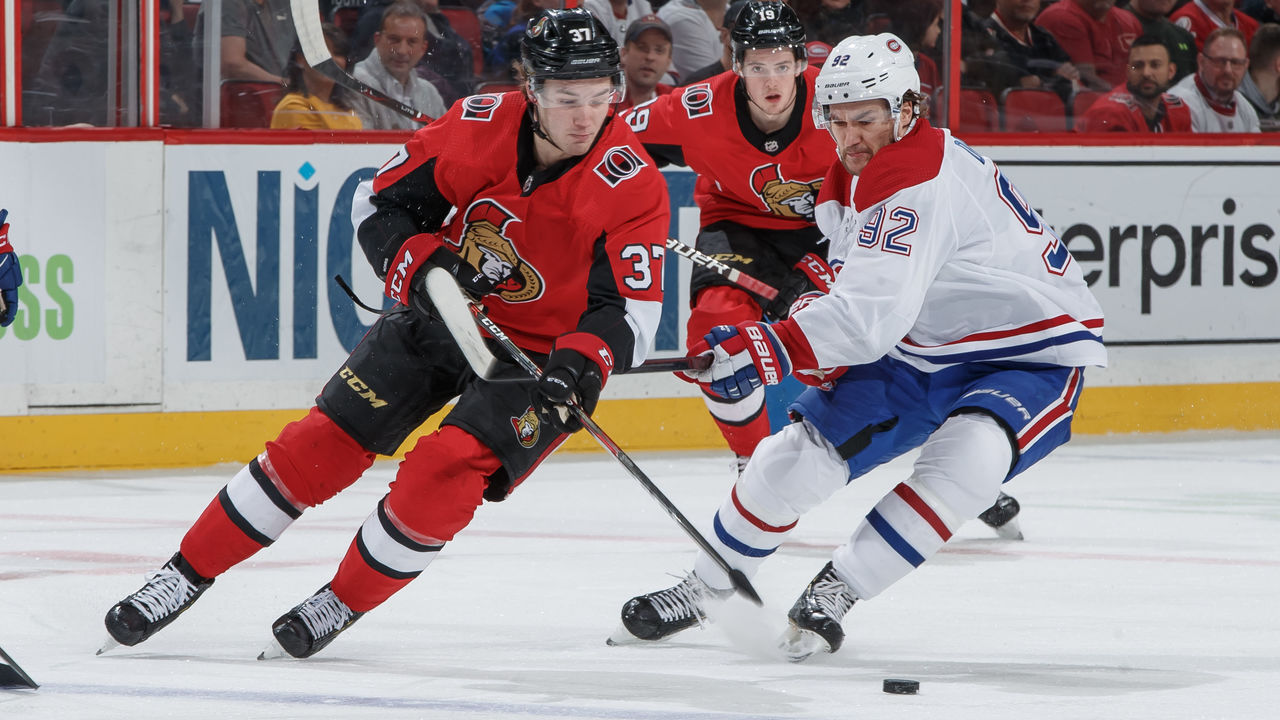 In the Ottawa Senators' opener Friday night, head coach D.J. Smith is expected to unveil a top line featuring 21-year-old Josh Norris at center alongside Brady Tkachuk, also 21, and Drake Batherson, 22. Norris, a 6-foot-2 speedster, arrives with plenty of hype after dressing for three NHL games and winning the AHL's top-rookie award last year.
"The one thing, for me, that's always caught my eye, is his shot," Senators defenseman Thomas Chabot said. "He's not the biggest guy when you look at him on the ice, but to see him use that release is amazing. It's really impressive. That goes with all the other tools he's got, too. He's going to be a big piece of our team. He's going to really help us right away this year, and he's going to be well-surrounded. Very talented kid."
For a team projected to finish last in its division, the Senators are still watchable. Norris' shot is just one of many curiosities.
Ottawa's top six is being filled out by Tim Stutzle, Derek Stepan, and Evgenii Dadonov, all of whom are new to the team and, in Stutzle's case, to the NHL. Chabot is a magnetic player due to his incredible skating and puck skills, and his yin-and-yang partnership with veteran Erik Gudbranson should be interesting. Most intriguing is goalie Matt Murray and the direction in which his career trends over the first season of a four-year deal.
ELDOA offers another off-ice option
Long gone are the days where running hills and lifting dumbbells were the only options for NHLers looking to stay fit and healthy. The modern NHLer is open-minded about what kinds of off-ice exercises are worth their time and energy.
"There's so many things now, off the ice, that everyone's doing. Whenever you can find something that works for you, it's nice to stick with it," Arizona Coyotes defenseman Jakob Chychrun - a physical specimen at 6-foot-2, 210 pounds - said in reference to yoga, Pilates, and other new-wave exercises.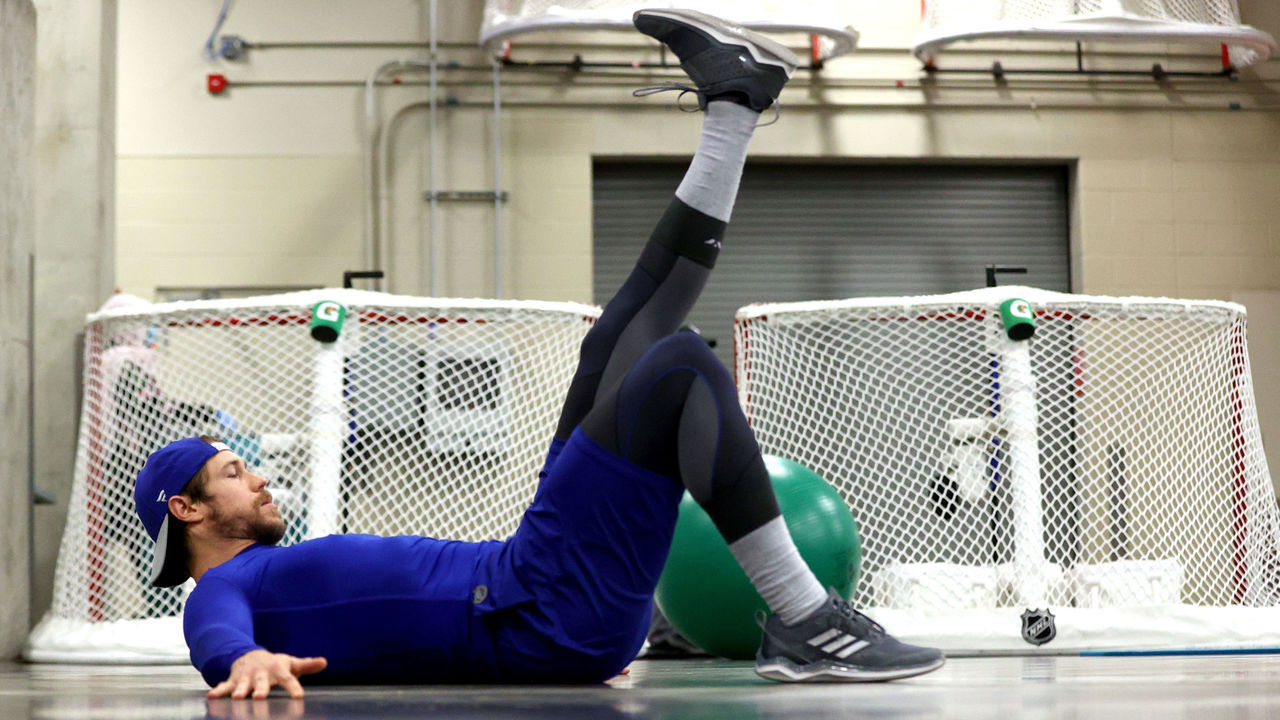 The latest craze is ELDOA, a French acronym that translates to longitudinal osteoarticular decoaptation stretching. Stars Connor McDavid and Connor Hellebuyck are noted proponents, while Foegele says he added ELDOA into his offseason training regime at former pro Gary Roberts' gym in Toronto in an effort to refine his core and enhance his stability.
"It's something you can always work on to prevent injuries in the future. More (research) is coming out on that," Foegele said. "It's something I wanted to try. I hadn't focused enough time on that, and ELDOA is pretty cool to learn."
Hockey hair bonanza
Cody Glass is rocking a mean mane to mark his sophomore season.
As a group, the Vegas Golden Knights score high in the hair department. Top center William Karlsson's had long golden locks for years. Captain Mark Stone isn't Mark Stone unless that mop of hair is spilling out of his helmet. Goalie Robin Lehner is sporting a lengthy, slicked-back look at the moment.
So who is Vegas' king of flow right now? "Probably Karlsson," Glass said with a hearty laugh. "He's held the title for the longest time."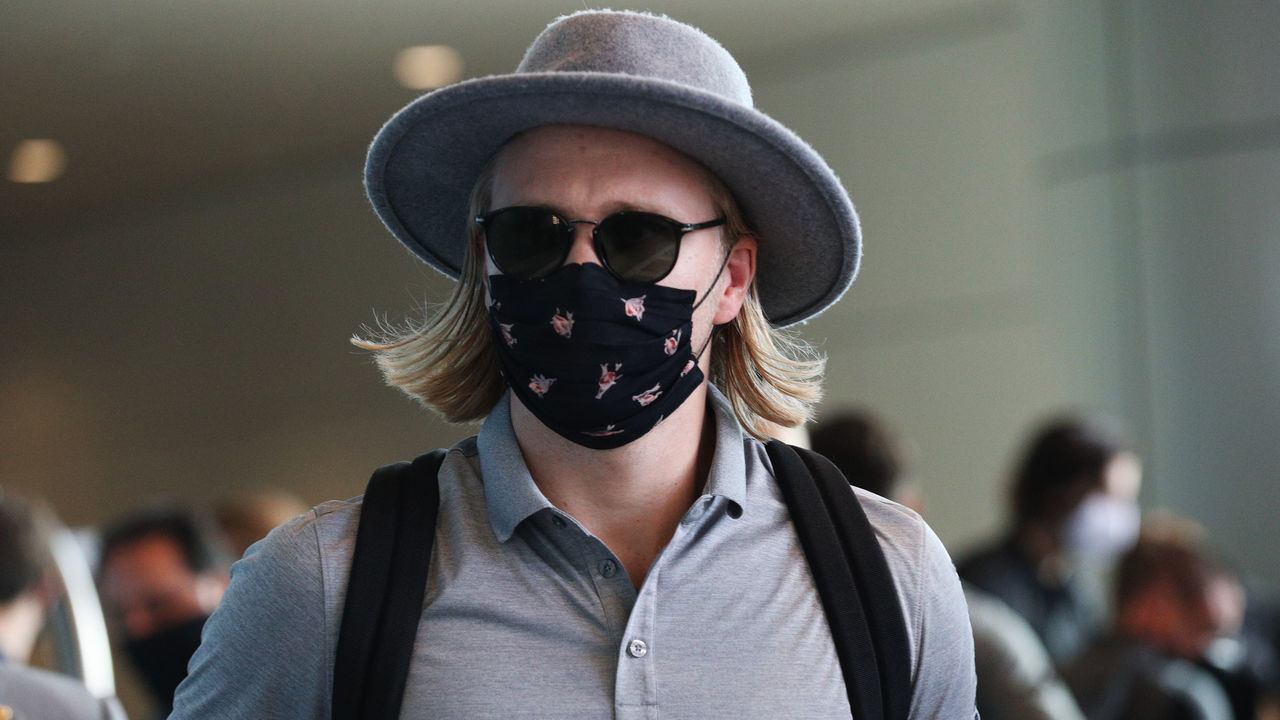 With fewer trips to the barbershop during COVID-19, the Toronto Maple Leafs' core players are also channeling their inner Jaromir Jagr and Al Iafrate. Travis Konecny and Ivan Provorov of the Philadelphia Flyers apparently got the memo, as well. It'll be tough to match the level of complexity we see each year at the Minnesota state high school hockey tournament, but this is quite the start.
"You're going to see a lot of long hair coming out of the bucket, especially with the times we're living right now," Glass said.
"I think it's going to be the Year of the Hockey Hair."
3 parting thoughts
Auston Matthews: I was watching the Leafs game Wednesday night and noticed Matthews wearing some unique CCM skates. The big and bold logo catches the eye, and the thick red streak pops. It'll be interesting to see where this goes in respect to adding bolder design aspects on skates.
Glass ads: I don't mind the helmet ads. The corporate logos on the seat coverings and behind the bench are fine. Make your money, NHL. But the advertisements on the glass above the boards in some rinks are distracting.
David Puddy: Even if you don't cheer for the New Jersey Devils, you've gotta love this message using an image of the legendary "Seinfeld" character. Mask up, indeed.
Takes, Thoughts, and Trends is theScore's monthly hockey grab bag.
John Matisz is theScore's national hockey writer. You can follow John on Twitter (@MatiszJohn) and contact him via email (john.matisz@thescore.com).