Holtby apologizes, won't wear mask depicting thunderbird after criticism
Jeff Vinnick / National Hockey League / Getty
Vancouver Canucks goaltender Braden Holtby will not wear the new Indigenous-themed mask he had planned to debut with his new team this season after being accused of cultural appropriation.
"I just wanted to make sure I apologize to anyone I had offended," Holtby told CTV News' Emad Agahi on Saturday. "It was definitely not my intent and I definitely learned a valuable lesson through this all and I'll make sure I'm better and moving forward, do the things that help the community the most."
In a now-deleted Instagram post, Swedish goalie mask artist Dave Gunnarsson shared his design for Holtby's headgear, which he wrote depicted "the myth of the Thunderbird, a Canadian west (coast) myth." Gunnarsson also described the image, as shown below, as "The Northwest Coast Indigenous Myth."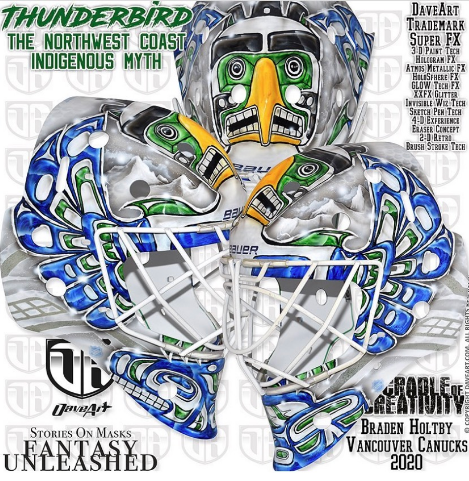 (Courtesy: Reddit Hockey)
Gunnarsson took the post down a day later after social media users claimed it appropriated Aboriginal culture. Several First Nations figures agreed.
"When we see the mask, although looking brilliant, one of the first questions you ask is, 'Who made it?'" said Robert Philips, a member of the First Nations Summit Political Executive and the Northern Secwepemc te Qelmucw (Shuswap) of the Canim Lake First Nation.
"Immediately thoughts of cultural appropriation come up," Philips told Agahi.
Jay Soule, an Indigenous artist based in Toronto, had a suggestion for Holtby.
"If the goalie in question wants to use Indigenous art on his helmet, the right thing to do would be just to reach out to an Indigenous artist and commission (them) to do that," Soule said.
Soule added that when this kind of work comes from non-Indigenous artists, it has a "catastrophic" effect on his community's economy. The artist also said he too believes it was cultural appropriation, but lauded Gunnarsson for taking "a step in the right direction" by removing the post.
Holtby told Agahi he plans to collaborate with a First Nations artist for a new mask he'll wear for the 2020-21 season.
Comments
✕
Holtby apologizes, won't wear mask depicting thunderbird after criticism
  Got something to say? Leave a comment below!