5 potential landing spots for Hoffman on a 1-year deal
The majority of the marquee free agents are now off the board, but Mike Hoffman continues to search for his next destination. It was reported Thursday that the 30-year-old is open to signing a one-year contract, which gives prospective teams more flexibility to bring in the dangerous goal-scorer.
Here are five clubs in a position to make a splash by bringing in Hoffman for one season.
Nashville Predators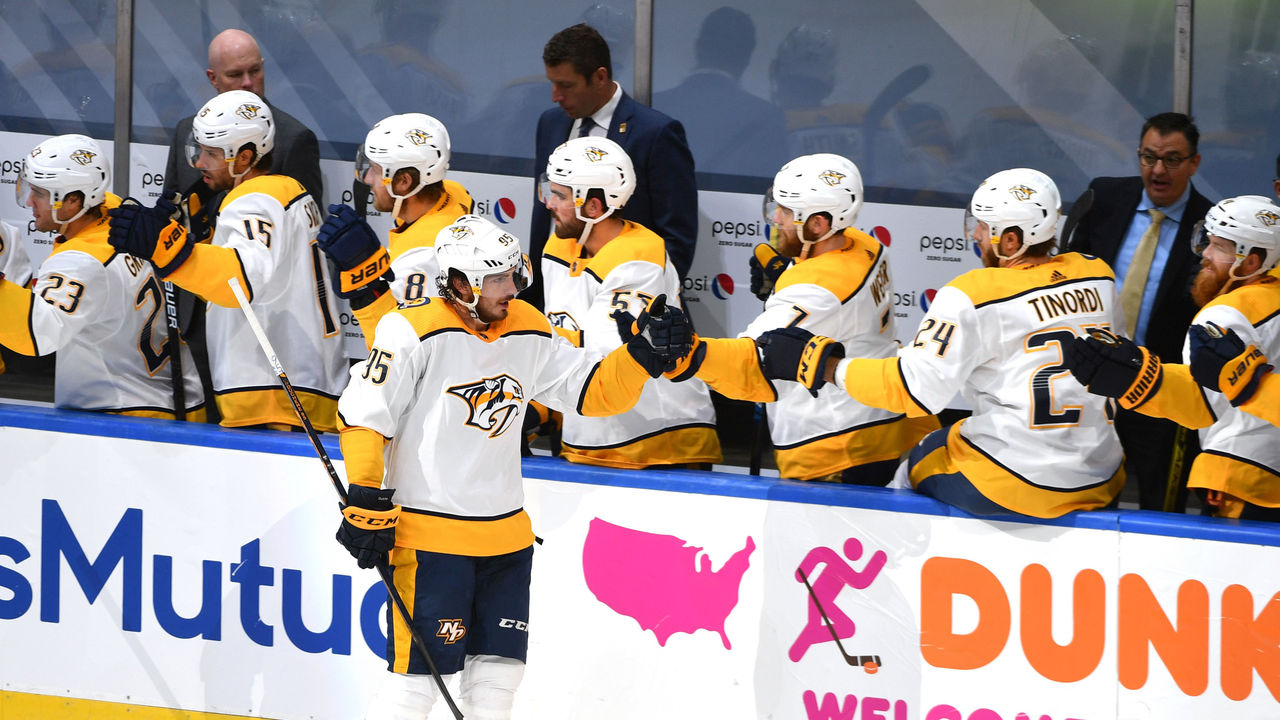 Projected cap space: $12.94M
Roster size: 19
RFAs: F Luke Kunin
The Predators have been contenders for years and boast one of the league's top defensive cores. Despite their skill at forward, however, their offense still leaves something to be desired. Hoffman has his faults, but there's no denying his goal-scoring talent. Adding the sniper for one year could just be the missing piece that puts the Nashville over the top.
Nashville ranks 18th in goals per game since the start of the 2018-19 campaign, and Hoffman would have led the club in tallies in each of those two seasons. The Ontario native isn't a great scorer at five-on-five, but his services on the man advantage would be invaluable for the Predators, who have been abysmal in that department in recent years. Nashville's power play placed 31st and 25th over the previous two seasons, while Hoffman ranks fifth among all players with 28 power-play markers over that span.
General manager Dave Poile said Thursday that he'll continue to search for ways to improve his club this offseason. With plenty of cap space and a nearly full roster, swinging on Hoffman with a low-risk, high-reward deal seems like an enticing option.
Boston Bruins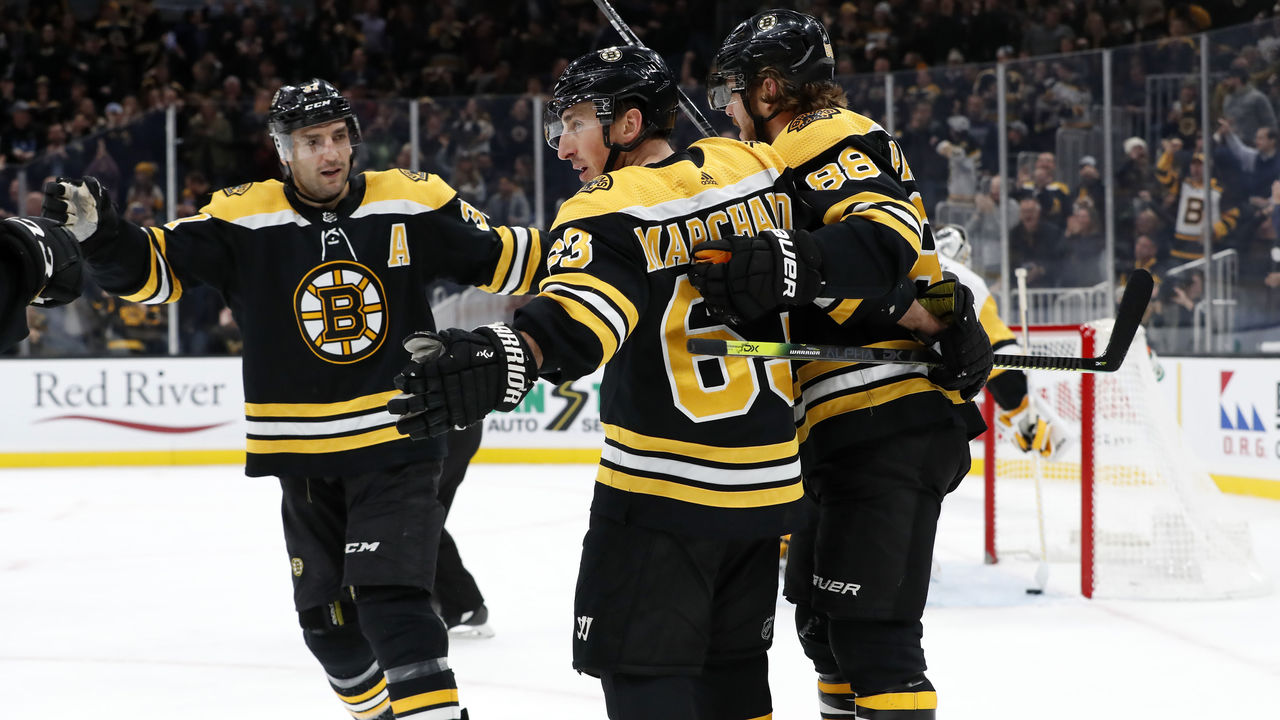 Project cap space: $10.35M
Roster size: 21
RFAs: F Jake DeBrusk
The Bruins were reportedly interested in most of the big-name free agents such as Taylor Hall and Alex Pietrangelo but ultimately lost out. Now, with a depleted free-agent group to chose from, it could prove wise to bring in Hoffman on a one-year contract.
Boston has the cap space to make a one-year deal work, and it's been made clear that the club has been looking for a winger to play on the second line with David Krejci to complement the team's top trio. Now that Brad Marchand and David Pastrnak may miss a portion of next season after undergoing surgeries recently, Hoffman's talents could be more necessary than ever.
Last season, Patrice Bergeron, Pastrnak, and Marchand combined to score 107 of Boston's 227 goals (47%). The team is desperate for secondary scoring help, and Hoffman offers just that. There would be little risk in signing him to a short-term contract, and if things go smoothly, the two sides could decide to work out a longer deal in the future. Hoffman's fit on the Bruins makes perfect sense, so perhaps we'll finally see GM Don Sweeney make a big move this offseason.
Los Angeles Kings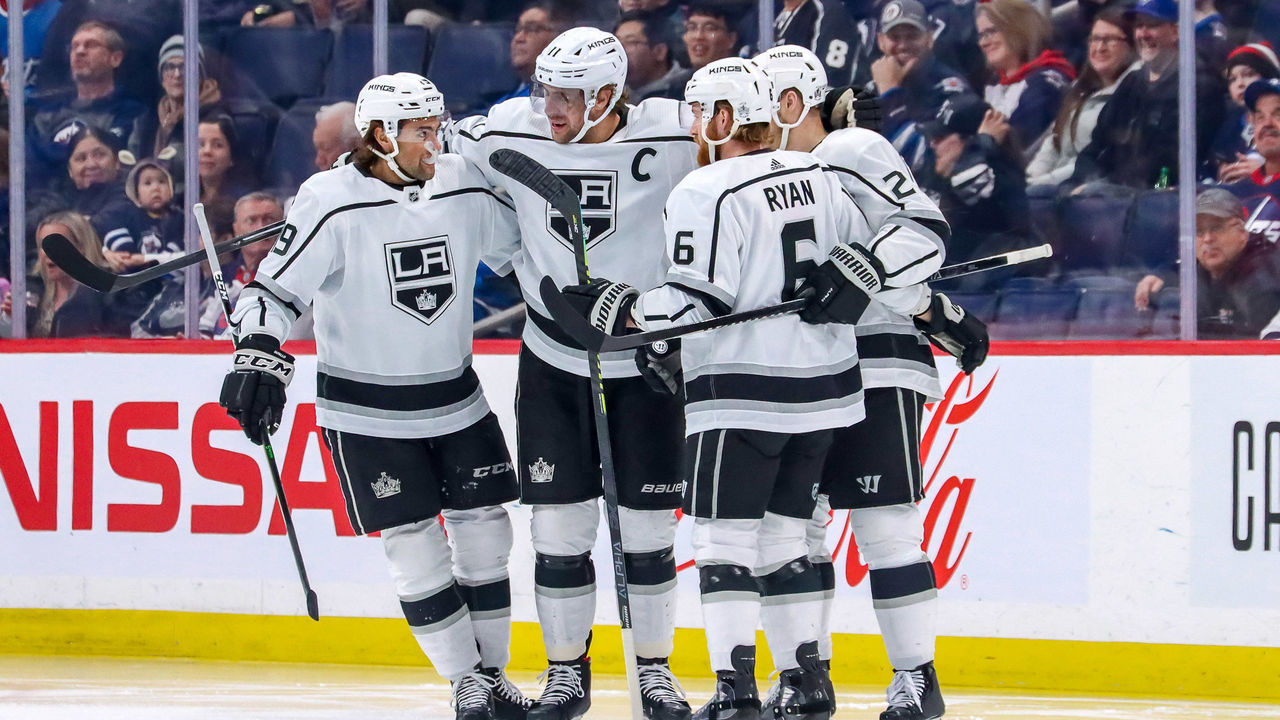 Projected cap space: $13.62M
Roster size: 19
RFAs: None
The Kings don't appear to be an obvious landing spot for Hoffman, but hear us out. It's unlikely he wins a Stanley Cup there in 2020-21, but Los Angeles is one of the strongest possession teams in the league, and adding a pure goal-scorer like Hoffman could help catalyze an unpolished offense that lacks some touch.
Los Angeles finished 30th in goals per game (2.53) last season, but head coach Todd McLellan saw his club buy into an aggressive, in-your-face brand of hockey that would have yielded better results if it had a few more finishers. The Kings finished in the top 10 in several critical possession metrics at five-on-five.
| CF% (rank) | SF% | HDCF% | xGF% |
| --- | --- | --- | --- |
| 53.1 (4th) | 52.79 (4th) | 51.44 (9th) | 51.95 (8th) |
Captain Anze Kopitar - the Kings' lone 20-goal scorer in 2019-20 - led the team in scoring with 62 points, and Alex Iafallo was the only other player to break 40. Hoffman averaged 61 points over his previous five campaigns, and L.A. adding a dynamic winger alongside Kopitar would undoubtedly bolster the offense. Los Angeles could also use a power-play specialist after finishing 26th on the man advantage last season.
Columbus Blue Jackets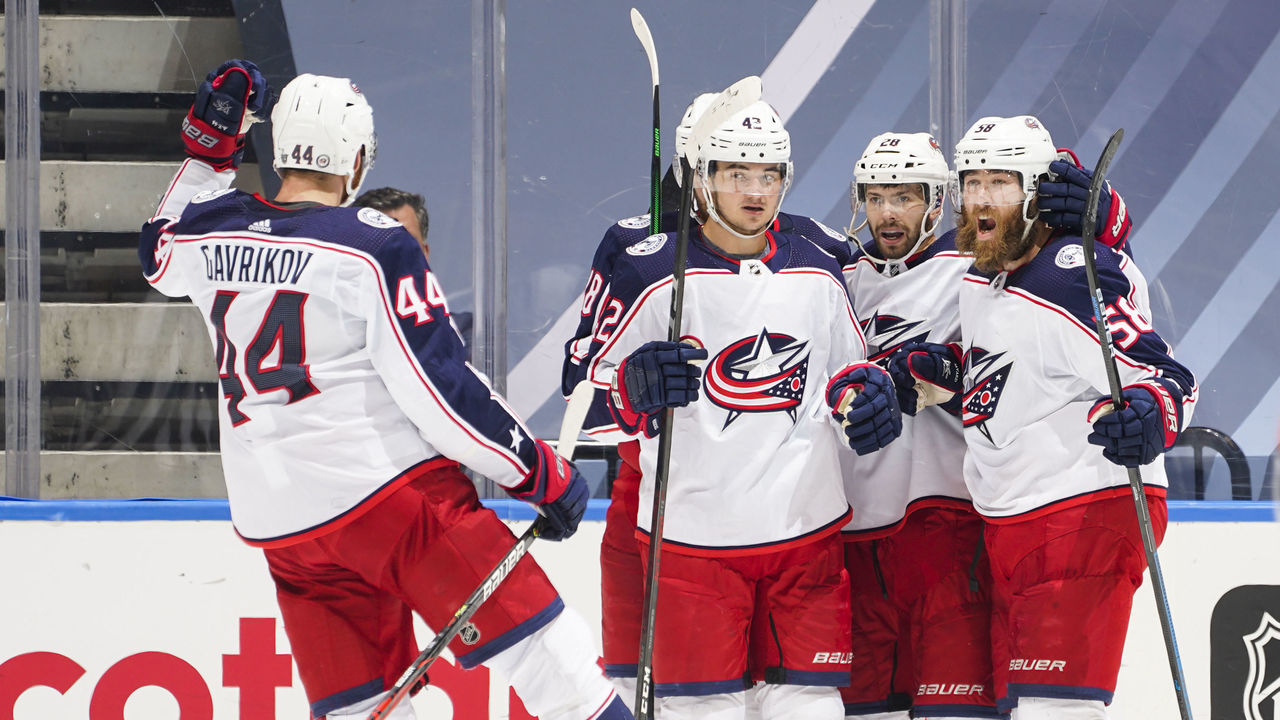 Projected cap space: $13.63M
Roster size: 19
RFAs: F Pierre-Luc Dubois, F Kevin Stenlund, D Vladislav Gavrikov
Columbus isn't exactly a free-agent hot spot, but the Blue Jackets have shown a ton of promise in recent years and have already added offensive depth with the additions of Max Domi, Mikko Koivu, and Mikhail Grigorenko this offseason. The club has a handful of RFAs in need of new deals, but only Dubois is set for a significant pay raise.
Hoffman isn't Artemi Panarin, but the Blue Jackets' upset over the juggernaut Tampa Bay Lightning during the 2019 playoffs is proof of what the team can do when equipped with high-end offensive talent. General manager Jarmo Kekalainen can sell his club as a defensive machine that's one or two premier scorers away from making a serious run, and Hoffman could certainly move the needle.
Signing a one-year deal with the defensive-minded Blue Jackets could pose a risk for Hoffman, but it's unlikely that a potential down year would tarnish his market value in 2021-22. Flanking the wing of either Dubois or Domi doesn't sound like a bad gig, either. Like the Predators and Kings, the Blue Jackets need help on the man advantage, and Hoffman would likely be the club's No. 1 option.
Florida Panthers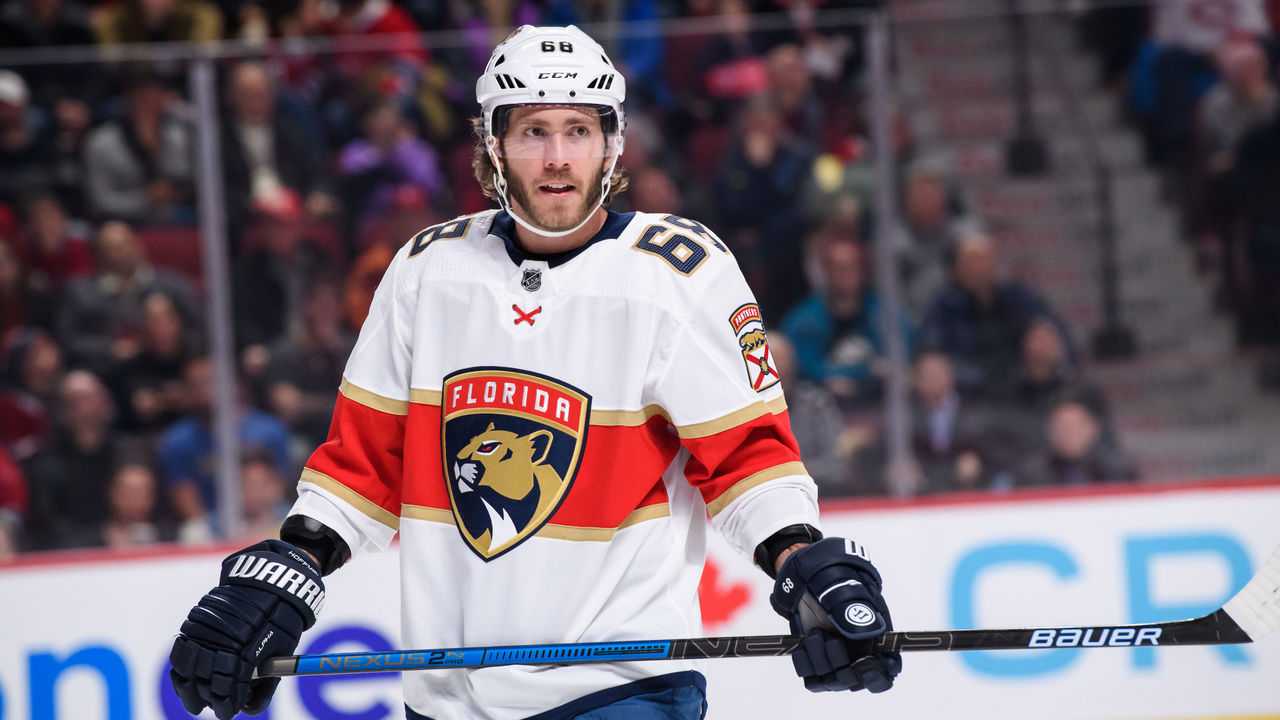 Projected cap space: $11.56M
Roster size: 18
RFAs: D MacKenzie Weegar, F Aleksi Saarela
The Panthers' abundance of cap space makes bringing back Hoffman a distinct possibility. Over the past two seasons, his 65 goals rank first on the team and his 129 points rank third. Florida already lost Evgenii Dadonov to the Ottawa Senators, so with a glaring hole at left wing, the club can ill afford to lose Hoffman too.
GM Bill Zito has been busy in his first few months with the team, bringing in the likes of Patric Hornqvist, Alexander Wennberg, Vinnie Hinostroza, and Carter Verhaeghe. The four forwards combined for 36 goals last season - Hoffman buried 29 on his own.
Replacing a lethal goal-scorer is never an easy task, and few options remain on the market for Florida at this point in the offseason. With the cap space to make it work, perhaps Hoffman circles back and signs for one year before hitting free agency again next season.
(Analytics source: Natural Stat Trick)