The Ottawa Senators inked forward Evgenii Dadonov to a three-year deal worth $15 million, the team announced Thursday.
The deal pays Dadonov $3.5 million in 2020-21, $5 million in 2021-22, and $6.5 million in the final season and includes a 10-team modified no-trade clause, according to TSN's Pierre LeBrun.
Dadonov spent the previous three seasons with the Florida Panthers and recorded 25 goals and 47 points over 69 games in 2019-20.
The 5-foot-11 winger will help bolster Ottawa's offense, which ranked 25th last season. He's hit the 25-goal mark in three consecutive campaigns and notched a career-best 28 tallies and 70 points across 82 games in 2018-19.
The 31-year-old also brings a veteran presence to a youthful club, as he's just one of three players on the Senators' active roster who's over the age of 29.
Though Dadonov is best known for his offensive bona fides, the Russian talent has been a relatively reliable two-way player at even strength over the previous three campaigns, according to HockeyViz's isolated impact data. (Red/positive is good in the offensive zone, while blue/negative is good in the defensive zone.)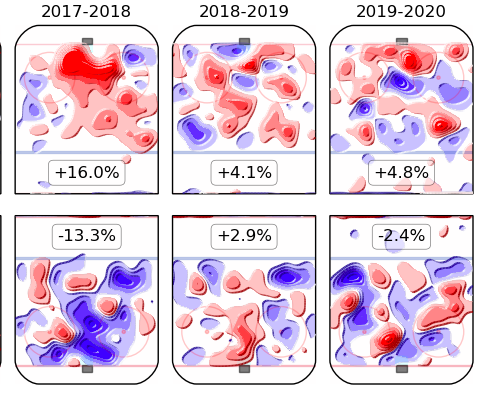 The Senators still have $21.43 million in projected cap space next season and remain slightly below the lower limit of $60.2 million, according to CapFriendly. However, forwards Connor Brown, Rudolfs Balcers, and Chris Tierney are all restricted free agents in need of new deals.