Dallas defeated Calgary 5-4 and Carolina beat Boston 3-2 in late NHL playoff action Thursday, results that evened both series. Here's a major takeaway from each game.
Flames flexed depth, but couldn't touch Miro
Devoid of bona fide superstars up front, the Flames have won more than they've lost in the Edmonton bubble by compensating with balance.
Eleven skaters scored as Calgary bounced the Jets from the qualifying round, and the pattern continued in Game 1 against Dallas. Third-line winger Dillon Dube bagged two lovely goals. Defenseman Rasmus Andersson contributed his second of the playoffs after scoring just five all season. Depth was reigning. That Cam Talbot entered Game 2 with a save percentage of .941 was gravy.
That offensive formula worked to a degree Thursday. Dube's latest goal made him the star of the first 19 seconds, and he, Sam Bennett, and Milan Lucic formed Calgary's most potent line. It was surprising that defenseman Derek Forbort scored his first career playoff goal; striking that Tobias Rieder broke free for his second breakaway shorty in as many series; and fitting that Bennett capped the Flames' late comeback with a tap-in on the power play.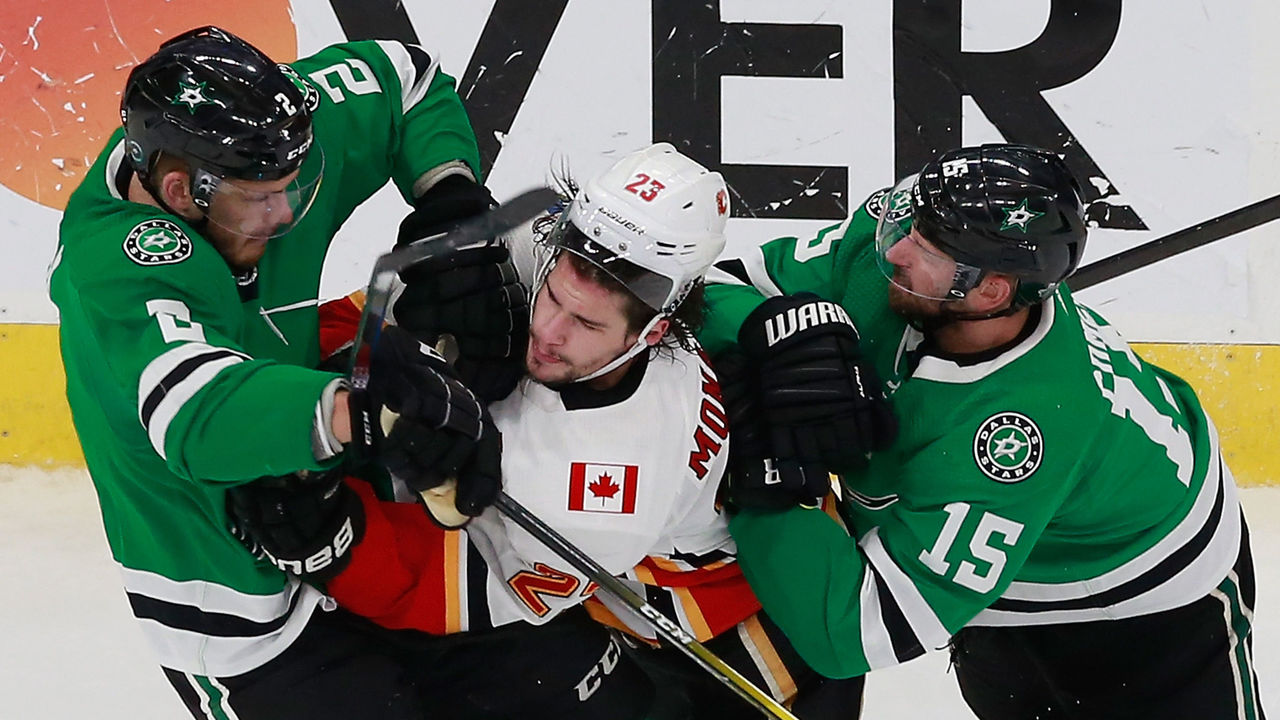 That's about all that clicked for Calgary, given what transpired in the final minute a mere 2:09 after Bennett's equalizer. Corey Perry deserves kudos for setting up Jamie Oleksiak's winner with a wondrous cross-ice pass, as well as for scoring himself earlier. That level of production was somewhat unexpected, too: only in three games this season did Perry register a goal and an assist.
So kudos, Corey, for shoring up the Stars' forward ranks. Now, let's turn this reflection over to the Miro Heiskanen show.
Most every metric and highlight from Game 2 attests that Heiskanen was an utter force. The young defender was on the ice for four Dallas goals and none against, and he created and tallied two of them with some combination of sound positioning, impeccable stickhandling, spatial awareness, and a quick release. The Stars outshot Calgary 19-7 when he was on the ice across all situations, usually against the Flames' top lines, according to Natural Stat Trick. He played a game-high 25:20, and at the tender age of 21, the proceedings flowed through him.
Heiskanen became the fourth-youngest defenseman to score twice in a playoff game, a distinction to which he's beaten Quinn Hughes and Cale Makar. If their status as Calder Trophy co-favorites hints that Norris Trophy races are on the horizon, it's clear Heiskanen has what it takes to hang with them for the better part of the next 15 years.
In the short term, this series segues quickly to Game 3 on Friday night and Game 4 on Sunday afternoon. Significant issues need resolving on either side. The Stars have allowed seven goals against Calgary and 17 across five games, belying their rank as the regular season's second-best defensive team. No member of the Flames' top two lines has an even-strength point in the series; power-play assists from Johnny Gaudreau, Elias Lindholm, and Mikael Backlund are all they have to show for Calgary's hot offensive start.
In other words, the Flames are fortunate to be able to rely on depth. And we're all fortunate to get to watch Heiskanen.
Hurricanes profited from pressure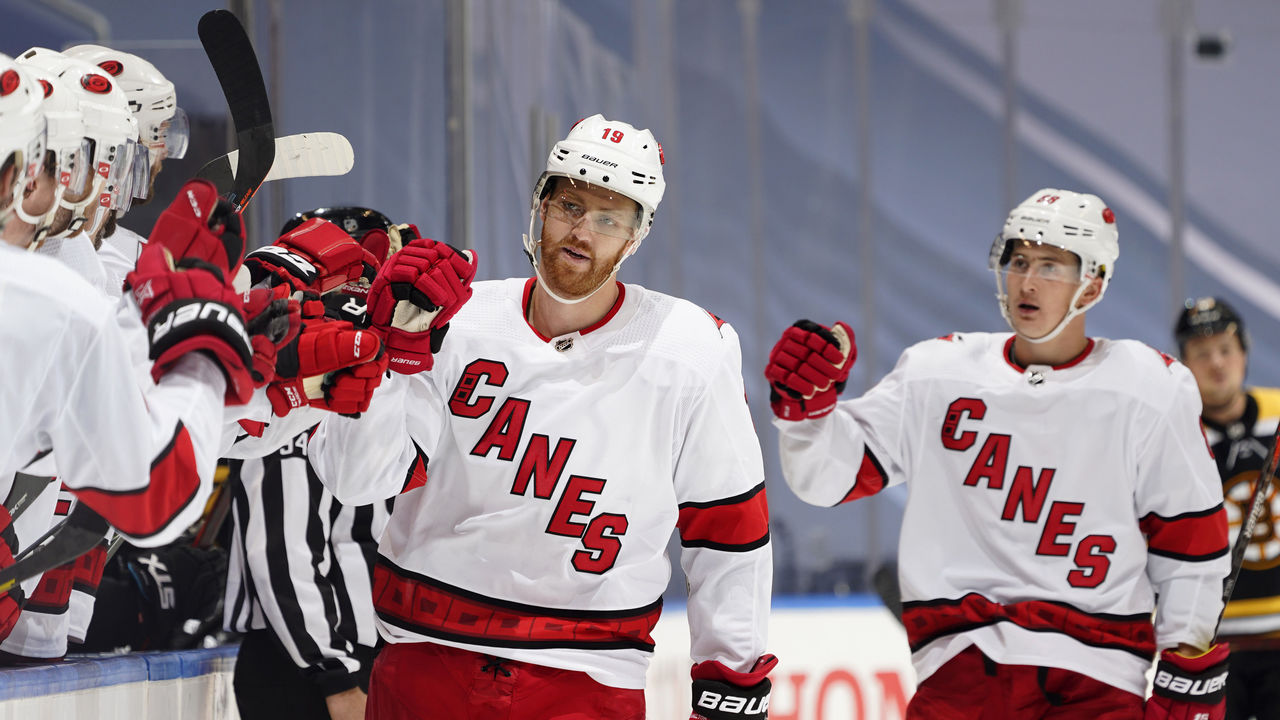 Coming out of the postseason's first stage, the Hurricanes and Bruins were trending in opposite and oncoming directions, which is how they met smack in the middle of the East bracket.
Carolina's play-in sweep of the Rangers was impressive and taut. Three losses in as many games had Boston looking vulnerable. Dougie Hamilton was back to anchor the Canes' defense. Brad Marchand and David Pastrnak went pointless in the round robin. If the results of this admittedly small sample didn't prophesize an upset, the aura surrounding these clubs sure signaled that one was possible.
Elsewhere in the East, we've seen the Islanders blitz Braden Holtby to go up a win on Washington. The Blue Jackets have stayed in lockstep with mighty Tampa Bay for 11 periods, which in that series has amounted to only two taxing games. The Hurricanes are a stronger team than the Isles and Columbus. They have an extra year of seasoning on the folk hero "Bunch of Jerks" squad that streaked to last season's conference final, where Carolina was swept by these same Bruins.
There'll be no sweep this year. Through two games, the Hurricanes are very much in this series because of their offensive calling card: camping in the opponent's end for long stretches, zipping pinpoint passes about the zone, and exploiting openings whenever one arises. Carolina scored that way in the play-in win that eliminated the Rangers, and sustained pressure produced a couple of goals Thursday, letting the Canes negate the double-OT loss they suffered Wednesday afternoon.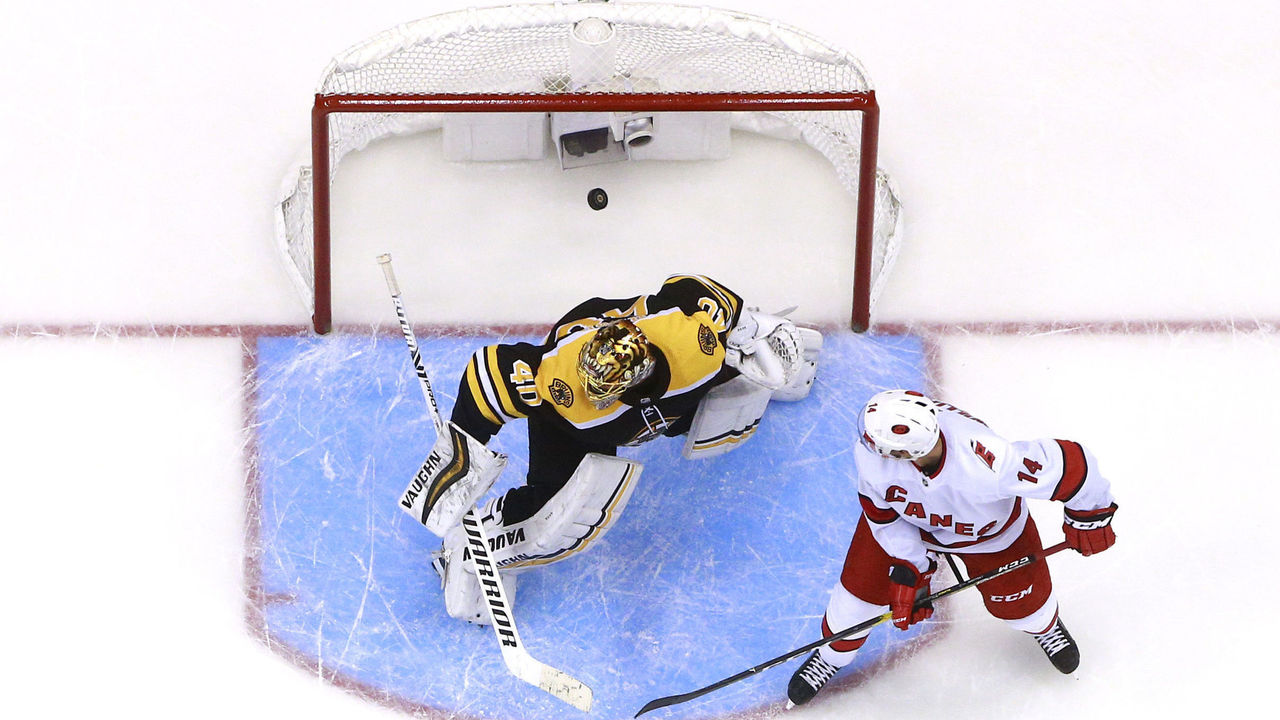 Ever since Game 1 was delayed a day due to the Lightning and Blue Jackets' five-OT epic, the action has come fast and furious, much like the Canes on the sequences that got them going in this contest. Carolina didn't establish much prolonged O-zone pressure until late in the second period, at which point a 30-second cycle orchestrated by the fourth line led to an elbowing penalty, which led to Teuvo Teravainen's power-play goal.
The cycle - pun intended - repeated itself on Hamilton's winner. Thirty seconds of the Bruins scrambling to try to corral Carolina's second line - Andrei Svechnikov, Vincent Trocheck, and Martin Necas - culminated in Necas feeding Hamilton for a vicious slapper that beat Tuukka Rask top-shelf. The Canes were a top-three Corsi team in the regular season, and this was them near their puck-possessing peak.
To be sure, Boston's night was far from a write-off. Pastrnak was unfit to play - possibly because he hurt himself celebrating Patrice Bergeron's Game 1 winner, as the NESN telecast speculated - but Bergeron and Marchand didn't miss a beat with Anders Bjork on their wing, driving 65.38% of shot attempts as a line at five-on-five. Promisingly, Marchand and David Krejci got Boston's power play off the schneid, scoring the talented unit's first goals in the Toronto bubble.
Continuing to click with the man advantage will be vital. James Reimer's 33 saves - he denied all 30 shots he faced at even strength or shorthanded - rewarded Canes coach Rod Brind'Amour's call to bench incumbent starter Petr Mrazek after Game 1. Brind'Amour also decided to shift Svechnikov to Trocheck and Necas' line, and the young Russian responded by scoring - with a wicked release - at evens.
Essentially, Brind'Amour has options before him when the going gets tough, and he didn't wait to mix things up. Consider it another reason that Boston's fall to the No. 4 seed has the Presidents' Trophy winners in a fraught situation.
Nick Faris is a features writer at theScore.