The Vancouver Canucks topped the St. Louis Blues 5-2 and the Philadelphia Flyers beat the Montreal Canadiens 2-1 in Wednesday's late NHL playoff games. Below, we break down each team's defining round-of-16 storyline and examine how the events of Game 1 shape their outlooks for the rest of their respective series.
Canucks: How will Hughes, Pettersson fare against top competition?
Engineering offense has never daunted Calder Trophy co-favorite Quinn Hughes or spectacular sophomore center Elias Pettersson. Both of the goals and seven of the 10 points they united to score in their qualifying-round series against the Minnesota Wild came on the power play, but they also rolled at five-on-five, leading Vancouver's regulars with Corsi For marks exceeding 56%.
The Wild were spirited, experienced challengers, but they aren't the Blues, who combine the coveted "been there" factor - having, you know, won the Stanley Cup last year - with scoring depth and firm defensive play. They pose a terrific test for Vancouver's cornerstone youngsters (Hughes is 20, Pettersson 21) who both appeared in their fifth playoff game Wednesday, and for so many essential Canucks players in the midst of their postseason debuts.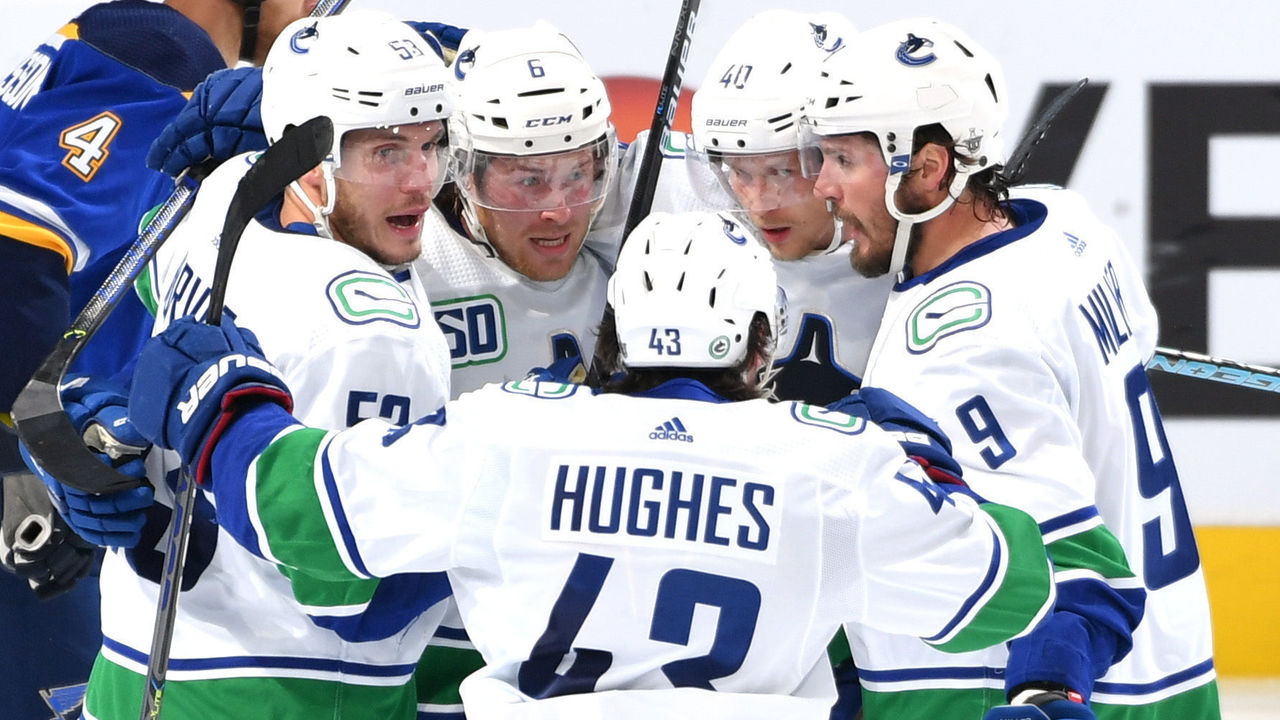 It took 4:29 - the moment at which Bo Horvat opened the scoring with a power-play tally - for Hughes and Pettersson to prove the Blues' track record wouldn't cow them, and they reaffirmed that truth periodically. Hughes had the primary assist on Horvat's goal, while his deft puckhandling and precise passing were treats to watch. Pettersson's hustle kept the puck in the offensive zone for that same tally, and he scored and rang a mean half-slapper off the crossbar on later power plays.
The Canucks' youngest, brightest stars are hardly the only sources of skill on the roster - look no further for proof than at Horvat walking Vince Dunn ahead of his second goal of the night - and they aren't the primary reason Vancouver now leads by a game. Neither Hughes nor Pettersson was effective at five-on-five in Game 1; indeed, Pettersson, Brock Boeser, and J.T. Miller's line struggled against David Perron, Ryan O'Reilly, and Zach Sanford, failing to muster a shot in that phase of the game.
But Vancouver's lethality on the power play - the Canucks were 3-for-6 on the night - rendered all of that moot. Against St. Louis' penalty kill, the league's 18th-best this season, that clip might even be sustainable for a few more games. Undoubtedly, so too is the sight of Hughes and Pettersson showing they can hang with the big boys.
Blues: Were round-robin woes a blip or a bad omen?
Days after the Western Conference round-robin phase concluded, observers were left trying to process a damning dichotomy. The Blues were unbeaten in regulation this season (27-0-6) when they led after two periods. Naturally, they led each of their first three contests in Edmonton through 40 minutes - and bungled all three leads in the third.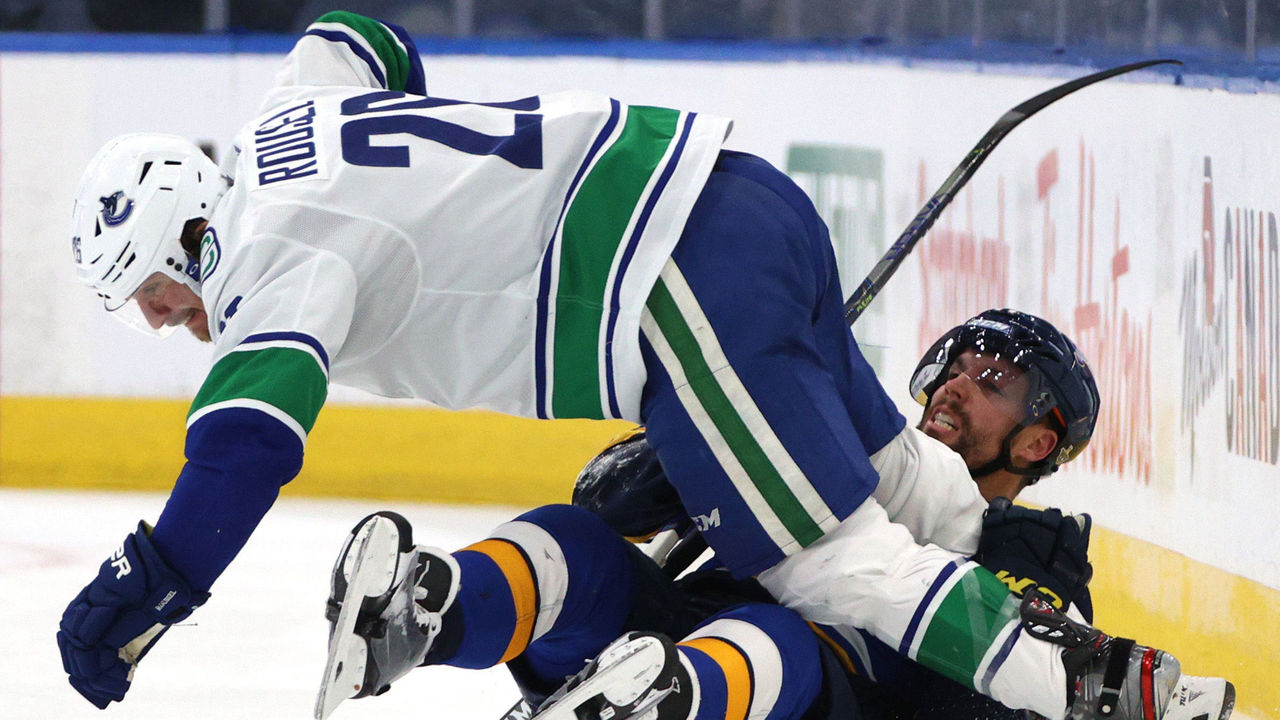 These collapses followed different scripts. Nazem Kadri of the Colorado Avalanche defied reality by breaking a 1-1 tie at the last possible millisecond. The Vegas Golden Knights netted three goals in the final frame to validate a dominant overall effort. The Dallas Stars wiped out a 1-0 shutout with 32 seconds left and then edged St. Louis in a shootout. The common thread through each of those round-robin games: The Blues didn't score a third-period goal. That trend persisted Wednesday as Vancouver turned a 2-2 deadlock into a rout.
The advanced metrics suggest St. Louis was the slightly better team at five-on-five in Game 1. The Blues' rough treatment of Hughes and Pettersson - Perron, in particular, made a point of targeting them for body shots away from the puck - may well enervate the duo as the series progresses. But St. Louis generally lacked discipline and let the Canucks' top power-play unit run amok, a grim combination.
No doubt Jacob Markstrom was solid in the Vancouver net, as he was for the most part against the Wild. But separate from anything the Canucks did, something ails the defending champions right now. No mitigating factor - not the quality of the teams they've faced in the bubble nor their opportunity to even the series Friday - makes that any less worrisome.
Canadiens: Can Price, other play-in heroes steal another series?
That scoring leaders Phillip Danault, Brendan Gallagher, and Tomas Tatar picked an inopportune time to go goalless didn't hurt the Canadiens in their play-in series against the Pittsburgh Penguins. Carey Price's .947 save percentage over four games was pristine. Several Habs players - the defensive vanguard of Shea Weber, Jeff Petry, and Ben Chiarot, mainly, plus secondary forwards Paul Byron, Artturi Lehkonen, and Jesperi Kotkaniemi - were two-way forces, which helped Montreal clinch the signature upset of the qualifying round.
Some of those play-in stalwarts were among the better players on the ice in Game 1 against the Flyers. Weber's power-play goal was the latest sign of his reliability - rejuvenation, even - as he gets set to turn 35 on Friday. Price now seems to make a pantheon-caliber save every couple of contests; his sprawling stick denial on Scott Laughton was the finest of his 29. Petry, Brett Kulak, and the Lehkonen-Danault-Byron line posted strong possession numbers that powered Montreal's big lead in that category, an advantage the Habs attained by laying siege to Carter Hart's net in the second period.
Despite attempting 56 shots at five-on-five to Philadelphia's 45, Montreal wasn't clinical or especially accurate. The Flyers wound up with a few more shots on target (31-28); the Habs only put five on net in the first period and six when they were down a goal in the third frame.
The Flyers are a complete team, and they looked the part early and late, moving the puck smoothly and with speed as they dictated the run of play. They resiliently nullified Weber's tying goal with their own tally 16 seconds later, and they halted Montreal's second-period charge by locking the door from there.
Basically, they appear less fallible than Pittsburgh, making it clear that Montreal's finishing must improve. For now, Canadiens head coach Claude Julien ought to be encouraged that much of his lineup can take the game to Philly, in spurts if not consistently.
Flyers: Are they really the class of the East?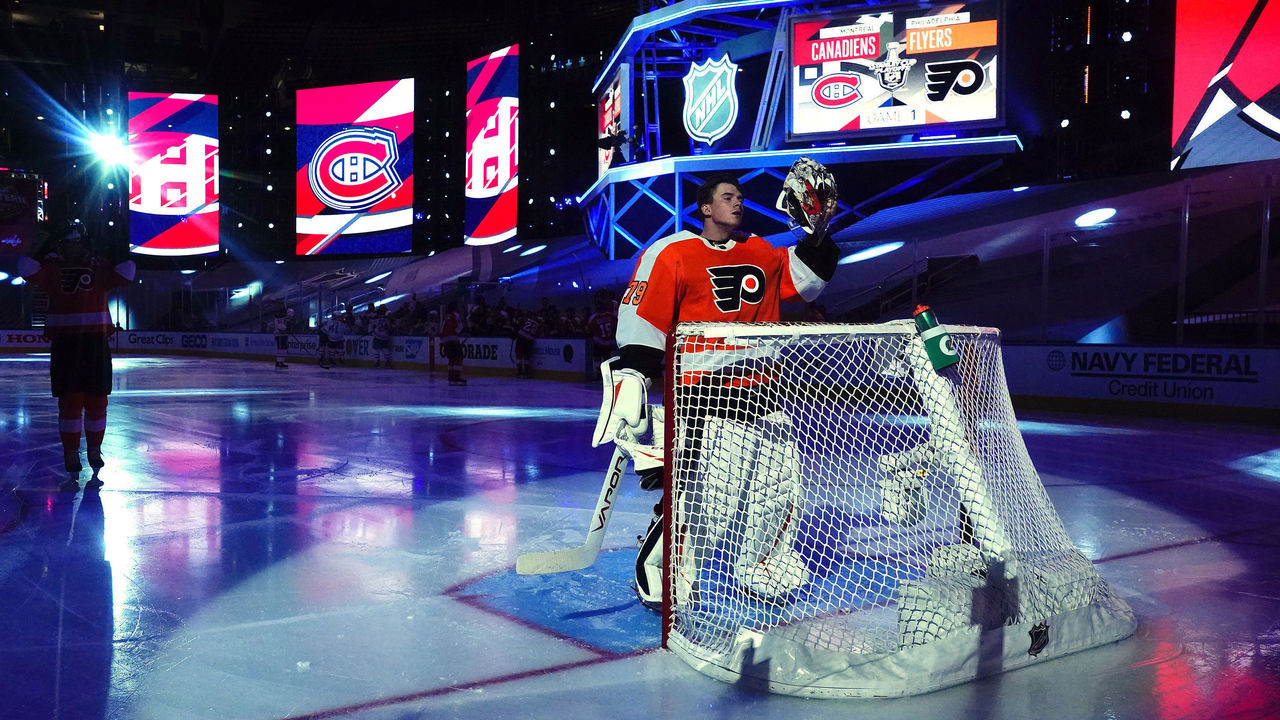 If a thematic tie binds Montreal and Vancouver in these series, it's their shared status as Canadian underdogs facing favorites with questions to answer or something to prove. St. Louis was the Western Conference's top performer in the regular season but hasn't won a game since March, with the team's round-robin defeats consigning it to the No. 4 seed.
The Flyers authored a climb in the opposite direction, surging from fourth to first in the Eastern Conference at the expense of the Tampa Bay Lightning, Washington Capitals, and Boston Bruins. It's been eight years since Philadelphia won a playoff round, but that history might be all that's feeding doubts about the Flyers' readiness to contend. Everything about their form of late - their 11-3 scoring margin in round-robin play; the 9-1-0 (and 19-6-1) tear on which they closed the now-distant regular season - fits the profile of a bona fide powerhouse.
Comparing positional units head to head, Philadelphia's lone anticipated weakness in this series was in goal: Hart, whose 22nd birthday is Thursday, enjoyed a good but not stellar second NHL season. Through three starts in Toronto, his save percentage stands at .966 on a mere three goals allowed - and none at even strength in Game 1. If he achieves what Matt Murray couldn't and continues to keep the Habs at bay, the Flyers' worst-case scenario will be that much easier to avoid.
The 2018-19 Blues famously rose from last place in the NHL on Jan. 3 to a Stanley Cup title at season's end. The 2020 playoffs remain young, and Montreal might yet make this a grueling series, if not a long one. But little about Game 1 suggested the Flyers aren't capable of riding their own great second half to the vicinity of the promised land.
Nick Faris is a features writer at theScore.