'It's a roller coaster': Resilience rules Maple Leafs-Blue Jackets
Mark Blinch / Getty Images
"If you want something good," the Greek philosopher Epictetus once said, "get it from yourself." In other words, take responsibility for your thoughts and actions. Don't wait for the world to change. Be resilient and change it yourself.
That mindset has, in a weird way, come to define the stunning, unpredictable, and ultra-entertaining Eastern Conference qualifier series between the Maple Leafs and Blue Jackets. Not only have the two teams that play completely different styles traded wins to set up a fifth and deciding game Sunday, the manner in which they've arrived at this point has been utterly confounding.
Both teams played well enough to win Game 1, though Columbus' combination of elite goaltending and its protective defensive system led to a 2-0 victory. The Leafs kept pressing in Game 2, peppering the Blue Jackets with shots, and were rewarded with a 3-0 win. In Game 3, a comfortable 3-0 lead for Toronto turned very uncomfortable and then disastrous as the Blue Jackets stormed back in dramatic fashion to win 4-3 in overtime. And in Friday's epic Game 4, the Leafs flipped the script and authored their own improbable comeback, also winning 4-3 in overtime after falling behind 3-0, but pulling off their miracle with under four minutes to play in the third period.
Two gut-punch shutouts and two gut-punch 4-3 games. No in-between.
"This is what happens in a series. The ups and downs," Columbus defenseman Seth Jones told reporters Friday night in his postgame media availability. "It's a roller coaster and we've got to try to stay even keel."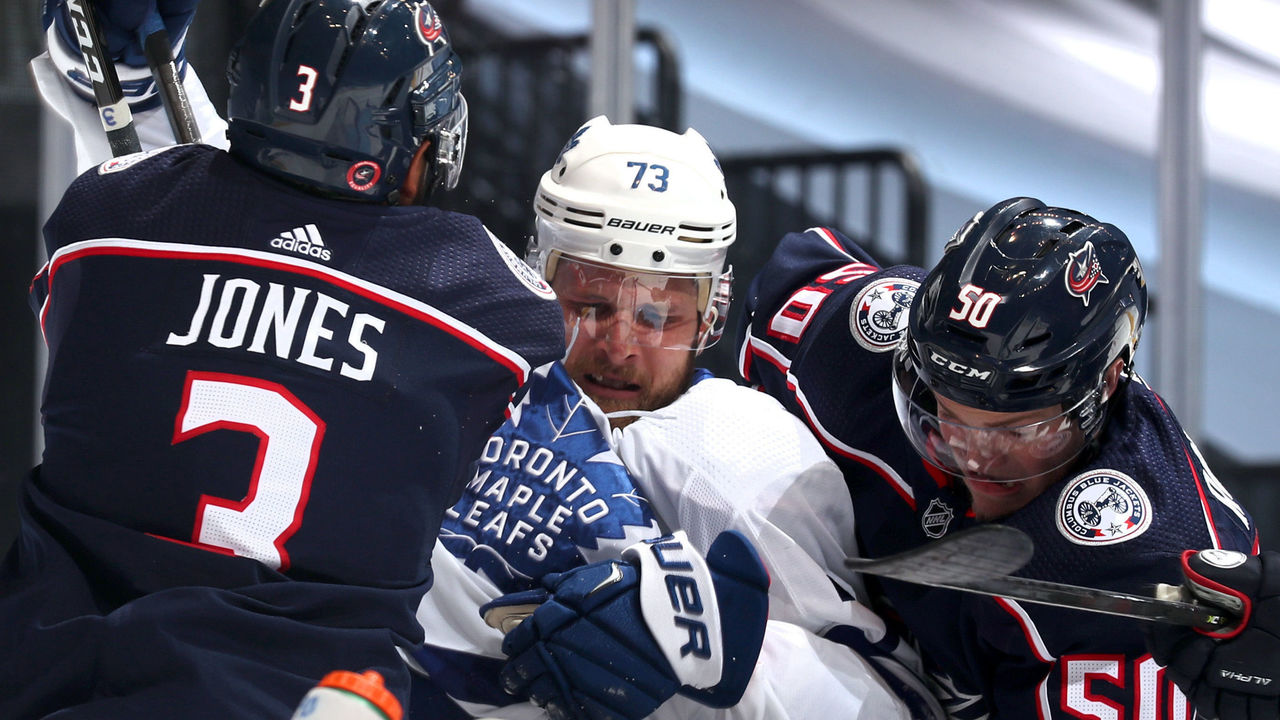 By and large, the 2019-20 Blue Jackets are just that - even keel. While his antics with the media might suggest otherwise, coach John Tortorella is steadfast in keeping his players focused entirely on the next obstacle and as far away from outside noise as possible. It's one of the reasons Columbus is in this 2-2 spot with Toronto to begin with. There's a natural, inherent resilience to the oft-forgotten franchise from central Ohio. It wins because it's a unified group, a team in the truest sense of the word.
The Leafs surely are a team, too, but not quite in the same way. They don't abide by the virtues of blue-collar hockey or have anything close to a small-market attitude. Juxtaposed with Columbus, Toronto must find resilience, that chip on one's shoulder, along the way. Which is what made Keefe's blunt assessment of his team's Game 3 performance fascinating.
"I didn't like our game in the first period. I didn't like our game at 1-0. I didn't like our game at 2-0 or 3-0. We just got what we deserved," Keefe, who replaced Mike Babcock in November, said Thursday. "I thought we reverted back to a lot of really bad habits. We didn't have any real purpose or plan to our game today. We were just making it up as we go along."
He then repeated himself: "We get what we deserve."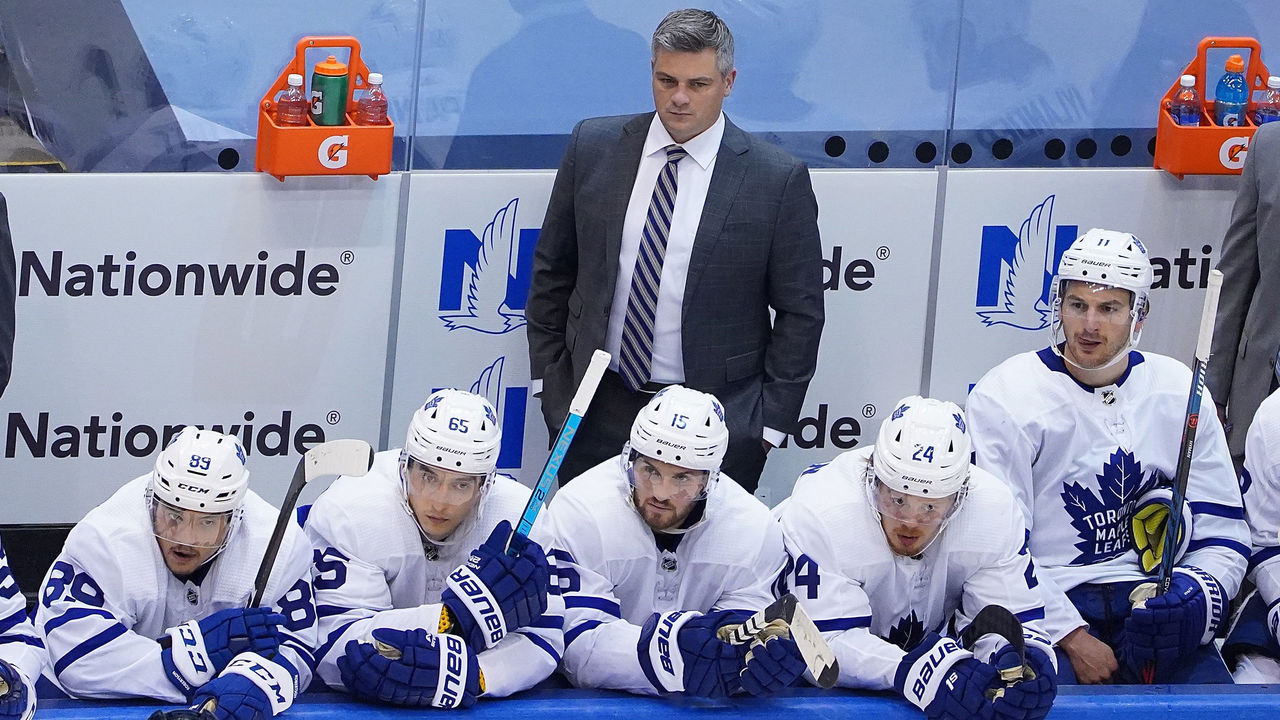 That the Leafs were ill prepared is a notable admission, considering it's in Keefe's job description to make sure his team's ready to play, especially in games that truly matter. But let's be honest: Toronto is, without question, the more talented squad here, and perhaps that leads to shortcuts. Theoretically, the Maple Leafs shouldn't surrender a three-goal lead, right? There's a psychological toll that comes with Game 3's ugly collapse if you're not careful.
Except on Friday, roughly 24 hours after making those remarks about not having a purpose or a plan, Keefe settled in and controlled what he could as the visiting coach - player motivation, line combinations, player usage - to spark a rally for the ages late in the third period. Backs against the wall, the plan was going to be carried out this time, no excuses.
Keefe leaned heavily on his stars. Morgan Rielly finished with a game-high 33:51 of ice time. Auston Matthews was second at 28:15. Mitch Marner and John Tavares were third and fourth at 27:58 and 26:52, respectively. Most notably, the three highly paid forwards skated together for 12-plus minutes at five-on-five, creating a super line of sorts, something Babcock only flirted with over the course of his multiple seasons in Toronto. Friday, facing elimination and trailing, Keefe said screw it, let's do this, and just like that, in four minutes, Columbus became Toronto, blowing a 3-0 lead and a glorious opportunity.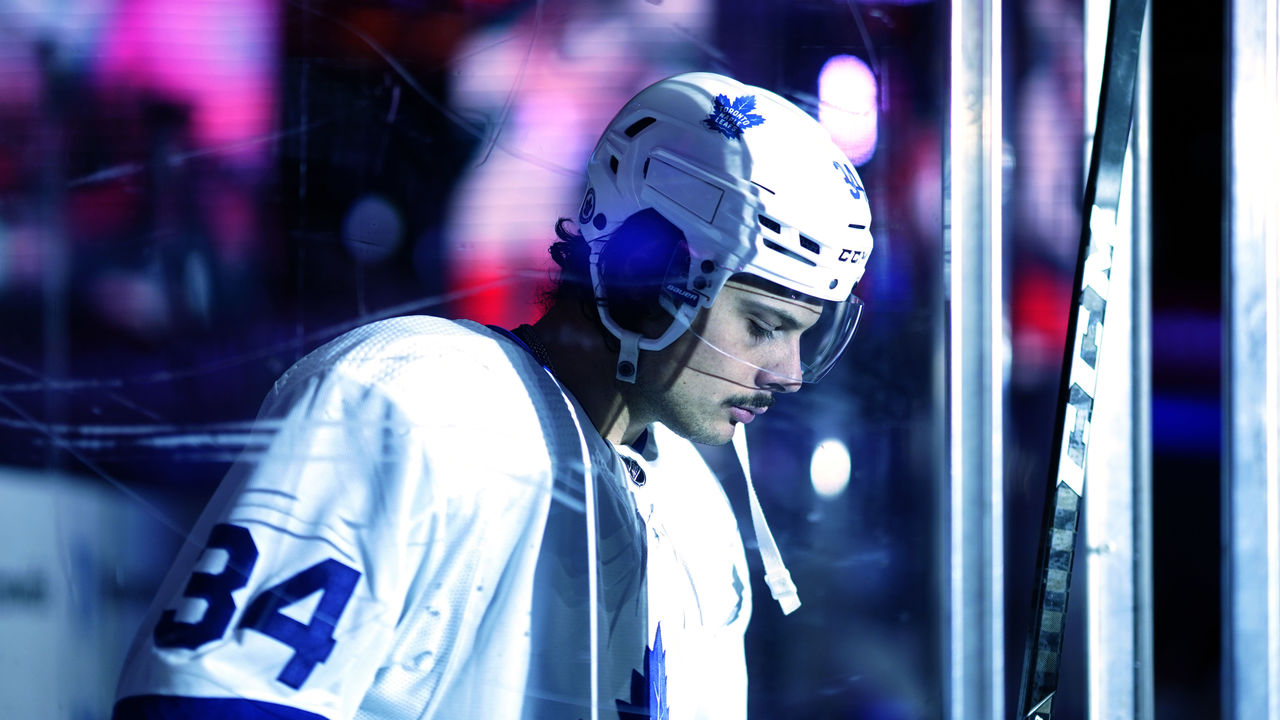 It seems so incredibly simple: play your best players as much as possible. But in the normal flow of a game, or a series, or a season, it can sometimes be detrimental to grind your stars into the ground. This was different. Toronto was desperate - Jason Spezza was out there fighting! - and Keefe's leadership, his resilience, and his trust in the process paid off. He wasn't stubborn about it, he didn't publicly yell or scream, he simply rose to the occasion as a coach.
Matthews, the series leader in points with six, sniped the game-winning goal - who else? He set up Leafs goals two and three - primary assists on incredibly bold passes through the slot to Tavares and Zach Hyman - in the frantic final minutes. Marner, who clocked a game-high 50 seconds of offensive zone possession time, according to data provided by SPORTLOGIQ, pitched in three assists. Tavares, who turned the puck over in Game 3 ahead of Columbus' OT winner, finished with a goal and the primary assist on Matthews' clincher, which came on a power play with Nick Foligno in the box.
"Your mind just kind of goes blank," Matthews told reporters postgame of the memorable marker. "It's a credit to every single guy on our team for just sticking with it, battling back, and just not quitting."
Matthews and Pierre-Luc Dubois have been unbelievable through four games. Matthews has been an absolute force in all three zones, pushing the tempo no matter the score and no matter how many times Joonas Korpisalo or Elvis Merzlikins - Columbus' two goalies, who've been incredible - shut the door. Dubois, meanwhile, managed to turn a very public lecture from Tortorella during Game 2 into a hat trick a couple of days later. He's asserted himself on both sides of the puck.
Heading into Sunday's Game 5, there are countless questions. Can Columbus persevere without stud defenseman Zach Werenski, who missed half the third period and all of OT on Friday? Can Toronto's fourth line of Spezza, Kyle Clifford, and Pierre Engvall - the trio played 9:22 at even strength, trailing only the super line in five-on-five minutes, and dominated possession to the tune of 76.19%, according to Natural Stat Trick - do that again? The most crucial question, though, given their recent playoff history and this roller coaster of a series and 48 hours, might be: Can Toronto persevere?
On Sunday, it'll be fascinating to watch whose resiliency will shine through. Who will, as the Greek philosopher said, get it from themselves?
John Matisz is theScore's national hockey writer.
Comments
✕
'It's a roller coaster': Resilience rules Maple Leafs-Blue Jackets
  Got something to say? Leave a comment below!