Taking Stock: Why there's no goal-scorer quite like Auston Matthews
Photo illustration by Nick Roy / theScore
About six months ago, toward the end of a live TV broadcast in Columbus, TSN color commentator Ray Ferraro suddenly lost his ability to speak.
Auston Matthews had just scored in a way few others can and all Ferraro could muster in real time was nearly inaudible: "Oh!" Flabbergasted, it took Ferraro longer than usual to process Matthews' assassin-like snipe on Blue Jackets goalie Joonas Korpisalo.
Ferraro composed himself quick enough to gush over a replay of the goal. Then, as the game started up again, he summed up what was on the minds of everybody watching. "His release," Ferraro said, "is just unbelievable."
That was goal No. 3 for Matthews in his finest season to date. The 22-year-old Maple Leafs superstar had 47 goals in 70 games, putting him on pace for a franchise-best 55, when the NHL suspended play March 12. He trailed only Alex Ovechkin and David Pastrnak - who each had 48 - in what was shaping up to be a thrilling sprint for the Rocket Richard Trophy.
"It's pretty cool and humbling to be in the same conversation as a guy like him," Matthews said last week of Ovechkin. "Being in a scoring race with a guy like him, he's been a generational player, and he's made a big impact beyond the game, and led the way for lots of players and lots of guys.
"It's humbling, and hopefully, we can get back to playing hockey and can compete again, that's what everyone wants to do."
The NHL's indefinite hiatus gives us an opportunity to take stock of career trajectories, and we're starting with Matthews' body of work through 282 career games in an effort to better understand how special a goal-scorer he really is. Spoiler: Matthews should certainly be in the same conversation as Ovechkin.
A quick rundown of Matthews' standing among the league's elite marksmen:
He's one of only four players to score 150 goals since the start of the 2016-17 season, his rookie year. Ovechkin has 181, Matthews 158, Pastrnak 155, and Nikita Kucherov 153. Matthews is the youngest of the four and also the lone center.
Ovechkin, who has an opportunity to break Wayne Gretzky's all-time record for career goals if he can remain healthy through his late 30s, reigns supreme on a per-game basis, too, at 0.58 goals per game. Matthews is a close second at 0.56, while Pastrnak (0.53) and Kucherov (0.50) aren't too far behind.
Matthews sets himself apart from the group at a more granular level. His rate of goals per 60 minutes played is 1.79, with Ovechkin coming in at 1.74, Pastrnak 1.73, and Kucherov 1.54, according to the advanced stats website Evolving-Hockey.com. At even strength, Matthews is first in goals (121), goals per game (0.43), and goals per 60 (1.54). Ovechkin ranks second in all three categories (116, 0.37, 1.27).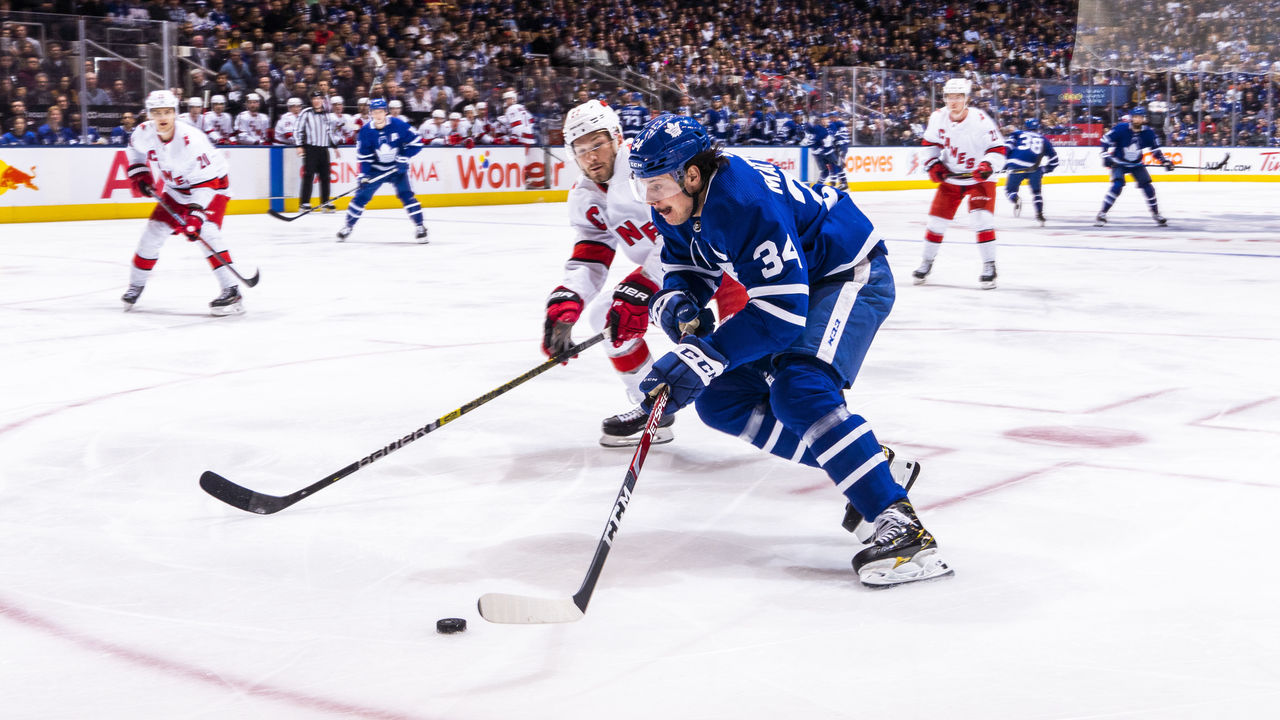 Based on those statistical measures, it's fair to suggest Ovechkin and Matthews are in a tier of their own, with Pastrnak and Kucherov just below. (Leon Draisaitl, Connor McDavid, Patrick Kane, Patrik Laine, John Tavares, and Brad Marchand round out the top 10 for goals scored since 2016-17. For what it's worth, Nathan MacKinnon and Sidney Crosby sit 11th and 12th.)
What's fascinating is that when you close your eyes and picture a classic Ovechkin goal and then do the same for a classic Matthews goal, the images are completely different. With Ovechkin, the left circle of the offensive zone is affectionately known as the Ovi Spot because he's buried so many one-timers from there throughout his 15-year career. Matthews, on the other hand, boasts a patented wrist shot that he often launches through traffic with dizzying speed, pinpoint accuracy, and funky body positioning.
The goal below, scored on the Colorado Avalanche in November, shows Matthews corralling a pass like a lacrosse player before rifling the puck between a defender's legs and under the goalie's armpit. Most impressively, Matthews is gliding backwards as he releases 30 feet away from the net. As in Columbus, this strike has a super high degree of difficulty.
Tavares, in an interview back in February, applauded Matthews' knack for attacking in a variety of ways. The incomplete list includes: Off the rush or on the forecheck; in tight on the goalie for a tip, deflection, or wraparound or far away from the crease for a seeing-eye shot; on his strong side or on his weak side; top corner or along the ice; blocker side, glove side, or five-hole; straight angle off his stick, or weird angle off his stick; one-timer or catch-and-release wrister.
"I think everyone's probably got the ability to do it," Tavares said of Matthews' catch-and-release method. "It's his ability to get it off as quickly as he does, and the amount of velocity he gets on it. I would love a little more of it, for sure."
Matthews hides his intentions so well, too, sometimes releasing the puck from an unconventional shooting stance - hips opened up, gloves tight against his torso, skates pointed in different directions - that forces goalies to guess.
"It looks very easy. I mean, I wish it was that easy for me," Leafs rookie defenseman Rasmus Sandin said. "I feel like it looks like he's going to shoot high and he ends up shooting low, and the other way around. He's just very tricky with his stick and how he's opening up his blade."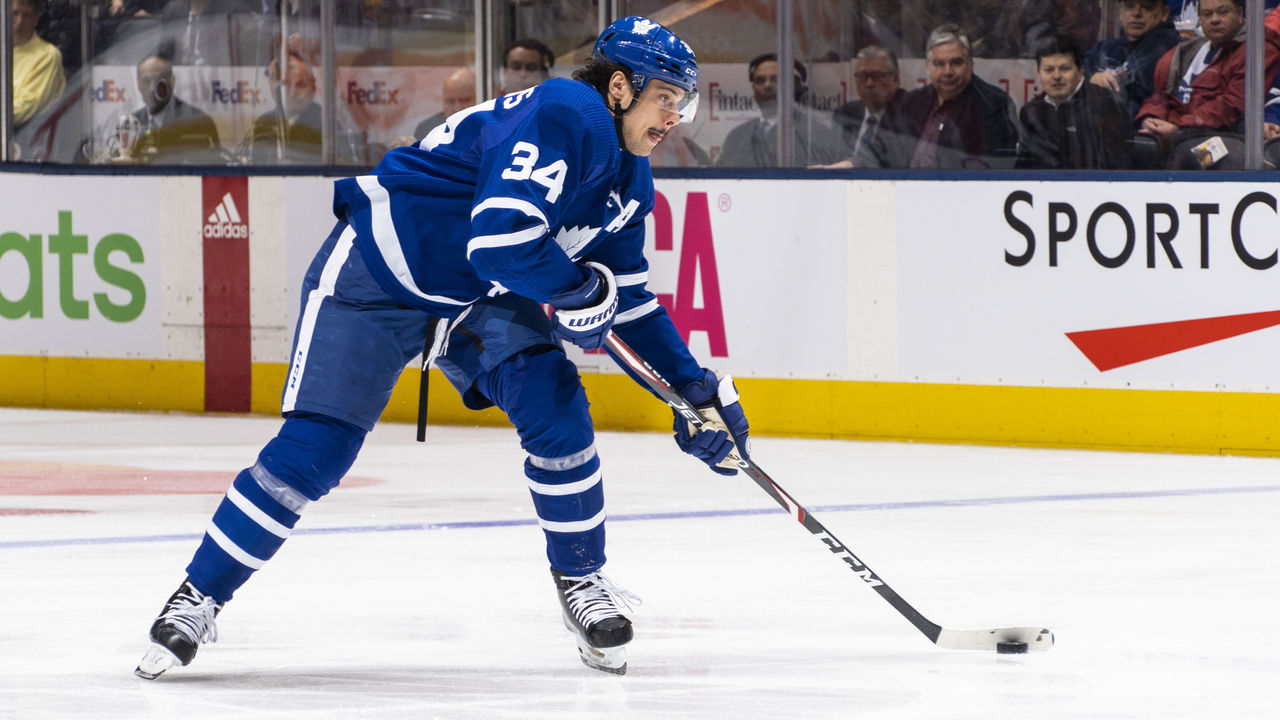 Matthews' shot profile reveals a few interesting trends. He established a new career high in shots on goal per game in 2019-20. He totaled 290 shots in 70 games, or 4.1 a game, which is a notable jump from 3.4 per game and 3.0 per game in his rookie and sophomore seasons, and up from 3.7 per game last season. It didn't hurt that his nightly ice time rose to 20:58 from 18:33 in 2018-19, thanks in large part to a coaching change. Rookie head coach Sheldon Keefe showed great trust in Matthews and Toronto's other stars through the first 47 games of his tenure.
The type of shots Matthews commonly calls upon - wrist, snap, slap, backhand, tip, deflection, wraparound - has also evolved over time. While he's always relied on his wrister, which has accounted for 40%, 46.5%, 57.7%, and 57.6% of his total shots year over year, he took more slap shots than ever this season:
| Season | Games | Slap shots | % of total shots |
| --- | --- | --- | --- |
| 2016-17 | 82 |   6 |   2.1 |
| 2017-18 | 62 | 12 |   6.4 |
| 2018-19 | 68 | 11 |   4.4 |
| 2019-20 | 70 | 43 | 14.8 |
Matthews was winding up so often - and adding to his goal-scoring toolbox - thanks to his new role on the Toronto power play. He's become a premier shooting option with the man advantage, parking himself inside the right circle in anticipation for a one-time pass.
"As you're young coming into the league, you've been doing a couple of things that have made you successful for so long, and then you realize how difficult it is (to dominate in the NHL) year in and year out," Tavares said. "But, at the same time, great players just have great minds for the game. So they start to visualize and feel different things and understand how to be better and how to come back and be more productive and improve their game."
Matthews, who bypassed major junior or college to play pro for a year in Switzerland before being drafted first overall by Toronto in 2016, was hardwired at an early age to think outside the box. He played small-area games and worked one-on-one with longtime instructor Boris Dorozhenko. More recently, he became a success story for renowned skills coach Darryl Belfry, who's now employed by the Leafs as a player development consultant.
Over the years, Matthews has improved his skating, too. In 2020, he's deceptively fast for such a large man (6-foot-3, 223 pounds). The list of big centers (6-foot-2 or taller, 200 pounds or heavier) who've scored 40 goals in one season since Matthews broke into the league is extremely short. It's Matthews, Draisaitl, Mika Zibanejad, and Eric Staal. (Evgeni Malkin, who looks massive and scored 42 in 2017-18, is listed at 6-foot-3 and 195 pounds.)
There's a subtle element of physicality in Matthews' game as well. He doesn't hunt for big hits like Ovechkin did early in his career, but lately Matthews has more frequently deployed his frame and strength to break up the opposition's attack and drive play the other way. He's smart about it, using his stick to collect 78 takeaways in 2019-20, two more than his previous high during an 82-game rookie season. On the whole, Matthews has rounded out the defensive side of his game to the point where he should be considered an above-average two-way player, at the very least.
Here's a prime example of No. 34 using his improved skating and stickwork to create something out of nothing in a November game against the Coyotes, his childhood team. Matthews' pressure on Oliver Ekman-Larsson - using his reach in tight and his unique ability to lift his stick over and around the defenseman in one seemingly fluid motion to create pressure on both sides - eventually leads to a goal:
All of this combined makes Matthews a true force. He consistently puts himself in high-percentage scoring areas, and he almost always beats goalies cleanly. He's an efficient, artsy sniper who rarely scores by fluke. Of his 158 tallies, only three are empty-netters. The vast majority - 121 at even strength - have been earned.
It's too bad we probably won't see the conclusion of the regular season and Matthews' first real crack at the elite goal-scorer's milestone of 50 goals. He's young, though, and will surely continue to flabbergast both broadcasters and goalies again soon, challenging Ovechkin along the way.
"He's such a smart, intelligent player," teammate and close friend Tyson Barrie said of Matthews in February.
"It seems like every night he's scored. I'm not sure anybody's figured it out yet."
John Matisz is theScore's national hockey writer.