Aaron Ekblad would like to offer a reminder of a frequently forgotten fact: A mere 38 days separated him from being a normal player in the 2011 Ontario Hockey League draft. If he had been born in late December 1995, not early February 1996, the troublesome "exceptional status" label that's colored the narrative of his career would have never been an option.
"It's hyped up like crazy, but realistically it's a month and seven days difference," Ekblad said in a recent interview. "I was just like any other kid going to play hockey with some older guys. It worked out for me, and it was the right play in terms of development. … To me, it felt normal."
Exceptional status allowed Ekblad to enter the OHL as a 15-year-old, and he was clearly above average. He won rookie of the year honors as an underager and, by the end of his three-year tenure with the Barrie Colts, was considered the league's best blue-liner. He was physically, mentally, and emotionally mature. But Ekblad also raises a valid point about his birthdate and how certain labels can take on a life of their own.
"When he came to us at 15, he transitioned really well," Colts general manager Jason Ford said. Then, Ford added, the crazy comparisons started. "Somebody early on threw out the name Bobby Orr, which is not really fair. When you watch him, he's not that type of defenseman anyway. The person who threw it out there must not have seen him play."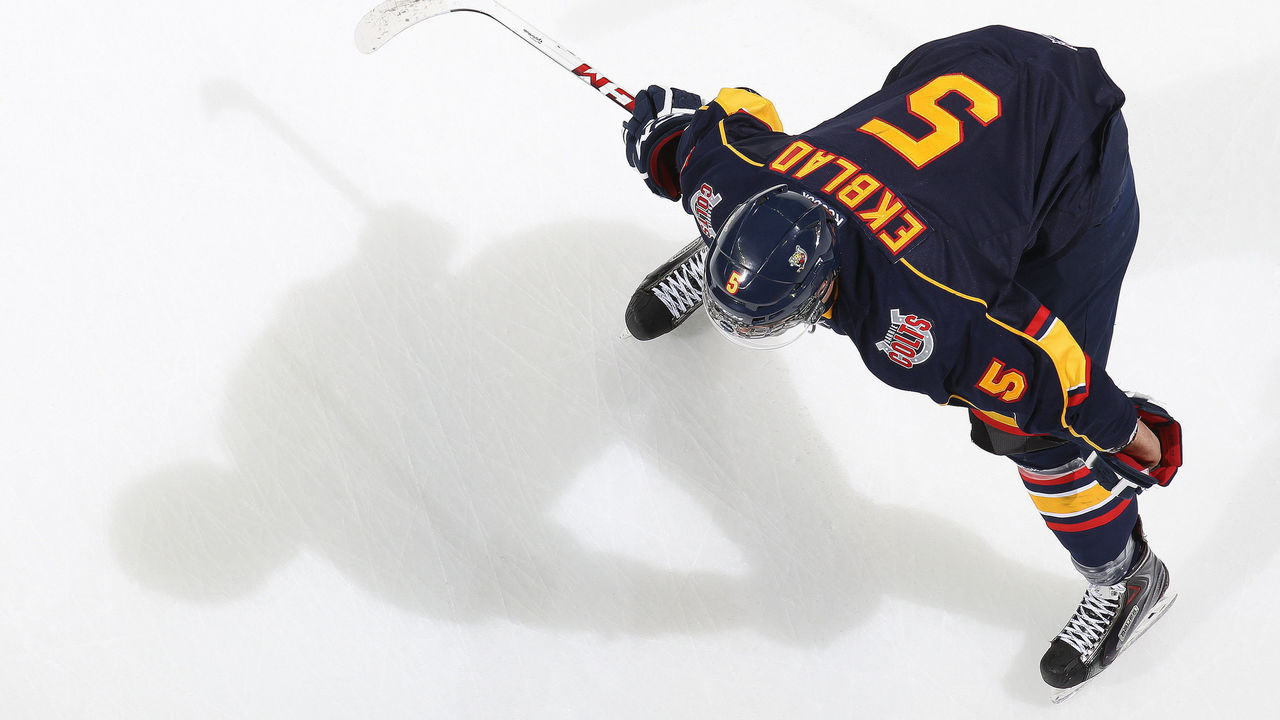 It's all a little ironic nowadays, seeing as there's a strong case to be made that Ekblad is actually underrated and underappreciated at the NHL level. Sure, he created buzz during his Calder Trophy-winning debut with the Florida Panthers. What about in the four-plus years since? He's been largely forgotten amid a slew of injuries and the incremental nature of his development. Perhaps he's simply been out of sight, out of mind.
"He's in Florida. If he were anywhere else on the planet he'd get a lot more recognition," said Willie Mitchell, Ekblad's former teammate and mentor.
Ekblad, who turns 24 on Feb. 7, battled through multiple concussions and a neck issue prior to finding his way back to elite form. The eight-year, $60-million deal he signed in July 2016 may have looked like a mistake the following season (Ekblad's self-described "weak year"), but that's not the case now. He's a legitimate No. 1 NHL defenseman in 2020.
"He's done a lot of great things for us over the years," Panthers forward Vincent Trocheck said. "But, with his skill set, he has all the tools to be a top-five defenseman in the league. He's got size, he's got speed, he's got skill, he's got a shot. He can do it all."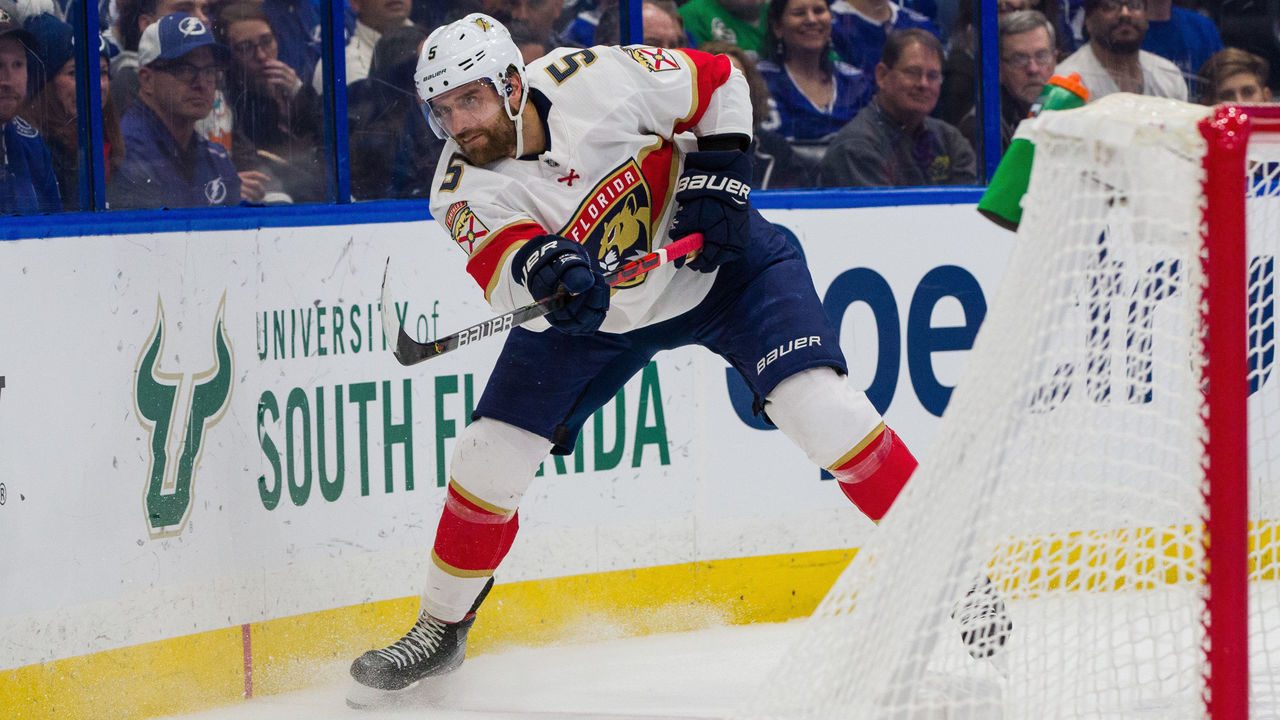 With five goals and 23 assists in 47 games, Ekblad is in the middle of the most productive campaign of his pro career. He's on pace for 48 points in 80 games following an offseason of specialty coaching. As a big man - 6-foot-4 and 200 pounds - in a small man's game, he's well aware that he must try his best to "stay relevant in terms of creativity and puck-handling ability."
"For me, puck handling is the biggest thing," Ekblad explained. "Can I have my head up while handling the puck and make a play? Some coaches want a high-flip kind of game, a puck-off-the-glass defenseman, but I think the game has transitioned to defensemen being more skilled, quicker, able to make plays, and be up on the rush for the five-man attack."
It's fair to suggest Panthers coach Joel Quenneville is pleased with the early returns. Powered by the NHL's most potent offense, Florida has a 28-16-5 record, which at the All-Star break places the team third in the Atlantic Division and eighth overall in points percentage. With Ekblad, the Panthers have been an objectively better squad at five-on-five. Based on the heat maps below, the club takes higher-percentage shots in the offensive zone when he's on the ice versus when he's not. Key in on the red blobs: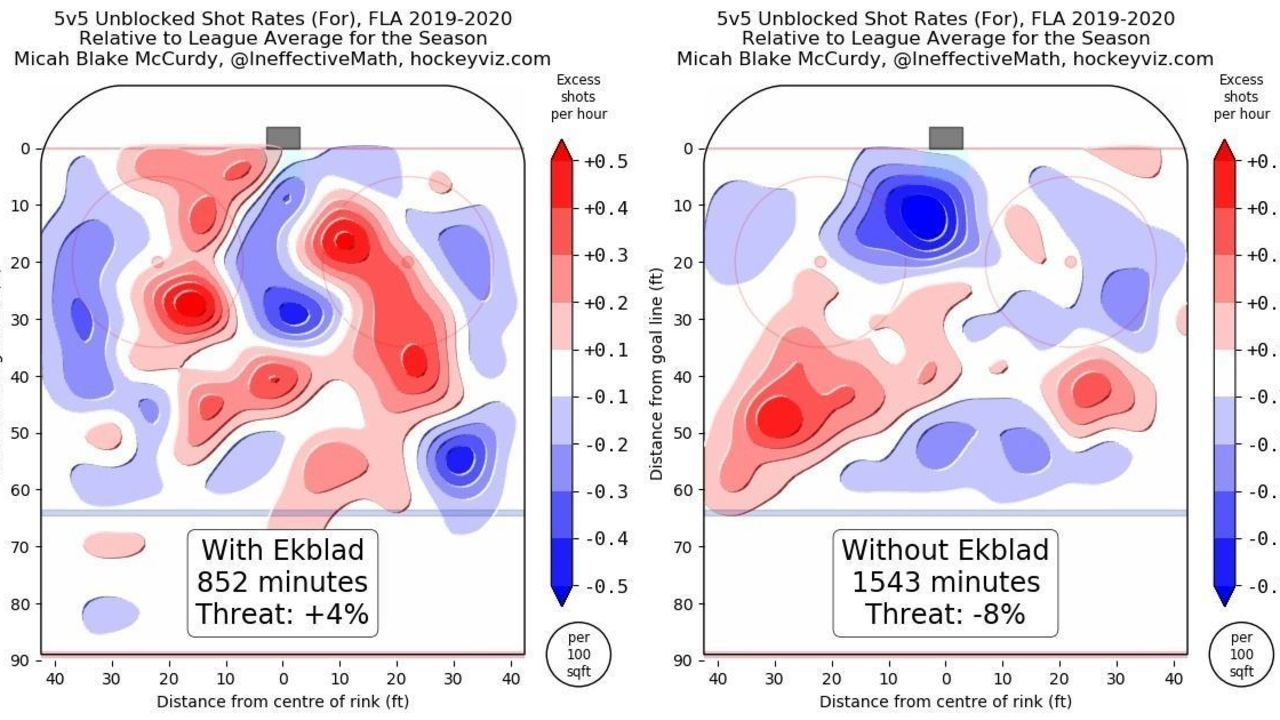 Ekblad, the club's ice-time leader, is 11th in relative shot differential among the 164 defensemen who have played at least 500 even-strength minutes this season. The Panthers own a cool 53.2% of the shot share when Ekblad is between the boards and only 48.4% when he's on the bench. His most common defense partners - MacKenzie Weegar, Keith Yandle, and Michael Matheson - have all seen their underlying numbers dip when they're paired with someone else, which suggests Ekblad's doing a lot of the heavy lifting.
According to Brian Campbell, his first NHL partner, Ekblad's had a certain composure since his debut in 2014. "I played too cautious myself, expecting that maybe he's going to take some time to grow and learn," Campbell said, still impressed. "It was almost more of an adjustment for me. This kid was ready to go right from the get-go."
Campbell left the organization after the following season. It was no coincidence he returned to Chicago, where Quenneville was still running the bench. "I think you'd have to give him a lot of credit for keeping it very simple for Aaron," he said of Quenneville. "For us, as players, you want to know what's going on and not have any gray areas. That's what Joel does."
Ekblad and the rest of Florida's longtime core - Aleksander Barkov, Jonathan Huberdeau, Trocheck, and Yandle - are already on their fourth coach. Ask Ekblad about his past few years and the challenges he's faced and he immediately brings up Quenneville's predecessor, Bob Boughner.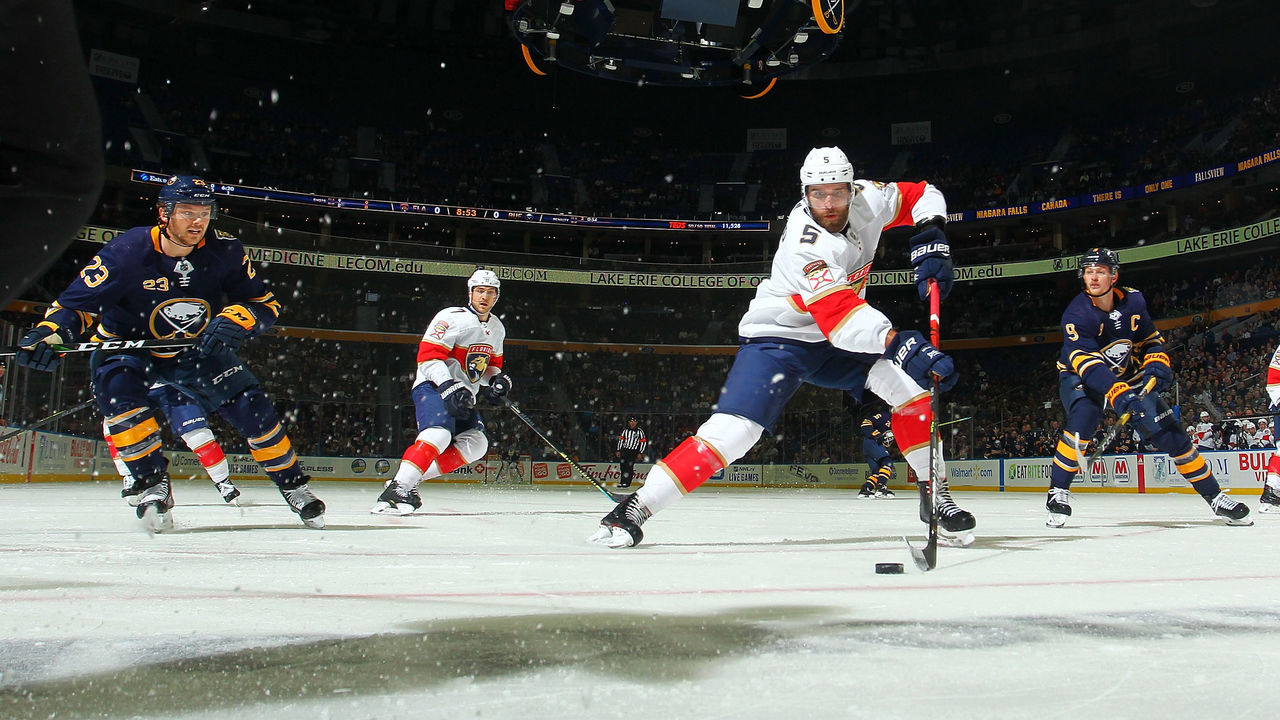 "He did a great job teaching me some things that helped me evade situations where I could get injured," Ekblad said. And these instructions led to better habits. "If the puck was dumped in my corner, it was all about knowing where guys are on the ice and know who you're up against.
"But also, get back on the puck as quickly as possible so that you have time to make a play and get your stick or put your shoulder into the guy to protect yourself a bit. The faster you can make a play the quicker you can protect yourself."
Mitchell suffered several concussions during a 900-game NHL career. He compares a player's post-concussion approach to the mindset of an overly defensive driver. You're bound to get into a car accident if you're timid behind the wheel.
"I like to look at the glass half full," Ekblad said. "I don't think they've affected me too much here. I feel good day-to-day. I'm happy, I feel healthy, and I'm learning ways of avoiding that kind of injury."
Which brings us full circle. Over the phone, Ford mentions Ekblad's numbers this season. The Colts GM is impressed by his point production and nightly workload against stiff competition and suggests there's room to grow. Maybe the "exceptional" alumnus will hit 20 goals and 40 assists one day. "He's still relatively young for a defenseman in the NHL, right?" Ford said.
John Matisz is theScore's national hockey writer.