Crucial road trip could determine Babcock's fate as Leafs head coach
Kevin Sousa / National Hockey League / Getty
Mike Babcock departed Scotiabank Arena on Friday night as the head coach of the Toronto Maple Leafs, but he may be packing his belongings the next time he returns.
The floundering Leafs fell to 9-8-4 on the season after a 4-2 loss to the Boston Bruins on Friday. It was Toronto's fourth straight loss, and the team has recorded just two regulation wins over its last 14 games. For a squad that's arguably one of the most talented in the league, that stretch is unacceptable.
It won't get easier, either, as the Leafs embark on a six-game road trip Saturday:
| Date | Opponent |
| --- | --- |
| Nov. 16 | @PIT |
| Nov. 19 | @VGK |
| Nov. 21 | @ARI |
| Nov. 23 | @COL |
| Nov. 27 | @DET |
| Nov. 29 | @BUF |
The first four games of the road trip are especially tough. The Penguins and Avalanche may be shorthanded, but the Leafs are also missing a few regulars, including Mitch Marner. Vegas has been as inconsistent as Toronto, but the Golden Knights are still a threat. The Coyotes, meanwhile, are one of the stingiest teams in the league, allowing the third-fewest goals per game (2.45).
A 1-3 record over those games seems very possible. That would lead to a 1-7 run during the team's last eight games, which may be the final straw for Babcock. Moreover, a three-day gap before facing the Red Wings on Nov. 30 at Scotiabank Arena would give a new head coach time to prepare.
Does Babcock deserve to go?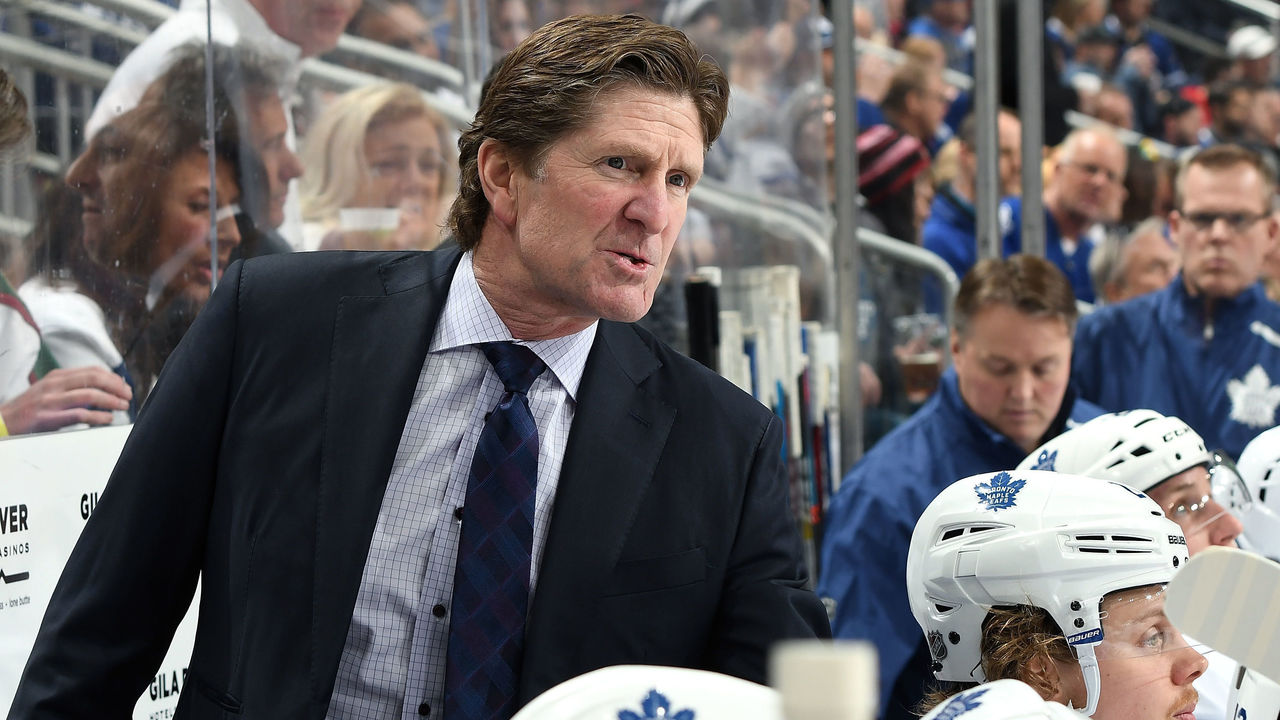 Fair or not, when a talented team in any sport is underperforming, fingers get pointed at the head coach. In Babcock's case, the blame is justified.
The Leafs haven't played well since jumping out to a 26-10-2 start to begin last season. Over the team's last 82 regular-season games, Toronto has logged more losses than wins, posting a 40-30-12 record.
The results have been strange because the Leafs' defense, which was considered to be the squad's biggest flaw, has improved greatly on paper since the start of the last campaign:
| In | Out | Holdovers |
| --- | --- | --- |
| Tyson Barrie | Jake Gardiner | Morgan Rielly |
| Jake Muzzin | Ron Hainsey | Travis Dermott |
| Cody Ceci | Nikita Zaitsev | Justin Holl* |
*Holl played only 11 games in 2018-19
The Maple Leafs routinely lead in shot-attempt differential each night, but this season they aren't generating enough high-quality chances, and their defensive-zone lapses are enough to drive any coach up a wall.
Most of Toronto's chances so far in 2019-20 have come from the outside: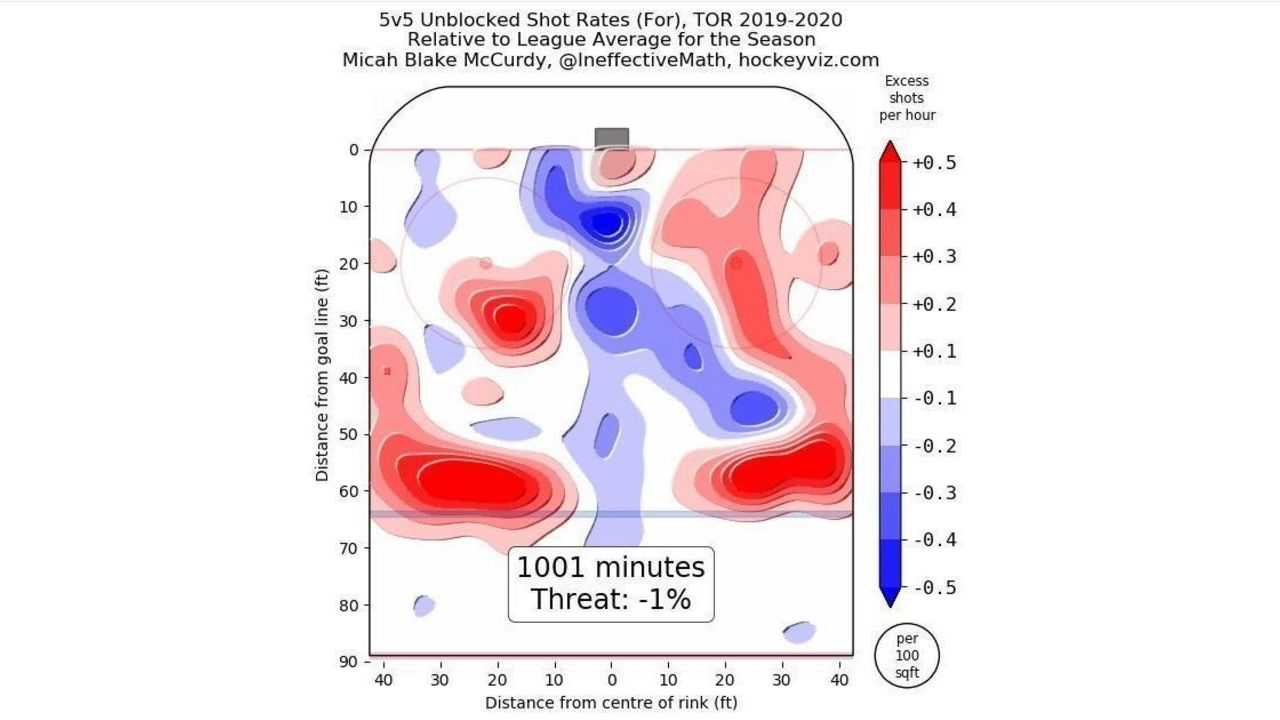 However, a year ago the Leafs created far more opportunities from the slot: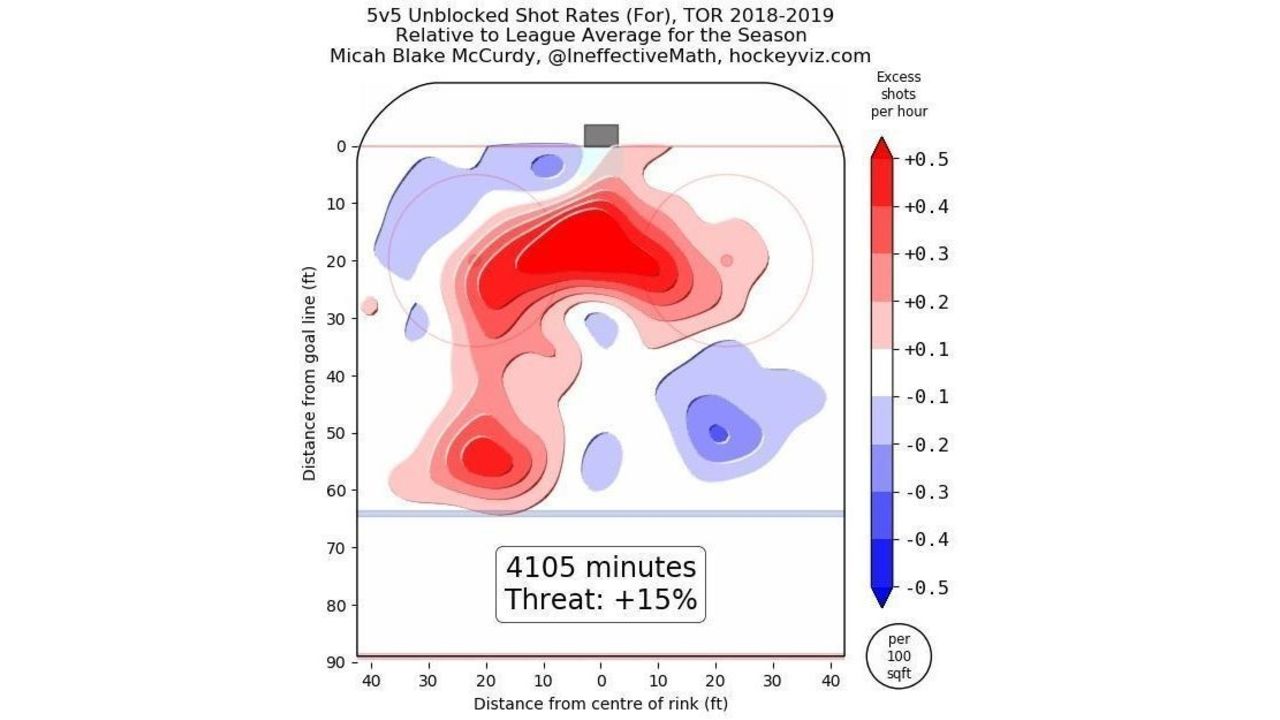 A young, talented team that's supposed to be improving each season is getting worse under Babcock. The Leafs are clearly declining, too, and not just experiencing a slump or bad luck.
General manager Kyle Dubas has constructed a roster rooted in all-out skill. His strategy is bold, interesting, and innovative, but Babcock - an old-school type - is clearly ill-suited to lead this team. It's like putting together a band full of rock stars, but asking Mozart to write the music.
Sheldon Keefe, the man waiting in the wings, could be the Dave Grohl who can solve this conundrum.
Keefe is the head coach of the AHL's Toronto Marlies - the team Dubas oversaw before his promotion to Leafs GM. Prior to joining the Marlies in 2015-16, Keefe was the head coach of the OHL's Soo Greyhounds, and Dubas - then the club's GM - hired him in 2012-13.
To prevent Keefe from seeking other NHL opportunities, the Leafs reportedly made him one of the highest-paid coaches in AHL history. It seems clear Dubas envisions Keefe eventually coaching the skill-heavy roster he's built, and it's becoming more obvious that promotion should happen now.
The Leafs' struggles aren't all Babcock's fault. The players need to take some accountability for the defensive lapses, sluggish starts, and overall inconsistency. Some smaller coaching details are inexcusable though, like Nick Shore being on the ice while trailing with three minutes to go on Friday, making Marner and other wingers take faceoffs on the penalty kill, and only playing Auston Matthews 18:48 in a do-or-die Game 7 last spring.
Babcock may have helped change the culture in Toronto after arriving in 2015-16, but it's clear his message is no longer getting across in the Leafs' dressing room. It's time for a fresh voice.
In the salary cap-era when it's so hard to win championships, the Leafs can't afford to sink or swim with Babcock steering the ship. He doesn't deserve another chance.
Comments
✕
Crucial road trip could determine Babcock's fate as Leafs head coach
  Got something to say? Leave a comment below!