How one Hockeytown prospect tries to keep one skate in two worlds
Photo illustration by Nick Roy / theScore
DETROIT - It's early August, and the sun is beating down on Clark Park, a multipurpose community center just west of the bridge connecting Michigan and Ontario. Local pro Jalen Smereck moves through a scattered group of ball hockey players, striking up casual conversations.
Smereck grew up 12 miles from Clark Park. This is his community, and he sees himself in these kids. One mom asks if Smereck minds taking a photo with her shy 12-year-old son, a black hockey player who is new to the sport. She also has a question: What kind of advice does Smereck have for him?
"It was crazy because when I was with my black friends, I was a white boy, but when I was with my white friends, I was a black boy," he replies. "So, it was kind of weird … "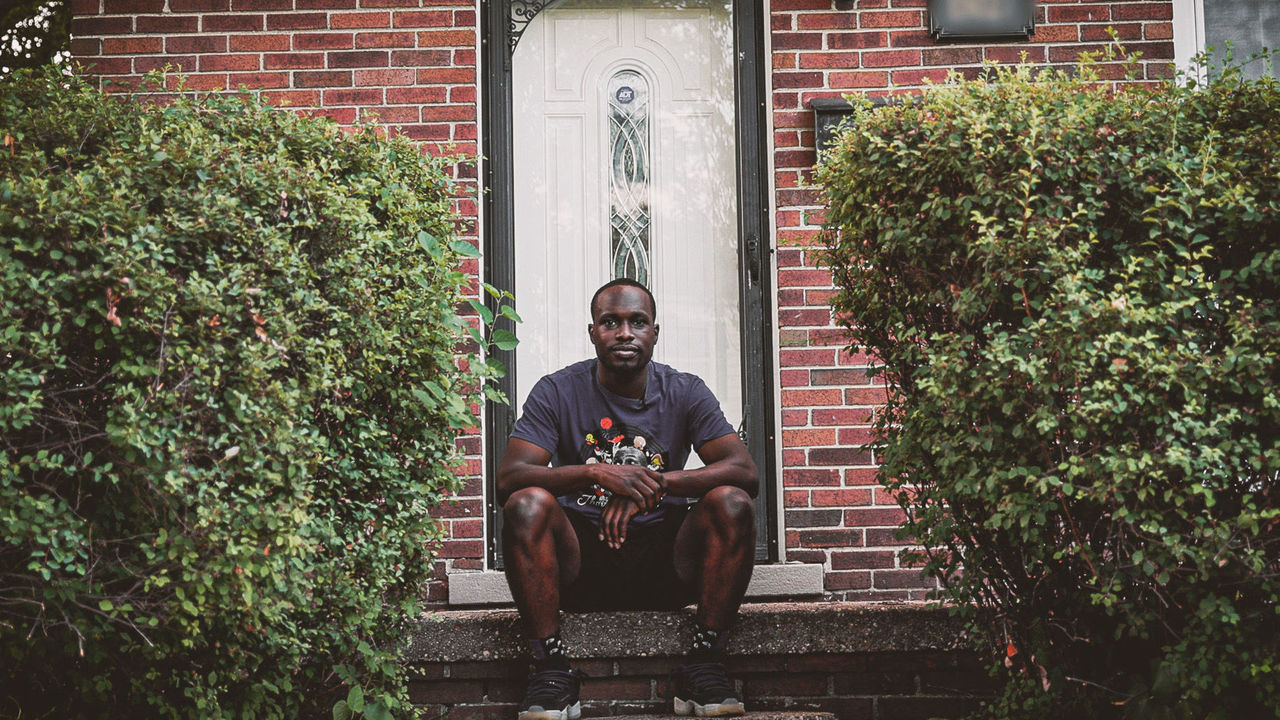 Poke your head into arenas across the continent and it's not hard to see that hockey is a predominantly white, affluent sport. In Detroit's core, there isn't much in the way of money, and less than 15% of Detroit residents are white (Smereck's dad, Gary, is one of them). While the home of the Red Wings might be nicknamed Hockeytown, it's decidedly a basketball, baseball, and football city.
This is the environment in which Smereck came of age and, as the 2019-20 hockey season begins, still grapples with. Nothing's ever been easy, the 22-year-old Arizona Coyotes prospect said in a recent interview, but these are the cards he's been dealt. There's plenty of work - on and off the ice, for his community and for himself - left to be done.
Two slices of white bread, a spoonful of mayonnaise, a piece of bologna, and a square of processed cheese. It's an assembly line of sandwiches earmarked for Detroit's homeless - or, as Smereck and his close friend insist on calling them, the less fortunate.
Once, twice, or even three times a week this summer, Smereck and De'Maurio Ratliff sat at the Smereck family dinner table and got to work. Lay out the bread, spread the mayo, place the bologna, plop the cheese, flip the other piece of bread on top, zip the plastic bag. Repeat, repeat, repeat.
After stuffing the trunk of Smereck's Dodge with other goods, such as fruit, chips, and water, the pair would then hop into the car and hand-deliver the food. "He's like the backbone of the whole operation," Ratliff says of Smereck. "He'll pull up to a homeless shelter, they see his blue Charger - 'It's time to eat! Jalen here!'"
Each outing costs Smereck $40-$50, no small expense for a father of 2-year-old twins making a minor-league hockey salary as a defenseman with the Coyotes' AHL affiliate, the Tucson Roadrunners. It can also be seen as an investment in his own mental health; he's battled depression "a few times." He struggled as he grieved a friend's death in 2017; he felt hopeless while his parents dealt with major medical issues while he was away from home playing hockey; and he's dealt with racism, both casual and targeted, throughout his life.
"I still have some bad days," Smereck says. "Sometimes you think about things." He pauses. "That's one of the reasons I like to get out, see the less fortunate, talk and meet with those people. It helps you. It brings you a different side of life, positive energy."
Smereck, who's entering the final year of an entry-level deal that pays him $60,000 a season, believes it's his civic duty to extend a hand. As a young man who avoided substance abuse, crime, and incarceration, and who makes a decent living playing a sport, he believes it would be false-hearted to ignore what's transpiring literally in front of his family home, on the next street over, and all around.
"The biggest thing to me is drug abuse, or simply they go to jail and come out with nothing," he says of the people he interacts with outside the homeless shelter and on the streets. "Someone will come out with no family, haven't talked to anybody in years. … It's already hard to find a job, even if you're a normal person, even if you have a degree. You can imagine how hard it might be for someone who's just come out of prison for 15-20 years."
Smereck, inspired by his older brothers Dwayne and Joe, first slipped on a set of skates at the age of 2 inside Jack Adams Memorial Arena, one of the few rinks inside Detroit's city limits. Gary quickly moved him to a learn-to-skate program in the suburb of St. Clair Shores. By age 5, a coach had convinced Gary to drive out to Troy for a better opportunity. He played for a couple of different minor hockey organizations, calling a variety of Detroit-area rinks home before making the jump to the junior ranks at 17.
And though the on-ice intensity has naturally ratcheted up as he's climbed the sport's ladder, Smereck's off-ice compassion has never waned.
"If he saw his big brother crying, he'd give me a donut. He ain't got no bad bone in his body," Joe says, chuckling at the childhood memory.
"You can't have a better soul than Jalen," says Brian Felsner, his minor hockey coach.
Smereck caught the outreach bug at 15 and has kept a steady pace, volunteering locally and in his adopted hockey cities in the OHL, ECHL, and AHL, often without alerting the teams' community relations staff. In Flint, Michigan, he found an ally in Rico Phillips, who was honored during June's NHL awards ceremony for outstanding community service. The duo teamed up on multiple occasions to enhance the free hockey program Phillips founded.
As in his Clark Park visit, Smereck tries to avoid beating around the bush when he interacts with young black kids. Like those before him, including his idol P.K. Subban, he's encountered racism at just about every level of his sport. It can come at you from multiple angles - teammates, parents, opponents - starting at an impressionable age.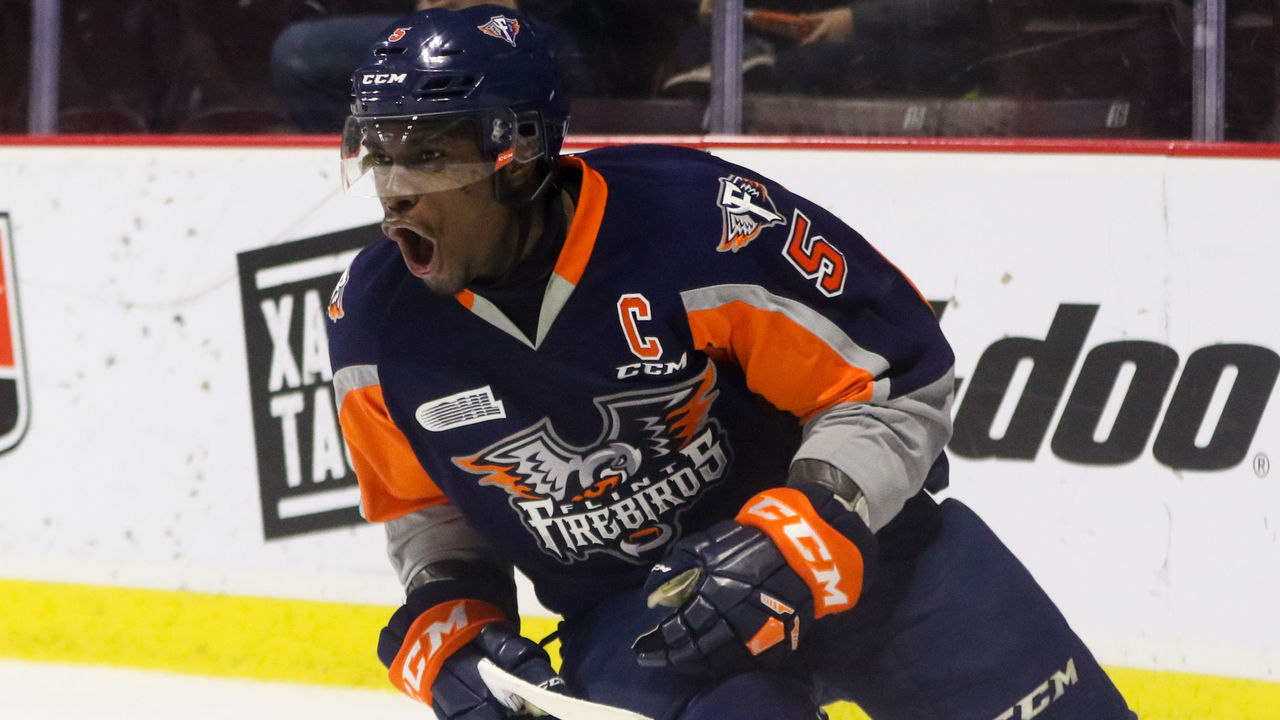 "I've had the n-word," Smereck says. "'You should be playing basketball or baseball.' 'You don't deserve to be on the ice.' I've had it all."
San Jose Sharks forward Evander Kane recently talked to ESPN about feeling like an outsider in hockey circles. Smereck's had the same experience. "Sometimes I've been so angry and you can't do anything about it," he says, "and it's brought tears to my eyes. It was pretty painful."
Smereck, who says he's yet to encounter racism at the pro level, will never forget two incidents during the 2016-17 OHL season. Then with the Flint Firebirds, he says an opponent from the Oshawa Generals and another from the Saginaw Spirit directed racial slurs at him. The league investigated both incidents, though in both cases the accused players denied uttering a slur. Video footage provided little insight, and on-ice officials couldn't verify Smereck's side of the story, according to OHL vice president Ted Baker. Neither opponent was suspended.
"We are compassionate, we are sympathetic," Baker says, "but (we) also need to have the information to make a determination - especially when you're dealing with supplemental discipline."
Smereck, meanwhile, received a five-game ban for unsportsmanlike conduct in February 2017 after confessing to his own verbal attack in retaliation for the alleged slur in Saginaw. Reflecting on the transgression two-and-a-half years later, he brings up the Jackie Robinson biopic "42" and its depiction of Robinson breaking bats in response to a taunt from an opponent.
"It was giving himself a bad name," Smereck said. "Even though they weren't right, you're still putting yourself in a bad situation by reacting to it. I try not to react to it so nobody can pin that on you and look down on you and say, 'This guy has a bad attitude,' or this and that. I try to keep all of that inside and away from the rink."
Witnessing Detroit's poverty and violence up close - about half of the homes on his street are either abandoned or decrepit, and he says two of his friends were shot and killed in the past few years - taught Smereck about the value of positive role models and the blessing of opportunities. Detroit had the second-highest rate of violent crime among big U.S. cities in 2017, according to FBI data analyzed by the Detroit News. The Red Zone, a notorious gang territory, is a five-minute drive from the Smerecks' east-side home.
The sandwich project, which is a component of a fledgling nonprofit organization they're calling A Gr8ter Detroit, has allowed Smereck to feel like he's part of the solution.
"Detroit is not the best place right now. You could be in the right place and still be in the wrong, you know what I mean?" Smereck says of navigating the city. "So, it happens. You have to catch yourself and watch your surroundings. We've been in tough spots, but you have to think quick and react fast so you can get out of there."
On the ice, Smereck's greatest attributes are his offensive instincts, athleticism, and competitiveness. He's most effective when he's working his skate edges to escape traffic, finding teammates with a nifty pass, or using his stick to reclaim the puck from the opposing team.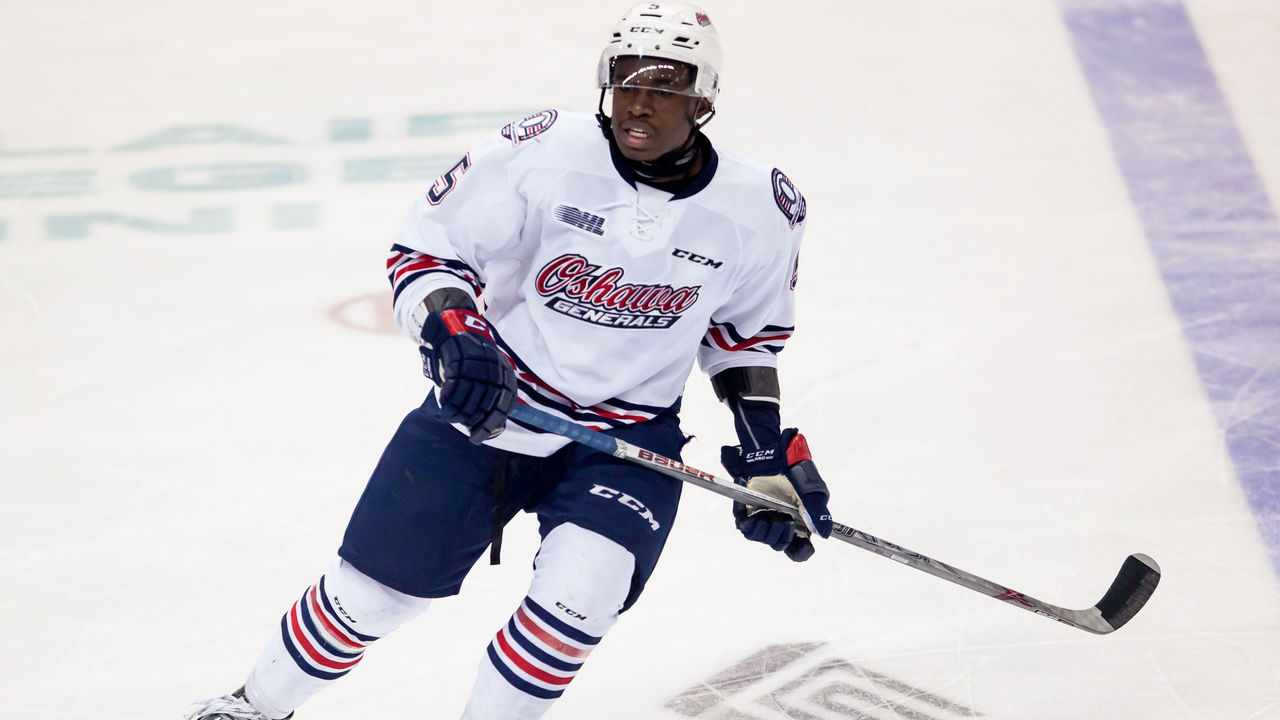 His game is far from polished, but his raw tools have earned him a pro contract and one preseason NHL game, despite his draft history. He was the last pick, 299th overall, in the 2013 OHL draft. He was undrafted by the NHL. The odds are long for a 22-year-old with his resume to carve out a long NHL career, but at this point, it seems naive to bet against Smereck.
"It's never over until you say it's over," says Eric Wellwood, his former OHL coach, noting Smereck's perseverance and "gamer" mentality. "He's a kid who's trying to prove something. Not just to himself but to, I think, everybody who overlooked him."
Last week, Smereck participated in the Coyotes' rookie camp in Glendale, Arizona, followed by the prospect tournament in Anaheim, which wrapped up Tuesday. On Thursday, Smereck will be back in Glendale for medicals and fitness testing ahead of main camp.
Entering his second full season as a pro, he has his sights set on a consistent gig in Tucson. The club's outlook aligns with Smereck's. He split last season between the AHL and ECHL. He compiled five goals and 33 points in 44 ECHL games, earning an All-Star nod, but only recorded one assist in 16 AHL games while primarily playing third-pairing minutes.
"He's always been a talented player. He just has to learn how to round out his game and develop some pro habits," Coyotes player development coach Alex Henry says. "He's been doing really well with that. There hasn't always been a lot of opportunity for him, but I expect that he'll take a step and doors will open."
When Jalen was young, Gary had a well-paying job but had to provide for four kids. His wife, Jearlene, wasn't able to work steadily because of her health. The family's financial situation was "mediocre," Jalen says; not as dire as some of his neighborhood friends, yet a broken stick would cause headaches and registration fees were not always paid in full. Ice hockey is one of the world's most expensive sports, according to a 2018 survey by the Aspen Institute. Even now that he's making his own money, there isn't much extra to support the advancement of his career.
Smereck has never really had a skating or skills coach in the summers. He'll jump on the ice for unofficial sessions with Felsner (his minor hockey coach), scrimmage here and there, or skate with fellow pros, but unlike many other elite hockey players, he doesn't have an expert on call.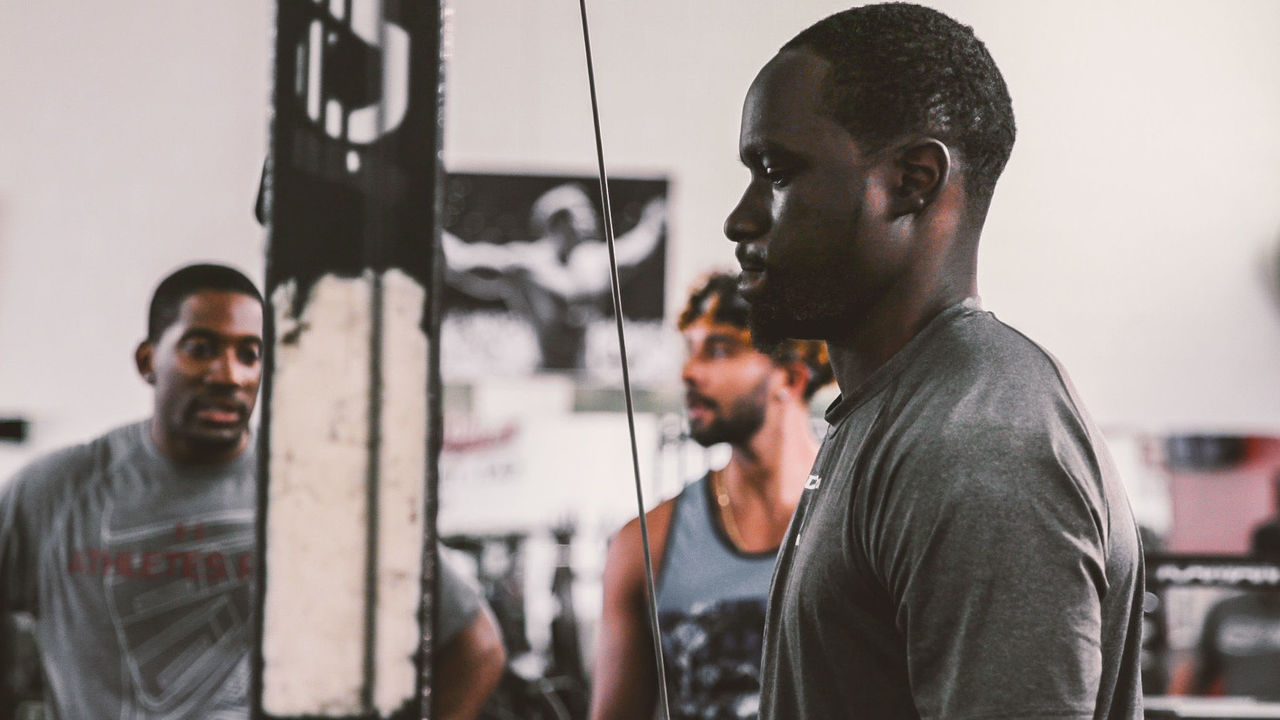 Henry recognizes Smereck's current circumstances, with toddlers and parents to support and strong ties to his community. The Coyotes coach also identifies a central complication in Smereck's life as the blue-liner chases his hockey dream.
"There's priorities in life, and if you want to make it to the NHL, it's so hard. You've got to do everything possible." Henry says. "But at the same time, your family comes before anything.
"How does somebody in his position make that decision? It's not that easy. I don't think that it has to be mutually exclusive, either. It's not one or the other. I'm sure there are ways that Jalen can do a little bit of both - live at home, train with some pros. But … it's not up to (the organization) anymore. If Jalen's proven he can be a man in certain regards, then he needs to make those decisions for himself."
Hockey is Smereck's passion, and he is going to fight like hell to make the NHL. Yet it's not the entirety of his identity or his sole focus in life. If he weren't so far down this path, he'd probably be in law enforcement. When he retires, policing is his fallback.
In the short term, having a healthy, productive season and ultimately earning a second pro contract - "whether it's here, or Switzerland, or France, or wherever" - are Smereck's top priorities. "As long as I'm able to play the game of hockey," he says, "still play the game that I love - enjoy myself, provide for my family - I'd like to come back here in the summer and take bigger steps with these nonprofits. … Take them further, get out there and experience. Help people."
If all goes according to plan, next offseason he'll work with Ratliff to expand A Gr8ter Detroit while launching another nonprofit aimed at exposing city kids to sports they may not be able to afford. It always circles back to the east end of Detroit, where Smereck was raised, learned how to skate, and came of age. And where his little ones, Julian and Jaleya, are growing up now.
All of this fuels him to hand out sandwiches to strangers on the street and offer words of encouragement to a 12-year-old and his mom on a hot August day at Clark Park.
"Stay with it," Smereck says towards the end of their exchange.
"Don't let nobody tell you you can't."
John Matisz is theScore's national hockey writer.
Comments
✕
How one Hockeytown prospect tries to keep one skate in two worlds
  Got something to say? Leave a comment below!