Vasili Podkolzin is relentless. Are teams too timid to draft him in the top 10?
Photo illustration by Nick Roy / theScore
One afternoon this past December, a child clad in a Canada toque and an Esso-branded hockey jersey stepped onto a carpeted patch of ice in Bonnyville, Alberta to conduct the first ceremonial faceoff of the World Junior A Challenge.
Vasili Podkolzin, Russia's captain at the under-20 showcase, glided over to meet the boy and to greet Cade Townend, his leadership counterpart from the Canada East team. Russia was the visiting team in the tournament opener, and as Podkolzin and Townend bent forward for the draw, convention dictated that Podkolzin should let the Canadian win possession.
Indifferent to this unspoken accord, Podkolzin pulled the puck toward himself before tapping it to Townend, who arched his eyebrows, pursed his lips, and gave his head a slight shake.
The stakes could not have been lower, yet this much was clear: Podkolzin didn't intend to be one-upped.
"This kid doesn't want anyone to get the better of him," said NHL Central Scouting director Dan Marr, who saw the scene unfold from the stands.
Analysts and Podkolzin's coaches say the 6-foot-1, 190-pound right-winger from Moscow, who will turn 18 on the Monday following the NHL draft, is a relentless competitor who can create scoring chances from nothing.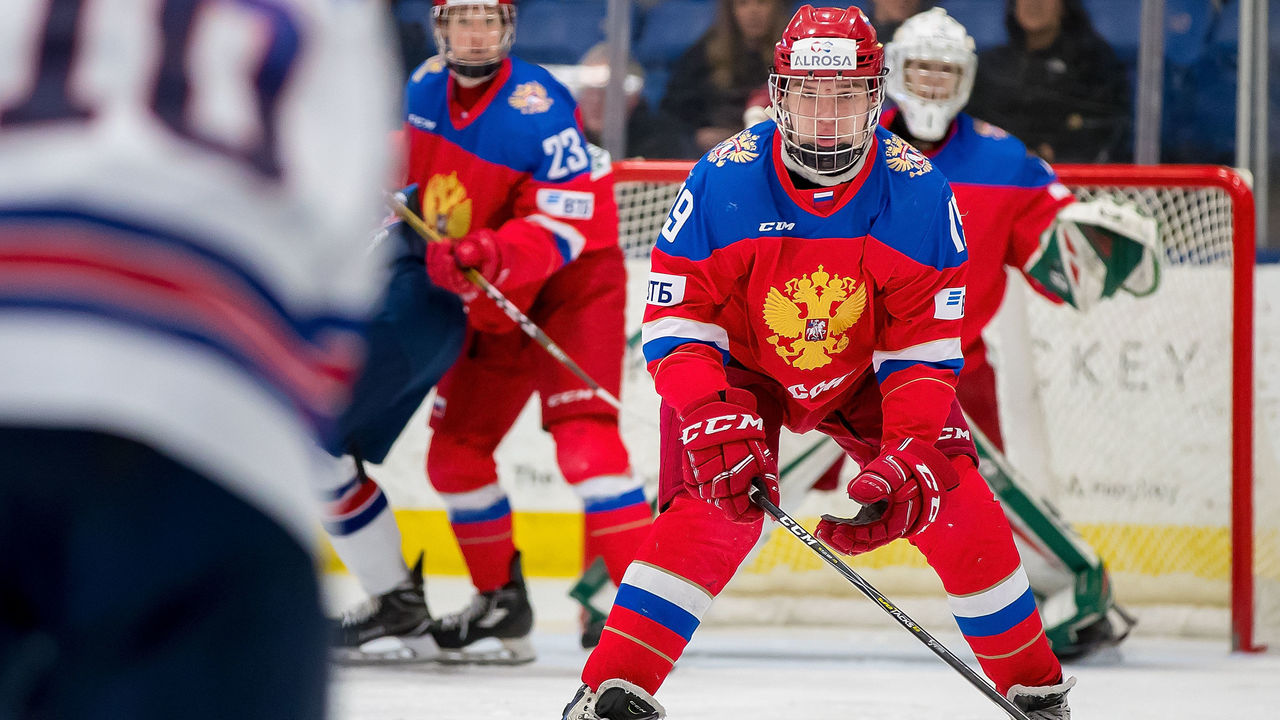 In the game action following the ceremonial faceoff flap, Marr watched the Canadian team try to punish Podkolzin physically. Energized by the attention, Podkolzin scored twice in a two-minute span to key a 5-3 win.
"It's the old story: Don't poke the bear," Marr said. "It just motivated him, and he went out and dominated."
As the draft nears, though, Podkolzin finds himself in a very different situation from that day in Bonnyville: one he can't personally control, and one that embodies the volatility of this year's selection process.
Calling him a projected high pick is the safest characterization ahead of the first round on June 21, given that practically anything could happen after Jack Hughes and Kaapo Kakko are the first two names off the board.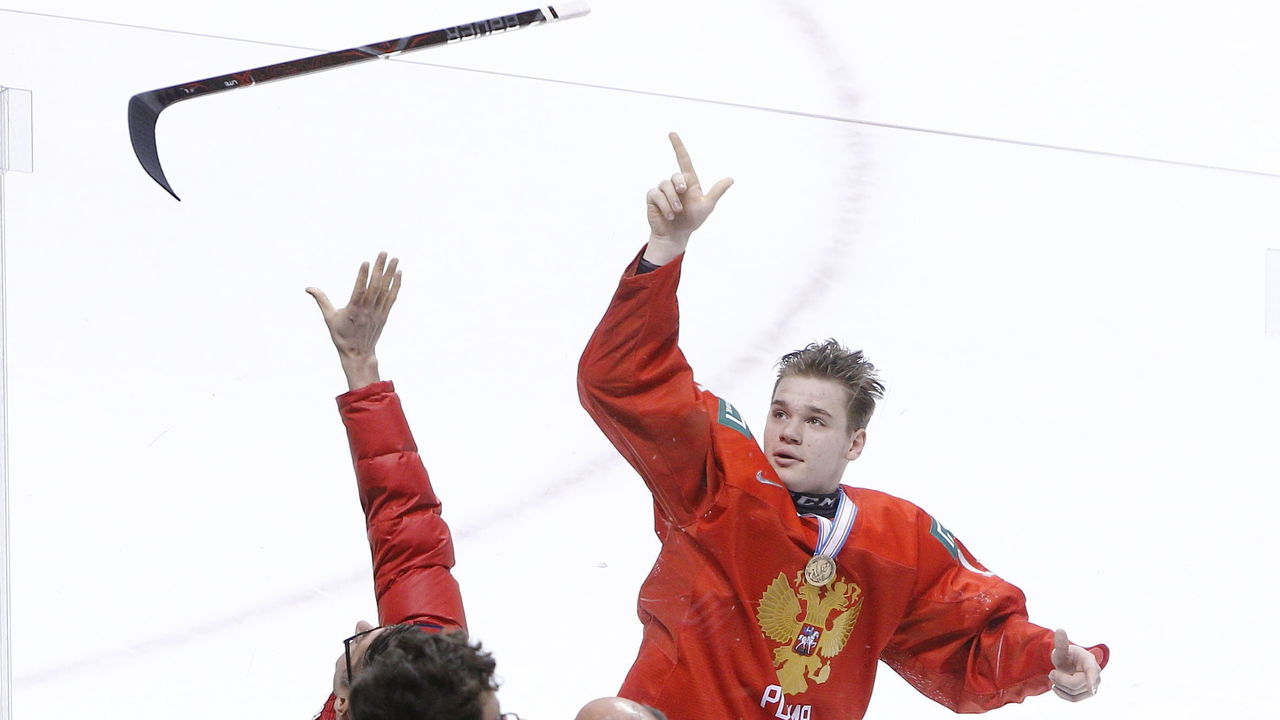 Podkolzin's drive, quickness, and intelligence could convince a team to nab him as high as third. But it wouldn't come as a shock if he slipped out of the top 10, undone by concerns about his point production and the two years that remain on his KHL contract with SKA St. Petersburg.
Speaking via a translator at the NHL Scouting Combine in Buffalo earlier in June, Podkolzin said his sole hope for the draft is for his name to be called in the first round: "Whatever that number is, that'll be the number."
Podkolzin had an eventful 2018-19 season. He played at three levels in the Russian domestic system - junior, minor pro, and sparingly with SKA's powerhouse KHL team - and in several international tournaments, including the world juniors and last summer's under-18 Hlinka Gretzky Cup. At the latter, his 11 points tied him atop the scoring leaderboard with Canada's Alexis Lafreniere, who is currently the consensus top prospect for the 2020 NHL draft.
The flipside of Podkolzin's star turn at the Hlinka tournament, where he netted a hat trick in the bronze-medal game as Russia beat the United States 5-4, was his frustrating performance at the under-18 world championship in April. He captained Russia to the silver medal, but he didn't manage to score until the final and only recorded four points across seven games.
| Vasili Podkolzin's 2018-19 season | GP | G | A | PTS |
| --- | --- | --- | --- | --- |
| KHL | 3 | 0 | 0 | 0 |
| VHL (minor pro) | 14 | 2 | 3 | 5 |
| MHL (junior) | 12 | 6 | 2 | 8 |
| Hlinka Gretzky Cup (U-18) | 5 | 8 | 3 | 11* |
| World Junior A Challenge (U-20) | 6 | 3 | 5 | 8* |
| World juniors (U-20) | 7 | 0 | 3 | 3 |
| U-18 world championship | 7 | 1 | 3 | 4 |
*Tied for tournament lead
Prospect rankings compiled by scouting services and media outlets reflect varying, and evolving, perceptions of Podkolzin's stock. They generally place him anywhere from third to 12th, often with the caveat that the so-called "Russian factor" - the risk that he, like any of his countrymen, could opt to stay home to play in the KHL for numerous seasons - could deter clubs with a pick in that range from selecting him.
At the combine, Podkolzin acknowledged that his KHL contract could scare off some teams. But he also said he hopes to come to North America in time for the 2021-22 season after his deal with SKA expires.
"If NHL teams want to be stupid, they'll put a lot of weight into (Podkolzin's KHL deal)," Craig Button, TSN director of scouting, said in an interview before the combine.
"If you want to scout based on a passport or a tape measure, you're going to make a lot of mistakes, because there isn't this bounty of good players all around the world. The Russian players want to play in the NHL just as much as the Canadian players."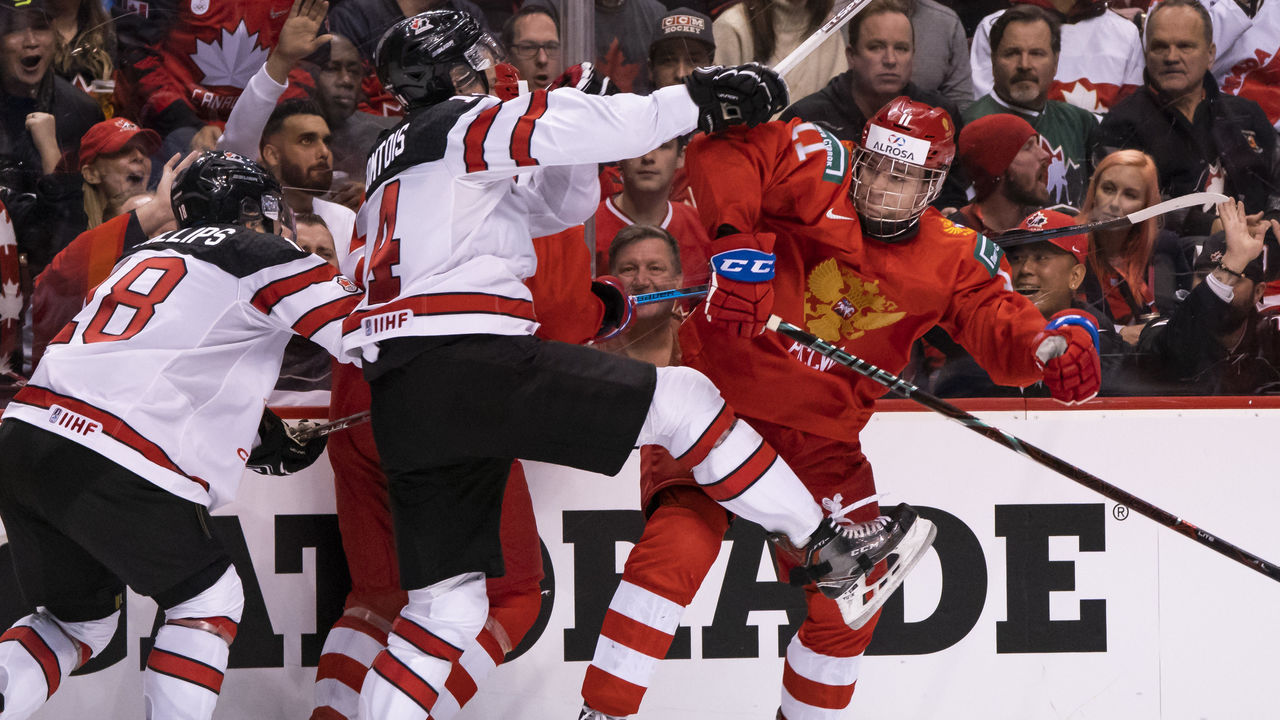 After slotting Podkolzin fifth in the first iteration of his 2019 draft rankings last summer and elevating him to third following the world juniors, Button eventually downgraded him to ninth in the class last week. Still, he admiringly calls Podkolzin a "bulldog" who cares dearly about the outcome of every puck battle and finds a way to contribute either offensively or defensively in every game he plays.
Here's one spectacular example Button cited to extol Podkolzin's impact: the tying goal he scored against Sweden late in the Hlinka Gretzky Cup semifinal.
Marr said Podkolzin has the capacity to command a viewer's attention on any given shift.
"It becomes pretty obvious that he's the best player on the team by the time you get through the first period every game," said Marr, who had a hand in NHL Central Scouting's decision to rate Podkolzin the second-best international skater in the draft (after Kakko).
"Scouts love it when you don't have to look for a player," Marr said. "There's a lot of times that you go to a game and have to look for a first-rounder, because it's not happening. You never have to look for this guy."
Effusive as he is in praising the young winger's competitiveness, Button notes that Podkolzin is prone to forcing plays that aren't there. He also thinks Podkolzin is a good but not great skater, a shortcoming that could keep him from racking up points at an elite rate in the NHL.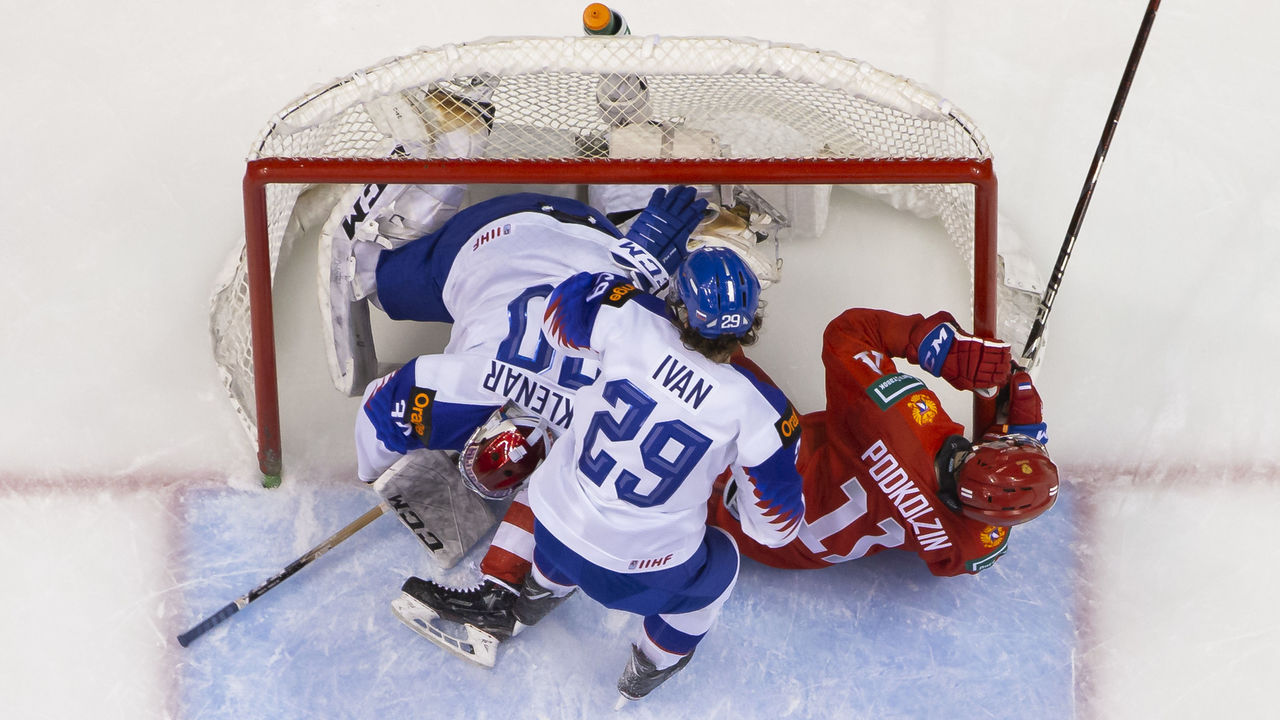 Instead, he foresees Podkolzin assuming a valuable complementary role, like the Chicago Blackhawks' Dylan Strome - a top-six forward with the ability to score 60-70 points per season.
"Vasili is not going to be Nathan MacKinnon. He's not going to be that level of player. He's not going to be Mitch Marner," Button said. "But he can be the player who can play with those guys."
Podkolzin's first opportunity to skate alongside high-end pros came when he made his KHL debut with SKA last November. After idling on the bench well into the third period of a blowout win against HC Avtomobilist, the head coach sent him out for a shift with two of SKA's leading scorers: Nikita Gusev, who left Russia in April to sign with the Vegas Golden Knights, and former Detroit Red Wings legend Pavel Datsyuk.
Podkolzin - who told the KHL's website at the time that his legs were shaking as he left the bench - wound up taking 14 shifts across three games with SKA this season, averaging 3:30 of ice time per contest. Between those call-ups and his international obligations, he only got to play 14 games with SKA-Neva, the franchise's farm team, and 12 with SKA-1946, its major junior affiliate.
Shuttling between three domestic teams was made easier by the fact they're all based in St. Petersburg, Podkolzin said at the NHL combine. However, he had to adjust to a different role in each lineup and admitted to getting "a little fatigued" toward the end of the season, which may help explain why he struggled to generate results offensively at the under-18 worlds.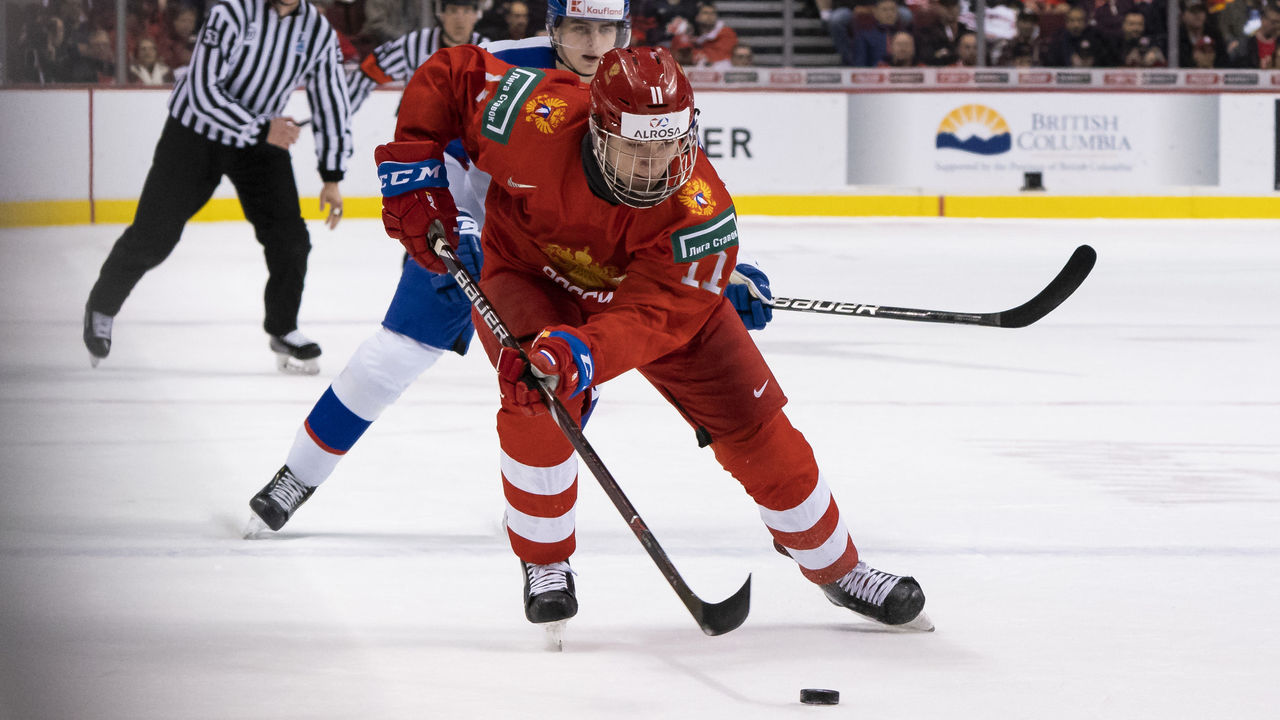 Jumping from level to level did give Podkolzin the chance to impress a lot of coaches. With his potential leap to North America two years away, they are among the people best suited to break down his game.
Vladimir Filatov was Russia's bench boss at the Hlinka Gretzky Cup, the World Junior A Challenge, and the under-18 worlds. He said in an email that Podkolzin is a smart player, a skilled puck-handler, and a potent and willing shooter - and, more importantly, "the heart and the leader" of his squad.
"Leadership is one of his strongest qualities," Filatov wrote via a translator. "He is an example for his teammates and deserves to be captain."
Alexander Savchenkov, Podkolzin's junior coach, said in his own translated email that Podkolzin is a natural leader who is unafraid to dish out and accept constructive criticism. After a subpar debut game with SKA-1946, he recalled, Podkolzin went to the coaches' room to apologize to Savchenkov and to discuss what he needed to improve.
Broadly, Savchenkov said, Podkolzin could stand to be a little more patient on the ice: "He wants it all at once, he wants to be everywhere during the game - but he needs to be in his place." Yet the coach figures it won't be long before he's ready to play full-time in a top pro league.
"Perhaps in the nearest future," Savchenkov said. "Everything is in his hands."
- With files from theScore's John Matisz
Nick Faris is a features writer at theScore.
Comments
✕
Vasili Podkolzin is relentless. Are teams too timid to draft him in the top 10?
  Got something to say? Leave a comment below!