Could it be the end of an era in San Jose?
The Sharks were bounced from the Western Conference Final in six games by the St. Louis Blues on Tuesday night, marking a disappointing finish for a team that undoubtedly had a Stanley Cup-or-bust mentality.
This was supposed to be San Jose's year. With the beloved Joe Thornton on his last legs vying for his first Stanley Cup, the acquisition of pending UFA Erik Karlsson, a handful of youngsters playing out their entry-level deals, and a supremely skilled lineup in its prime, it seemed at times like the Sharks were a team of destiny.
From a pure talent perspective, this was arguably the best Sharks roster ever assembled. Yes, even better than the 117-point Presidents' Trophy-winning squad in 2008-09, or the team that lost to the Pittsburgh Penguins in the 2016 Stanley Cup Final.
But after falling short of the ultimate goal, it's possible the roster could undergo a dramatic transformation this offseason, leaving in the dust the organization's best chance at a Stanley Cup.
Who's coming back?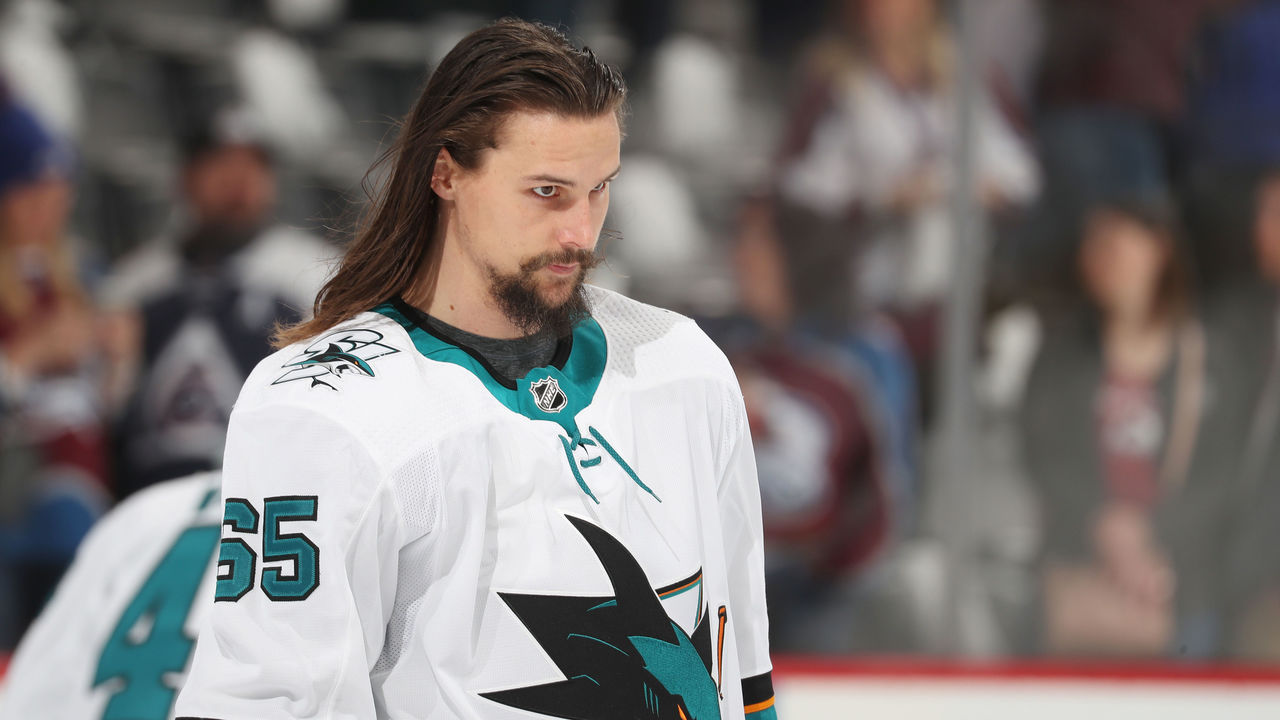 The Sharks are projected to enter the offseason with $24.7 million in cap space, but they have a bevy of both unrestricted and restricted free agents in need of new contracts:
| Player | Pos. | Age | Expiry status | Previous cap hit |
| --- | --- | --- | --- | --- |
| Joe Pavelski | F | 34 | UFA | $6M |
| Joe Thornton | F | 39 | UFA | $5M |
| Gustav Nyquist | F | 29 | UFA | $4.75M |
| Joonas Donskoi | F | 27 | UFA | $1.9M |
| Micheal Haley | F | 33 | UFA | $825K |
| Timo Meier | F | 22 | RFA | $894K |
| Kevin Labanc | F | 23 | RFA | $718K |
| Dylan Gambrell | F | 22 | RFA | $925K |
| Erik Karlsson | D | 28 | UFA | $6.5M |
| Tim Heed | D | 28 | UFA | $650K |
| Joakim Ryan | D | 25 | RFA | $650K |
Nearly every player on this list - with the exception of Thornton and Micheal Haley - will be due for a raise this summer. It's possible Thornton, who's had multiple knee surgeries over the past few years, will retire. That would leave a hole down the middle of San Jose's lineup, and an even bigger void in the dressing room.
Timo Meier and Kevin Labanc will be in line for the team's most significant salary increases. Both youngsters enjoyed breakout seasons, and it's possible they'll combine for an annual cap hit close to $10 million, putting a dent in San Jose's spending flexibility.
Then there's Karlsson, who was one of the NHL's best bargains at $6.5 million a year. After a nagging groin injury cost him a chunk of the regular season and ultimately ended his postseason prematurely, there are questions about his health moving forward. But on the open market, he could still command Drew Doughty-like money in the neighborhood of $11 million per season; there'd likely be more than one team willing to open the vault for the two-time Norris Trophy winner.
Gustav Nyquist and Joonas Donskoi are likely bets to be gone as cap casualties, and retaining both Karlsson and Joe Pavelski - who should be seeking a modest raise after a 38-goal campaign - seems improbable.
Never underestimate Doug Wilson, though. The Sharks general manager is as savvy and shrewd as they come, and he has a history of getting core players to stay in the Bay Area. But if he's able to retain both Karlsson and Pavelski while also locking up Meier and Labanc, it'll be some of his most impressive work yet.
Even if Thornton and Pavelski are both back in teal next season, it's hard to imagine they'll be as effective with another year of mileage on their bodies. Fellow members of the veteran nucleus - Logan Couture (30), Brent Burns (34), and Marc-Edouard Vlasic (32) - have yet to show signs of slowing down, but the clock is ticking.
Down but not out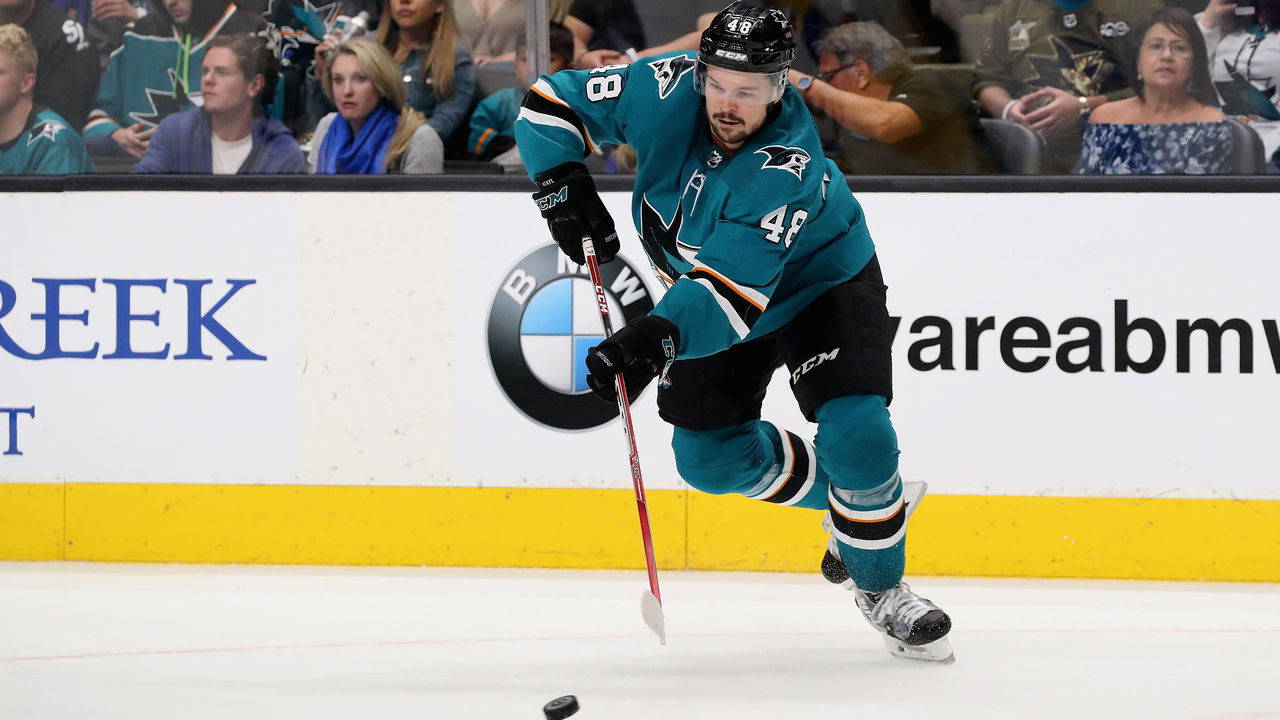 It's difficult to envision the Sharks being as deep and talented in 2019-20 as they were this season. That's just the nature of a salary-cap league. To completely dismiss San Jose, however, would be an erroneous oversight.
Cause for optimism stems from three of the team's brightest young forwards in Meier, Labanc, and 25-year-old Tomas Hertl, all of whom have been exposed to top-notch professionalism within the Sharks organization. If Thornton and Pavelski leave, players like Couture, Burns, and (possibly) Karlsson will take on greater leadership roles. Even the oft-maligned Evander Kane has shown signs of growth since joining the Sharks and could be looked to as a leader going forward. Eventually, the torch will be passed to Hertl, Meier, and Labanc.
Wilson and the rest of the Sharks' front office have established a winning culture, as San Jose has missed the playoffs just once in the 15 seasons since his hiring. If any GM is equipped to re-tool on the fly, it's Wilson.
There's a case to be made that the Western Conference Final is a completely different series with a healthy Karlsson. Regardless, though, this season will still be viewed as a squandered opportunity for a franchise seeking its first Stanley Cup. It's the toughest trophy to win for a reason.
But if we learned anything from the Washington Capitals' repeated playoff failures prior to their first Stanley Cup win, it's that writing off one of the NHL's most consistent organizations because of a missed opportunity is a big mistake. The Sharks will be back, they just may not have the same familiar bite.