Stanley Cup Playoffs: Eastern Conference preview
Scott Audette / National Hockey League / Getty
This year's first-round matchups in the Eastern Conference feature the strongest team in years, a pair of familiar foes meeting for a second straight spring, and a couple of resurgent clubs returning to the postseason after years of missing out.
Let's dive into each opening-round series in the East.
View the Western Conference preview here.
Tampa Bay Lightning vs. Columbus Blue Jackets
Prediction: Lightning in four
The Lightning put together a dominant regular season, and anything less than a Stanley Cup championship will be a disappointment for the NHL's top team.
Tampa Bay shouldn't have much difficulty with its first-round playoff opponent, as the club is simply too deep and too explosive for Columbus to handle. The Blue Jackets will likely struggle to contain Nikita Kucherov, Steven Stamkos, Brayden Point and Co. in a best-of-seven series.
Adding Matt Duchene and Ryan Dzingel gave Columbus a little more scoring punch, but the Blue Jackets' attack still pales in comparison to the juggernaut they're matched up against in round one.
Barring a stunning flip of the script, this one should be over quickly.
X-factor for Lightning: Tampa Bay head coach Jon Cooper is hopeful that Victor Hedman will play in Game 1. The reigning Norris Trophy winner's health, or lack thereof, could determine his effectiveness early in the series.
The Lightning have proven they can get by without him. But if a nagging injury affects Hedman's availability or his play for an extended period, that could give the Blue Jackets a better chance to steal a game or two.
X-factor for Blue Jackets: Sergei Bobrovsky appears to have regained his form, but he'll need to be excellent in every game for the Blue Jackets to pull off a massive upset.
Boston Bruins vs. Toronto Maple Leafs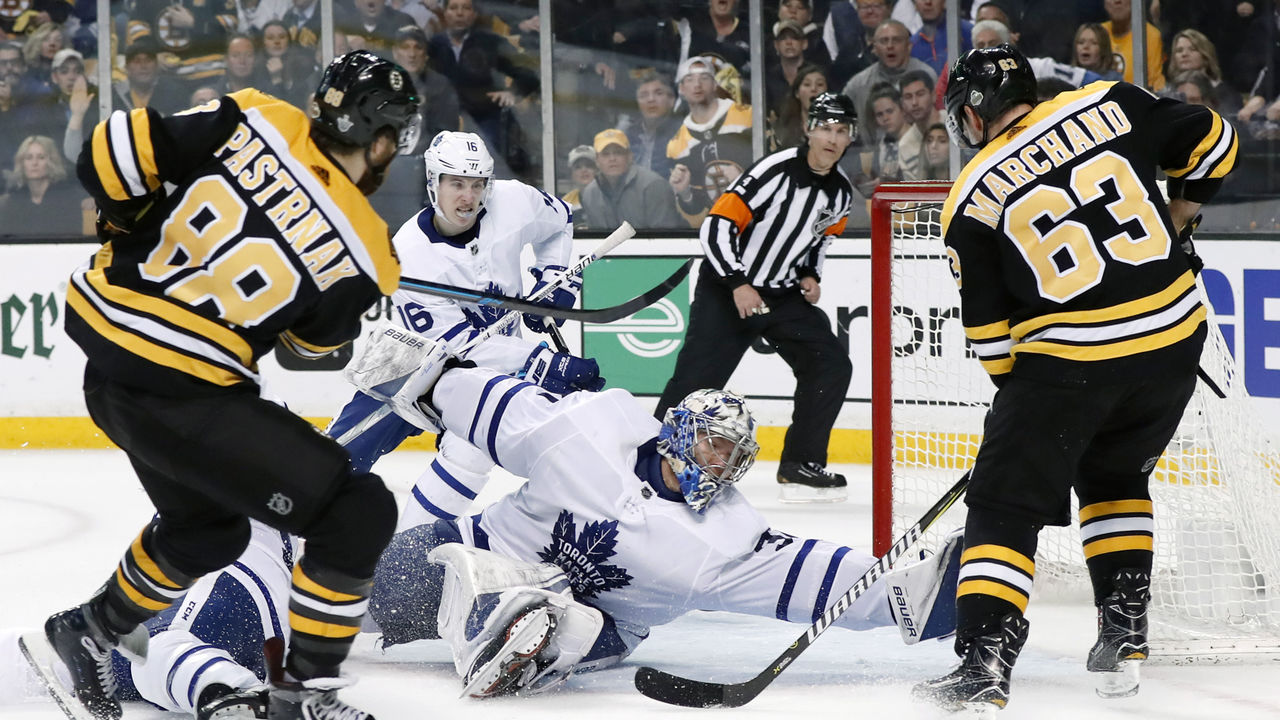 Prediction: Bruins in seven
This highly anticipated rematch should once again provide plenty of intrigue.
While John Tavares may be leading the Maple Leafs this time around, the team is still weak defensively, and Frederik Andersen was shaky down the stretch in goal until his final two games.
Boston prevailed over Toronto in seven games last year, and the Bruins returned essentially the same roster in 2018-19. So while the Leafs could overwhelm the Bruins with their upgraded arsenal of offensive weapons, they may be hard-pressed to keep up at both ends of the rink once again.
Much was made about Auston Matthews' poor production in the 2018 series, but he should contribute more this year with Tavares' presence creating an added headache for two-way wizard Patrice Bergeron.
Toronto is deeper than last year, as Jake Muzzin provides depth on the back end and Andreas Johnsson does the same up front. But the Bruins still boast one of the best lines in the NHL, and they're among the league's top teams at minimizing goals against.
X-factor for Bruins: As usual, Bergeron should excel offensively between Brad Marchand and David Pastrnak on the Bruins' top line. But his ability to contain the Leafs' collection of dynamic forwards will significantly impact the outcome of the series.
X-factor for Maple Leafs: The Leafs need Andersen to be at his best, and while his late-season issues don't provide much optimism, the playoffs give him an opportunity to wipe the slate clean.
Washington Capitals vs. Carolina Hurricanes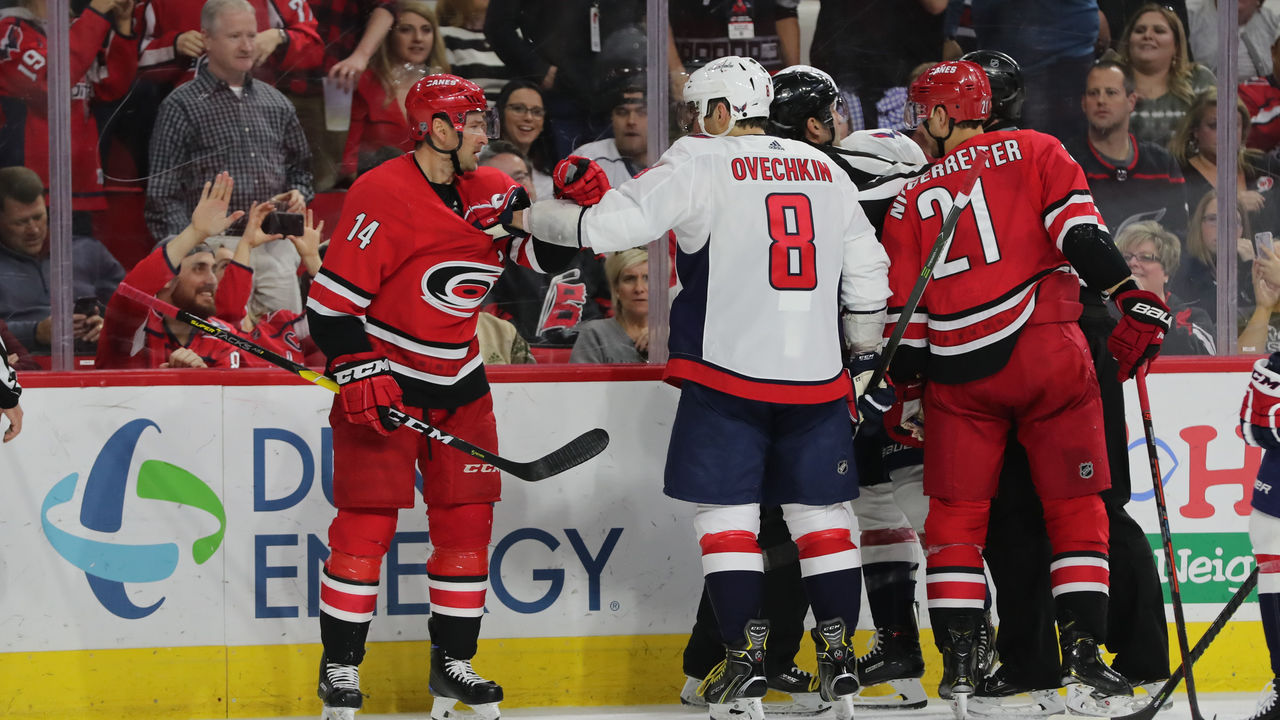 Prediction: Capitals in five
The defending Stanley Cup champions meet the so-called "jerks" as the Capitals begin their title defense against the team that took the league by storm.
Washington is the clear favorite here, and for good reason. The Capitals hardly missed a beat during the regular season en route to their fourth straight division crown, and they won all four meetings with Carolina in 2018-19.
The Hurricanes ended the NHL's longest active playoff drought when they qualified this spring, but Carolina simply can't match the depth of their first-round opponents.
Carolina deserves credit for exceeding expectations and embracing fun during a magical regular season, but it'll be tough for the Hurricanes to keep up with the Capitals.
X-factor for Capitals: Alex Ovechkin was exceptional throughout the postseason last year, and he's showing no signs of decline at age 33. The superstar forward can still break a game open in the blink of an eye, and while the Capitals have a deep, versatile roster around him, he's the catalyst.
X-factor for Hurricanes: Petr Mrazek emerged as the Hurricanes' No. 1 netminder toward season's end, winning 11 of his final 13 starts with a .944 save percentage. He doesn't have much playoff experience, but the veteran has posted a .927 save percentage in 11 career postseason appearances.
New York Islanders vs. Pittsburgh Penguins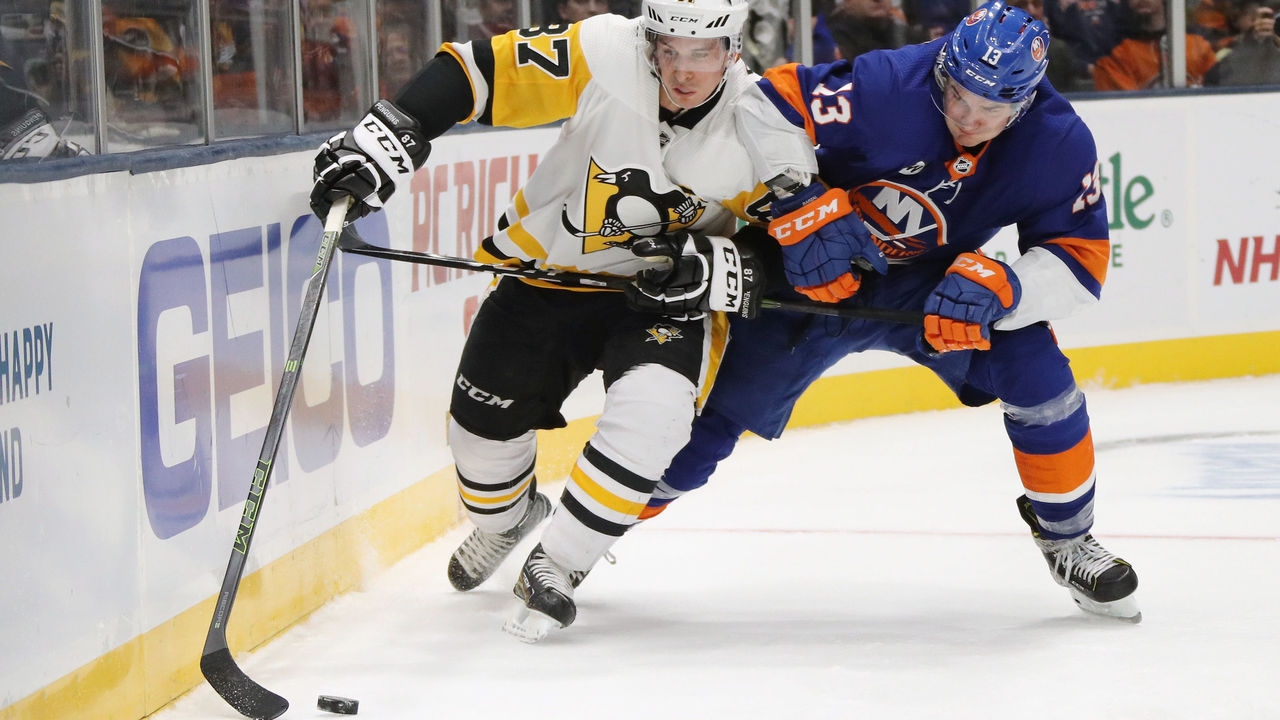 Prediction: Penguins in seven
Barry Trotz's system transformed the Islanders during his first season behind the bench in New York, creating a defensively rock-solid club that sailed past expectations following Tavares' offseason departure.
The Islanders also have offensive talents at their disposal, but they ranked in the bottom third in goals per game and will need Mathew Barzal, Anders Lee, Brock Nelson, and Josh Bailey to produce in this series.
But will the well-balanced Islanders be deep enough to vanquish the experienced, playoff-tested Penguins?
Pittsburgh can never be counted out with Sidney Crosby, Evgeni Malkin, Phil Kessel, and Kris Letang leading the charge. Netminder Matt Murray is also looking like his old self again after a difficult 2017-18 campaign.
The Penguins' back-to-back championship core is still largely intact, and Trotz's mastery might not be enough to lift a less experienced Islanders squad past Pittsburgh in New York's first playoff series since 2016.
X-factor for Islanders: Robin Lehner and Thomas Greiss earned the William M. Jennings Trophy for their stellar play after splitting time in the crease. But Lehner has logged only two postseason appearances (no starts), with 49 minutes of playoff experience to his name. Greiss doesn't have much postseason experience himself, but the two will need to keep excelling in the playoffs for the Islanders to win.
X-factor for Penguins: Pittsburgh's defense will need to step up, as the team ranked 14th in goals allowed while surrendering the sixth-most shots per game in the regular season.
Comments
✕
Stanley Cup Playoffs: Eastern Conference preview
  Got something to say? Leave a comment below!