Something smells here.
The Minnesota Wild and Carolina Hurricanes completed a one-for-one trade on Thursday, with Nino Niederreiter heading to Raleigh, and Victor Rask off to St. Paul. The deal reeks of foreshadowing for both franchises, and it's perhaps a precursor to higher-impact moves in the near future.
Carolina, a club that's missed the playoffs nine straight years, is seven points out of the second wild-card position in the Eastern Conference. About five weeks from the trade deadline, general manager Don Waddell's team is straddling the seller-buyer line.
Minnesota, meanwhile, is hanging on for dear life. Heading into Thursday's slate of games, GM Paul Fenton's squad occupied the final Western Conference playoff spot, barely ahead of five clubs. Fans in Minnesota, the state of hockey, haven't watched their team make it past the second round since 2003.
What this means for the Wild
On a micro level, the trade is puzzling for Minnesota.
Rask, 25, isn't a hot commodity. He's struggled mightily over 26 games in 2018-19, recording only six points after recovering from a season-opening hand injury. The Swede ranked last in even-strength shot attempt differential among Carolina's everyday players - which is particularly notable because the Canes are a puck-possession powerhouse.
"I think (Rask) needed a change of scenery," Fenton said on a conference call, "and I'm hoping he gets back his scoring and his distribution so he can be very productive for us."
The first-year GM's rationale continued: Rask is versatile as a left-handed center fully capable of slotting in on the wing; he's six months younger than Niederreiter; and the exchange of contracts (neither club retains salary) leaves the Wild on the hook for $4 million instead of $5.25 annually.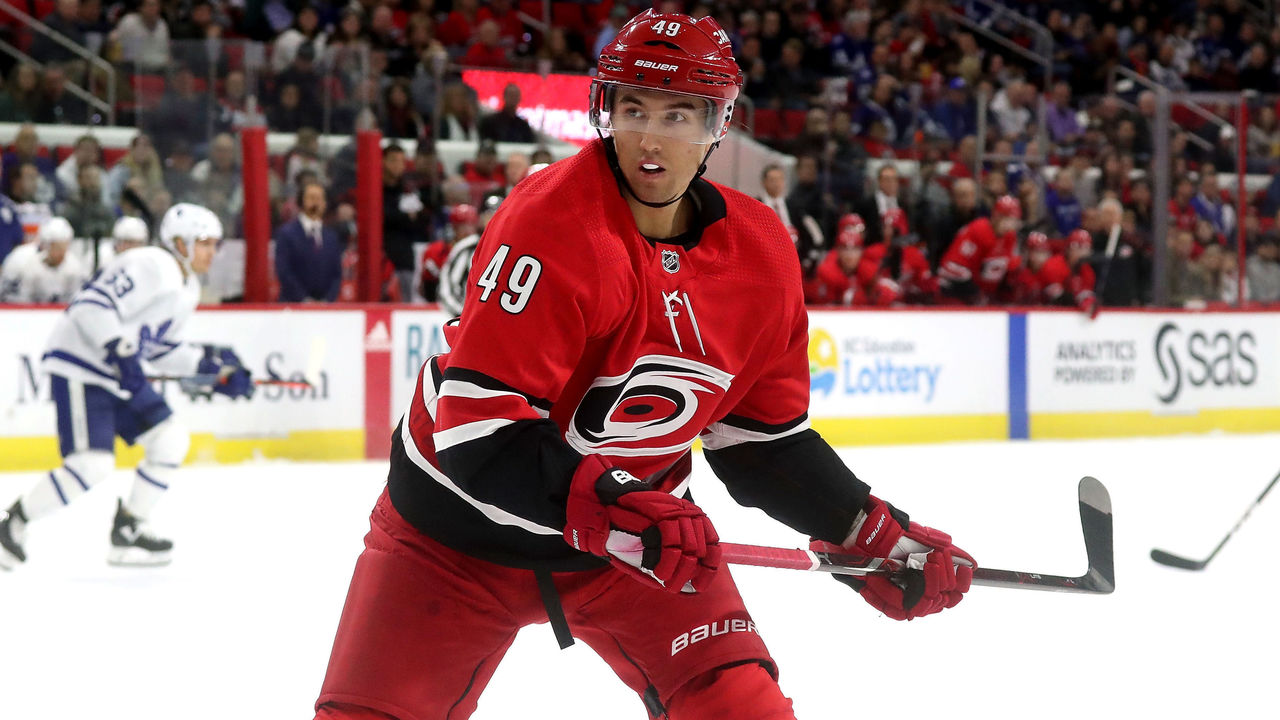 Rask, who stands 6-foot-2 and weighs 200 pounds, is in the third year of a six-year, $4-million-per-season deal. The 2011 second-round pick's finest offensive years, the 2015-16 and 2016-17 seasons, featured 48 and 45 points, respectively, so there's a history of production to latch onto.
On a macro level, Fenton is starting to assert himself on the trade market.
Following eight months of relative inactivity, the Niederreiter-Rask swap is Fenton's second trade in as many days. The Wild acquired winger Pontus Aberg on Wednesday for minor leaguer Justin Kloos.
Fenton made it clear the organization isn't pleased with the dips in performance (including a 3-8 stretch in December) that have led to a 20-23-2 record a week from the All-Star break.
"One day I'm thinking that we have the opportunity to try to go forward ... and one day I'm thinking it's not that great of a team," he said of the Wild. "I'm letting the players convince us where they are."
What this means for the Canes
Niederreiter is simply the more useful player. He's been on the right side of the puck more often, and generated more offense, all despite being deployed frequently in a defensive role:
| CATEGORY | NIEDERREITER | RASK |
| --- | --- | --- |
| GP | 498 | 339 |
| G | 112 | 63 |
| PTS | 231 | 163 |
| PTS/60 | 1.3 | 1.0 |
| CF% | 52.3 | 51.0 |
| OZS% | 50.8 | 58.8 |
PTS/60 = 5-on-5 points per 60 minutes; CF% = 5-on-5 shot attempts for percentage; OZS% = offensive zone start percentage
Carolina ranks 27th while averaging 2.7 goals per game. While Niederreiter is no world-beater as a scorer, he has a wicked shot and has recorded three 20-goal seasons. He brings decent upside and is potentially a nice fit on the third line and second-unit power play.
The fifth overall pick in 2010 - who's now on his third team - is shooting 11.1 percent this season, almost 2 percent below his career average. Percentages don't always even out, but there's no denying Niederreiter is due to start scoring more (in fairness, so is Rask).
Niederreiter, who has banked just nine goals and 14 assists in 46 games in 2018-19, is in the second season of a five-year contract paying him $26.25 million. Forward Jordan Staal is the only other Canes forward on a long-term deal.
That will change once star center and restricted free agent Sebastian Aho re-signs, but the team's lack of commitment at the forward position is glaring. Carolina, a franchise known for shedding salary, is taking on additional dollars here, which is something to monitor in the coming weeks.
The main takeaway
There's only a small chance that Waddell and Fenton are done. Neither appears eager to sit on his hands as the trade deadline approaches.
The 22-19-5 Hurricanes always seem to be attached to trade rumors. Head coach Rod Brind'Amour is thirsting for finishers, and the club didn't help itself by shipping pending unrestricted free agent Jeff Skinner to Buffalo this past summer.
Who's next out of the door? If you believe in "where there's smoke, there's fire," either winger Micheal Ferland or defenseman Dougie Hamilton. Or both.
The Wild are a little less predictable, though Charlie Coyle's name has been thrown around as a potential trade chip. The 26-year-old center is signed for $3.2 million per year through next season, and he could very well be in Niederreiter territory after wearing out his welcome in Minnesota.
The common thread: The Wild and Hurricanes are a) middling, and b) hungry for change as the Feb. 25 deadline creeps closer. Buckle up.
John Matisz is theScore's National Hockey Writer. You can find him on Twitter @matiszjohn.