Film Room: Canadiens rookie Jesperi Kotkaniemi looks like a future star
From the moment the Montreal Canadiens selected Jesperi Kotkaniemi third overall in the 2018 draft - bypassing highly touted QMJHL winger Filip Zadina in the process - the talented center has been under the microscope.
But through the first 25 games of the season, it's difficult to find a Habs fan who hasn't been impressed with the 18-year-old phenom.
Kotkaniemi is the youngest player in the league and the first player born in the 2000s to dress for an NHL game. Despite his inexperience, the skilled Finn looks composed every time he takes the ice.
Granted, he's made his share of mistakes, like every other first-year skater. But while some of those other rookies might scramble to recover, Kotkaniemi immediately shakes it off and jumps back into the play, minimizing the effect of his errors.
He's able to do that because of his hockey sense, which feeds into his high-end vision and positioning. Here's a great example:
In this Nov. 19 game against the Capitals, Kotkaniemi (No. 15) spots a loose puck resulting from a Washington turnover. He goes for it immediately, then makes a nifty move to elude the opposing player's poke attempt - and that's not even the most impressive part of the sequence.
After a less-than-optimal pass to Artturi Lehkonen - who overskates and misses the puck - Kotkaniemi retrieves it near the blue line and immediately makes another pass. He isn't just tracking the puck; he's already thinking ahead to where it's going to be and getting himself into position to get it back.
The next night against Vegas, Kotkaniemi used those same instincts to score his third career goal:
Kotkaniemi converts this scoring chance by knowing exactly where he needs to be. First, he positions himself to receive a potential quick pass out of the scrum in the corner. Then he notices that, as the puck drifts behind the net, the Golden Knights have left goaltender Marc-Andre Fleury virtually unprotected. Kotkaniemi gets to the front of the net just in time to receive a Lehkonen pass and tap it home.
He flashed that same awareness and hockey IQ on his first NHL goal, capitalizing on an odd-man transition rush:
It's a simple play - skate up ice, receive the pass, shoot. But it's the simplicity that makes his execution impressive. Kotkaniemi tracks the play and knows exactly where he needs to be for the puck to land on his stick so he can take the shot; he isn't overthinking it, a problem that plagues many young pro hockey players.
This play also offers a good example of his skating ability. Kotkaniemi is a fluid skater, with a good first step and a smooth stride, and he could stand to use that a bit more consistently.
Watching Kotkaniemi's shifts gives you the sense that he's a level or two above his linemates in terms of hockey sense. It's good for him to start his career at third-line center because it eases him into the NHL without the pressure of being in the Canadiens' top six and facing the highest quality of competition. It also provides him with more opportunities to play in the offensive zone (he tends to get fewer defensive-zone starts) and adapt to the NHL pace.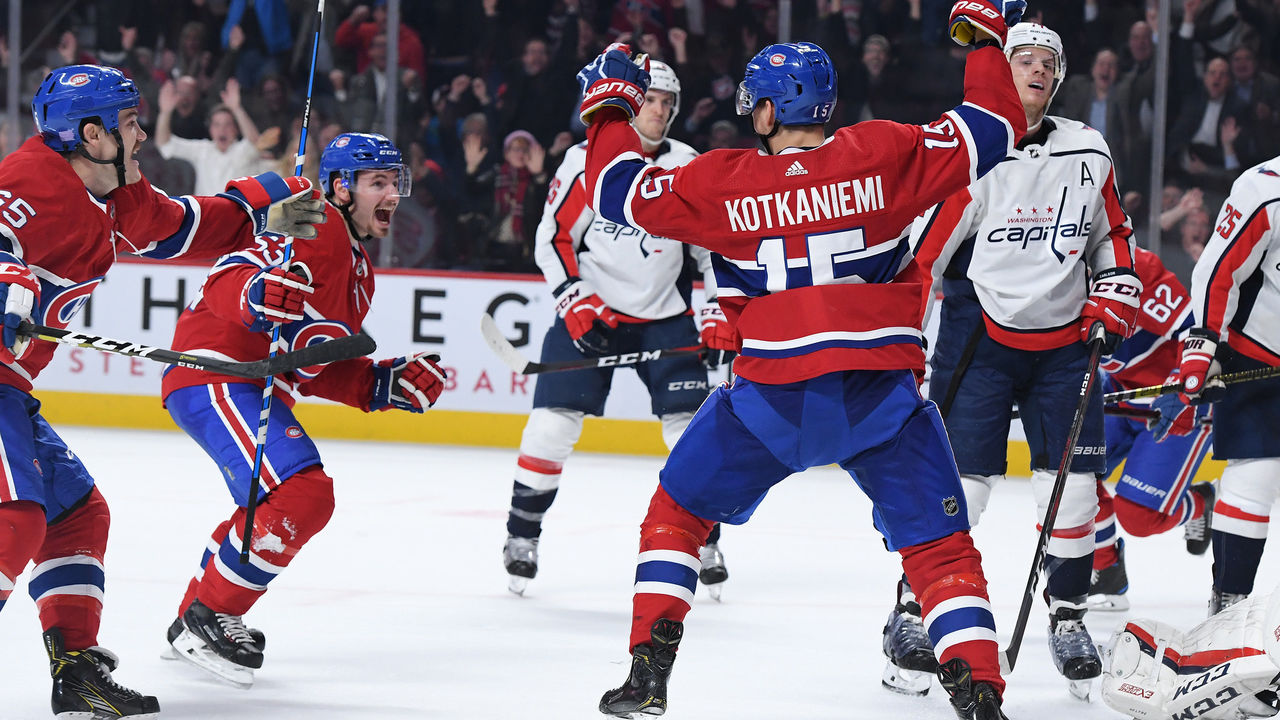 Given his hockey IQ, however, it's difficult not to wonder what he could do with more skilled linemates. The Canadiens' roster presents limitations in this respect, but his time on the top power-play unit with guys like Jonathan Drouin shows glimpses of what could happen if he was in a situation where his offensive ability could truly blossom.
What he needs to improve can be summed up in one word: consistency. He's still getting used to the pace and intensity of the league. He could also stand to add muscle and cut down on the number of occasions that he gets caught puck-watching, but these are things we'd ask of any player his age. With time, he should pick up the nuances of the NHL game.
And when he does - which could be soon - perhaps the Canadiens will finally have their No. 1 center.
Hannah Stuart keeps a close eye on both drafted and draft-eligible prospects and can usually be found trying to learn more about hockey analytics. She has previously written for FanRag Sports, The Hockey Writers, and Hooked On Hockey Magazine, and can also be found at High Heels and High Sticks. Find her on Twitter @HockeyWthHannah.
Comments
✕
Film Room: Canadiens rookie Jesperi Kotkaniemi looks like a future star
  Got something to say? Leave a comment below!