Curtis Joseph Q&A: On his new book, life in Toronto, and what he'd change about the game
Rene Johnston / Toronto Star / Getty
In the annals of Toronto Maple Leafs goaltending history, they don't come much more resilient, athletic, and classy than Curtis Joseph.
Now 51 and a hockey parent who resides just outside of Toronto, Joseph lives forever in the hearts of Leafs fans who'll never forget his key role in the franchise's 1998-2002 successes - including two Eastern Conference Final appearances - and individual feats including being a two-time finalist for the Vezina Trophy and being named a finalist for the Lester B. Pearson Award in 1999.
An Olympic gold medalist and the first NHL goalie to register at least 30 wins for five different franchises, Joseph just released his first book, "CUJO: The Untold Story of My Life On and Off the Ice." Co-authored with longtime hockey journalist Kirstie McLellan Day, Joseph's book is a wry, moving account of his turbulent upbringing as an adopted child, his rise through the game's ranks, and his most notable achievements in the planet's best league.
Joseph took time Monday to speak about the book, John Tavares joining the Leafs, Joseph's NHL days (and his time in Toronto in particular), and what he'd change about the game.
Adam Proteau: The book is a fun read. You've made your chapters short and vibrant, describing your journey you take and some sides with people that you've played with over the years. When you were mapping out the book, how did you want to connect with readers?
Curtis Joseph: Well, most people didn't know about the way I grew up. I was embarrassed about my childhood early on, and it was hard for me to write a book because I'm a private person. And you want to tell a true story, you want to make sure you're not hiding anything, so you know you're going to have to open up. But my wife, Stephanie, we've been married six years, and she was the one who said, "You know, I love your story. I'm glad you don't come from money. Your story is great, you need to embrace it, it's so good." She'd tell me that and I'd think, "You know, you're right, it's made me who I am."
What I want people to get from the story is perseverance and inspiration. I'm a glass-half-full kind of guy, I always have been. And it's really helped me become who I am. I was the last person you ever thought would make the NHL.
AP: It's funny you phrase it like that. In talking to (Leafs president and Hockey Hall of Famer) Brendan Shanahan earlier this year, he told me nearly the same thing verbatim - that, among a group of kids he hung out with playing hockey, he would've been the last person you would've guessed would've been an NHLer, let alone an elite NHLer. But with the state of goaltending and the fact there always will be more candidates than available positions, do you have to be more resilient as a young goalie?
CJ: Actually, my goals weren't that lofty. I never thought I'd make it, either. My goal as a teenager, was to go to (university/college). I couldn't pay for it, and my only shot was getting a scholarship. It really took until I was 21 years old to get one. I remember going out to Notre Dame and getting a scholarship offer from North Dakota when I was there. And I was like, "Oh my God, this is it. I've made it. This is what I've been dreaming of."
Then once I got there, the scribe with the team told me there were NHL scouts there to see me. I said, "What?! What do you mean? I just got here!" I wasn't dreaming about making it at all.
AP: A friend of mine who played goalie at the pro level said it was always like walking on a wire all the time. Is it true that, for that job, you have to be living in the moment every day?
CJ: Oh yeah, you know how bad it can be, and how embarrassed you can be. Like, when I'd drive into Toronto, you could cut the tension with a knife. You could just feel it driving in. It's the playoffs, Game 7 against Ottawa, and you're thinking, "Oh man, I better not let one in from center tonight. I'll be roasted."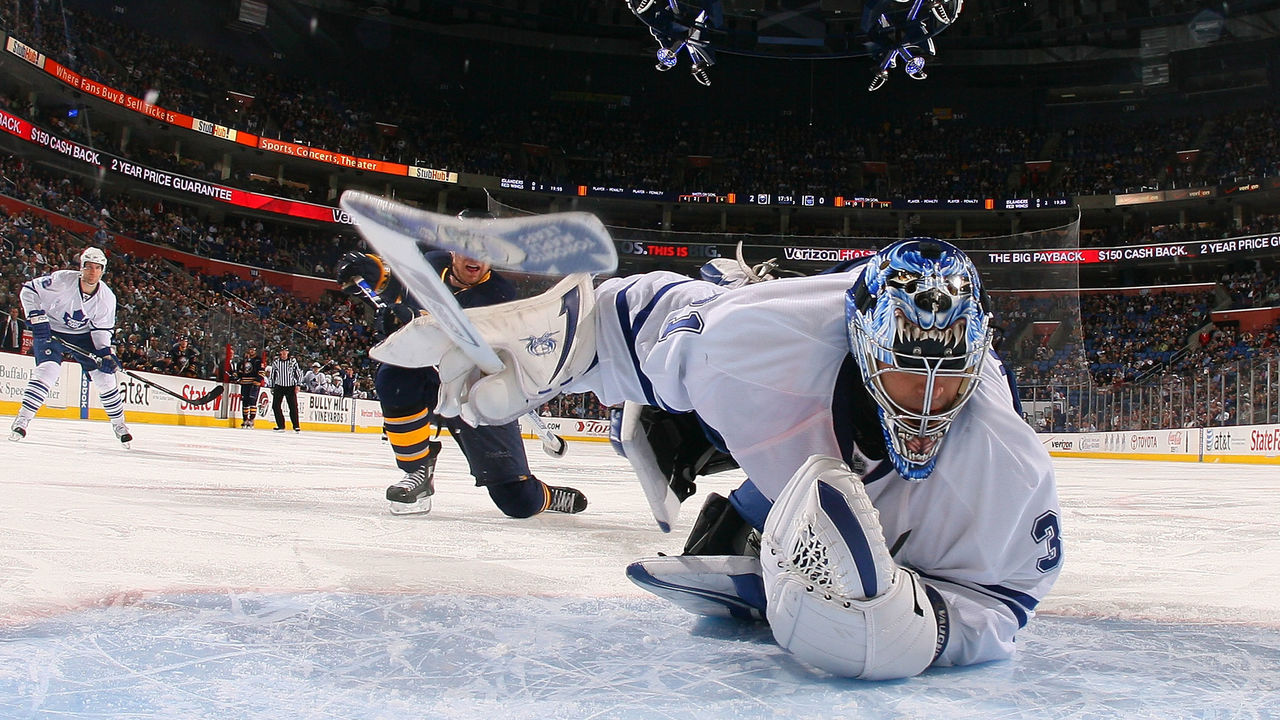 AP: That choice to come to Toronto - people talk about (agent) Don (Meehan) and (then Leafs-GM) Ken (Dryden) meeting at an ice cream store downtown and getting the deal done and signing you as an unrestricted free agent. But you're still the one driving the decision, right?
CJ: Obviously, l leaned on Donnie for years as a friend and agent to help make decisions, but it was always up to me, and I'm so glad I made that decision. It was like, "Wow, this is Toronto, they have interest in me." I knew they had Felix (Potvin) already, then I was like, "Wow, how amazing would that be to play in Toronto?" I hadn't thought about it, because they were not in the (free agent) game at that point. It was Philly-Philly-Philly for me, and they had the Legion of Doom, and they needed a goalie. And then that door closed.
Once it became Toronto, I started embracing it and thinking how great this would be. But I'll always remember Felix - he was such a pro. I felt bad for him, and I respected him as a goaltender. He was such a pro to me, and it was tough for him, but he was great to me.
AP: With that Leafs team, with all those names Torontonians hold dear now, what was the effect of their personalities on you?
CJ: It was so much fun right off the get-go, partially because expectations were low. I think they'd missed the playoffs for two years in a row, so expectations were very low, and we started winning right away. We started winning and winning and winning, and we're having fun, we're having the time of our lives and we're doing it with a bunch of great personalities. Mats Sundin, Derek King, Kris King, Mike Johnson, Stevie Sullivan, Fredrik Modin - we had a bunch of fun guys, and we just kept winning. So it was almost like a jovial, "Look at us! Look at us!" And it never ended, it just kept going for four years.
AP: As someone who grew up around the (Greater Toronto Area) and watched the Leafs as a kid, what was the biggest lesson for you once you joined the team?
CJ: How big Leafs Nation really is. And that's a great way to describe fans - Leafs Nation. It really is a nation. I mean, we go to Calgary and we score a goal, and there would be all Leafs jerseys. We go to Tampa Bay, it was a home game. The roof would pop off. It was crazy. We'd go to the East Coast, to the Maritimes - all Leafs fans. It was like Broadway and the New York Yankees. If you're successful, there's nothing better.
That's why I'm a big fan of John Tavares making the decision he did. I'm so happy for him, and the fact he's off to a great start. Because that's the perfect scenario: a Toronto kid playing for the Leafs. You're in your prime, you're not going to struggle, and you come back and get a long-term deal. Oh my gosh, that's a no-brainer. And I'm sorry, but the Islanders just aren't on the brink of winning the Stanley Cup. And hopefully the Leafs are going to win a Stanley Cup and he's going to be a big part of bringing a Cup back to Toronto. It's just a perfect scenario.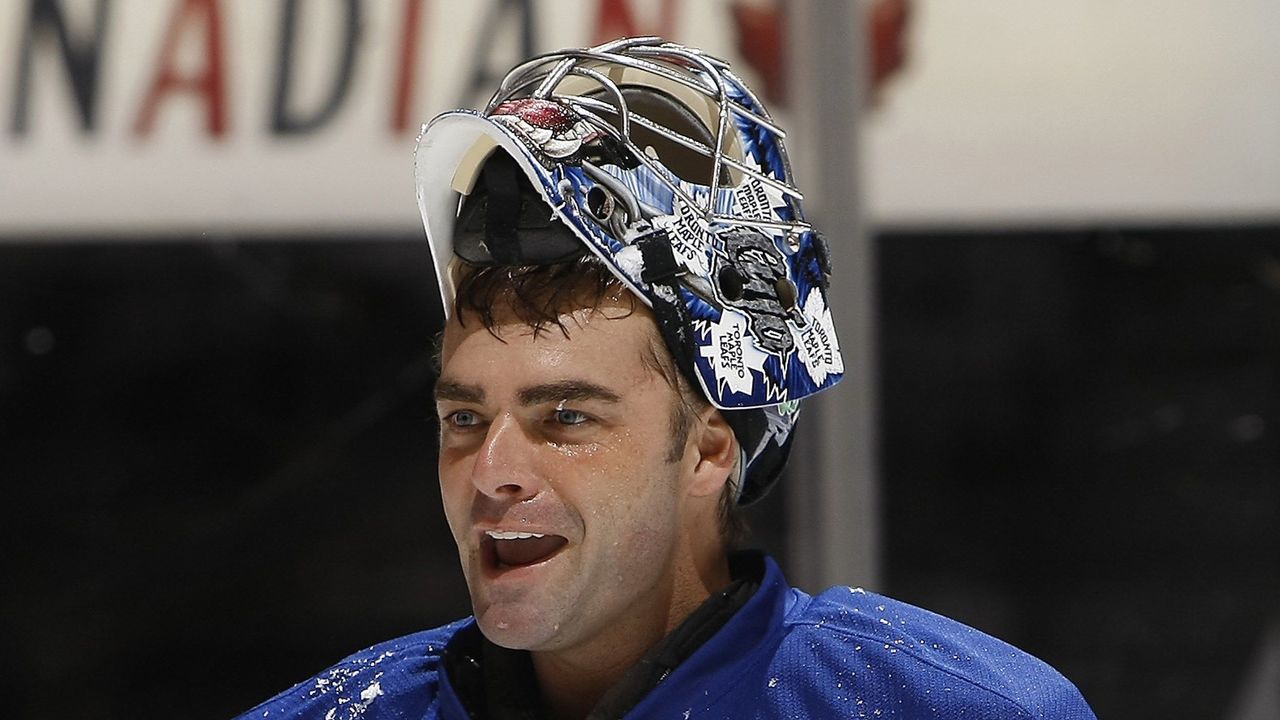 AP: Growing up for me, being able to go to Maple Leaf Gardens - for Oasis and Radiohead concerts, for pro wrestling matches, for NHL games when I was lucky enough to get tickets - there always was a special aura about the building. What was it like to play there? Was it that the stands were almost on top of each other? Was a combination of things that made it unique?
CJ: It was a combination of things for sure. I never attended a Leafs game until I was 18 years old. And I tell Wendel Clark this story - the game I was at was the game where Wendel scored four goals on Daren Puppa - and I told him, "The next time I saw you score four goals was on me. Thanks, Wendel (laughs)."
But the Gardens was a special place, and yeah, part of it was the steepness (of the seats). I can't believe nobody was killed in the greens (section) behind the nets. It was insanity. Someone would tip one up there in warmups and I'd look up and think, how does nobody die? You could never have that now.
As a goalie playing there, there was no other rink like it. Because the corners were like a pinball machine. They weren't deep, and the boards weren't square, they were oval, so anytime a team would dump the puck in, it'd pinball right to the slot for a one-timer. I'm like, "Wow, this is a tough place to play in." Then the new building came in with the deep corners, and I was like, "Wow, this is so much easier (laughs)."
AP: For the past 10-15 years, it feels like goalies and goalie equipment are a focal point for criticism on how to improve the game, or how to increase scoring. But with the removal of obstruction we've seen players be more able to show what they can do in terms of creating offense. Do you feel like, as a card-carrying member of the goalies union, netminders have been unfairly picked on?
CJ: No, I understand. Goalies looked like lacrosse goalies for a while there, and it looked out of whack compared to the history of the game. And I'm the same way - I wish the pad size was one standard pad size, which is smaller. Because I feel the best goalies would still be the best goalies, and they'd put some distance between themselves and some of the not-so-good goalies.
So I'd like to see a more athletic goalie; I think it's just more entertaining, so I'd love to see the pad size come way down to, like, 33 inches, instead of the tall guys, who have 43 inches. And (those extra 10 inches are) really for stopping pucks. Because I used to do it, too. You'd see a more athletic goalie, a more challenging goalie. You'd see more goals. You'd see more athletic saves. Not quite back to Mike Palmateer-level excitement - and how exciting were those days - but honestly, they'd have to scramble and do more. The Carey Prices of the world, they'd still be the best, because they're the best athletes. And I think you'd see a bigger difference between the best NHL goalie and the worst goalie. And nobody would ever complain about the equipment again. You're not changing the net size, nothing like that.
And also - sorry, I'm on a bit of a soapbox here - but I see minor hockey goalies, and parents come up to me and they'll say, "Hey, what do you think of my son? And I'll say, "He's an amazing goalie. I love him, and he's great." But I also say, "Can you make him 6-foot-3?" Because otherwise, he has no chance. If he's not over 6-foot-2, he will not make the NHL. And I hate saying that because you've made the game available to the Johnny Gaudreaus and everybody else. Kudos for that. That's great. Now let's make it available to at least a 6-foot goalie.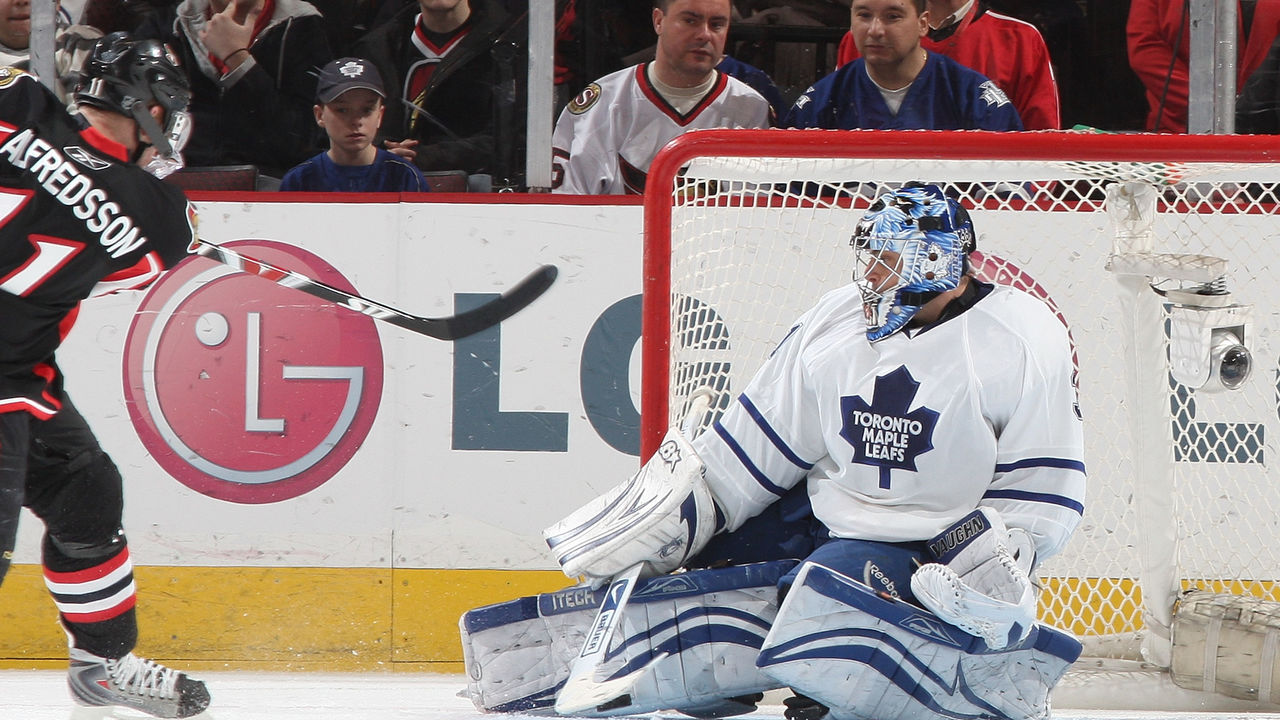 AP: With the way the game has changed since you retired, what stands out for you?
CJ: I love the speed and skill of the game, the skating, the passing, and no obstruction. Even the shootout. I was against it at first; I was more of a purist and (hated) putting more pressure on the goalies. Now if I'm watching it, I'll flip through to see if there is a shootout. Because now you see moves you've never seen before because it's about entertainment. So in the regular season, a shootout is a great way to win a game.
The only thing I'd change, is the goalie pads - cut them way down. Oh, and take the trapezoid out. Playing the puck is such a skill for goalies, and when I'm watching a minor-hockey goalie who can play the puck, he stands out to me. I'm impressed. I loved watching Marty Turco wheel around, and when I was in college playing against Robb Stauber as he was shooting the puck down at the other end at me. And goalies playing the puck would give it away once in a while, and you'd get entertainment.
Comments
✕
Curtis Joseph Q&A: On his new book, life in Toronto, and what he'd change about the game
  Got something to say? Leave a comment below!