NHL Prospect Big Board 1.0: Jack Hughes the runaway No. 1
It's here, baby: prospect rankings time.
The season is brand new, but for scouts and prospect evaluators, it never really stops.
Here are theScore's top 25 players for the 2019 NHL Draft. Outside of the top two, expect this to change as the season goes on and we get a better picture of who these players are. We'll be giving you updates throughout, with the next edition expanding to 50 players.
1. Jack Hughes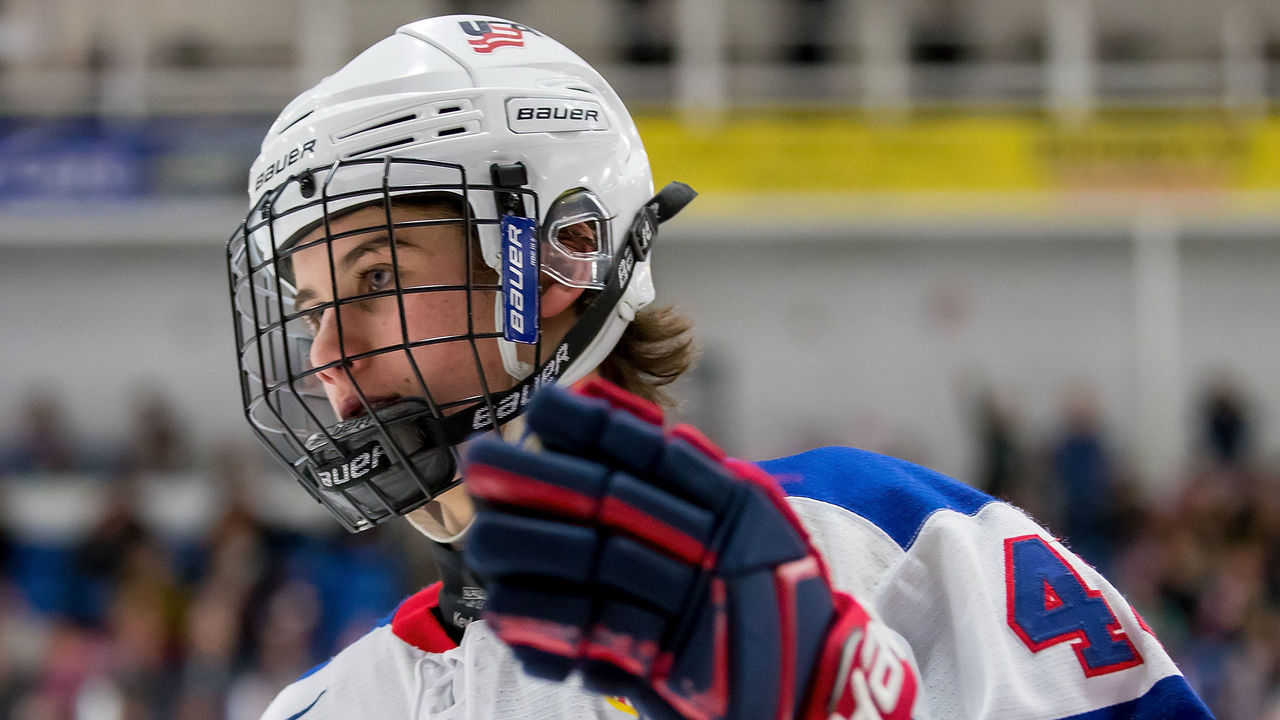 C | 5-foot-10 | 161 lbs | U.S. National Team Development Program
Hughes is the consensus top pick in the 2019 NHL Draft, and while anything's possible, not much can change that. His 116-point season is second only to Auston Matthews (117) in all-time single-season scoring performances in U.S. National Team Development Program history. His puck control looks effortless, his playmaking ability is superb, and, more than that, he's just plain fun to watch.
2. Kaapo Kakko
RW | 6-foot-1 | 181 lbs | TPS (Liiga, Jr. A SM-liiga)
While things aren't quite as set in stone for the No. 2 spot as they are for the first, Kakko's place is about as secure as it can be at this point. A surge from another player could change things, but right now there's still a gap between him and the next tier. Kakko has a deft scoring touch and a ton of playmaking ability thanks to his high-end vision, and he protects the puck well. He still has room to grow as a player, too.
3. Bowen Byram
D | 6-foot-1 | 192 lbs | Vancouver Giants (WHL)
Byram is a phenomenal skater who is, as things stand right now, the top defenseman in this year's draft class. His puck skills are excellent and he breaks the puck out easily, but he's also got pretty solid defensive awareness and positioning. He's composed, smart, and still working on improving areas of his game such as gap control and decision-making.
4. Alex Turcotte
C | 5-foot-11 | 194 lbs | USNTDP
Turcotte is part of a sizable list of USNTDP players who could go in the first round next June. He's a gifted playmaker with good offensive instincts, but he's strong without the puck as well. His acceleration is high-end and he works hard - he may not have an off switch. Improving his shot would make him even harder to pass up.
5. Dylan Cozens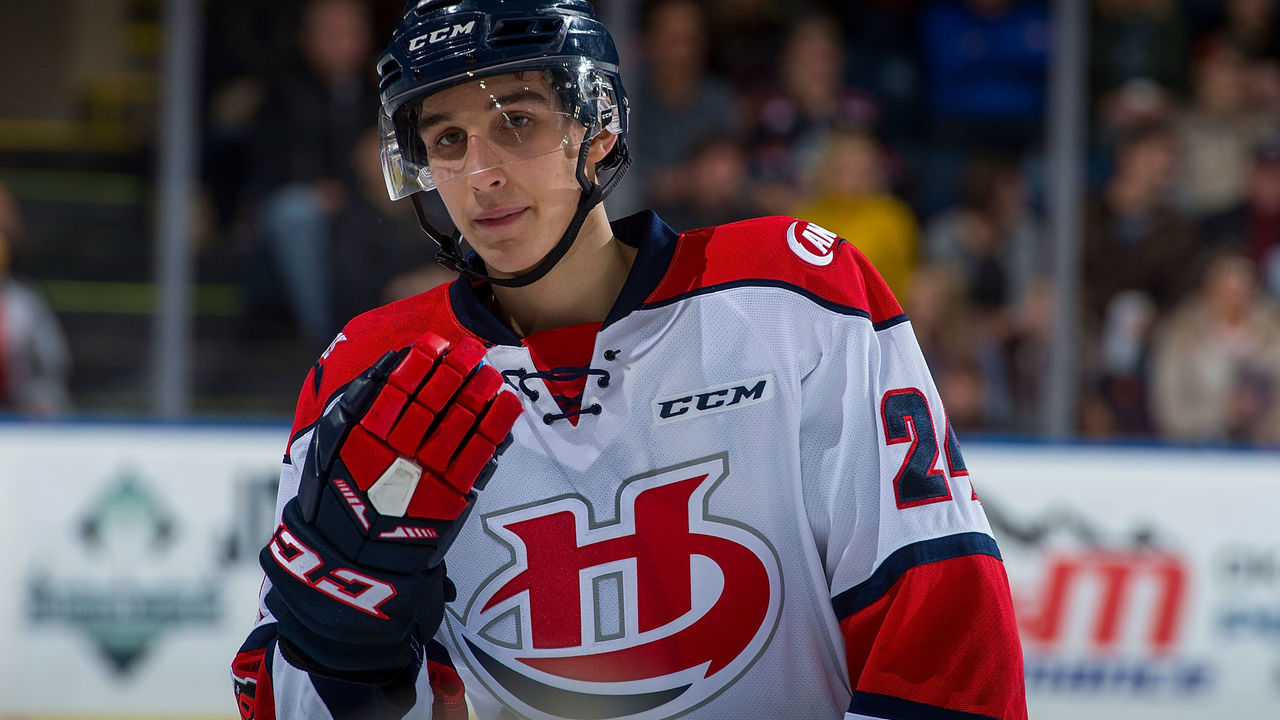 C | 6-foot-3 | 176 lbs | Lethbridge Hurricanes (WHL)
This is a stronger year for the WHL than we've seen recently, and while it starts with Byram, Cozens is nothing to sneeze at. The Hurricanes center recently impressed at the Hlinka-Gretzky Cup, making his presence known on every inch of the ice in the gold medal game. He's a smart player, makes sharp passes, has an accurate shot, and is a terrific skater.
6. Peyton Krebs
LW | 5-foot-11 | 181 lbs | Kootenay Ice (WHL)
Krebs went first overall in the WHL's 2016 bantam draft, and it looks like he's going to go in the top half of the first round in 2019. He's a driven, creative playmaker who reads the ice well enough to take advantage of his opponents' weaknesses. He could stand to add a little muscle, but he's already a difference-maker.
7. Alex Newhook
C | 5-foot-11 | 183 lbs | Victoria Grizzlies (BCHL)
One fun thing about recent drafts is seeing more teams willing to take a chance on guys in leagues like the BCHL. This year, it'll be Newhook. He was the Rookie of the Year last season and is committed to Boston College. He's dangerously smart offensively, is a fantastic skater, and is also strong in his own end.
8. Ryan Suzuki
C | 6-foot-0 | 172 lbs | Barrie Colts (OHL)
A former first overall pick in the OHL Priority Selection Draft, Ryan Suzuki is the younger brother of Montreal Canadiens prospect Nick Suzuki. He's a high-end playmaker and a speedy skater, and though he doesn't shoot as often as he passes, he has a good shot. He should play a more significant role with the Colts this season. What he does with that role could have huge draft implications.
9. Kirby Dach
C | 6-foot-4 | 198 lbs | Saskatoon Blades (WHL)
At 6-foot-4, Dach already has "NHL size." That's not why he's this high on the list, though. He's a fluid skater, especially for his size, and his fantastic hands make him a dangerous playmaker. While Dach isn't really a scorer, he's got the smarts and offensive skills to make plays.
10. Anttoni Honka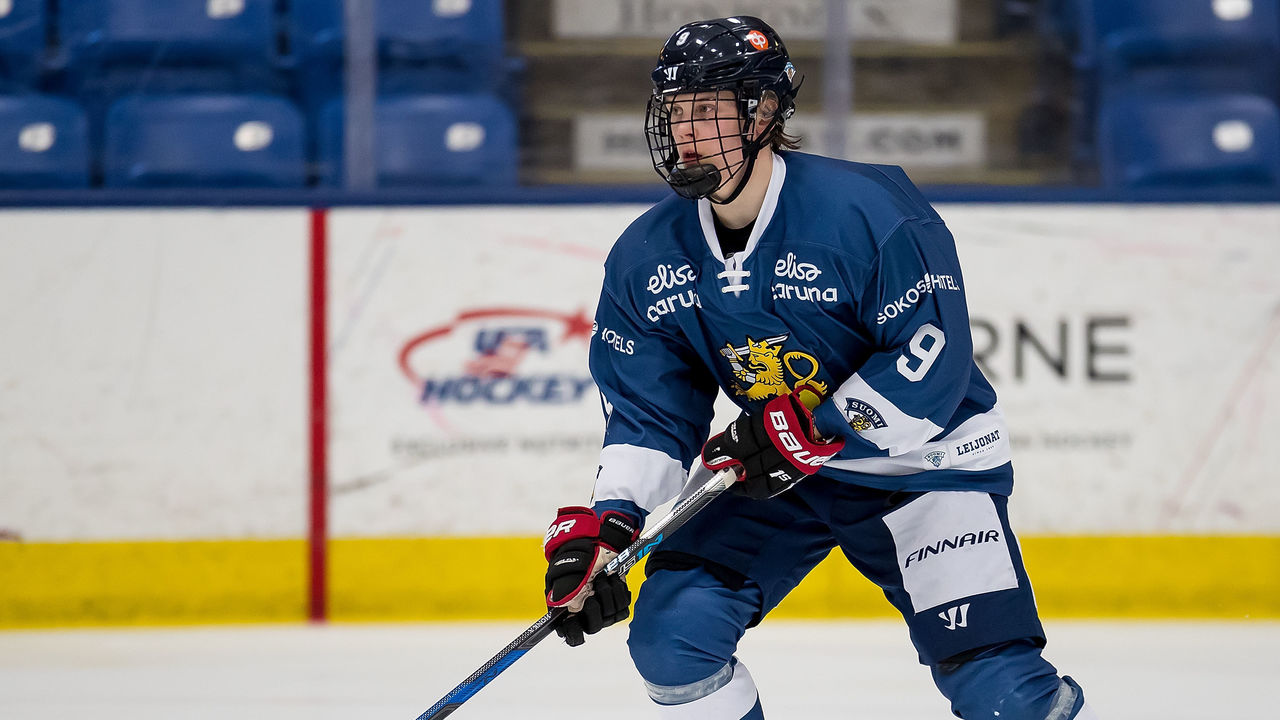 D | 5-foot-10 | 170 lbs | JYP (Liiga)
Playing defense clearly runs in the Honka family. Anttoni is the younger brother of Dallas Stars defenseman Julius Honka, and while he's one of the older players in his draft class, he's got enough skill to be one of its top defenders. Honka has refined offensive instincts, loves to jump up into the play, and has the hockey smarts and creativity to hold his own at a higher level. He could stand to add some muscle, as he's on the smaller side, but he's a great skater. As long as he improves his defensive decision-making, there's no reason he won't be a solid choice next summer.
11. Matthew Boldy
LW | 6-foot-0 | 174 lbs | USNTDP
A creative playmaker who thinks the game at a high tempo. Adding strength before he heads to Boston College next season will improve his game.
12. Raphael Lavoie
C/LW | 6-foot-4 | 192 lbs | Halifax Mooseheads (QMJHL)
A smart power forward type with a heavy, accurate shot. He needs to improve his acceleration, but he's a dangerous player.
13. Vasily Podkolzin
RW | 5-foot-11 | 165 lbs | SKA-1946 St. Petersburg (MHL)
A solid skater who can both score and make plays. He also has respectable defensive awareness for a player of his age and size.
14. Cam York
D | 5-foot-11 | 165 lbs | USNTDP
A poised defender with strong puck-moving ability. A strong skater who can slow down to speed up the game and make a play happen at his pace.
15. Maxim Cajkovic
LW/RW | 5-foot-11 | 187 lbs | Saint John Sea Dogs (QMJHL)
An explosive skater with high-end hockey smarts. Should get plenty of opportunities to make his case playing significant minutes in Saint John.
16. Cole Caufield
C/RW | 5-foot-6 | 154 lbs | USNTDP
A dangerous scorer who, at 5-6, is distinctly undersized compared to his peers. Has great offensive instincts and skating ability.
17. Victor Soderstrom
D | 5-foot-11 | 176 lbs | Brynas IF J18/J20 (J18 Elit/SuperElit)
A puck-moving defenseman with good offensive instincts. Decision-making in his own end could be improved.
18. Valentin Nussbaumer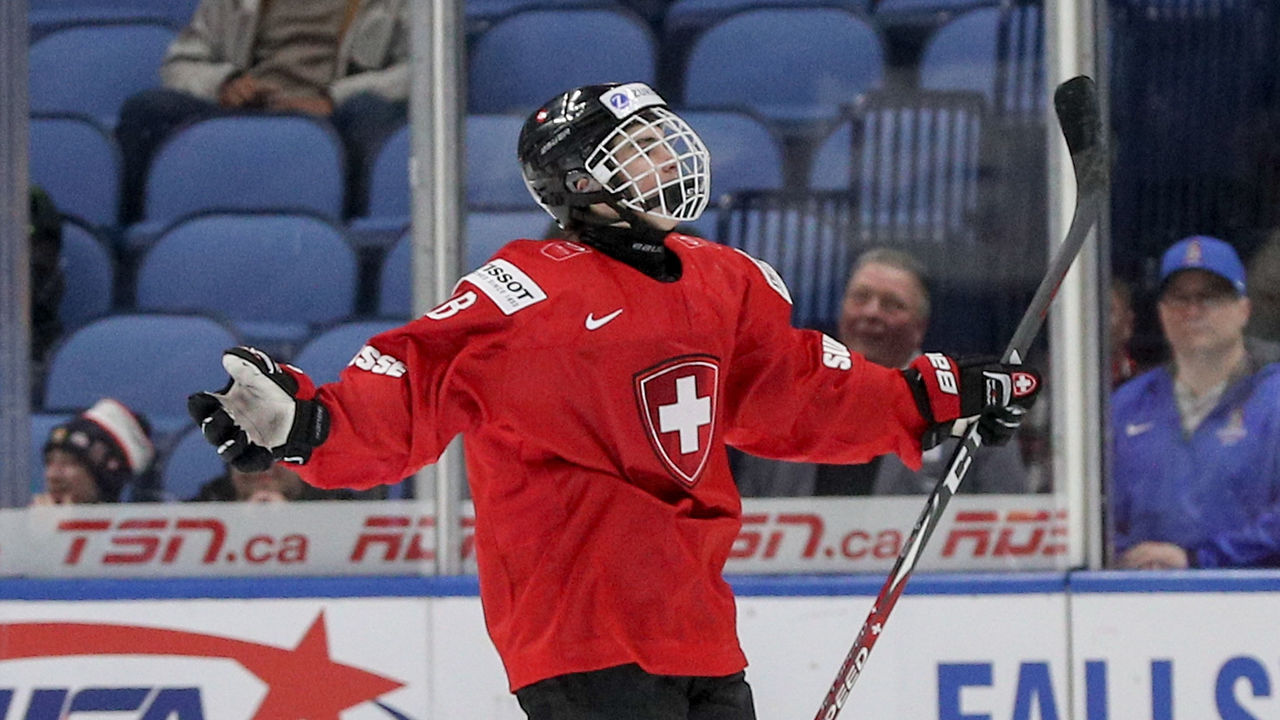 C | 5-foot-11 | 165 lbs | Shawinigan Cataractes (QMJHL)
A smart forward with solid offensive ability who can control play. Just missed being eligible for the last draft, so he's one of the older players in this year's group.
19. Arthur Kaliyev
LW | 6-foot-2 | 190 lbs | Hamilton Bulldogs (OHL)
A power forward type whose instinct is to shoot first. Led all OHL rookies in shots on goal during the 2017-18 season with 208.
20. Jakob Pelletier
LW/RW | 5-foot-9 | 161 lbs | Moncton Wildcats (QMJHL)
A crafty playmaker and quick, skilled skater with great vision. Taken third overall in the 2017 QMJHL Draft.
21. Trevor Zegras
C | 5-foot-11 | 159 lbs | USNTDP
22. Philip Broberg
D | 6-foot-3 | 198 lbs | AIK J20 (SuperElit)
23. Matthew Robertson
D | 6-foot 3 | 201 lbs | Edmonton Oil Kings (WHL)
24. Simon Holmstrom
RW | 5-foot-11 | 172 lbs | HV71 J20 (SuperElit)
25. Sasha Mutala
RW | 6-foot-1 | 198 lbs | Tri-City Americans (WHL)
Hannah Stuart keeps a close eye on both drafted and draft-eligible prospects and can usually be found trying to learn more about hockey analytics. She has previously written for FanRag Sports, The Hockey Writers, and Hooked On Hockey Magazine, and can also be found at High Heels and High Sticks. Find her on Twitter @HockeyWthHannah.
(Photos courtesy: Getty Images)