Connor Hellebuyck's six-year, $37-million contract extension was a deal Winnipeg Jets general manager Kevin Cheveldayoff had to make after the goaltender's play was a huge part of the team's success this past season.
But now, Cheveldayoff's attention turns to the next task at hand: locking up the rest of his core.
Cheveldayoff and his staff have drafted well over the last five years, which means a lot of restricted free agents will need new contracts, all within a two-year span. It's a problem every GM would love to have, but it's difficult nonetheless.
Here's a list of the Jets' current RFAs:
| Player | Pos. | 2017-18 cap hit |
| --- | --- | --- |
| Jacob Trouba | D | $2.81M |
| Adam Lowry | C | $1.125M |
| Tucker Poolman | D | $925K |
| Josh Morrissey | D | $863K |
| Marko Dano | RW | $850K |
| Brandon Tanev | LW | $700K |
Trouba and Morrissey are obviously the biggest fish to fry.
On a long-term contract, Trouba will likely earn at least $6 million per season, while Morrissey would probably make around $5 million annually. The Jets could delay their extensions by going to arbitration or signing them to bridge deals, but that would only raise the cap hits on eventual long-term contracts.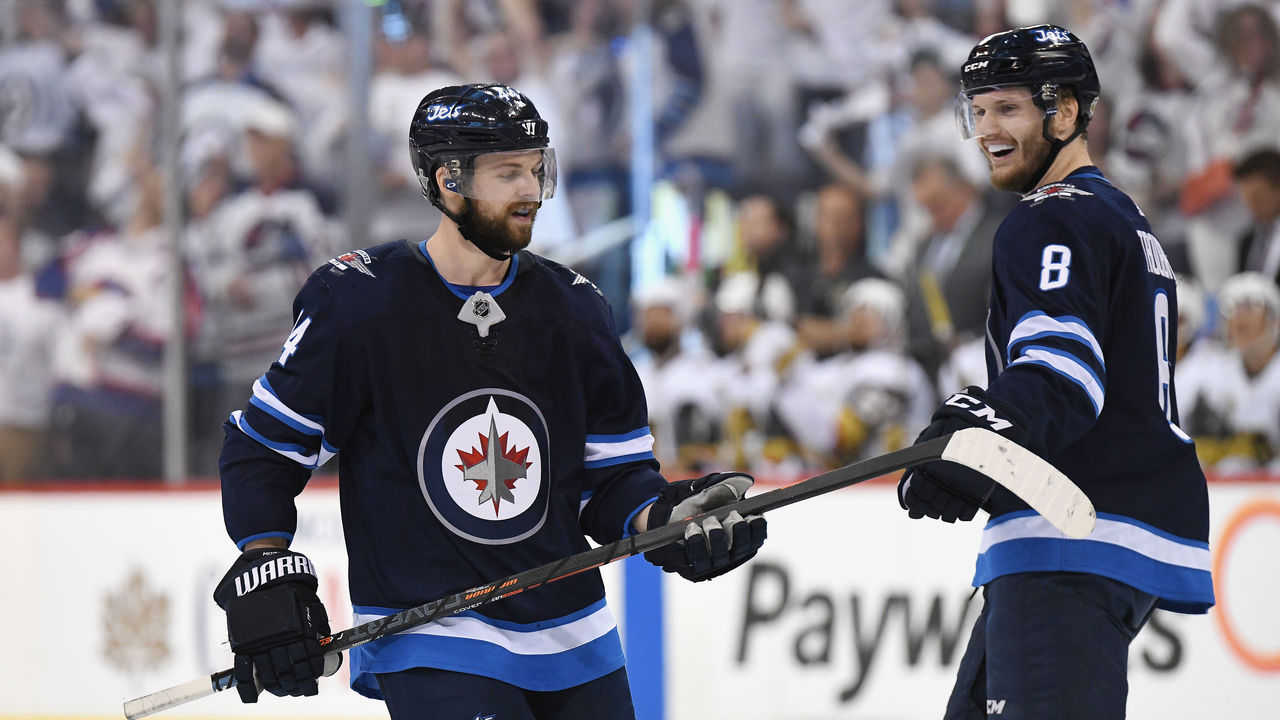 Winnipeg still has over $20 million in cap space, so securing Trouba and Morrissey, then retaining the remaining RFAs, isn't too much of a squeeze right now.
It's next offseason when things become interesting.
| Player | Pos. | FA type | 2018-19 cap hit |
| --- | --- | --- | --- |
| Blake Wheeler | RW | UFA | $5.6M |
| Tyler Myers | D | UFA | $5.5M |
| Ben Chiarot | D | UFA | $1.4M |
| Joe Morrow | D | RFA | $1M |
| Andrew Copp | C | RFA | $1M |
| Patrik Laine | RW | RFA | $925K |
| Kyle Connor | LW | RFA | $925K |
Wheeler, the Jets' captain, is coming off a career-high 91-point season. Another productive year could result in a cap hit in the $8-10 million range.
Myers played all 82 games last season and was stellar while piling up 36 points. Smooth skating, right-handed shooting defenseman standing at 6-foot-8 don't grow on trees, so anything less than $6 million annually probably wouldn't be enough to keep him around.
Since Laine and Connor are RFAs, there's no rush to sign them long term. But here again, the longer the Jets wait, the higher their cap hits will become. Already a perennial Rocket Richard Trophy candidate, Laine could get close to $10 million per season, and another 30-goal year would help Connor pull in roughly $5 million per season.
Signing all six of Trouba, Morrissey, Wheeler, Myers, Laine, and Connor to long-term deals could cost the Jets around $40 million per season, which is estimating conservatively. That's a problem because, as Cap Friendly projects, they'll only have $38.2 million in cap space next year, which doesn't include any of the low-end deals to bring back the aforementioned role players.
Who's the odd man out?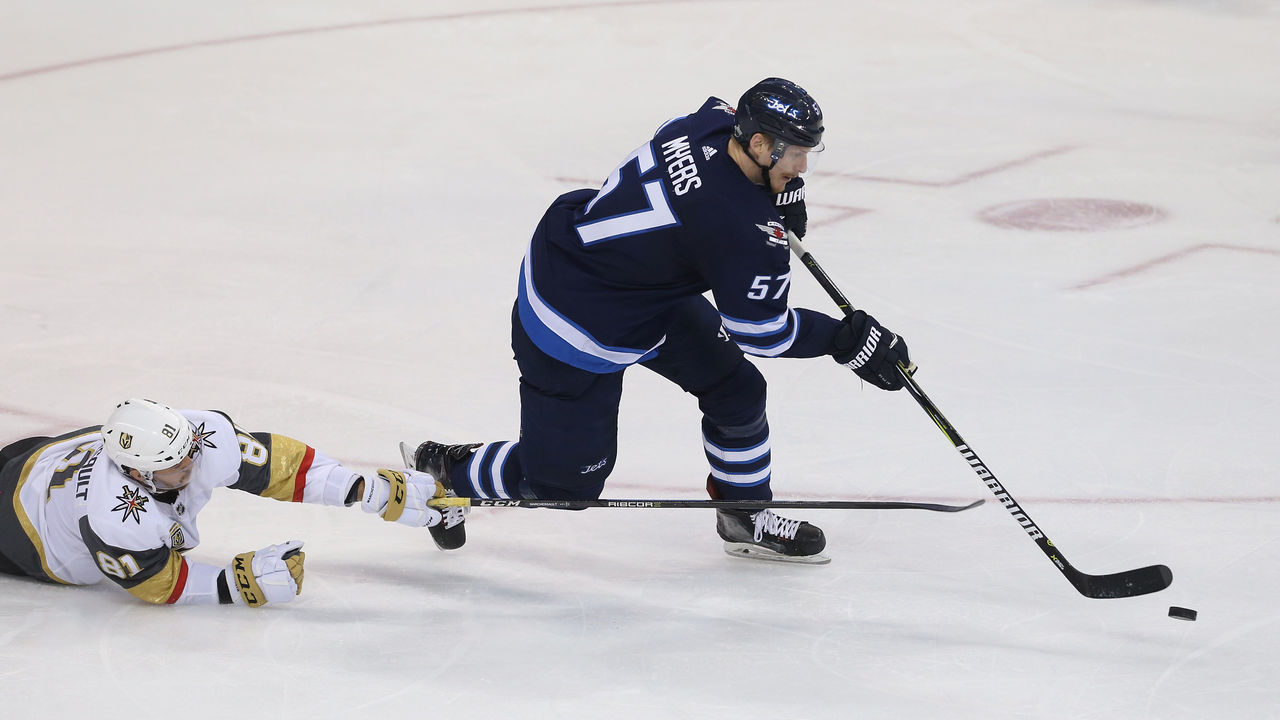 One of the Jets' core players will have to go, and all signs point to Myers.
Related: Why a Gardiner-for-Myers trade would make sense for Leafs, Jets
The Jets have 2017-18 AHL defenseman of the year Sami Niku and 2016 first-rounder Logan Stanley coming through the system on the back end, so letting a blue-liner go makes the most sense. Trouba is only 24 years old, so the odd man out wouldn't be him barring completely stalled contract negotiations. And with Dustin Byfuglien in the fold for three more years, having three stud right-handed shooting defensemen is a luxury the Jets won't be able to afford.
Cheveldayoff could either trade Myers this offseason and get something in return, or keep him around for another year knowing he gives the team a better chance at winning the Stanley Cup, then let him walk for nothing. Either way, losing Myers seems inevitable if Cheveldayoff wants to keep the rest of his foundation together.
However, even without Myers, the Jets will still be right up against the cap, meaning they'll have to move one of their current contracts to accommodate Trouba, Morrissey, Wheeler, Laine, and Connor. Forward Mathieu Perreault ($4.125M through 2020-21) and defenseman Dmitry Kulikov ($4.3M through 2019-20) would be most likely to go.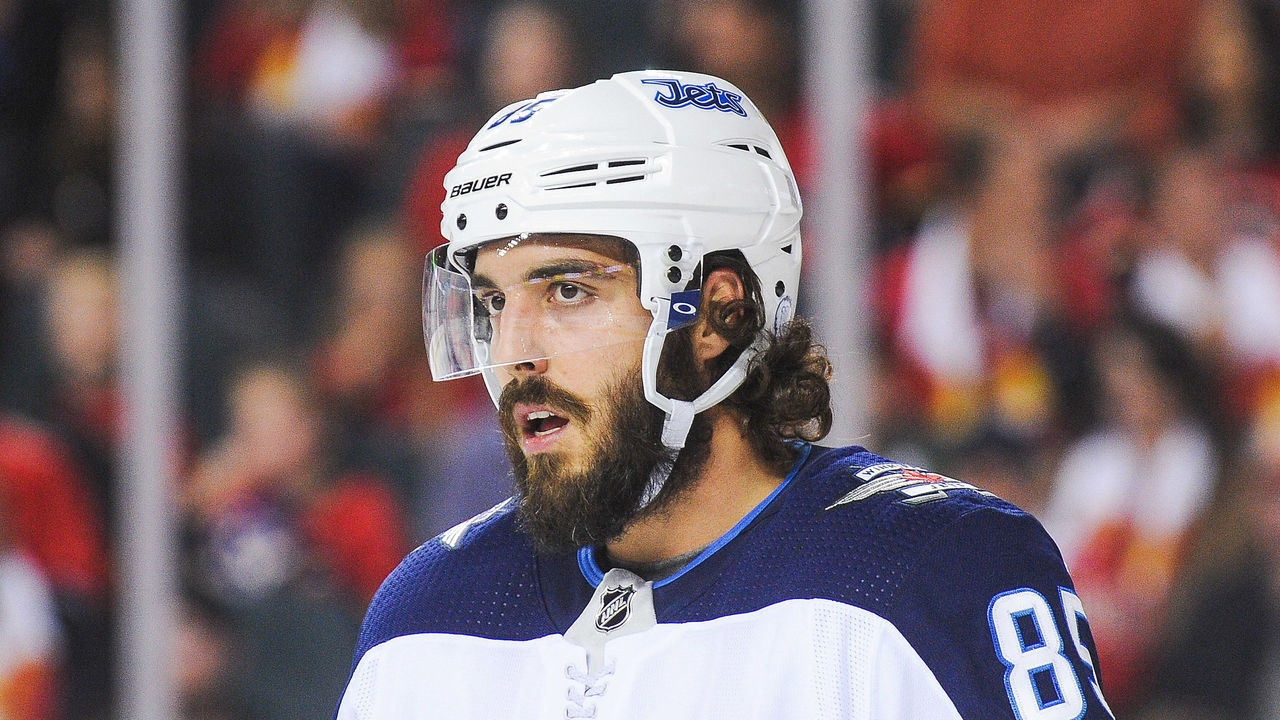 Perreault has been a consistent role player for the Jets, and although his secondary scoring is valuable, they could live without it. Kulikov, meanwhile, is coming off a down year, and while he could rebuild his value before the need to make a trade next offseason, it would likely be much easier to move Perreault.
Even after losing Myers, one of Perreault or Kulikov, and ponying up to pay several key players, the Jets could still boast one of the league's most talented rosters for the 2019-20 season.
Note: Cap hits in parentheses, projected cap hits are bolded.
Forwards: $48.41 million
| LW | C | RW |
| --- | --- | --- |
| Kyle Connor ($5M) | Mark Scheifele ($6.125M) | Blake Wheeler ($8M) |
| Nikolaj Ehlers ($6M) | Bryan Little ($5.29M) | Patrik Laine ($10M) |
| Nic Petan ($800K) | Adam Lowry ($2M) | Jack Roslovic ($894K) |
| Brandon Tanev ($1M) | Andrew Copp ($1.5M) | Marko Dano ($950K) |
| Brendan Lemieux ($850K) | | |
Defense: $25.98 million
| LD | RD |
| --- | --- |
| Josh Morrissey ($5M) | Jacob Trouba ($6.5M) |
| Dmitry Kulikov ($4.3M) | Dustin Byfuglien ($7.6M) |
| Logan Stanley ($863K) | Sami Niku ($775K) |
| | Tucker Poolman ($950K) |
Goalies: $6.96 million
G
Connor Hellebuyck ($6.16M)
Eric Comrie ($800K)
That's $81.35 million for the projected 2019-20 roster. The NHL salary cap for the 2018-19 season is $79.5 million. However, the cap hasn't risen by less than $2 million since 2009-10, so the Jets should be fine.
This projection doesn't include the pieces the Jets would receive in potential trades for Myers or Perreault, which could help the roster. The projected cap hits of some players could also drastically change depending on the 2018-19 season.
However, with a little bit of maneuvering, the Jets shouldn't have any issues keeping the bulk of their core. And thanks to their great organizational depth, they should still be able to ice a very competitive team for years to come.
(Photos courtesy: Getty Images)