Ready for a raise: Projecting Mark Stone's next contract
Bruce Bennett / Getty Images Sport / Getty
For the Ottawa Senators and their fans, disaster has been inescapable over the past 12 months.
Through the hardships, one final blow remains, as captain Erik Karlsson's departure from the organization via trade before the start of the 2018-19 season is inevitable. The deal, one would think, will help stock the cupboards for the Senators' future with a handful of nice assets, which is about all Ottawa can hope for at this point.
Beyond the ongoing Karlsson saga, which, in fairness, is a colossal league-wide storyline, the Senators have another key piece of business to take care of this summer: signing Mark Stone.
Stone was one of 44 restricted free agents to file for arbitration Thursday, and is by far the most talented member on the list. At 26 years old, Stone is only one year away from becoming an unrestricted free agent, meaning he can only get a one-year contract if he goes to arbitration.
Surely, the Senators want to avoid that scenario, and while a high number of players filed this offseason, it's rare for these cases to ever reach the point of arbitration. Last year, Nate Schmidt and the Vegas Golden Knights were the only case out of 30 to require a third-party negotiator.
With that in mind, let's assume Stone and the Sens strike a long-term deal, and try to map out what kind of salary the star winger just might fetch.
The player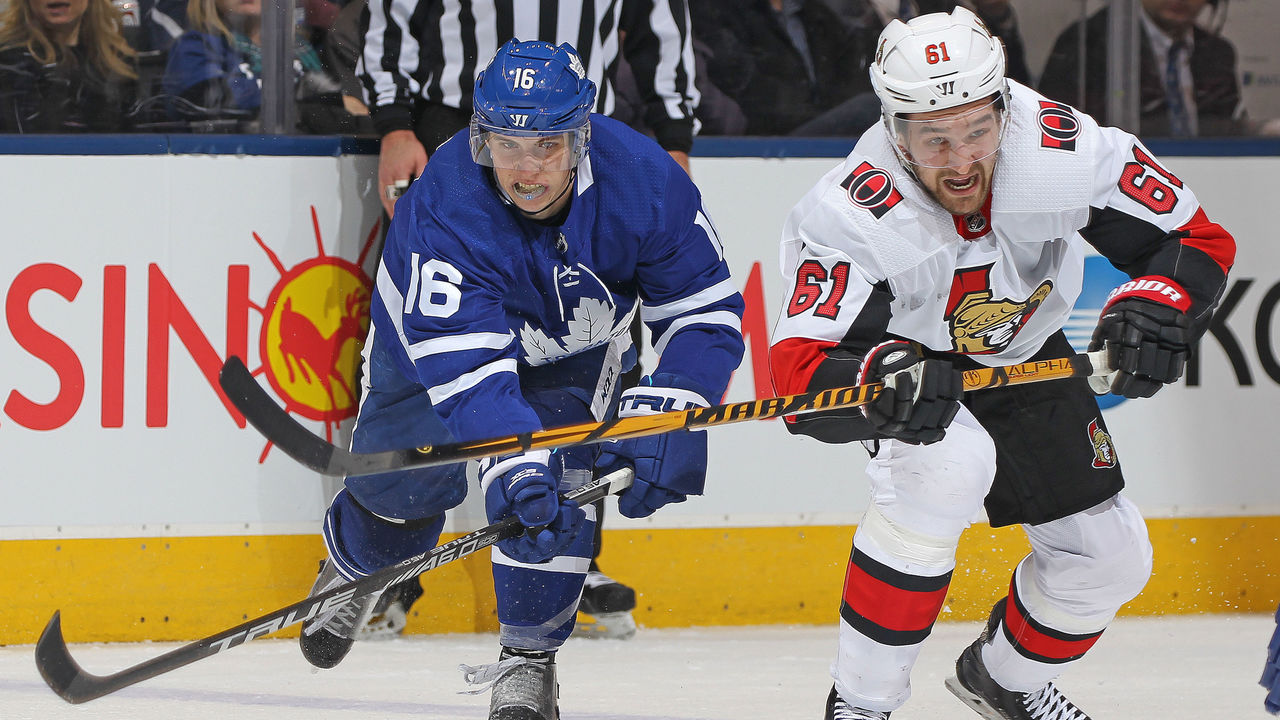 Injuries limited Stone to just 58 games in 2017-18, yet he finished tie atop the Senators' scoring list alongside Karlsson with 62 points, and averaged more than 20:40 of ice time per contest - the highest mark of all right wingers across the league.
Stone's high usage can be attributed to his effectiveness at both ends of the ice, as he's evolved into one of the best two-way forwards in the NHL. Despite missing 24 games, Stone ranked fourth at his position with 59 takeaways.
On offense, 62 points is just two off his career high, set in 2014-15. Among all Senators skaters, Stone ranked third with a 4.68 Corsi relative to his teammates at five-on-five despite Ottawa ranking 30th in possession at 47.12 percent. Elsewhere, Stone ranked eighth in the league in five-on-five points per 60 minutes (2.68), and his primary point rate (goals and first assists) per 60 of 1.93 puts him in equal to Leon Draisiatl, and ahead of players like Alex Ovechkin, Steven Stamkos, Artemi Panarin, and MVP Taylor Hall. Certainly not terrible company to keep.
The team
What else is there really to say about the organization at this point? Be it Eugene Melnyk's threat to relocate the team during a weekend they were in the national spotlight, or harassment charges against assistant general manager Randy Lee, it's been an eternity since any good news came out of Ottawa.
A new deal for Stone is a chance to get things turning in the right direction. Once Karlsson is out of town, Stone is the best player on the Sens' roster, and will serve as the main piece of the team's core. In February, Stone said he wants to be part of Ottawa's long-term solution, but much has changed since then, and there's assuredly no quick fix to the hole the club has managed to dig itself into.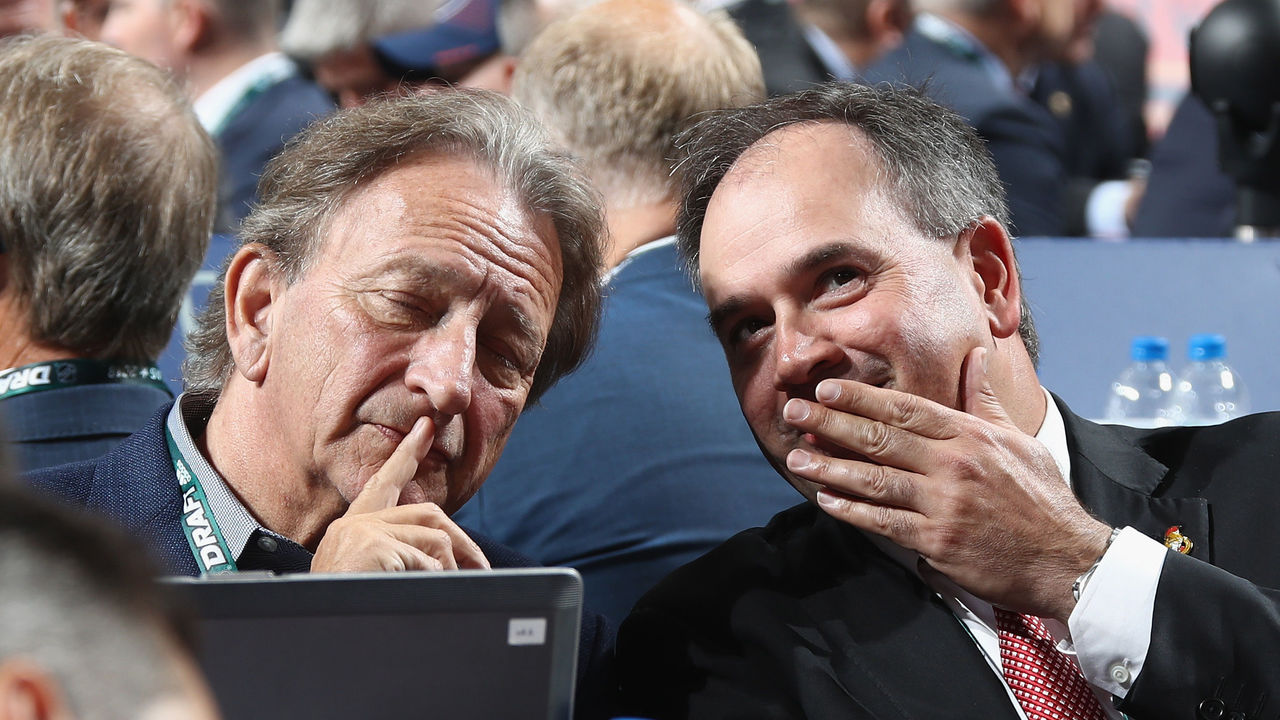 The Senators will ice a lousy roster in 2018-19, and any hopes at the Jack Hughes lottery were dashed when they decided to hold onto this year's pick, No. 4 overall, to take Brady Tkachuk - who will likely spend another season at Boston University come fall.
Ottawa can't sell him on the strength of his surrounding personnel, but Stone has been carrying an incredibly team-friendly cap hit of $3.5 million for the past three seasons, and it's unlikely he'll be willing to forego loads of guaranteed money at his age just for the chance to walk as a UFA next summer. General manager Pierre Dorion can use promised dollars to his advantage, as the Senators are nowhere near the cap ceiling, but doing so in a manner that keeps Stone happy should be priority No. 1 once negotiations get underway.
Comparables
Here's a look at some prominent right wingers to sign long-term contracts (not including those coming off entry-level deals) over the last three years, and how Stone stacks up.
| Player (Team) | Career P/GP | Contract Length (AAV) |
| --- | --- | --- |
| Patric Hornqvist (PIT) | 0.63 | 5 years ($5.3M) |
| Jonathan Marchessault (VGK) | 0.72 | 6 years ($5M) |
| Alexander Radulov (DAL) | 0.73 | 5 years ($6.25M)  |
| T.J. Oshie (WSH) | 0.69 | 8 years ($5.75M) |
| Jakub Voracek (PHI) | 0.74 | 8 years ($8.25M) |
Through 307 games in his NHL career, Stone stands at 0.81 points per game, out-producing all players on the list above. With the exception of Voracek, he'll also be younger than each of his comparables at his time of signing.
The number
Considering Stone's career production and value at both ends of the ice, the Senators' financial flexibility and need for something positive inside the organization, along with the market of winger contracts across the league, it's fair to assume Stone will soon be paid among the league's elite.
Only six right wingers currently have a cap hit of over $7 million, and Stone is poised to become the seventh. A multi-year deal with an annual payment of anywhere between $7.5 million to $8.5 million would be more than suitable for both sides as they embark on a new era in Ottawa.
(Photos Courtesy: Getty Images)
(Advanced Stats Courtesy: Corsica)
Comments
✕
Ready for a raise: Projecting Mark Stone's next contract
  Got something to say? Leave a comment below!