How the USA development program became the world's best junior hockey pipeline
Nicholas T. LoVerde / Getty Images Sport / Getty
There's one second on the clock in the 2018 Under-18 World Championship gold medal game, and the puck is on the stick of Oliver Wahlstrom, arguably the best shooter in the 2018 draft class.
But Wahlstrom's shot misses the net, and the United States settles for a heartbreaking silver medal – but it wasn't just heartbreaking for the obvious reasons.
"I did an interview after, and they asked me what I was thinking, and the first thing that came to my head was I wasn't mad we lost, I wasn't sad we lost, it was just the last time I got to dress with my best friends," forward Joel Farabee told theScore.
Seth Appert, head coach of the Under-18 team at the USA Hockey National Team Development Program (NTDP), says the bonds between players in the program to which Farabee referred are forged through the unique shared adversity created by the NTDP's environment.
"They're 16 years old, they're away from mom and dad, they're living in a strange house with another family, and there's no veterans to take care of them," Appert said. "There's no senior captain like in college. There's no veterans like in pro or in junior. They're here, on their own, all 16-year-olds in that room together, in other people's houses, trying to figure out this on their own."
For most of the players, the Under-17 year is the first time they're away from home for such a long period of time. More importantly, for many of them, it's the first time they learn to fail. They're taken out of their comfort zones and thrown onto a team where, for most of them, they're no longer the best.
That very struggle sets them on the path to success - and that will be especially clear at this week's NHL draft, where more than a dozen players with connections to the NTDP could be among the top 50 selected. In an era when great talents are emerging from a variety of leagues and countries, the USA Hockey NTDP is leading the way by a significant margin.
Developing USA Hockey's Future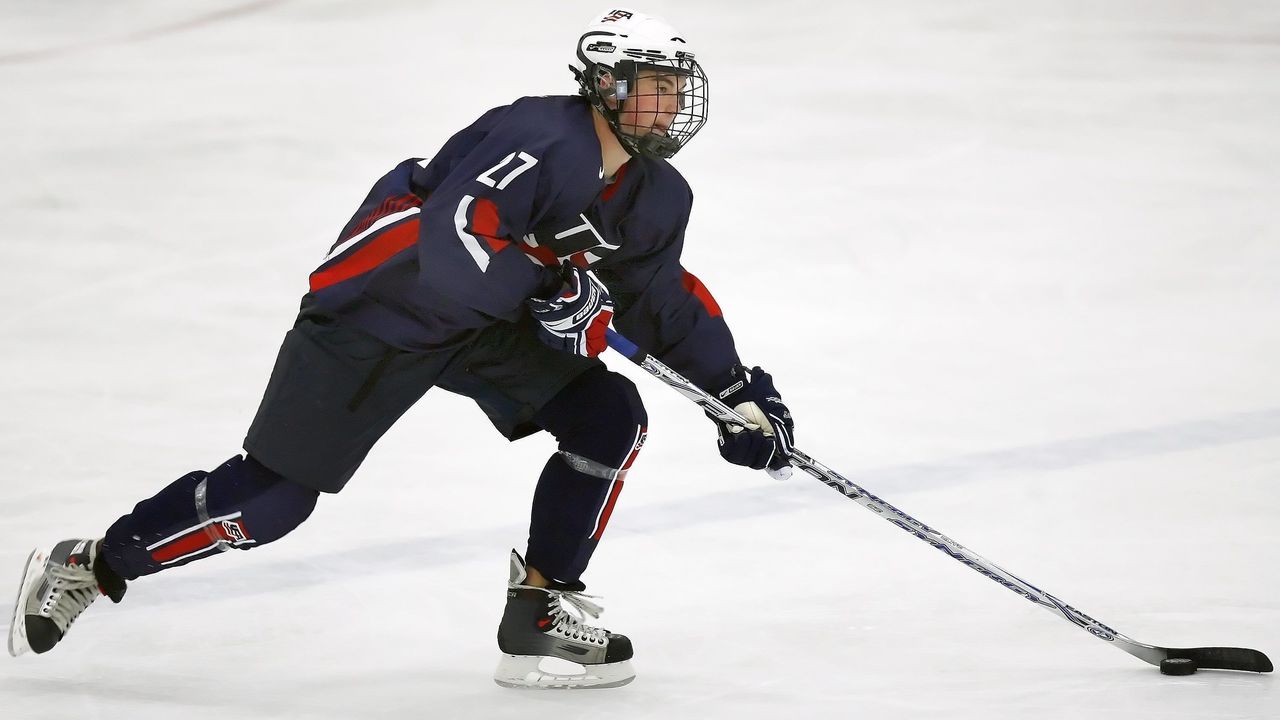 The NTDP was created in 1996 with the goal of centralizing the top Under-18 hockey players in the United States under one metaphorical roof, in a competitive and comprehensive development environment.
"You're taking 22 of the top players in our country, from one birth year, and you're putting them in a really competitive but development-friendly, healthy environment for two years," Appert said. "Our mission here - the coaches are not charged with winning games Friday night in the USHL, although we do believe winning is part of development. But our mission is to develop our country's next wave of elite hockey players."
The program is split into two teams – the Under-17 and the Under-18. While the U17 team plays most of the 60 games in a USHL season, the U18 team plays around 25 of those games and spends the rest of its season competing against college programs.
Both the NCAA and the USHL have players older than the members of the NTDP teams (the USHL allows for players up to 20 years old, while those in the NCAA are sometimes as old as 24), so NTDP players find themselves facing challenging opponents every night.
At lower levels, if a player had the puck stolen from him, chances were good he could go after it and take it right back. However, if he loses that same puck in a game against the Boston University Terriers, chances are good his opponent has already used that puck to score (and given the Terriers' current lineup, chances are good he lost that puck to a former NTDP teammate).
"I think we played 15 to 20 college hockey games our U18 year so going into college hockey, I felt comfortable for sure," said NTDP alum and University of Michigan defenseman Quinn Hughes. "The program's awesome. If you really wanna be a hockey player, that's the spot to do it."
Appert said the vast majority of his players would be the star on their team anywhere else, but at the NTDP they quickly learn they can't all be the best.
They try anyway.
"There's a lot of places that if one of the elite players takes a day off from practice they still can get away with it - they're still an elite player," Appert said. "Here, if you take a day off practice you get exposed by your teammates because your teammates are so competitive."
That competition doesn't just exist on the ice. It follows players into the weight room, into the film room, and even home to video-gaming sessions (Fortnite is the current game of choice, having supplanted the NHL game series). Players are challenged daily by teammates, coaches, and opponents alike.
"They test you, they test your character, and they work you pretty hard," said Bode Wilde, a draft-eligible NTDP defenseman. "Coming out of there I feel prepared for whatever's next."
The 2018 Talent: Forwards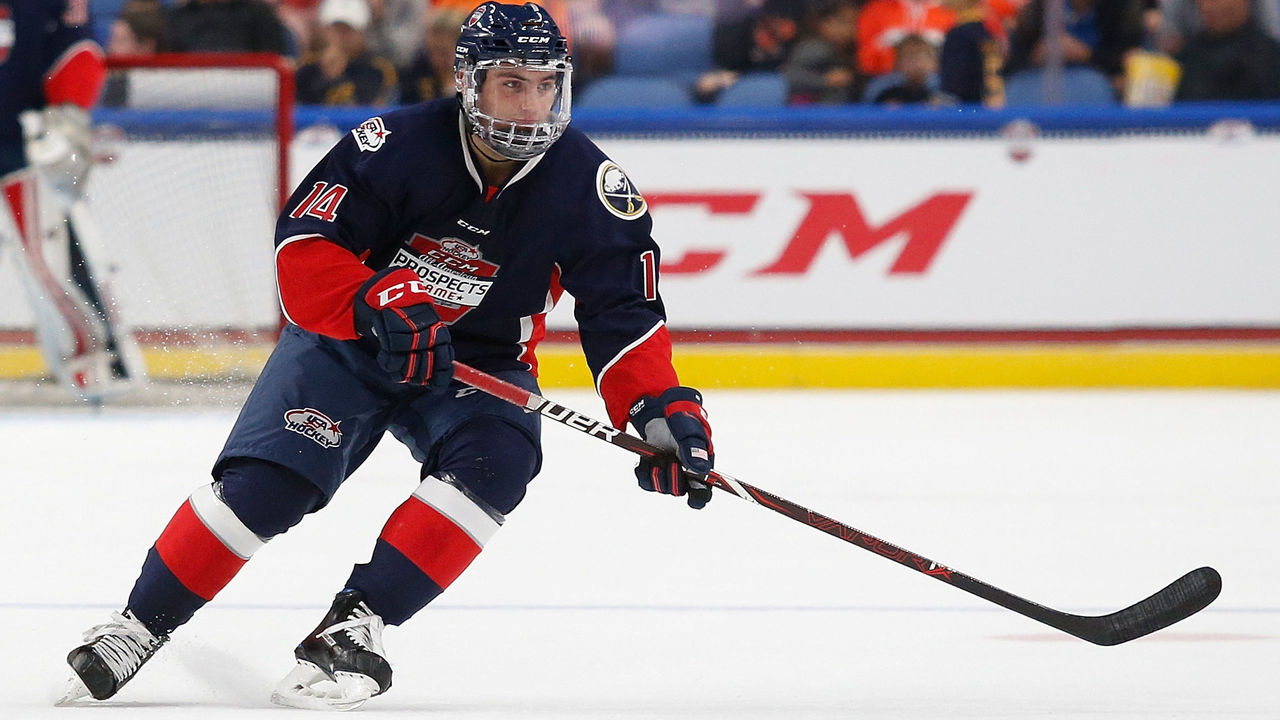 The depth of highly skilled players who are coming out of the NTDP year after year is something to behold. In the top 50 of NHL Central Scouting's final ranking of North American skaters, there are 13 players with NTDP ties. For comparison purposes, there are only eight QMJHL players in the top 50.
One NTDP player who many believe didn't get his due this season after missing significant time due to injury is center Jake Wise.
"We had a tremendous second half where we won a lot of hockey games and did some really special things internationally and in the USHL, and I think that a lot of it in people's minds was tied to Jack (Hughes) coming up," Appert said. "But I think what people underestimate is the importance of Jake Wise returning to our lineup."
Wise, ranked 38th among North American skaters in Central Scouting's final rankings, is a strong two-way center with elite puck-handling skills and hockey sense.
"If you would extrapolate his offensive numbers out for a full season instead of a half season, he'd be right there with Farabee and on the heels of Wahlstrom as our leading scorers," Appert said. "He's a terrific offensive player."
Farabee and Wahlstrom are two of this year's most highly touted NTDP players. While Wahlstrom is expected to go in the top 10 of the draft, Farabee is considered more of a mid-first-rounder. Some pundits have cited concerns that Farabee is a product of the stars he plays with, but the man himself isn't concerned.
"Jack Hughes and Oliver Wahlstrom, they're definitely really special players, but if you look at - if you break down our games, we're all really different players," Farabee said. "I think me being a playmaker and a defense-first guy where Wahlstrom's a shooter, skill guy, and Jack Hughes is more of an all-around guy, I think we all play different roles and I think I played my role to the best of my ability. You can compare us but our games are so different that I think it's really hard to compare us."
Appert agrees when it comes to Farabee's two-way contributions on the ice.
"You could certainly argue that he was our best penalty killer," the coach said. "If we're winning the game in the third period late he's gonna be on the ice because he's one of if not the most defensively responsible players on the team. And yet he still was second on the team in scoring."
The 2018 Talent: Defensemen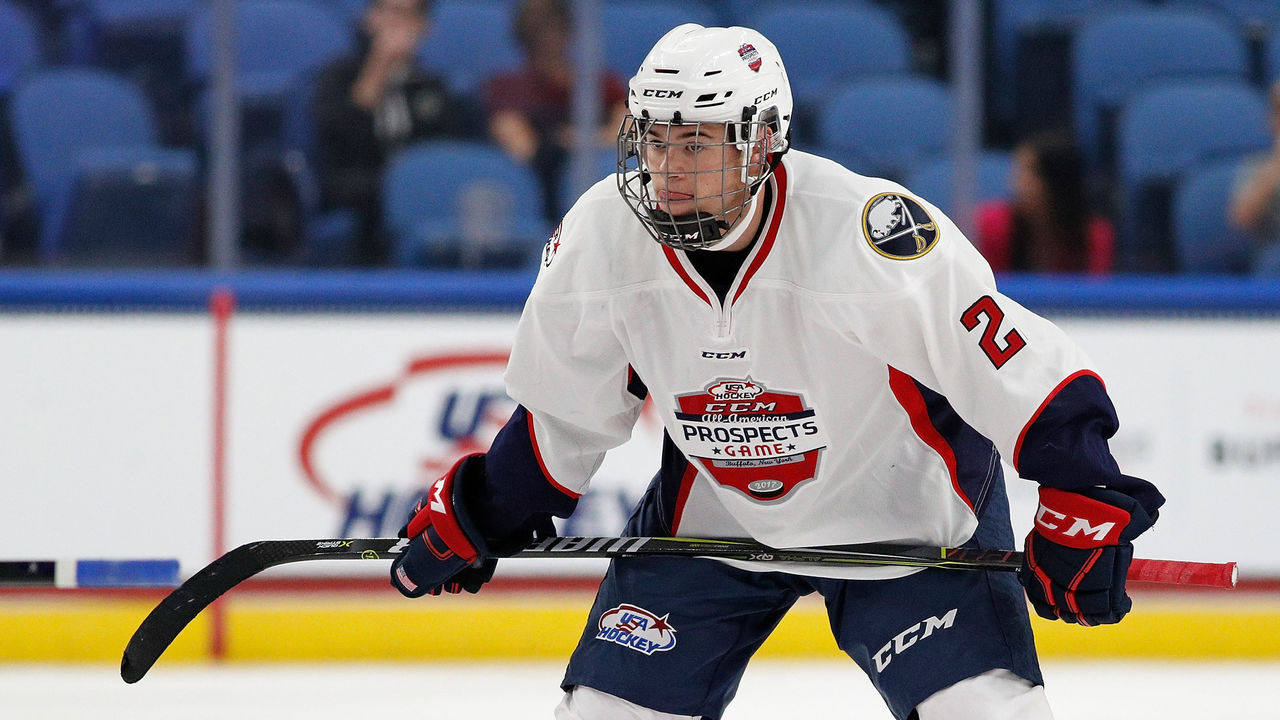 In a draft loaded with high-end defensemen, quite a few of the best either play or have played for the NTDP. In addition to Wilde and (Quinn) Hughes, K'Andre Miller and Mattias Samuelsson are considered potential first-rounders.
Samuelsson, the captain of the U18 team, has an approach to the game that's beyond his years. In person, in situations that call for it, he gives off an air of leadership; with his teammates, he's a caring and fun young man who happens to have a letter on his chest.
"We rely on him," Appert said. "He does all the hard things you need from a defenseman to win - yet he still was right up there at the top of our group in defensive scoring as well. And that was with minimal power-play time, especially in the second half of the year. He provides offense. He's a great defender. He goes about his business in a real professional way, shows up every day with a good attitude to work and get better."
The defensive side of Samuelsson's game, according to Appert, is in great shape. Samuelsson himself thinks he's around "three to four years" from the NHL; in that time he'll likely work on improving the speed with which he makes decisions and transitions the puck.
Meanwhile, Miller is new to playing defense - compared to his teammates, anyway.
"He made the switch sometime in that year before he got to the NTDP so he's only two-and-a-half, three years into being a defenseman," Appert said. "I think this year he took huge strides in using his athleticism and skating ability - he's already an elite skater. He'd be an elite skater in the NHL if he played tonight."
Miller's strengths lie in the way he uses his skating and hockey sense to take time and space away from opponents, and to join the rush when he judges the time is right. Given his high-level vision, his judgment is often correct.
"He just got better every month this year, and he probably - you could certainly argue that he made as many strides this year as anybody on our team," Appert said. "He's going to a great program in Wisconsin (in the NCAA), and they're gonna keep developing him as he continues to understand and gain experience and knowledge about the position that he's playing."
Appert added that the coaching staff wanted their defensemen to be active offensively, and that Miller wasn't the only player who benefited from that strategy.
"With a new coaching staff coming in this year, with our team, they really changed up the dynamic and the systems we're playing," Wilde said. "The way we were playing D was a lot easier, and our D-corps really jumped into the way the coaches wanted us to play feet first and we did a great job. Defense was the number one improvement for me."
Perhaps the best-known of the defensemen group is Quinn Hughes (Jack's older brother), whom Appert also had a chance to work with at a higher level as the youngest player on the American team at the 2018 World Championship.
"I thought Quinn's game grew every game he was there," Appert said. "He started the tournament pretty good, but by the end he was playing extremely high-level minutes against high-level NHL competition."
While calling Hughes a "world-class player," Appert noted that strengths of his game in the tournament included his playmaking and his ability to break out the puck efficiently.
"I don't think he gets enough credit for how he defends," Appert said. "I hear a lot of people knock his defensive game and I don't think that's the case. I think he defends extremely well, I just think he defends differently than a lot of people might want him to or think a defenseman should defend. He doesn't defend like a 6-foot-3 defenseman does. He defends with his skating ability, his stick, his mind, by angling people and taking away their time and space."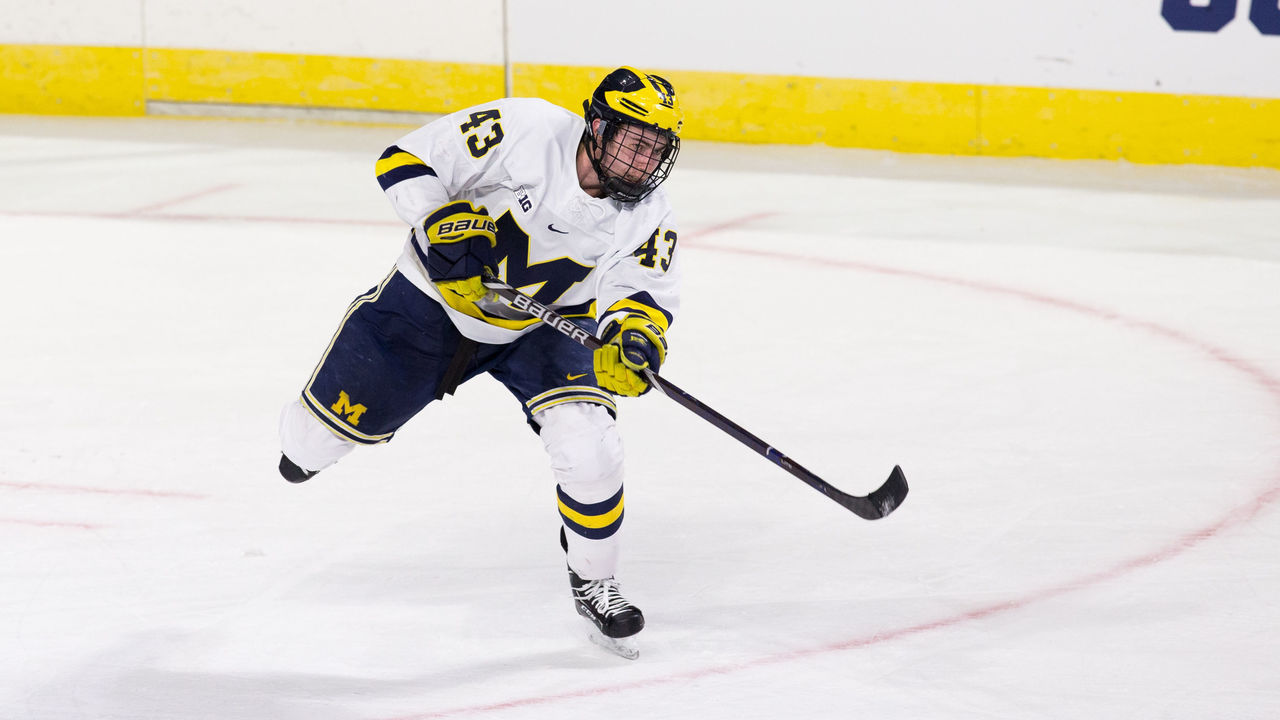 Hughes echoed Appert's sentiments.
"I think the knock on me is my defensive game," Hughes said. "Some teams think it's really good, some teams think I could use some work on it. That's why I went to go play college hockey this year. I went to go play against older, stronger competition and I think I did a really good job at the World Championship proving that."
Despite being one of the smaller defensemen in the draft, Hughes isn't concerned about that either. He thinks his play speaks for itself.
"Maybe 25 to 30 years ago it would've been a problem, but not in this day and age, I don't think," Hughes said. "Honestly, it's more about like, how I'm gonna handle bigger guys in the corner for my defensive game. That's the question I always get, and what I always say is, 'The same way I did at the World Championship.' The way I position myself, my skating, the way I position my stick and use it the right way and everything like that. It's not gonna be outmuscling guys at the next level, it's just gonna be about outsmarting guys."
In 1996, three Americans were chosen in the 26-pick first round of the NHL draft. In 2016, 20 years after the inception of the NTDP, 11 Americans were selected in the first round. Meanwhile, the 28 Americans chosen in 2016's first three rounds tied the 2010 draft for the second most ever.
Despite numerous rankings and mock drafts, no one knows yet how many players with NTDP ties will be selected in the first round this year. Of that group, how many will become regular NHL players is even less certain.
What's certain is that the program has made an indelible mark on hockey in the United States, and is leading the way when it comes to player development.
Hannah Stuart keeps a close eye on both drafted and draft-eligible prospects and can usually be found trying to learn more about hockey analytics. She has previously written for FanRag Sports, The Hockey Writers, and Hooked On Hockey Magazine, and can also be found at High Heels and High Sticks. Find her on twitter at @HockeyWthHannah.
(Photos courtesy: Getty Images)
Comments
✕
How the USA development program became the world's best junior hockey pipeline
  Got something to say? Leave a comment below!