WASHINGTON - Braden Holtby has looked a little more like himself lately - and that's great news for the Capitals.
Since coming off the bench in the first round, Holtby has won five of his six starts and stopped all but 14 shots he has faced. He owns the fifth-best save percentage (.932) and fourth-best goals-against average (1.95) among qualified playoff goaltenders heading into Game 3 of the Capitals' second-round tilt with the Penguins on Tuesday night in Pittsburgh.
Holtby has been particularly sublime in the second round, turning aside 54 of 58 shots in two games against the Penguins. He was a big part of Washington's series win over the Columbus Blue Jackets in the first round, and he could play an even more important role in helping his team reach the conference final.
"He's been rock solid, really making the routine saves look really easy," Capitals defenseman Matt Niskanen told theScore. "He's mixed in some big saves on better scoring chances. Gives you a lot of confidence. You can just focus on your own game, knowing that he's going to be there for you."
Some suggested coach Barry Trotz's decision to start backup Philipp Grubauer instead of Holtby for Washington's first-round series against the Blue Jackets was essentially a benching. Others thought Trotz was just going with the guy who was playing better.
Holtby lost six of his last 12 starts of the regular season and admitted he'd struggled with fatigue throughout the year. He certainly wasn't at his best. His .907 save percentage in 2017-18 was his lowest ever, and he was pulled more often than at any other point in his career, including three times in a six-game span in early March.
Then, after a shaky Grubauer allowed eight goals on 46 shots in his two starts, Holtby replaced him late in the second game of the first-round series. Since then, he's resembled the goalie who won a Vezina Trophy two years ago, the Jennings Trophy last year, and owns the second-highest career playoff save percentage in NHL history.
"He's been sharp and that's what you need in the playoffs," Niskanen said. "You need your goalie to be really good, especially to beat a good team."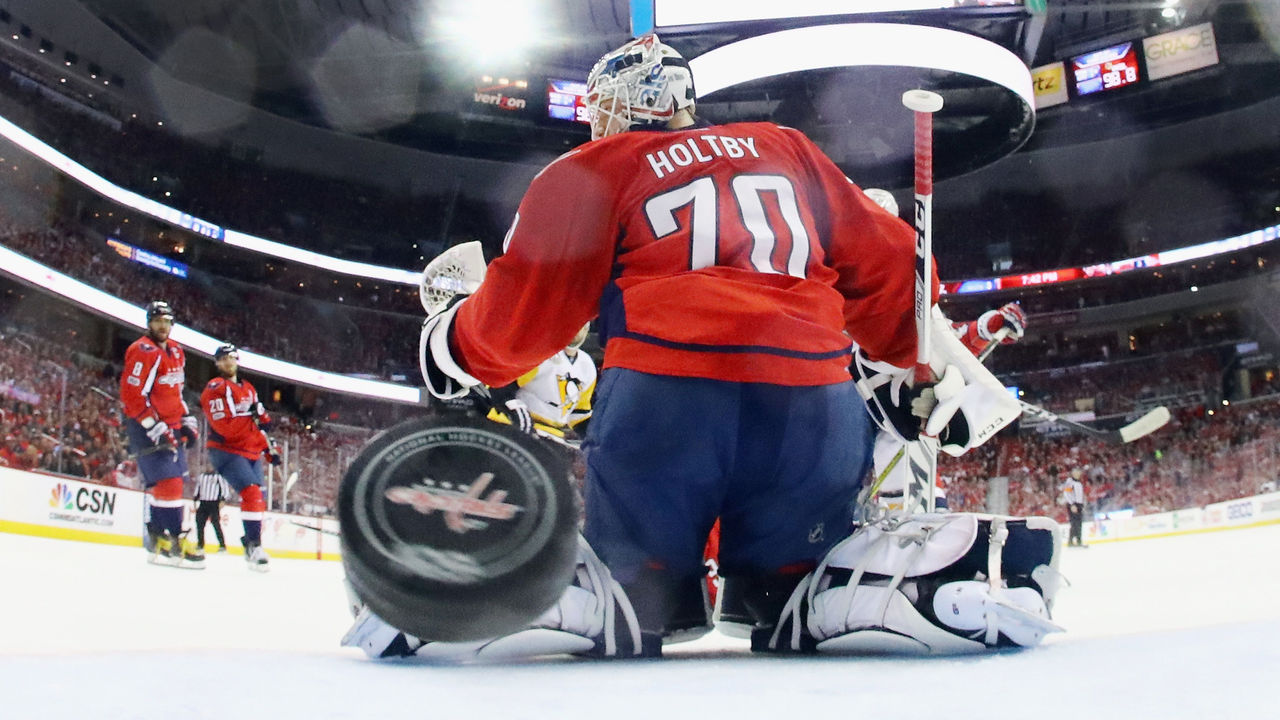 (Photo courtesy: Getty Images)
Holtby didn't have a good outing in the playoffs last year, and that was arguably the difference in Washington's second-round series against Pittsburgh. Simply put, the Penguins got much better goaltending from Marc-Andre Fleury than the Capitals did from Holtby.
By the end of the series, which Pittsburgh won en route to its second straight Stanley Cup win, the teams were separated by two goals (20-18). It's crazy to think how it might have ended had Holtby made a few more saves.
This might be the year he'll do it. No longer tentative against their longtime rival, the Capitals have come flying out of the gate in each of the first two games against a team still dealing with the absence of second-line center Evgeni Malkin. Washington built a 2-0 lead only to see it evaporate in a Game 1 loss, but bounced back nicely to even the series heading to Pittsburgh.
None of that is by accident. The Capitals aren't facing the pressure of the last two years, and it shows. They don't seem intimidated by the Penguins - and part of that is because of Holtby. His confidence and poise in net have had a trickle-down effect on the rest of the team.
"Just confidence," coach Barry Trotz said. "It starts there. Any time you have a goaltender who's playing well in this sport, it gives your team confidence. It gives them trust, it gives them confidence - I'll just say a more aggressive posture when you're playing the game. When that's not there, you tend to not be as aggressive."