Pick your poison: How the Atlantic Division's 3 juggernauts stack up
Mike Carlson / Getty Images Sport / Getty
After years of playing second fiddle to the dominant Metropolitan, the Atlantic Division is the toast of the Eastern Conference.
The Boston Bruins, Tampa Bay Lightning, and Toronto Maple Leafs have arguably been the best three teams in the East this year, racking up 150 combined wins and sitting one, two, and three, respectively, at the top of the Atlantic standings for most of the campaign.
Thanks to the NHL's implementation of a bracket-style playoff format in the 2013-14 season, these three juggernauts will most likely see a whole lot of each other in the coming weeks.
Toronto is cemented into the third position, and awaits the team that finishes in second place in the Atlantic. The division winner will have the East's top record, and will face the conference's second wild-card team.
The division crown is still up for grabs, too, and we'll know what's what by the end of the week.
Below, we break down each team's strengths, weaknesses, and recent matchup history to get a better sense of how they stack up against each other.
Boston Bruins (49-19-12)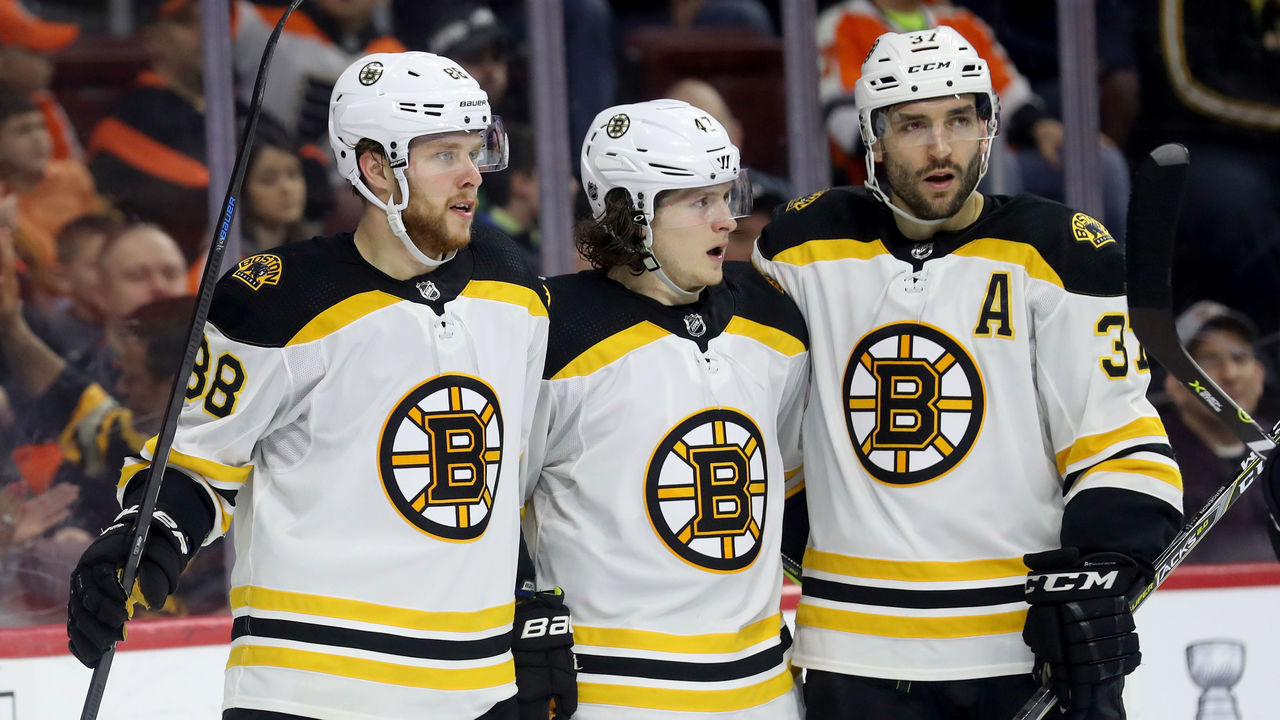 Strengths: Physical forward group. Balanced scoring attack. Proven goalie with a ton of playoff experience. Excellent on special teams.
Weaknesses: Unproven blue line. A number of young players with limited postseason minutes. Lacking in speed. Core pieces have a lot of mileage.
| Record vs. Lightning (2018) | GF vs. Lightning | GA vs. Lightning  |
| --- | --- | --- |
| 3-1-0 | 10 | 8 |
| Record vs. Maple Leafs (2018) | GF vs. Maple Leafs | GA vs. Maple Leafs |
| --- | --- | --- |
| 1-2-1 | 10 | 12 |
Let's get one thing straight off the jump: the Boston Bruins are for real. Finding holes in their lineup is like finding open seats on the rush-hour train home: they don't really exist.
The Bruins have the fewest regulation losses of any Eastern Conference club, they sit in the top five in both power-play percentage and penalty-killing efficiency, and their top line of Brad Marchand, Patrice Bergeron, and David Pastrnak is one of the best in the business. All three players have at least 30 goals.
Boston has shown it can beat both Toronto and Tampa, earning nine out of a possible 16 points against them during the 2017-18 campaign. However, both the Leafs and Lightning boast lineups loaded with speedy players, an obvious benefit the Bruins don't have - especially when David Backes, Rick Nash, Brian Gionta, or Zdeno Chara happen to be on the ice.
Aside from this week's statement shutout victory, Tampa has had serious trouble handling Boston's depth, failing to hold a lead at any point in the team's first three meetings. So, in terms of the Bruins versus the Lightning in a seven-game series, Boston has earned the edge.
Against their bitter rival from Toronto, the Bruins took the L in three out of four regular-season contests, struggling to match up with the Leafs' four high-flying forward lines. However, it should be noted that two of the Leafs' three victories came in one-goal games, including one in overtime, so don't map out the parade route just yet, Toronto.
Thanks to the franchise's success in recent years, most of the Bruins' core has the disadvantage of having played a lot of hockey, which could lead to the team's undoing against the youth and speed of the Lightning and Leafs - especially in longer series.
Regardless, Boston is in the midst of one of the best seasons in club history, heading into the 2018 Stanley Cup Playoffs as a team no one will want to tangle with.
Tampa Bay Lightning (53-23-4)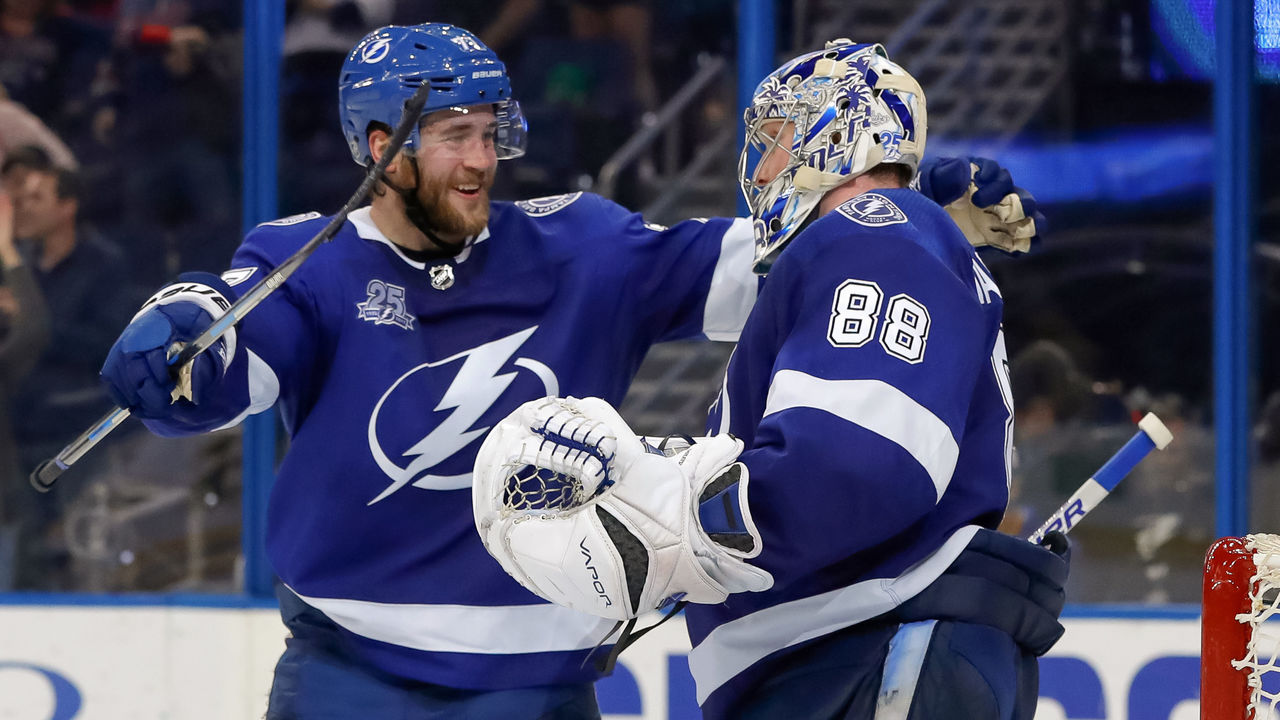 Strengths: Top-ranked offense. Deadly power play. Speed on all four forward lines. Reliable D-core.
Weaknesses: Brutal penalty kill. Inefficiency on the faceoff dots. Vasilevskiy's poor rebound control. Relatively soft up front.
| Record vs. Bruins (2018) | GF vs. Bruins | GA vs. Bruins |
| --- | --- | --- |
| 1-3-0 | 8 | 10 |
| Record vs. Maple Leafs (2018) | GF vs. Maple Leafs | GA vs. Maple Leafs |
| --- | --- | --- |
| 3-1-0 | 13 | 10 |
A campaign that started without a ceiling has come back down to earth for the Lightning over the latter portion of the 2017-18 season, in which Steve Yzerman's group has lost six of 11 games down the stretch.
Offensive prowess is what wins games for Tampa, which boasts a lineup including the likes of Steven Stamkos, Brayden Point, and Hart Trophy candidate Nikita Kucherov. That trio, among others, has been instrumental in pushing the Bolts to the top of the NHL scoring list, tallying a sensational 281 goals heading into Friday's games.
However, any experienced puckhead knows scoring is far from the be-all and end-all of winning contests in the spring, as games get tighter and lower-scoring. So Tampa Bay will also have to lean heavily on 23-year-old Russian netminder Andrei Vasilevskiy, who's been in the Vezina Trophy conversation basically all year long.
The Lightning struggle mightily on the penalty kill and faceoff dots, though, which means they could have difficulty with both the Bruins and Maple Leafs - teams that excel on the man advantage and at faceoffs - in a seven-game series.
With an offense that has paced the league for the majority of the season, the Lightning are never truly out of any game. And, if Vasilevskiy can steal one or two contests, there really is no telling how far this group can go. But one thing is for sure: getting past the first and second rounds won't be an easy task.
Toronto Maple Leafs (48-26-7)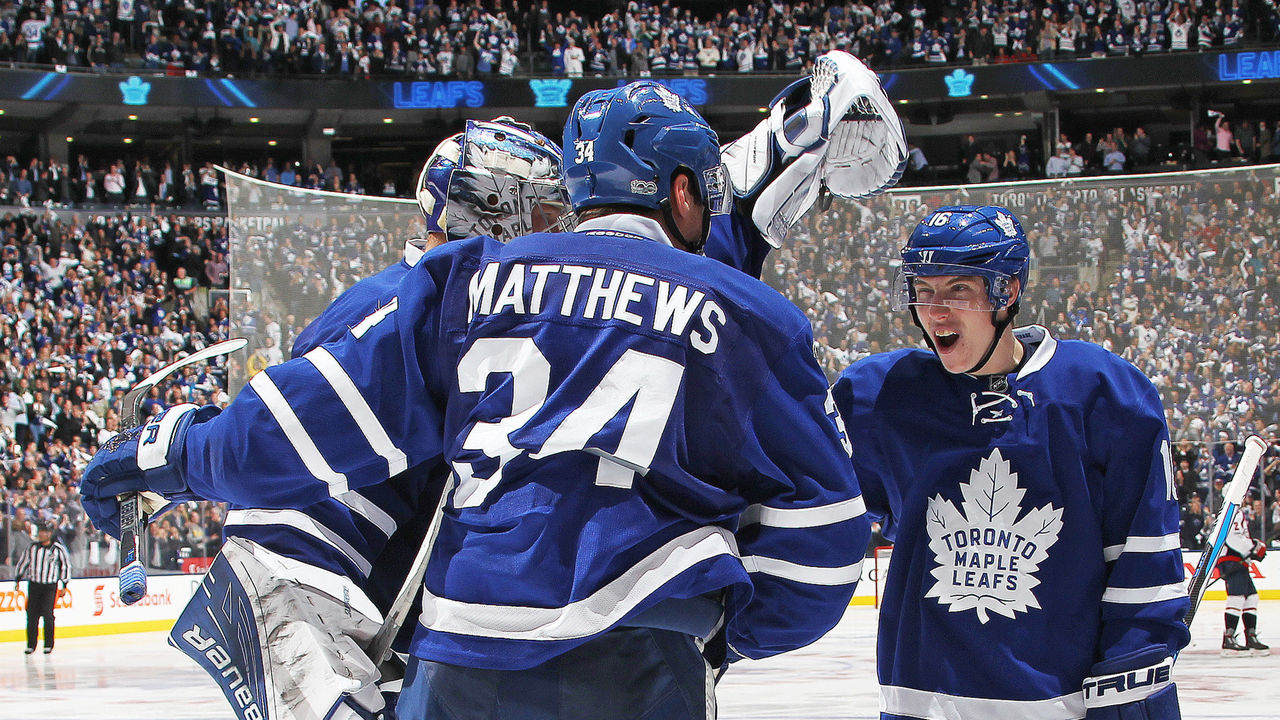 Strengths: High-flying offense. Ability to roll out three scoring lines. Speed up and down the lineup. Efficient power play. Disciplined.
Weaknesses: Lack of size and aggression, both up front and on the blue line. Tendency to blow leads. Weak defensively. Limited playoff experience.
| Record vs Lightning (2018) | GF vs. Lightning | GA vs. Lightning |
| --- | --- | --- |
| 1-2-1 | 10 | 13 |
| Record vs. Bruins (2018) | GF vs. Bruins | GA vs. Bruins |
| --- | --- | --- |
| 3-1-0 | 12 | 10 |
Having an elite goaltender has done wonders for the Maple Leafs' confidence, as Frederik Andersen has easily been Toronto's MVP this season.
His Vezina-type numbers (37 wins, five shutouts, .917 save percentage) have provided stability to a Leafs club that had been searching for a bona fide No. 1 netminder since the Curtis Joseph and Ed Belfour days. Factor in Toronto's stacked forward group, and hockey fans in The Six finally have a reason for optimism for the first time in two decades.
While there's no denying the Leafs can score goals with the best of them, sitting fifth overall in team scoring with 260 goals, Toronto's blue line leaves something to be desired. Nothing against guys like Jake Gardiner, Morgan Rielly, and Ron Hainsey, but those three aren't good enough to make up for the rest of Toronto's rag-tag back end.
Given the Leafs' propensity to allow a ton of shots (they allow the fourth-most per game), Andersen could be tested early and often against two teams in the Lightning and Bruins that like to get pucks on net.
His brilliance this season has somewhat masked the Leafs' tendency to blow leads, and he'll need to be equally stellar during the postseason if Mike Babcock and Co. want to advance to the second round. Both the Lightning and Bruins would give Toronto all it could handle in a seven-game series.
(Photos courtesy: Getty Images)
Comments
✕
Pick your poison: How the Atlantic Division's 3 juggernauts stack up
  Got something to say? Leave a comment below!