There's no right way to end a professional hockey career.
This is true even for those whose path ultimately leads to the Hockey Hall of Fame, after achieving the highest levels of success.
Two of this year's inductees were presented with the rare, perhaps romanticized opportunity to leave the game as a Stanley Cup champion after their respective teams prevailed in a winner-take-all Game 7.
But as one made an immediate decision to hang up the skates, the timing wasn't quite right for the other.
Sendoff was Bruin
Since 2001, three players who appeared in over 1,000 regular-season games opted to step away from the NHL upon winning a Game 7 in the Cup Final (according to Katie Strang, then of ESPN): Ray Bourque with the Colorado Avalanche (2001), Ken Daneyko with the New Jersey Devils (2003), and Mark Recchi with the Boston Bruins (2011).
It's the latter who's one of four former NHL forwards being honored as a 2017 inductee into the Hockey Hall of Fame, and who confirmed his retirement in an interview with NBC's Pierre McGuire during the on-ice aftermath of an emotional victory over the Canucks in Vancouver.
Recchi knew the time was right, and would have made the same call had the Bruins lost.
"I pretty much had my mind set," Recchi told theScore. "I called (former Bruin) Shawn Thornton the night before and told him it was going to be my last game the next day, so I pretty much had my mind made up.
"It was a long run, I played 110 games I think that year - something like that. I was 43. It would have taken a lot to get to where I needed to be in September. I think mentally I was at a point where I wouldn't have been able to do it."
The Cup win was the third of Recchi's career, having previously won with Pittsburgh (1991) and Carolina (2006).
Victory lap delayed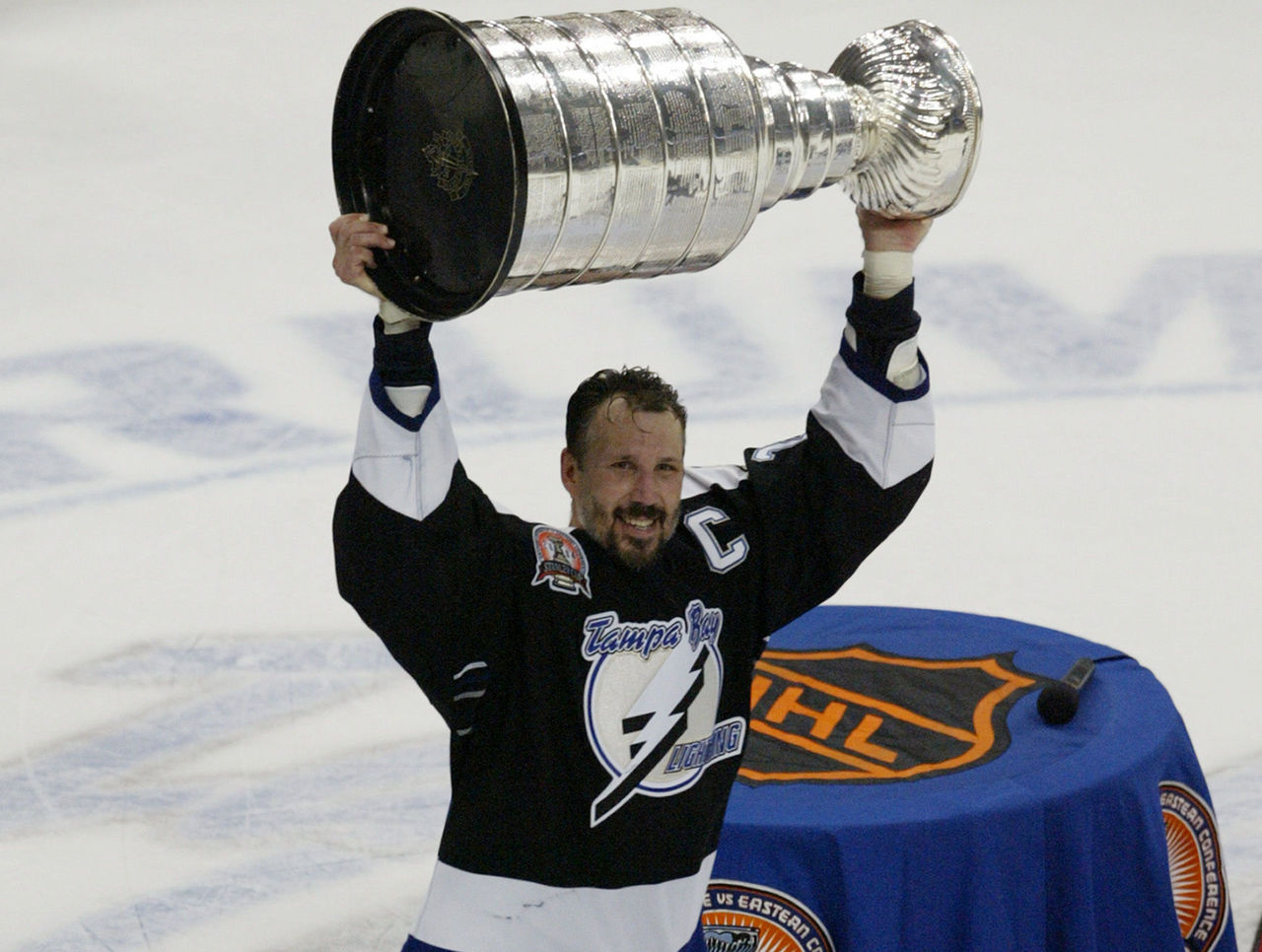 (Photo courtesy: Getty Images)
Another 2017 inductee had a chance to go out on the same note and add his name to the list above, but ultimately decided to keep playing.
Dave Andreychuk didn't have to wait as long as Bourque for his first taste from the Cup, but came pretty close. The former Tampa Bay captain reached 1,597 regular-season games before finally winning with the Lightning in 2004 - while the legendary defenseman appeared in 1,612 before getting his.
At age 40, no one would have questioned Andreychuk for calling it quits in that moment, but instead, he chose to give it another go with the Lightning, even after - or perhaps especially because - the season following the Cup win was wiped away due to a lockout.
"(It was) unfortunate for us in '05, really," he said. "We were hurt the most of any team (by the lockout), or any city. We didn't get our victory lap. We were all signed and ready to come back to battle, to get to another Stanley Cup. We didn't go to the White House. There's a lot of things that hurt us. The momentum that we created in Tampa, with all the young kids - they had never seen a two-month playoff drive before. That all kind of went away in '05."
His return lasted 42 games, during which he added six goals to the 634 previously amassed. It ended after being placed on waivers by then general manager Jay Feaster, who according to the CBC, said, "After giving ourselves half a season to evaluate and analyze, it became clear to us that David's game was not suited to the new NHL."
Andreychuk does not regret giving it another go. The regret, he says, would have come in not trying.
"Coming back in '06, there were rule changes. Basically for me, there was a conversation with both Jay Feaster and (head coach) John Tortorella, about 'we'll revisit this in a few months and see how things are going,'" he said.
"I'm glad I came back, because I now know that I was ready to retire, and I was told by my dad to do it - 'Make sure you're sure, and you're not going to sit around Christmas time and say I wish I would have tried.' I know I tried, and I was satisfied."
Recchi and Andreychuk will be officially inducted into the Hall of Fame in a ceremony on Nov. 13 in Toronto, along with fellow players Teemu Selanne, Paul Kariya, Danielle Goyette, and builders Clare Drake and Jeremy Jacobs.