Brown, Kopitar off to blazing starts after poor 2017 season
Sergei Belski-USA TODAY Sports / USA TODAY Sports
A fresh season, a new head coach, and perhaps the disappointment of a poor 2016-17 campaign appear to have lit a fire under Anze Kopitar and Dustin Brown.
The Kings are 2-0-1 to start to the season and can thank the blistering starts by their current and former captain. Through Los Angeles' first three games, each has tallied three goals and two assists, accounting for six of the team's nine markers thus far.
It's a pleasant sight for new head coach John Stevens, but following the club's 4-3 overtime defeat to the Calgary Flames, Stevens admitted - of Brown in particular - that he isn't too surprised by the early production.
"I think he's excited getting his game back on track, I think he's earned the right to play a lot of key situations," Stevens said, according to Jon Rosen of LA Kings Insider. "He and Kopi have had a long history of being good together and they've been great together all training camp. But he's a net-front guy that we want on the power play who's created a lot for us, he's playing a power game, and I think with that comes confidence.
"Obviously he scored a little bit, so that's going to fuel his confidence, but I think the bottom line is Brownie has been a real good player in the league. He's excited about trying to prove that he can still be a good player in the league, and he's playing like it."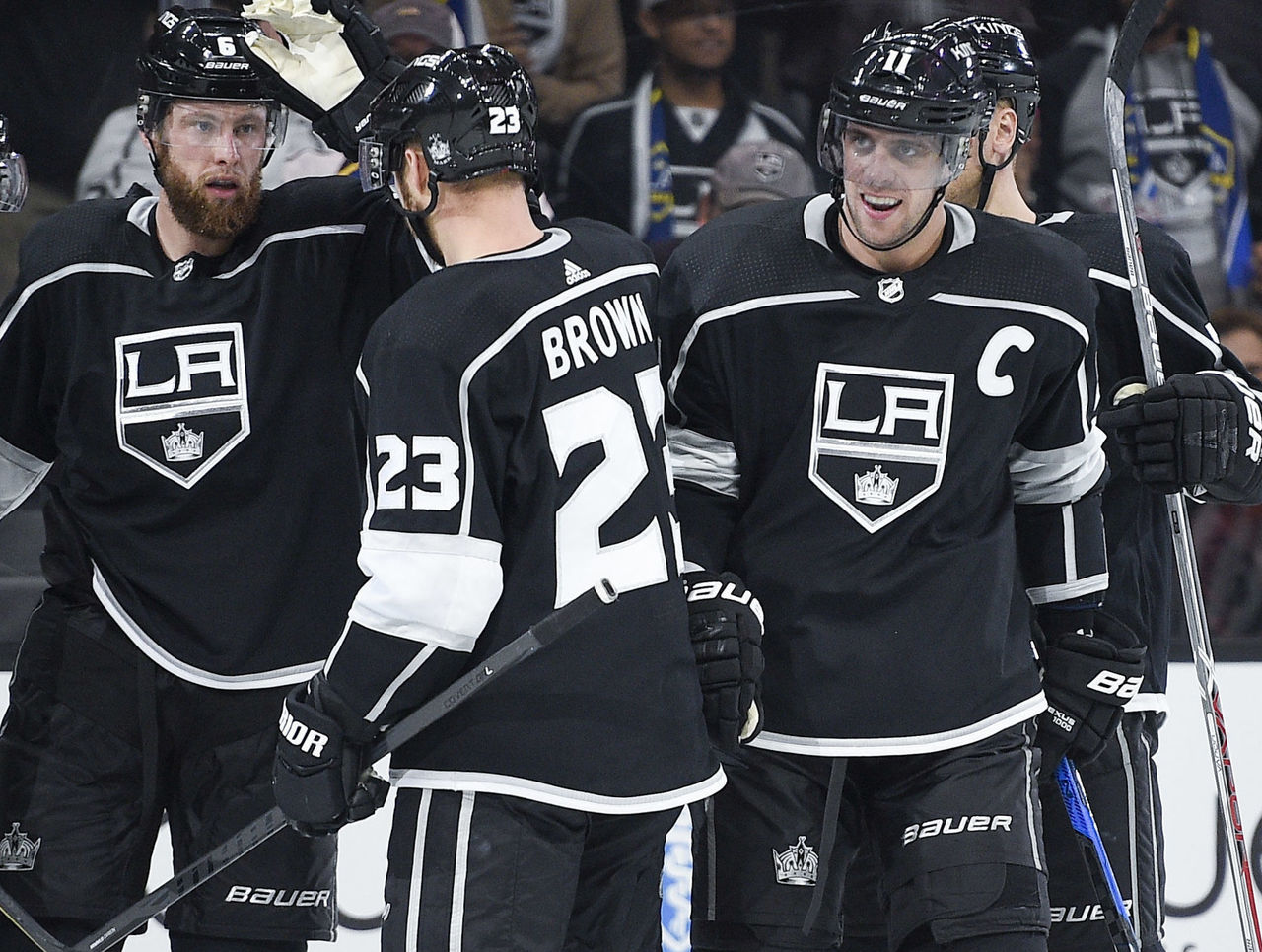 (Photo courtesy: Action Images)
Kopitar tallied just 12 goals and 52 points last year - his lowest marks in a full 82-game season. Brown, despite an improvement from the three previous campaigns, recorded just 14 goals and 36 points.
Scoring goals didn't come easy for the pair last season. Brown didn't score his third goal until Nov. 15 - 17 games in, while Kopitar needed 23 contests to notch No. 3 on Dec. 13.
Brown's early-season rebound could be attributed in part to an uptick in confidence from the coaching staff. He's averaging 19:32 of ice time per game - second among the team's forwards only to Kopitar and up from last year's average of 16 minutes. Over the previous three years, Brown averaged just 16:08 of ice time per night, 18th most on the Kings during that span.
Kopitar, on the other hand, is benefiting from shooting the puck on a more consistent basis. With 10 shots through three games, he's on pace to throw 273 shots at the opposition, which would shatter his career high of 259 in 2010.
He's converting 30 percent of his chances, but even if his shooting percentage returns to his career average of 12.2 percent, he would still finish with 32 goals - his highest mark since that 2010 season when he tallied 34.
The Kings have missed the playoffs in two of the past three years, but if Kopitar and Brown can continue to produce, a return to the postseason should be in the cards.
Comments
✕
Brown, Kopitar off to blazing starts after poor 2017 season
  Got something to say? Leave a comment below!