5 most surprising players among NHL's points leaders
Kim Klement / USA Today Sports
Presented by
Let's be clear. It's still very early in the season. Several teams have played a maximum of six games, and one (Carolina) has played only three.
Within all the games played to date, 19 players have registered at least eight points, with the scoring leader board headed by a trio of Washington Capitals - Evgeny Kuznetsov (11), Nicklas Backstrom (11), and Alex Ovechkin (10).
Among the other 16 players in that range, there are some rather surprising names. Here are five that stand out:
Mike Green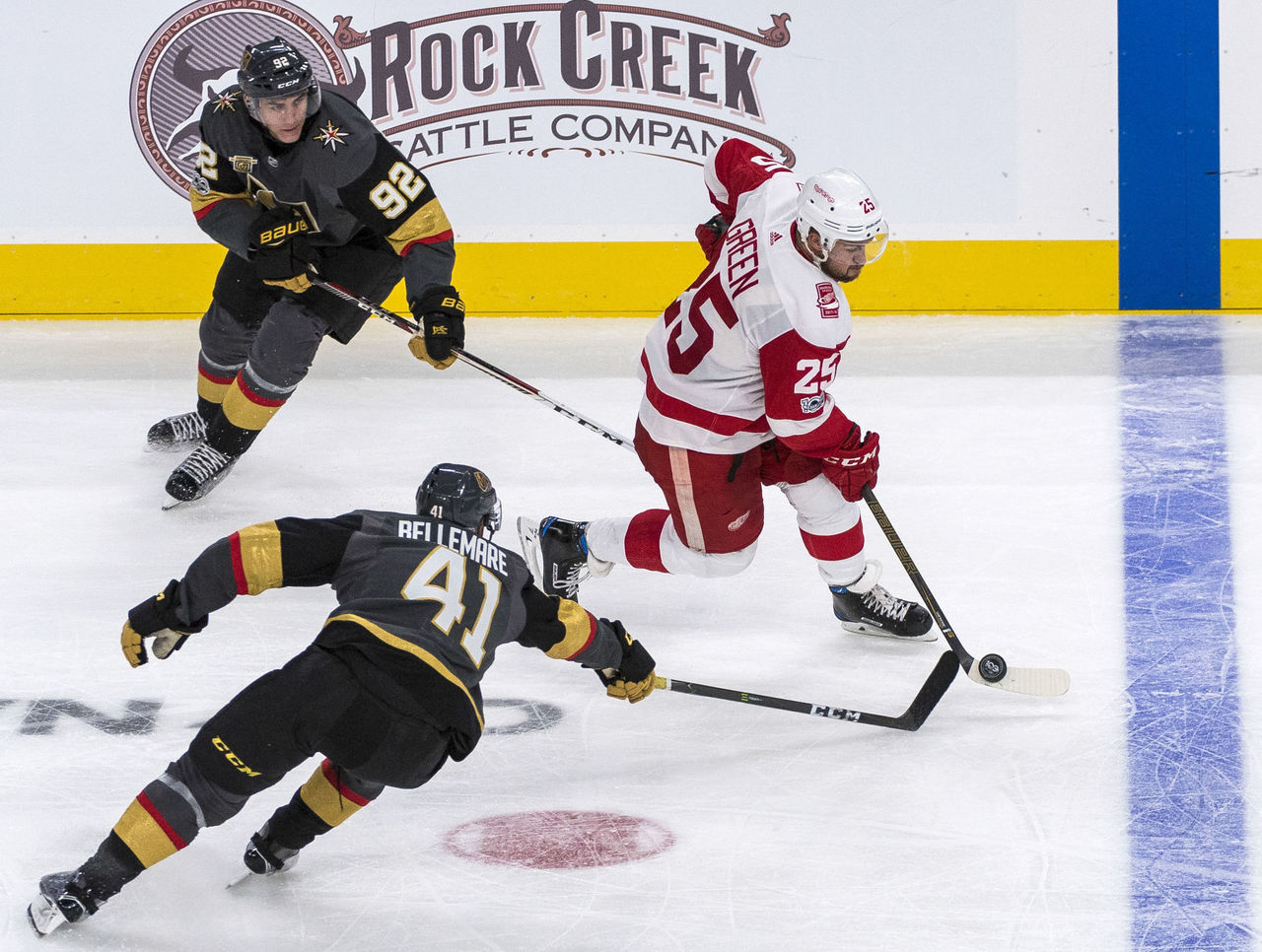 In the final year of his contract with the Detroit Red Wings, Green is proving he still has value on the blue line.
Through five games, he's recorded eight assists, four of which have come on the power play, and three serving as the primary helpers.
The 32-year-old is averaging almost 23 minutes of ice time per game and sits tied among all defensemen in points. He's also serving as a catalyst for a Red Wings team that wasn't expected to be all that competitive.
Will Butcher
The 2017 Hobey Baker award winner as the top player in men's NCAA hockey was the focus of this year's college free-agent class after choosing not to sign with Colorado, who drafted him 123rd overall in 2013.
Butcher decided to sign with the New Jersey Devils, and it's working out just fine for both parties. In five games, the rookie defenseman has matched Green's eight assists, making NHL history in the process.
Yes, five of the assists have come on the power play and only two have been primary in nature, but it's an impressive debut nonetheless.
Bryan Rust
Tied with Sidney Crosby for the Pittsburgh Penguins points lead is none other than Rust.
The winger has been given a spot among the team's top six alongside Evgeni Malkin and Phil Kessel, and his eight points (one goal, seven assists) are outpacing them both.
Rust scored 22 goals in 80 games for the Penguins between the 2016-17 regular season and playoffs, and spent time in the offseason rounding out his game.
"It's always nice to score goals and be the guy finishing, but I think being a setup man is just as important," Rust told Jason Mackey of the Post-Gazette. "That's part of my game that probably wasn't as strong as it could have been. That's something I've tried to work on."
Clearly it's paying off.
Brayden Point
The Tampa Bay Lightning are led up front by Nikita Kucherov and Steven Stamkos, but 21-year-old Point is proving depth scoring matters.
In fact, all he's done since being promoted to the NHL is put up points.
| Season | Games | Goals | Assists | Points |
| --- | --- | --- | --- | --- |
| 2016-17 | 68 | 18 | 22 | 40 |
| 2017-18 | 5 | 3 | 5 | 8 |
Another hidden gem mined from the later rounds of the NHL Draft by general manager Steve Yzerman and his staff.
Ryan Hartman
Like in Tampa, a young forward is hanging with the superstars in Chicago, namely 23-year-old Hartman.
The winger is playing on the left side of a line with Tanner Kero and Patrick Kane, and has matched the latter with two goals and six assists in eight games.
The Blackhawks have relied heavily on cheap, young talent to complement the core over the past several years, and Hartman - selected with the last pick of the first round in 2013 - is doing just that while in the final season of his entry-level contract.
(Photos courtesy: Action Images)
Comments
✕
5 most surprising players among NHL's points leaders
  Got something to say? Leave a comment below!