Look away, Detroit fans. These aren't the Red Wings you grew up on.
The Wings, of course, have been the NHL's model franchise for the better part of the last three decades, making the playoffs 25 straight times, and winning four Stanley Cups.
But Detroit went 33-36-13 last season, missing the playoffs for the first time since 1988-89. And those expecting the Red Wings to bounce back and return to their old ways next season - or anytime soon, for that matter - should think again.
Hockeytown's dry spell has only just begun.
The future isn't bright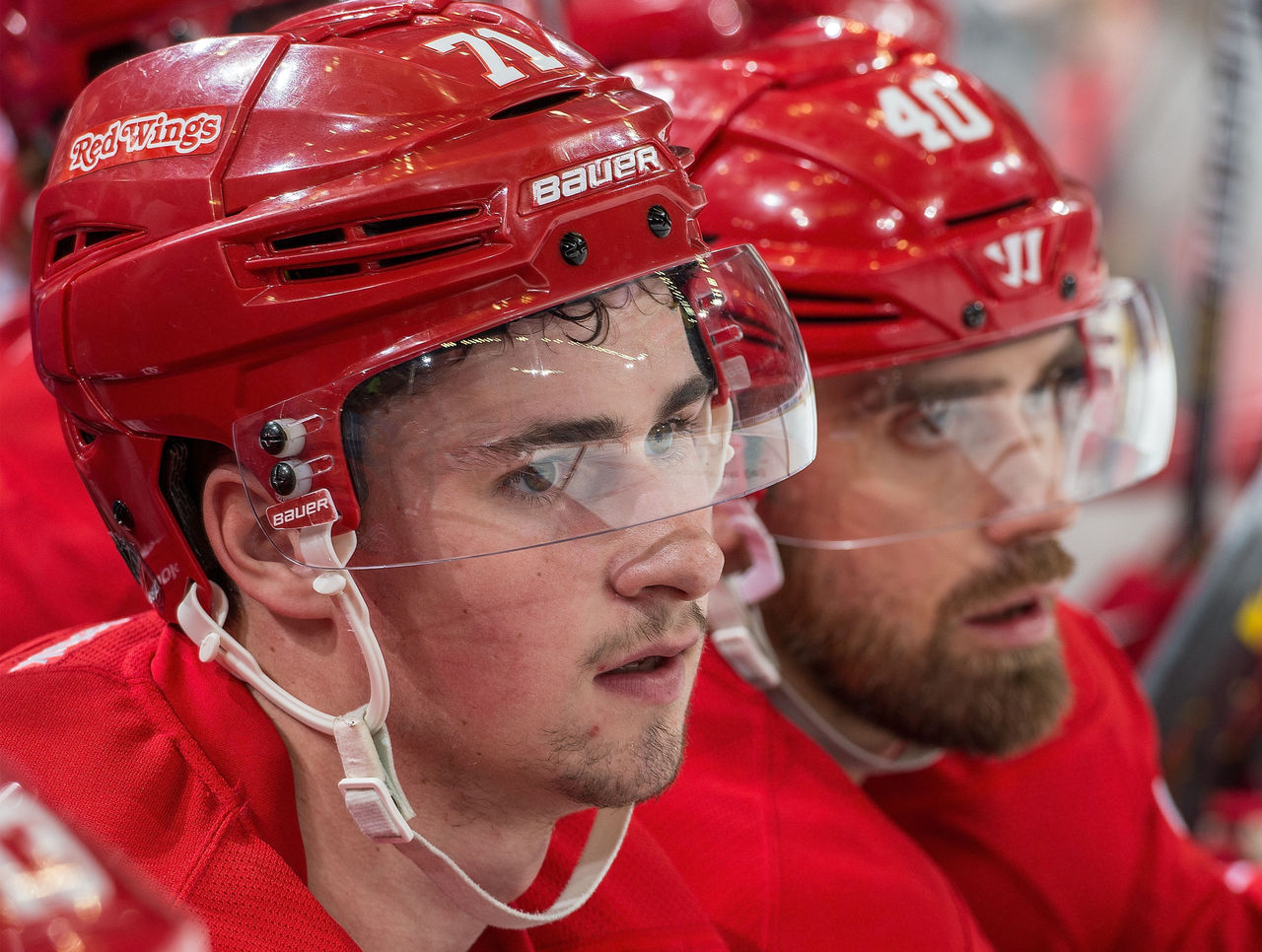 (Photo courtesy: Getty Images)
The most crucial aspect of building a successful team in today's salary cap environment is establishing a strong core, paying those players, and then adding complimentary, recyclable pieces around them. The Chicago Blackhawks and Pittsburgh Penguins are prime examples.
The Red Wings' core, however, doesn't seem all that promising.
The Hockey News' Dominik Luszczyszyn recently ranked Detroit's core 29th out of 30 teams in its "Future Watch" edition (Vegas' roster wasn't announced yet), which involved picking three forwards, two defensemen, and a goalie from each club.
Detroit's 2020 core of Anthony Mantha, Dylan Larkin, Evgeny Svechnikov, Danny DeKeyser, and Mike Green - no goalie was chosen - doesn't inspire much confidence in Luszczyszyn.
"They don't have many impressive defense prospects," Luszczyszyn explained. "There was Xavier Ouellett, Nick Jensen, and Ryan Sproul, but they're not core guys by any means. Green (already 31 and with only one year left on his contract) probably isn't a core guy either. If any of those three become as good as Mike Green they'll be fine."
There are as many question marks with the forwards, Luszczyszyn believes, beginning with Larkin, who just turned 21 on July 30.
"His first 40 games (of his rookie season), he was really good. Then the second half of the season he was almost invisible," Luszczyszyn said. "Then last season, a lot of people said it was a down year, but it was really a continuation of what he was in the second half (of his rookie season).
"So you have to wonder, will he be better than that? Or was the first 40 games of his career an aberration? Or can he get back to that level? It's still early in his career I think. He has the speed, he has the right tools, but it's still a little worrying to see that happen to him at such a young age."
| Stat | First 40 games | 120 games since |
| --- | --- | --- |
| GPG | 0.35 | 0.217 |
| APG | 0.35 | 0.192 |
| PPG | 0.70 | 0.408 |
| SPG | 2.83 | 2.38 |
| +/- | +23 | -40 |
As for the others, Mantha, a big, gangling winger, scored 17 goals in 60 games with the Wings last season, and looks to be a legitimate top-six forward.
Svechnikov is Detroit's top prospect. He succeeded in his first AHL season a year ago, but with only two NHL games under his belt, the 19th overall pick from the 2015 draft is far from a finished product.
DeKeyser, 27, is making $5 million a season for the next five years, but just because he's being paid like a core player, it doesn't necessarily mean he is one.
"Two years ago when he got bumped into (a top pairing) role he wasn't good, but he wasn't terrible either," Luszczyszyn said. "But last year was a train wreck, he was legitimately, probably one of the worst defensemen in the league.
"But was that because he was too high in the lineup, or because his skills have deteriorated? I don't think he deserves the contract he got, and it's a little scary to think he's got five more years at $5 million. He's probably not a first pairing defenseman, he's probably a number three or a number four. Even then, is he a good three or four? I don't know."
The good, the bad, and the ugly contracts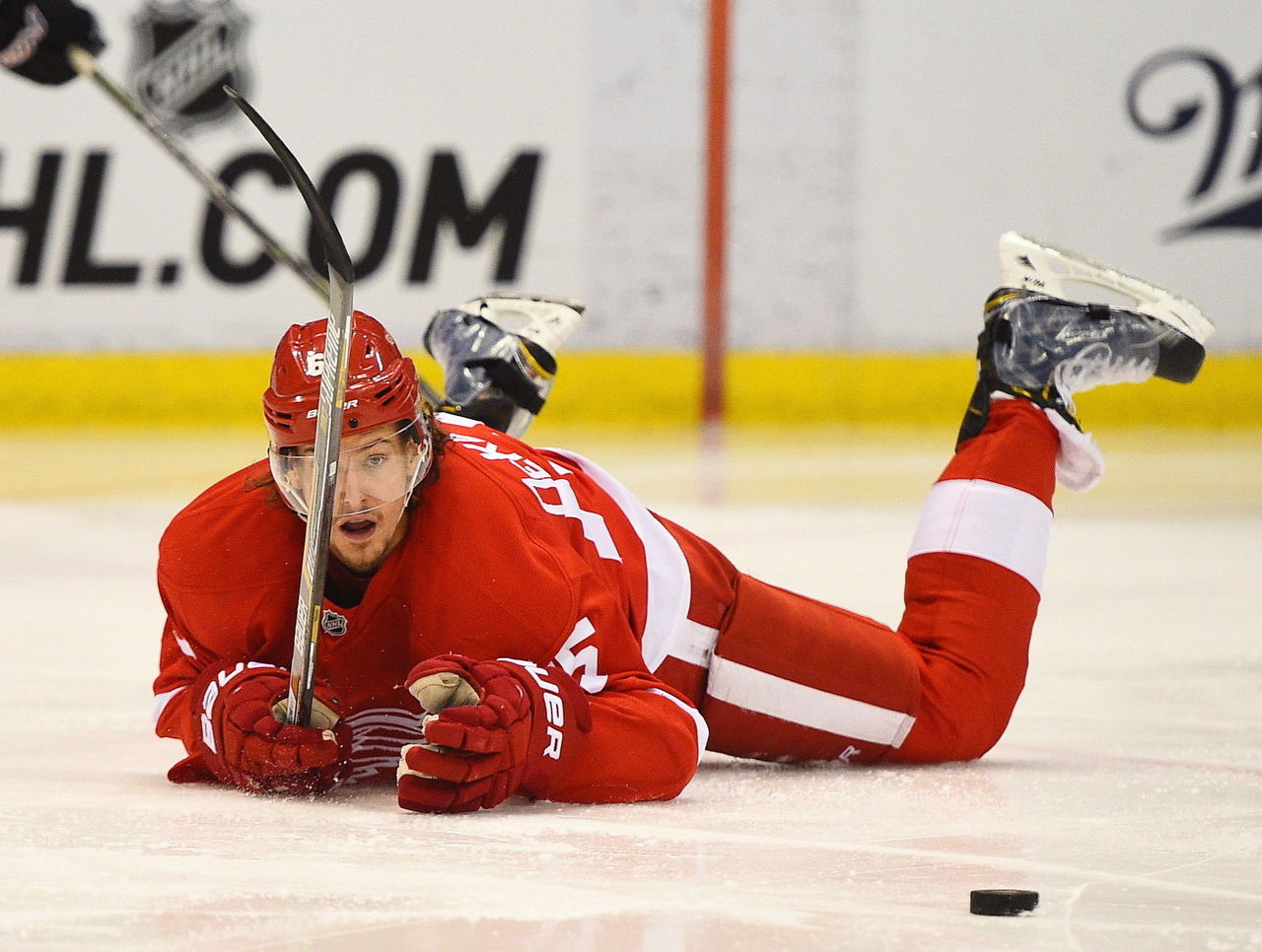 (Photo courtesy: Action Images)
The Red Wings are currently $3 million over the salary cap, and are tied up with many long-term contracts.
The following players are signed for at least the next three seasons on non-entry-level deals:
| Player | Age | Cap hit | Years left |
| --- | --- | --- | --- |
| Henrik Zetterberg | 36 | $6.083M | 4 |
| Tomas Tatar | 26 | $5.3M | 4 |
| Frans Nielsen | 33 | $5.25M | 5 |
| Justin Abdelkader | 30 | $4.25M | 6 |
| Johan Franzen* | 37 | $3.95M | 3 |
| Darren Helm | 30 | $3.85M | 4 |
| Luke Glendening | 28 | $1.8M | 4 |
| Danny DeKeyser | 27 | $5M | 5 |
| Jonathan Ericsson | 33 | $4.25M | 3 |
| Trevor Daley | 33 | $3.16M | 3 |
*Franzen will be placed on long-term injured reserve, so his contract doesn't count against the salary cap.
The Red Wings are also still paying for the buyout of Stephen Weiss - $2.567 million next season, and $1.67 million per year for three seasons thereafter.
Making matters worse, Detroit has a league-high 10 players who have some form of no-trade clause: Nielsen, Abdelkader, Helm, Green, DeKeyser, Ericsson, Daley, Jimmy Howard, Niklas Kronwall, and Gustav Nyquist. Both Kronwall and Nyquist have two years remaining on their contract at $4.75 million per year.
How the Red Wings plan to get out from under this cap conundrum is unclear, but they're unlikely to be bailed out by a huge spike in the league's salary cap anytime soon.
"Where the NHL salary cap goes from here is anyone's guess," said Dominik Zrim, a CBA and salary cap analyst at CapFriendly, an independent compiler of NHL contract information.
"That being said, with (the) ceiling so closely tied to the league's revenue, and based on the actual growth that has been reported in the last few years, all signs point to increases in line with what we've seen since the 2014-15 season."
The NHL's salary cap progression since 2014-15:
| Year | Salary Cap | Increase from previous year |
| --- | --- | --- |
| 2014-15 | $69M | -- |
| 2015-16 | $71.4M | 3.48% |
| 2016-17 | $73M | 2.24% |
| 2017-18 | $75M | 2.74% |
With an average annual increase of less than 3 percent over the last three seasons, it doesn't seem as though the bulk of Detroit's long-term contracts will ever be deemed palatable.
Has Ken Holland lost his mojo?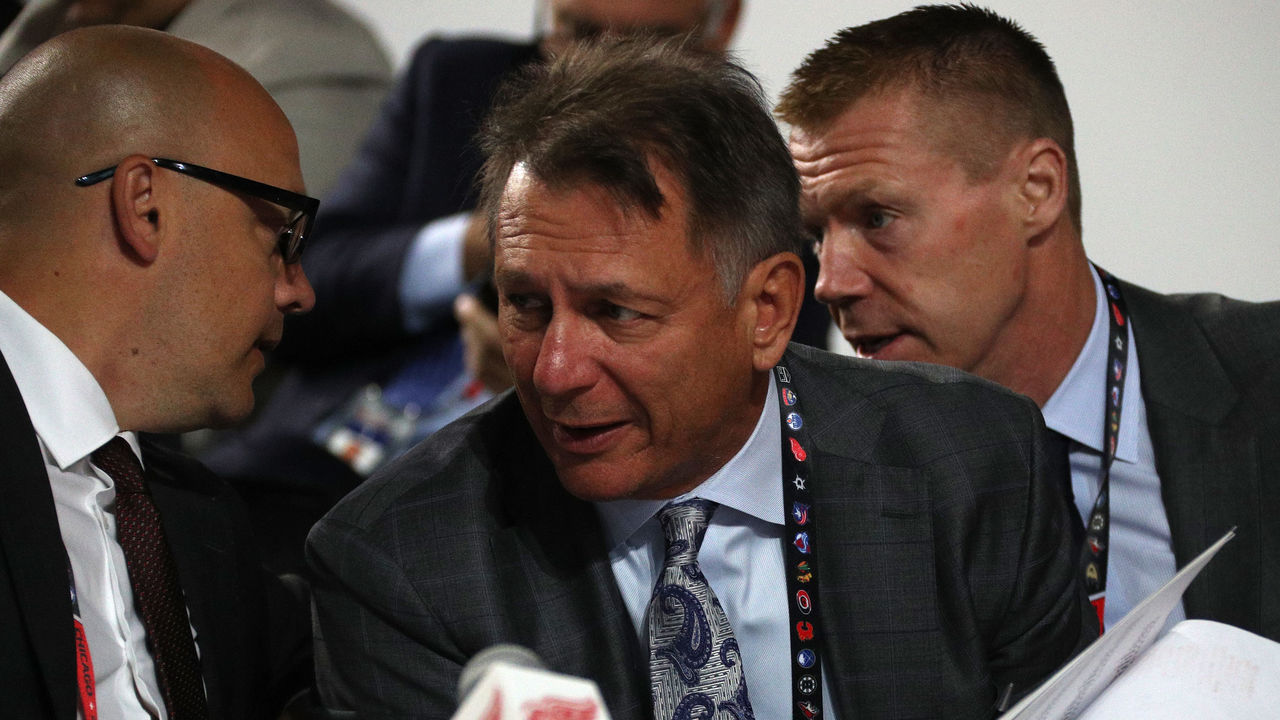 (Photo courtesy: Getty Images)
Holland is entering his 20th season as general manager of the Red Wings and his 34th year with the organization. He was the mastermind behind their incredible run of success, most notably making two of the best draft picks of all time: Pavel Datsyuk, 171st overall in 1998, and Zetterberg, 210th overall in 1999.
As former amateur scout Grant McCagg sees it, the Wings' incomparable run of winning was no accident, but a little serendipity never hurt.
"Their success had a lot to do with their amateur scouting," said McCagg, who worked for the Montreal Canadiens from 2008-10. "I don't know all of the names, but obviously Jim Nill (current Dallas Stars general manager) was an integral part of that group.
"Some of it has to do with luck ... if they really thought Datsyuk and Zetterberg were all that and a bag of chips, they'd have picked them a lot higher."
It appears Detroit's luck has run out.
Speedy forward Andreas Athanasiou, a fourth-round pick in 2012, has been Detroit's only noteworthy draft pick outside the first round in the 2010s. Obviously there is still time for these players to develop, but during the 2000s, the Red Wings were seemingly plucking a quality NHLer beyond the first round every draft.
In 2009, Holland was listed at No. 2 on Sports Illustrated's top GMs/executives (all sports) of the decade. While being the face of a front office leads to high praise when the team succeeds, scrutiny will follow when the team begins to falter. Red Wings fans aren't exactly lined up outside Holland's home with pitchforks, but they clearly aren't happy.
Detroit ranked 29th out of 31 teams in a recent Hockey News survey which asked 1,300 participants to grade each team's front office in six categories: roster building, cap management, drafting and developing, trading, free agency, and their overall vision.
"I think (Holland) had leeway when he started to make these moves," said Luszczyszyn, who spearheaded the study. "Now, three or four years later, I don't think he has that leeway anymore among fans. Maybe he does in the front office, (but) I don't think (fans) are really confident in what he's doing."
Can the mess be cleaned up?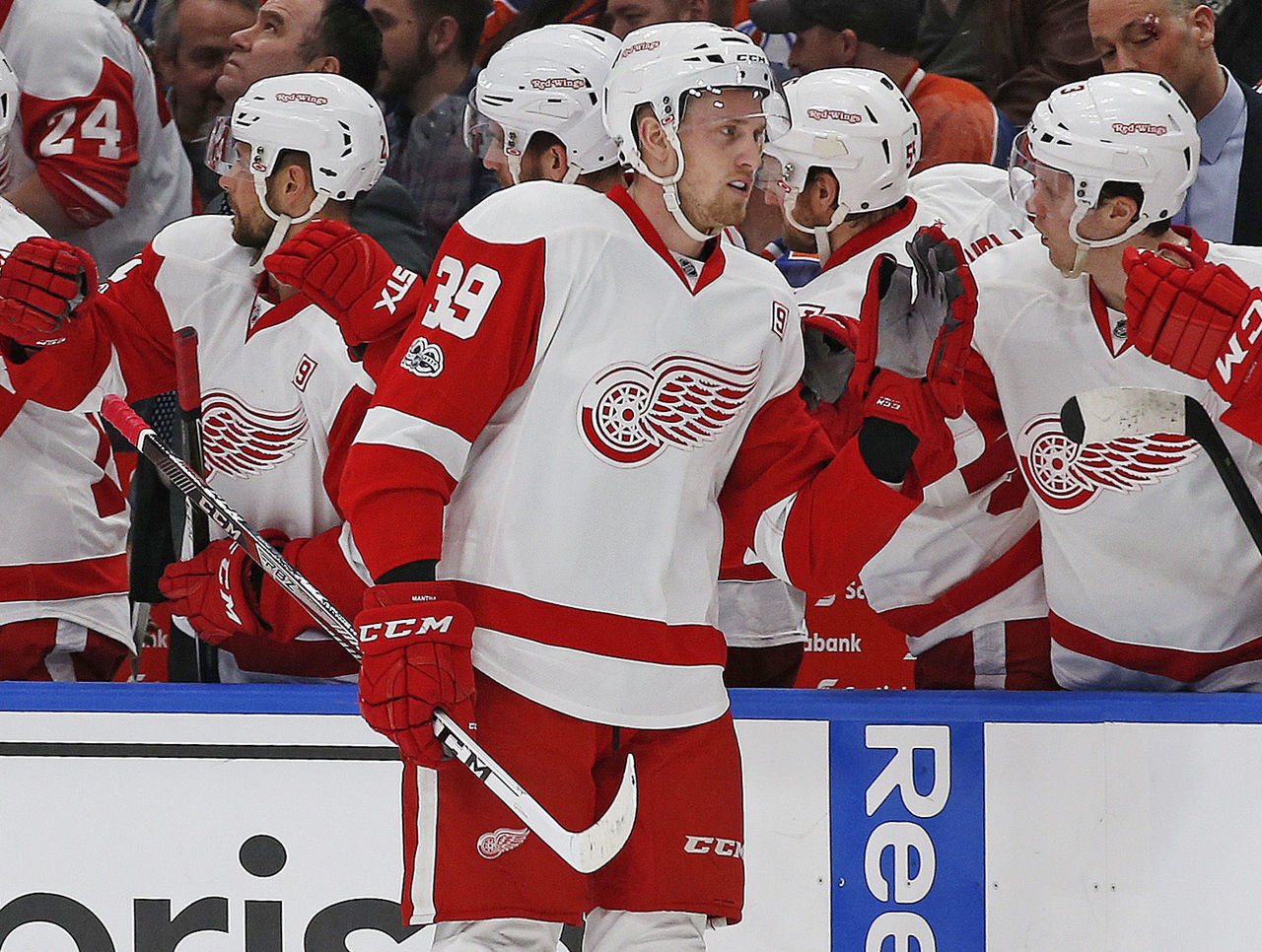 (Photo courtesy: Action Images)
There might be pressure from ownership to attempt to remain competitive given that the Red Wings are moving into a brand new arena this season, but that's often how teams get stuck in a lull of mediocrity.
"I really just think the answer is as easy as be bad," Luszczyszyn said. "You were good for 26 years, you probably have some leeway. I don't know if it will be a long rebuild or a quick rebuild, but they have the pieces in place where it shouldn't take that long, but you never know with these things right?"
The back end is clearly the team's most glaring weakness, but it has proven to be a hard position to address league-wide in recent years.
"The defense is tough because it doesn't seem like they have anyone coming through the pipeline either," Luszczyszyn said. "Maybe another terrible year, which is likely, will get them a good draft pick, and they can get a stud."
As seen with the Colorado Avalanche this past season, finishing with the worst record in the league doesn't necessarily result in a top-three pick. However, it might be their only chance at acquiring a top-pairing defenseman.
"It's hard to trade for those guys (core defensemen)," explained Luszczyszyn. "I mean, Taylor Hall gets you Adam Larsson, and the Red Wings don't have anyone like Taylor Hall."
Unlike most teams that begin a rebuild, Detroit will be in tough trading its current assets for draft picks and prospects, given that so many either have a no-trade clause, a significant cap hit, or are tied up long-term. Some players even come with all three types of baggage.
With many roadblocks in the way of a clean rebuild, a league full of parity, and an Atlantic Division stocked with young, talented teams, the Red Wings could be bottom-feeders for a very, very long time - something the organization hasn't endured since the '70s and early '80s.