Once again, the Pittsburgh Penguins are Stanley Cup champions.
With a 2-0 victory over the Nashville Predators on Sunday night in Game 6, the Penguins completed their quest to repeat, and what a ride it was.
Below, in no particular order, are five of the most memorable moments from Pittsburgh's second straight triumph.
Crosby's breakaway
The hockey world was yearning for Sidney Crosby to find the back of the net in the Stanley Cup Final, and he delivered a beauty to break his slump.
Without a goal in the finals since 2009, Crosby burned Pekka Rinne with a perfect backhand deke in Game 4. Although it came in a losing effort, Sid's highlight-reel tally was the turning point in his Herculean Cup Final performance that resulted in his second Conn Smythe trophy.
Kunitz ousts Ottawa
The road to glory is never easy, and everything was on the line in Game 7 of the Eastern Conference Final.
In that epic contest versus the Ottawa Senators, Chris Kunitz slapped home his second goal of the game in double overtime to push the Pens through.
Fleury blanks Caps in Game 7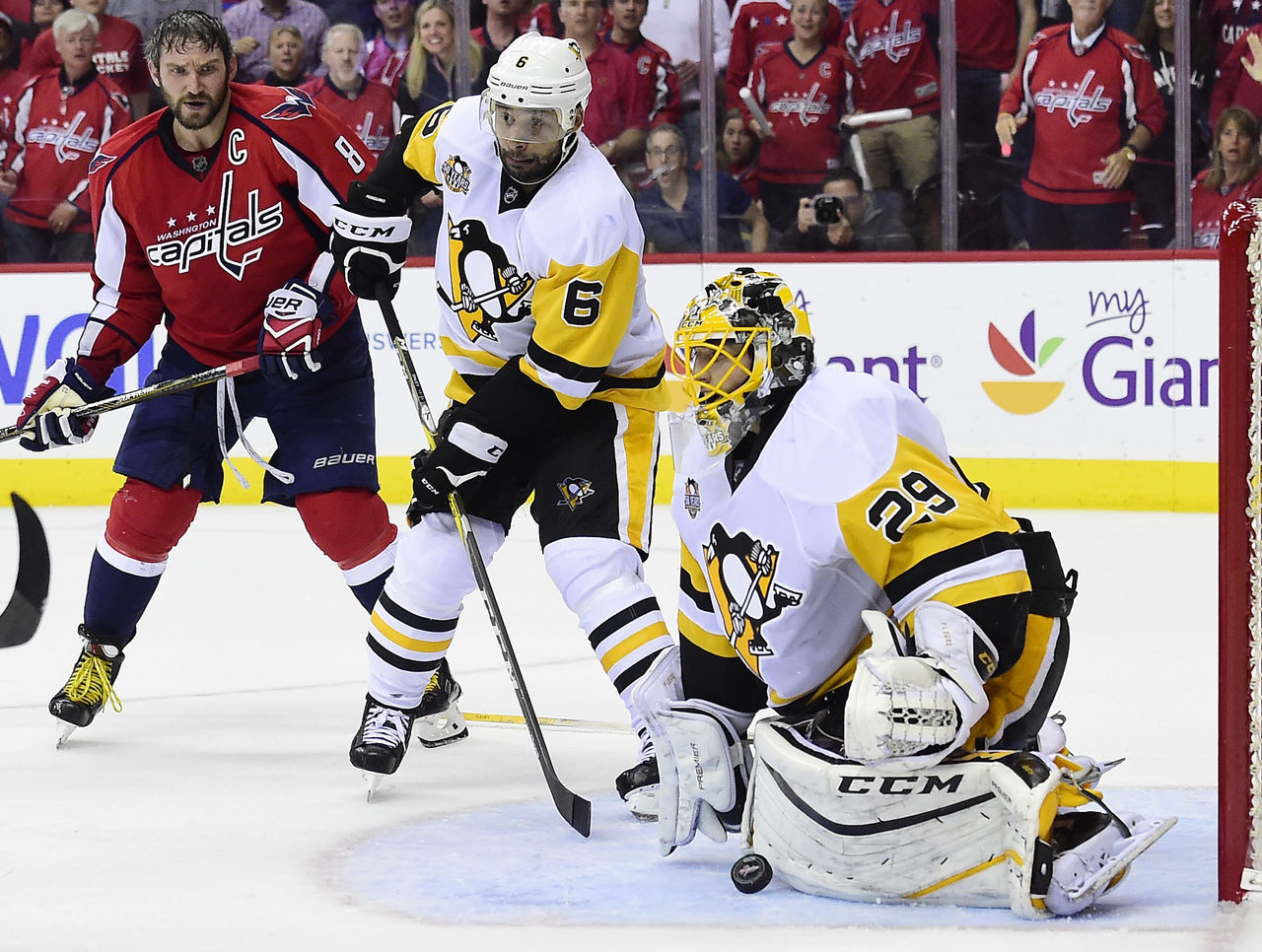 (Photo Courtesy: Getty Images)
After squandering a 3-1 series lead, the Penguins traveled back to Washington looking to oust their rival Capitals on their home ice in Game 7 (again).
The Caps carried all the momentum into the series-deciding game, but the Penguins' longtime rock stole the show. Marc-Andre Fleury made 29 saves for a shutout victory, rising to the occasion after allowing a combined nine goals in the previous two games.
Fleury would only earn one more win during the Penguins' march to the Cup, but the team couldn't have done it without him and his shutout in D.C.
Kessel and Malkin's mini-feud
Tensions were high on Pittsburgh's bench during Game 2 of the Ottawa series, as Phil Kessel and Evgeni Malkin were caught in a bit of a disagreement.
As the Penguins struggled to score, the charismatic - but frustrated - duo got into it about offensive strategy, and the clip went viral.
Of course, the dispute stemmed only from the heat of the moment, and the linemates quickly overcame their disagreement en route to each finishing the playoffs as a top-three scorer.
Hornqvist's Cup-clinching tally
This was the crowning moment.
It came late - very late - but Pens forward Patric Hornqvist broke the Game 6 shutout and etched his place in NHL history by delivering the game-winning goal at 18:25 of the third period.
Hornqvist clinched the victory against his former team, and did so while playing with a broken finger, no less.