Shayne Gostisbehere and the Philadelphia Flyers agreed on a six-year, $27-million extension Friday (with a $4.5-million cap hit), locking up the 24-year-old defenseman through the 2022-23 season.
After Gostisbehere racked up 17 goals and 29 assists in an enthralling 64-game rookie campaign, the Flyers' dynamic rearguard dipped to seven goals and 39 points in 76 contests in 2016-17, a regression that likely saved Philadelphia's brass a pretty penny.
Gostisbehere's new deal is great for the Flyers' books, but since he's the first of numerous defensemen needing fresh contracts to sign this offseason, it also sets a precedent for what comparable players will request - and ultimately earn - in negotiations this summer.
For reference, here are the contract figures and stats of four notable would-be restricted free-agent defensemen that signed extensions in 2016.
| Player | Team | Age | Career P/GP | Contract |
| --- | --- | --- | --- | --- |
| Morgan Rielly | Maple Leafs | 23 | 0.38 | 6Y/$30M |
| Jacob Trouba | Jets | 23 | 0.38 | 2Y/$6M |
| Hampus Lindholm | Ducks | 23 | 0.37 | 6Y/$31.5M |
| Rasmus Ristolainen | Sabres | 22 | 0.40 | 6Y/$32.4M |
Let's look at three prominent RFA blue-liners and how Gostisbehere's pact might affect them.
RFAs
Colton Parayko
Team: St. Louis Blues
Age: 24
2016-17 Points: 35
'16-'17 Cap Hit: $858,750
Parayko is the Blues' main priority this offseason, and using Gostisbehere's deal as a reference point should earn him some extra dough.
Though Gostisbehere's offensive numbers look better on paper, Parayko was incredibly snakebitten this season, firing 206 shot attempts before finding the back of the net for the first time in January. Parayko holds a significant size advantage over Gostisbehere and is superior at both shot generation and suppression while commanding more ice time. A deal worth $5 million-$6 million annually could very well be in the works.
Justin Schultz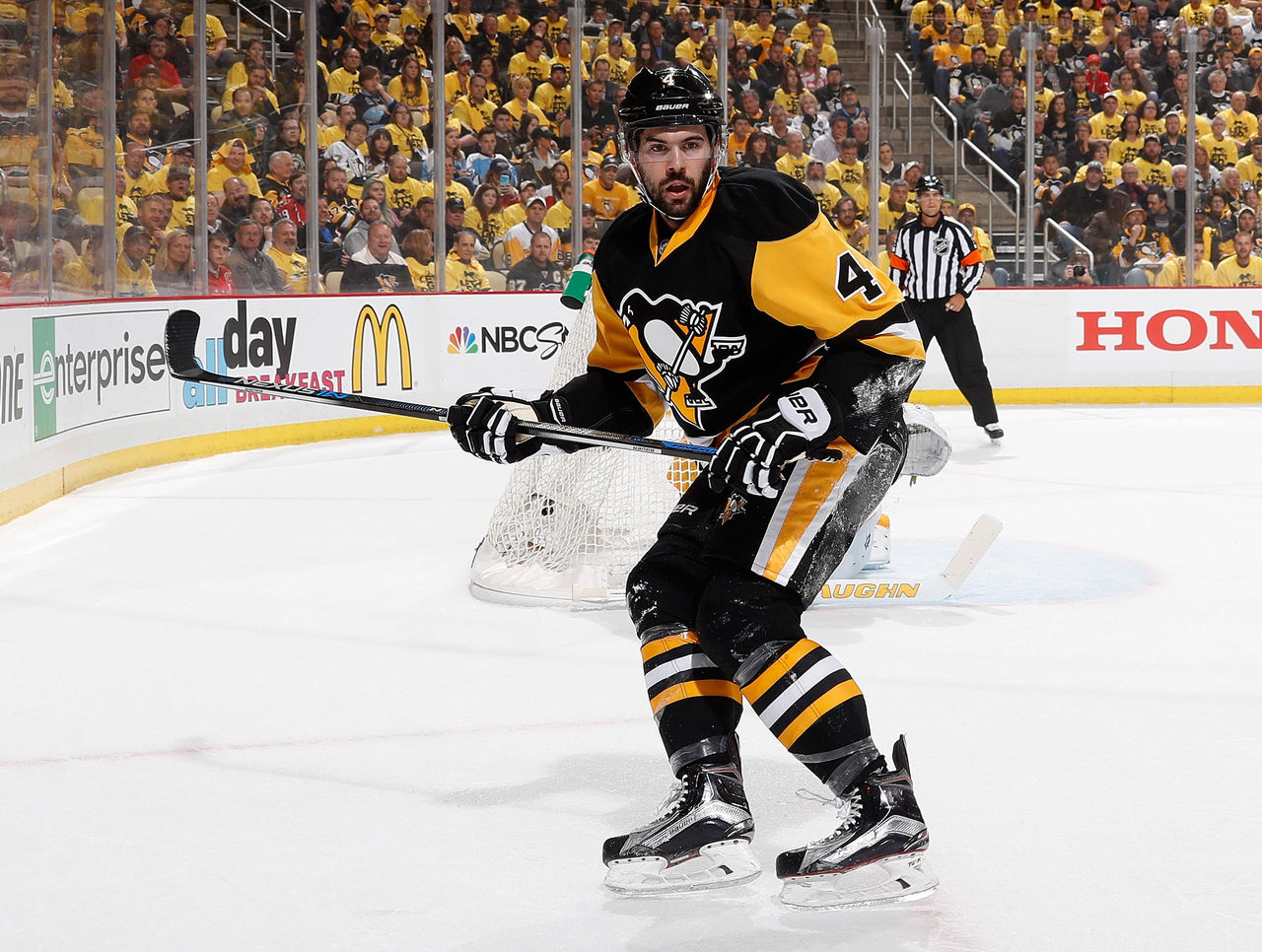 (Photo courtesy: Getty Images)
Team: Pittsburgh Penguins
Age: 26
2016-17 Points: 51
'16-'17 Cap Hit: $1.4M
Schultz presents an interesting case. After arriving in Pittsburgh to help aid the Penguins' 2016 Cup run, the Oilers castoff earned a one-year deal and finished seventh among all defensemen in scoring with 51 points. He's also played a significant role in leading Pittsburgh back to the final, where the team sits one win away from a second consecutive championship.
Schultz has proven himself more than capable of filling a top-four role during his Penguins tenure, and if decent offensive numbers can fetch Gostisbehere $4.5 million, it's easy to imagine Schultz might be after a similar number.
Dmitry Orlov
Team: Capitals
Age: 25
2016-17 Points: 33
'16-'17 Cap Hit: $2.57M
Change is on the horizon in Washington, and Orlov has a chance to parlay his career season into a significant raise.
Orlov's offensive totals don't rival Gostisbehere's, but with Kevin Shattenkirk and Karl Alzner bound to test the free-agent market, the Russian's role is destined to grow within the Capitals' scheme. He was second among Washington defensemen with 24 points at five-on-five this season, and owned the group's highest Corsi For rating per 60 minutes at 59.01.
With underlying numbers worthy of top-pairing deployment and a prospering offensive game, Orlov's new contract is a top priority for general manager Brian MacLellan. The Capitals might be wise to write him a cheque similar to Gostisbehere's now, rather than risk forking over even more money down the road.