5 bold predictions for the Stanley Cup Final
Eliot J. Schechter / National Hockey League / Getty
Presented by
Two teams, one stunning trophy.
The Stanley Cup Final between the Pittsburgh Penguins and San Jose Sharks begins Monday night in Pennsylvania. Here are five surefire predictions for what will be a very entertaining series.
Sharks in 6
The Sharks will emerge victorious in what will be a tight six-game affair, winning the Stanley Cup in San Jose. How's that for exorcising a generation's worth of demons?
There's more. Four of the six games will be decided by one goal, and we're in for at least two overtime contests.
Joe Thornton - and his beard - will raise the Stanley Cup. He'll get it second, after captain Joe Pavelski lifts it toward the heavens. Then Patrick Marleau. And Brent Burns. Yes, in that precise order.
Fleury will start at least 1 game
Matt Murray's been incredible, and his story is sensational, but the Penguins will turn to Marc-Andre Fleury in the crease at least once in the final.
It won't be because Murray's playing poorly. Think back to the third-round series between the Sharks and St. Louis Blues. After being shut out in Game 2 and 3, Blues head coach Ken Hitchcock started Jake Allen in Game 4 over Brian Elliott - and it worked. The Blues responded, scoring six goals. They scored a combined seven in the series' other five games.
The Sharks are going to frustrate the Penguins much like they did the Blues, and Pittsburgh head coach Mike Sullivan will be forced to play one of his few remaining hands - the desperation goalie change.
Burns will win the Conn Smythe
The Sharks have been paced by Logan Couture and Joe Pavelski so far in the postseason. Couture leads the NHL with 24 playoff points, while Pavelski is second with 22. But it'll be Burns who will lead both teams in Cup Final scoring, and he'll win the Conn Smythe Trophy in the process.
Burns has been electric through three rounds, his 18 points third in the league behind his teammates. But The Most Interesting Man in Hockey is about to hit another gear.
Malkin will explode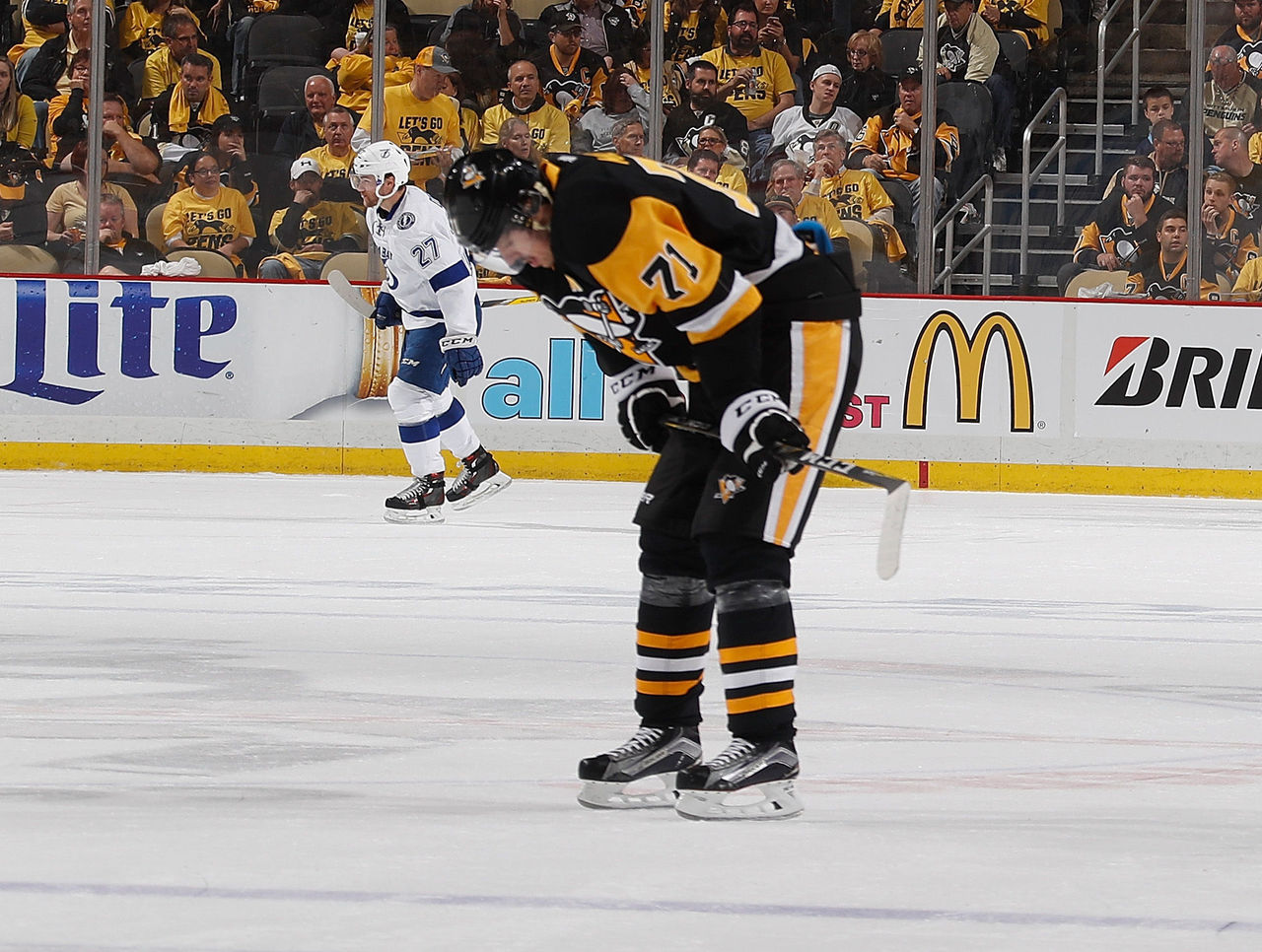 Evgeni Malkin has 15 points in 17 spring games, but only four goals. He's going to score at least that many in the Cup Final.
Geno scored only once in six games in the second round, and only once in seven games against Tampa Bay. He put 17 pucks on net against the Washington Capitals, and had 27 shots against the Lightning.
Malkin's shooting 7.4 percent in the postseason. That's going to change in a big way over the next two weeks.
You will be entertained
These are two excellent teams. There are marquee players up and down both rosters. It's going to be one hell of a series. The pace will be high. Both teams can skate. The speed will blow you away.
Everywhere you look, there's a storyline. Marc-Edouard Vlasic shut down Vladimir Tarasenko; can he do the same to Sidney Crosby? Can Justin Schultz actually contribute to a Cup-winning defense corps? Will Martin Jones ever begin playing like a first-year No. 1 goalie who made his first career playoff start a few weeks ago? Will an egregious World Cup snub motivate Phil Kessel? Will Matt Cullen, who's played 100 games this season, eventually look like a 39-year-old out there?
Bottom line: We're in store for one of the more entertaining Stanley Cup Final series in recent memory. You're not going to want to miss it.
Comments
✕
5 bold predictions for the Stanley Cup Final
  Got something to say? Leave a comment below!