6 NFL teams already facing nightmare seasons
Julian Catalfo / theScore
The 2023 NFL season is just two weeks old, but that doesn't mean it's too early for some teams to begin panicking.
Here are six clubs already staring at the potential of a full-on implosion.
New York Giants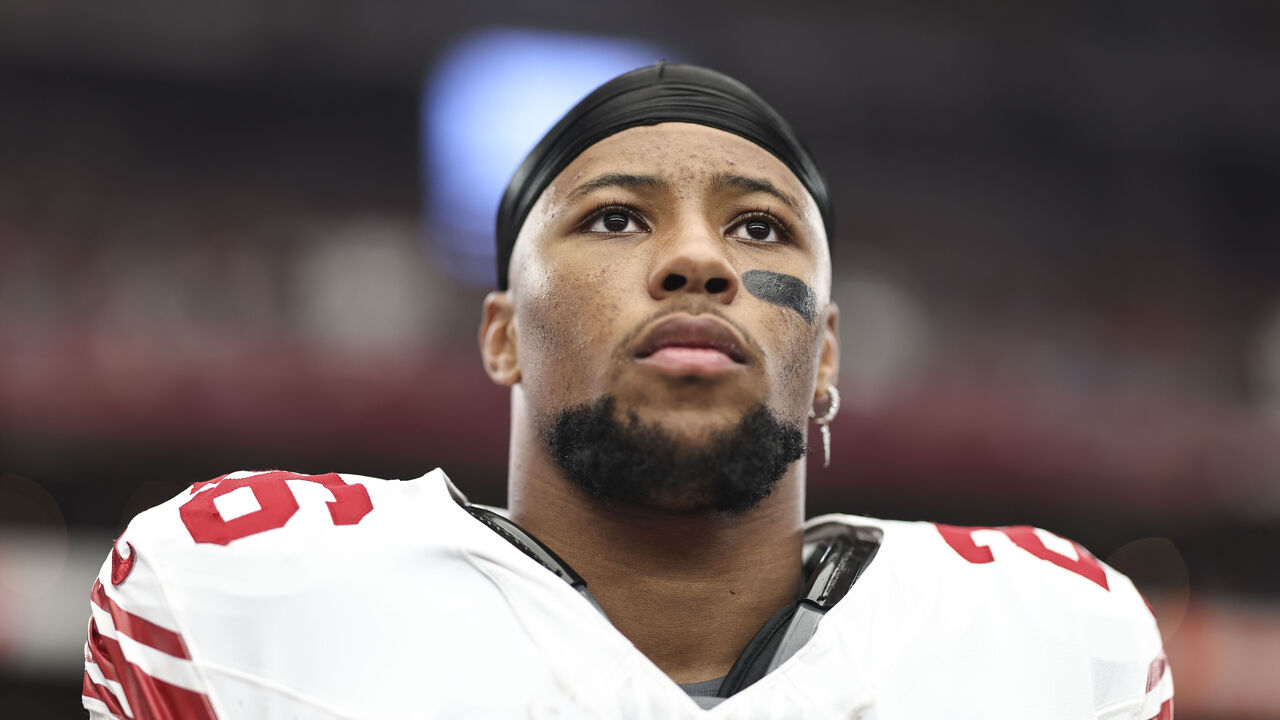 The Giants are an even .500 entering Week 3, but it has to be one of the ugliest 1-1 records we've seen in quite a while. It's hard to picture anything but a doomsday scenario for New York - a playoff team last season - after the franchise struggled mightily through the first two weeks and is now facing the long-term absence of its biggest superstar, Saquon Barkley.
Barkley is reportedly expected to miss the next three weeks with an ankle sprain suffered in the closing stages of the Giants' Week 2 win over the Arizona Cardinals. The 26-year-old has been a vital part of the offense, tallying 155 yards from scrimmage and two of the team's four touchdowns. Yet, even with Barkley, the Giants have been lucky to get to 1-1, begging the question: How will they stay afloat without him?
The Giants' upcoming schedule isn't pretty, either. Their next four opponents are the San Francisco 49ers, Seattle Seahawks, Miami Dolphins, and Buffalo Bills. Three of those four games are also on the road. Even if Barkley was healthy, it wouldn't be unfathomable to picture an 0-4 run in the next four weeks. After all, this is the same Giants team that was walloped 40-0 by the Dallas Cowboys at home in Week 1 and then fell behind 20-0 to a Cardinals team led by journeyman quarterback Joshua Dobbs before squeaking by 31-28 after a gigantic second-half comeback.
It's going to take a monumental effort from Daniel Jones, who's already thrown three interceptions after tossing just five total last year, to offset the loss of Barkley. It might not matter. With or without their star running back, regression may catch up to the Giants. New York has struggled and looked like a shell of its 2022 self, even with Barkley on the field. It might be wishful thinking to imagine the Giants being any better relying on Jones and a weak wide receiver group during their upcoming stretch.
Cincinnati Bengals
The Bengals are 0-2 - again. History says there's no reason to panic about that, considering they started with an identical record last season and a 1-1 mark in 2021. Those two years ended with a conference championship run and a Super Bowl appearance, respectively. But there are a lot of concerning factors foreshadowing that it might not be so easy for Cincinnati to weasel its way out of an early-season hole this time around.
The biggest question mark surrounds the health and play of Joe Burrow. The star quarterback is no stranger to slow starts over his career, but 2023 has been a new low as he's posted career-worst marks in multiple categories, with the most worrying figures being completion percentage and yards per attempt. That may also be negatively affecting Burrow's talented pass-catchers, who are averaging an NFL-worst 2.7 yards before contact per catch, according to Pro Football Reference.
Burrow over the first two games of a season:
| Year | CMP % | Yards | TDs | INTs | Y/A | Passer Rating |
| --- | --- | --- | --- | --- | --- | --- |
| 2023 | 56.9 | 304 | 2 | 1 | 4.2 | 70.6 |
| 2022 | 64.0 | 534 | 3 | 4 | 6.0 | 73.1 |
| 2021 | 68.4 | 468 | 4 | 3 | 8.2 | 94.8 |
| 2020 | 61.9 | 509 | 3 | 1 | 5.2 | 81.5 |
A calf injury that sidelined Burrow for much of training camp is the likely culprit for some of these issues, as he hasn't looked his usual self. However, it's impossible to say when he'll be completely free of the injury after reaggravating it at the end of a Week 2 loss to the Baltimore Ravens. If this is a lingering issue, the Bengals may see their biggest asset reduced to a mere pawn. That's just not a recipe for success for an 0-2 team playing in an ultra-competitive conference and violent division.
New York Jets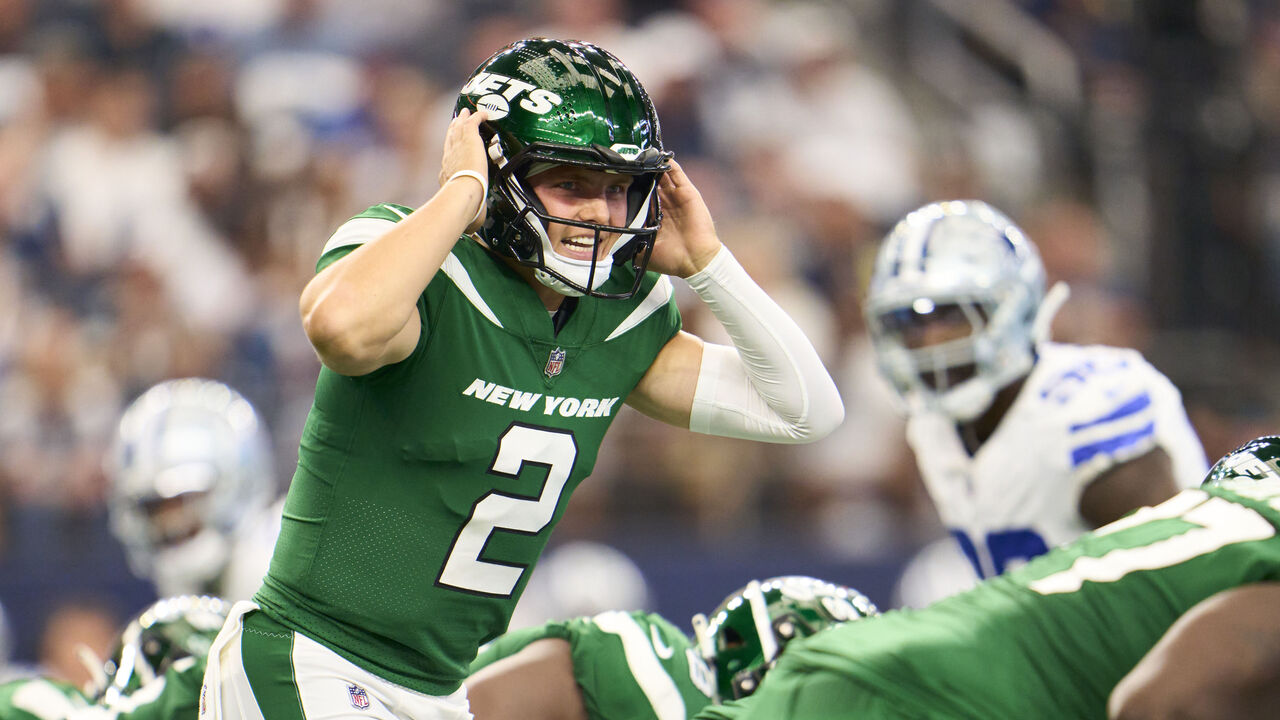 If you weren't panicking after seeing Aaron Rodgers go down with a torn Achilles just four plays into his Jets debut, you definitely should be after seeing what a full game of Zach Wilson looks like following an ugly Week 2 loss to the Cowboys.
Wilson completed under 50% of his passes with one touchdown and three interceptions against Dallas. Performances like that haven't been an outlier over Wilson's brief career. The former No. 2 overall pick also ranks in the bottom five in EPA (expected points added) per play thus far. Wilson's play is simply too erratic for any team to overcome. The Jets forced four turnovers and scored a special teams touchdown in Week 1 to edge the Buffalo Bills in overtime. In Week 2, they didn't record a single takeaway and instead lost 30-10. Expecting the defense to bail out Wilson week after week just isn't a sustainable or winning strategy.
There's zero doubt that this Jets team is insanely talented and deep, but it's hard to find any roster that could move in the right direction while tugging along an anchor of subpar quarterback play. The honest truth is that even if the Jets eventually turn elsewhere for quarterback help, it still may not be enough. New York's offensive line was questioned all offseason, and it's done little to quiet the noise after surrendering six sacks and allowing pressures on 33.3% of its dropbacks, ranking third worst in the NFL. What was supposed to be a dream season for the Jets might quickly turn into a total nightmare.
Cleveland Browns
The season-ending knee injury to Nick Chubb may very well have been the kiss of death for the Browns' 2023 hopes. Losing one of the NFL's most talented rushers is already a huge obstacle to overcome on its own, but Chubb's absence also puts more stress and focus on Deshaun Watson, who has been a $230-million failure in Cleveland so far.
Watson's disappointing six-game debut with the Browns last season was written off as rust. Through two games in 2023, that rust appears to be permanent. The dynamic rocket-armed quarterback that shined in Houston is long gone, as Watson has turned into an erratic and inconsistent passer with poor pocket awareness. His EPA per play ranks third worst in the league through the first two weeks, but that's only one of a long list of troublesome figures he's accumulated:
Barring Watson turning back the clock to his Pro Bowl form, the Browns could be in serious trouble. Though they're an even 1-1, a run-first team lacking its biggest strength and thus being required to rely on bottom-tier quarterback play means Cleveland might be renting the basement of the AFC North rather than fighting for the division's top spot.
Denver Broncos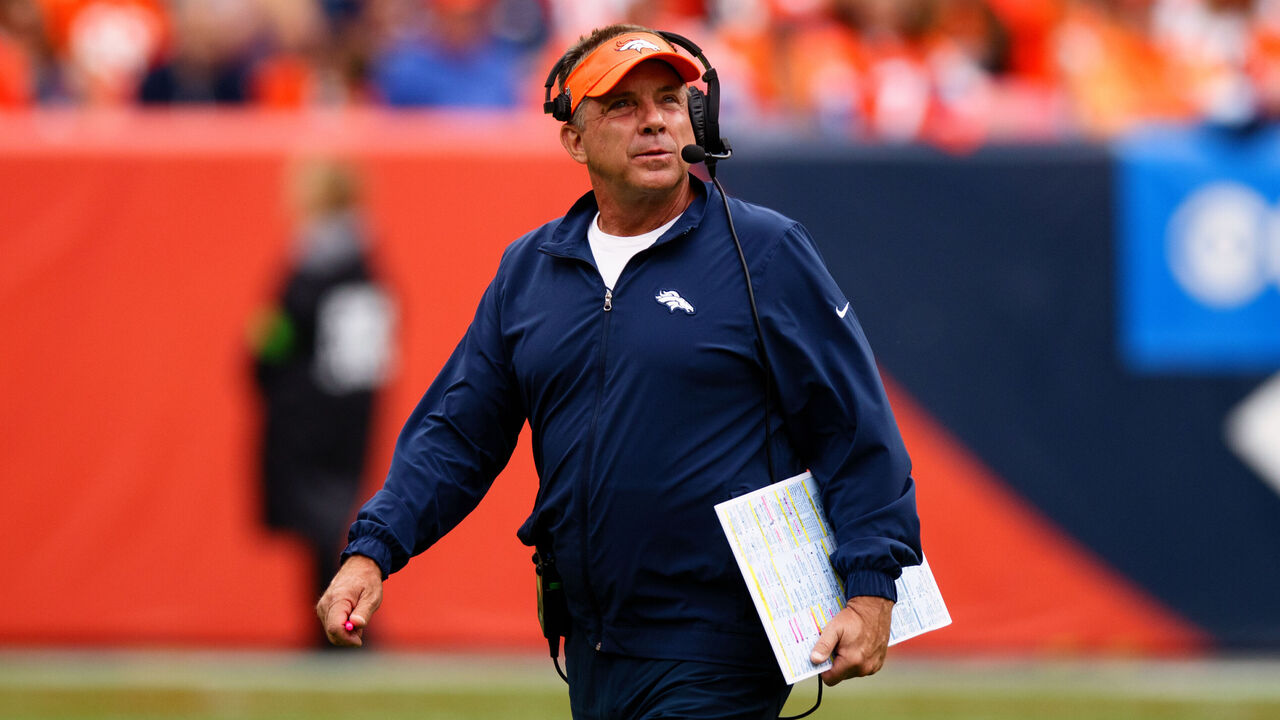 Sean Payton was supposed to be the fix the Broncos needed. While Payton's presence has undoubtedly raised the team's reputation and culture, it hasn't changed any of Denver's on-field results. Sure, Russell Wilson is playing better with five touchdowns, one interception, and a 108.5 passer rating. But this Broncos offense still struggles to get out of its own way and lacks the killer edge that it was missing all of last season.
The Broncos have held leads in each of their first two games, only to blow both contests. Sunday's loss saw the Washington Commanders come back from a 21-3 deficit to win 35-33. Denver has scored just 15 second-half points this season, with its lone touchdown coming on a tipped Hail Mary pass Sunday. The defense has also let the team down, allowing points on 50% of opponents' drives. The unit has surrendered an average of 5.2 yards per play in the second half - tied for third worst in the NFL. Winning close ball games is typically a symptom of good coaching, but Payton's effect in that area hasn't been contagious at all.
The Broncos were going to need all the wins they could get in the tough AFC West. Games against the Commanders and Las Vegas Raiders were supposed to be easy tuneup tests. Instead, they failed, leaving Denver with the worrying feeling of "Here we go again."
Chicago Bears
After the departure of Aaron Rodgers, the NFC North was seen as being open for the taking. Apparently, that message didn't reach the 0-2 Bears, who are nearing disaster territory after pitiful showings in almost all aspects of the game.
Chicago's biggest issue is under center. If Justin Fields wants to start playing like a former first-round pick, now would be a very good time to start. Though his running talent is undeniable, Fields has yet to show growth as a passer, highlighted by three interceptions and a career-low 70.7 passer rating. There may be even more trouble brewing behind closed doors, as evidenced by Fields suggesting he feels overcoached before walking his comments back. Making matters worse, his starting left tackle, Braxton Jones, is out at least four games due to a neck injury. There doesn't seem to be a way up for Fields. His stagnant development as a passer, plus his differences with coaches, hasn't only been a detriment to his own growth but also to the ceiling of this Bears team.
On the other side, Chicago's defense is in complete disarray. Coordinator Alan Williams resigned this week after being absent for Week 2, forcing head coach Matt Eberflus to fill in as the defensive play-caller. It didn't make a difference. The Bears have allowed 32.5 points per game so far, and that was going against the Green Bay Packers and Tampa Bay Buccaneers, two offenses with major question marks coming into the year. With Fields' issues, uncertainty on the sideline, and defensive struggles, it feels like we're witnessing a live implosion in Chicago.