Key takeaways and analysis from Week 2 in the NFL
Photo illustration by Julian Catalfo / theScore
Sunday Rundown recaps the most important developments from the day's action and examines their significance moving forward.
Bengals have a problem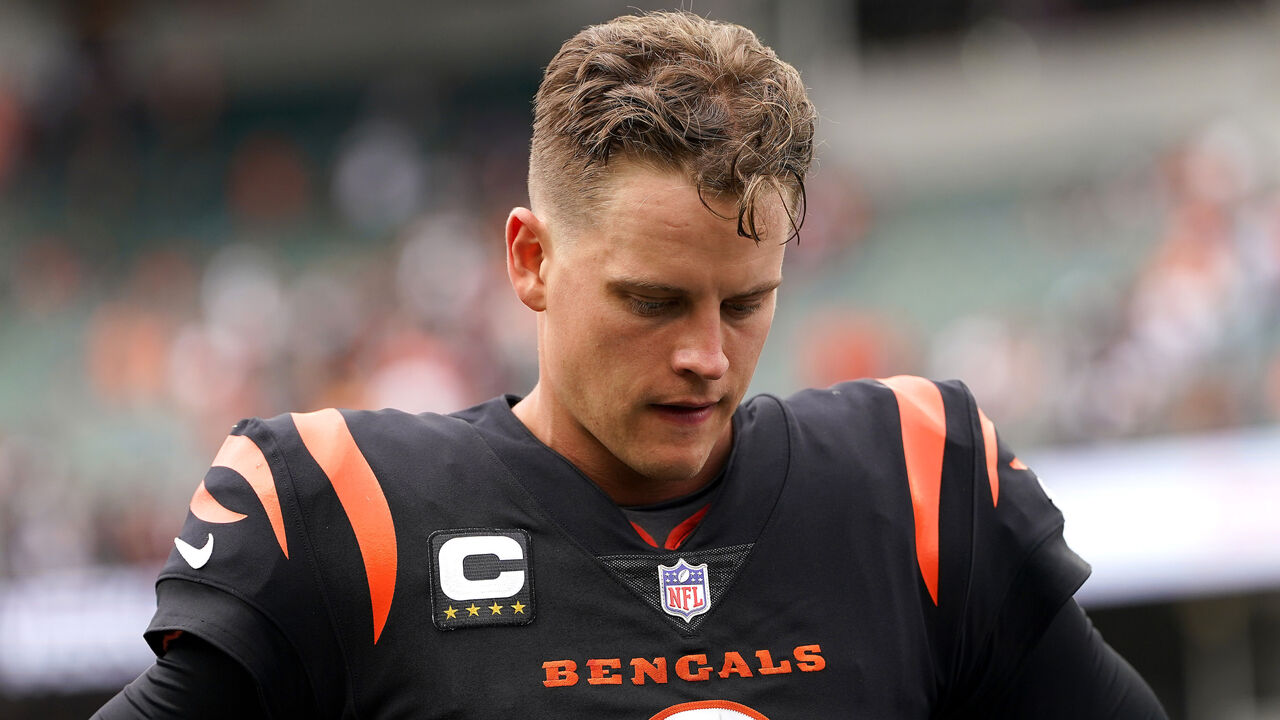 Keep that panic button nearby.
We'll reserve total judgment for at least another few weeks, as everything about this Bengals team still has the makings of a full-fledged wagon. But you're simply not paying attention if you aren't at least raising an eyebrow at the offense's failures in the early weeks after Joe Burrow's return from a calf injury.
Burrow started the season with a stinker in Cleveland, completing 14 of 31 passes for a career-low 82 yards and no touchdowns. Whether it was rust, the sloppy weather, or a combination of the two, it was just one game. The results weren't any better early in Sunday's loss to the Ravens, though.
Seemingly unable to create much outside of structure, and intent on getting the ball out of his hands faster than we've ever seen, the star quarterback was 8-of-11 for just 35 yards in the first half before opening the third quarter with an interception on a brutal decision over the middle of the field.
Burrow got a little more comfortable from there, leading a pair of touchdown drives to help the Bengals make a game of it, but he was seen with a noticeable limp as the clock ran out in the fourth quarter. In his postgame media availability, he revealed he'd aggravated the calf injury.
It'll likely be a few days before we get any sort of meaningful update on Burrow's status heading into next week. Avoiding any missed time would, of course, be the ideal scenario. But even that wouldn't be enough to restore full confidence in this offense.
Calf injuries have a tendency to linger. Burrow's clearly not himself right now, and it's fair to wonder when he'll even have a chance to be if the treatment plan is to simply have him battle through it - especially as the weather starts to get colder.
Unfortunately for the Bengals, shutting him down for any significant period of time feels even less palatable now that they've started 0-2. This team needs to win now if it's going to avoid falling too far back in an ultra-competitive AFC. There's really no easy answer for this dilemma.
Allen steadies the ship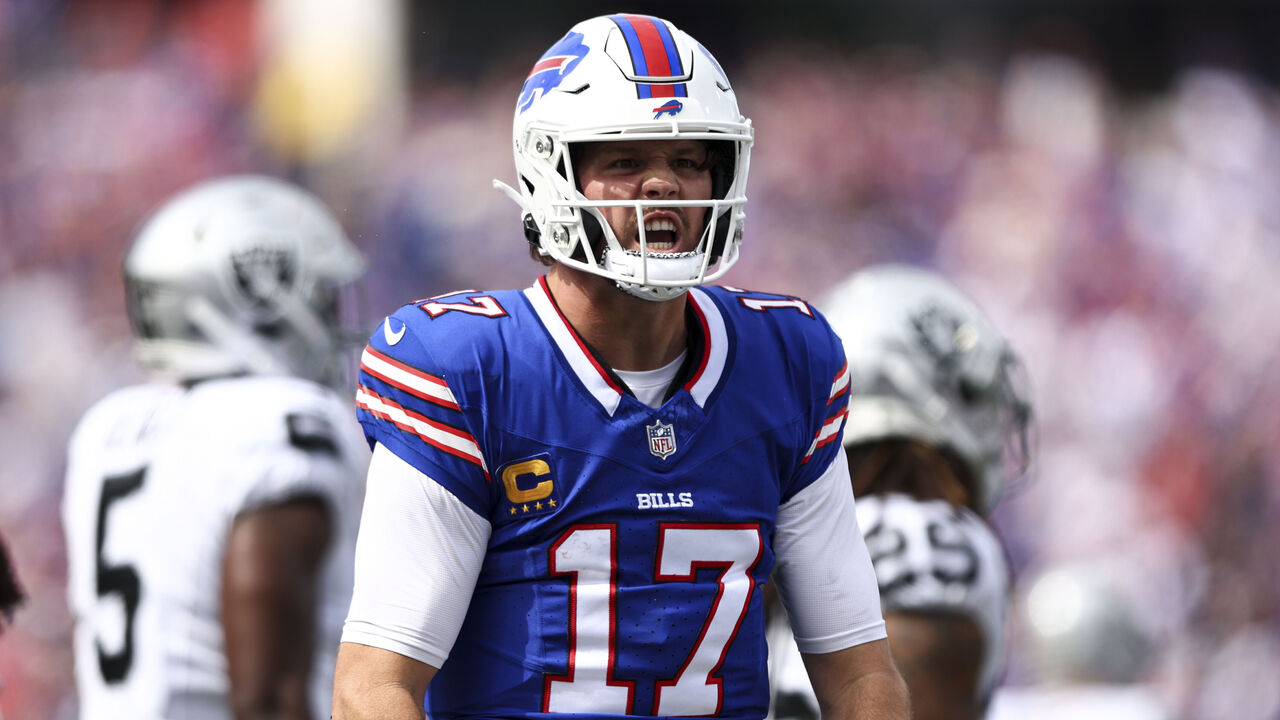 Josh Allen's season couldn't have started much worse. All of the quarterback's most frustrating qualities were on display throughout a reckless performance last Monday night, with his three interceptions and five sacks being the difference in a shocking loss to the Jets.
The way the Bills superstar bounced back this week tells us he learned all the right lessons from that disaster.
Allen was clinical in Buffalo's blowout win over the Raiders, completing 31 of 37 passes for 274 yards, three touchdowns, and no interceptions. He was smart, patient, and precise. Most notably, he finally just dialed it back a little bit.
The Raiders seemingly made a point of taking away the big plays downfield, as many teams have begun to do against these unicorn quarterbacks. Allen was far more willing to adjust on this day, though, efficiently working his progressions underneath and taking what the defense gave him. The result: his best passer rating (124.5) since Week 2 of last season.
Allen isn't magically going to become a quick-game specialist from the pocket, nor should he. His rare combination of all-time arm talent and unique playmaking traits will always make him most valuable when he's shredding defenses downfield. But opponents, like the Jets in Week 1, aren't going to present the opportunity for such plays if they don't have the faintest respect for the possibility of him showing some patience in the pocket.
Not every defense will be as hapless as the Raiders', and there will be times when Allen simply can't help himself from trying to make magic. But more performances like this would go a long way toward allowing him to achieve his true potential as a passer.
Factor in the emergence of James Cook, who is quickly establishing himself as a dynamic every-down back, and there may be no stopping this version of the Bills' offense. It's on Allen to make sure this is the one we see, however unspectacular, when defenses don't give him another option.
Fins all the way up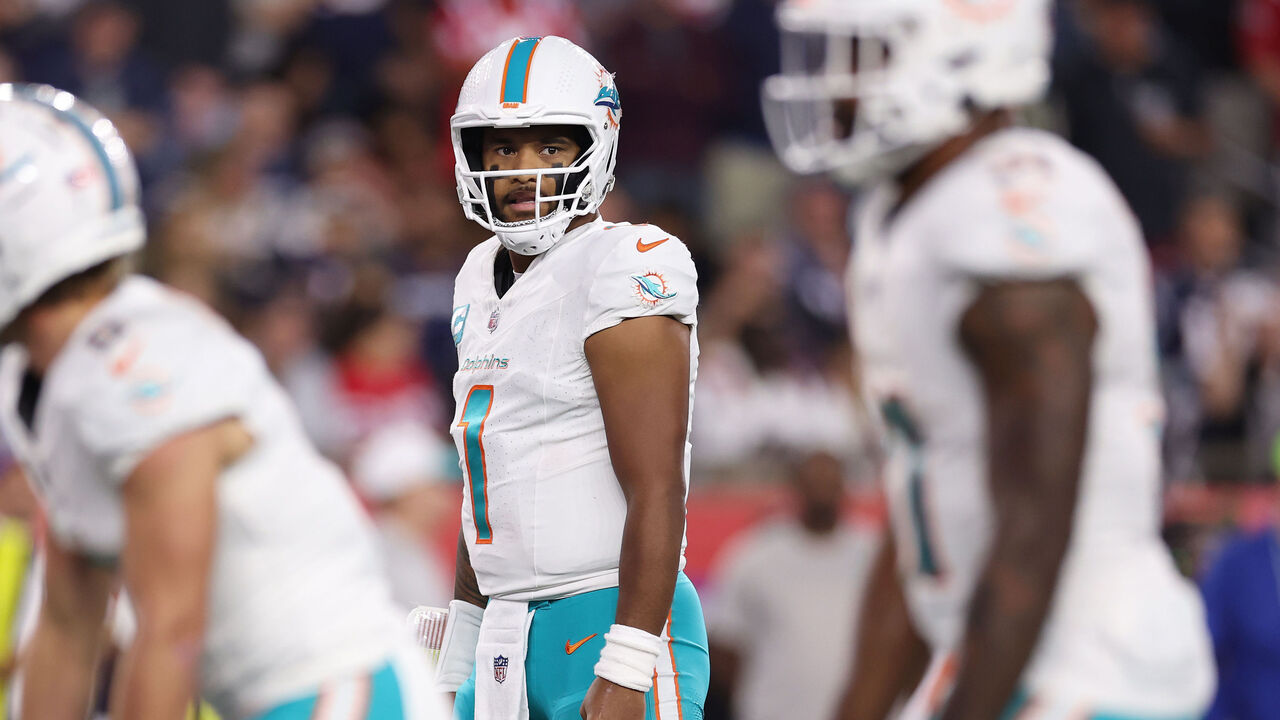 It's about time we jump on the Dolphins' bandwagon.
The offense, as we've now seen through two completely different games, has an answer for anything you throw at it. In Week 1, it was one explosive play after another against the same Chargers defense that was thought to have solved Miami's passing game last December.
Mike McDaniel and his staff learned from the humbling outing against L.A.'s press-man coverage, adjusting for the rematch with some creative pre-snap motions to get receivers off the ball and into their routes on time. The result was a near flawless 466-yard performance from Tua Tagovailoa and a statement win to start the season.
Bill Belichick had a different approach in mind Sunday night, regularly deploying three deep safeties to take away any and all opportunities down the field. To his credit, it largely worked as intended - the Dolphins were forced to stay patient, attack the short areas of the field, and really grind it out on offense. But that's fine with them. Tua demonstrates some majestic timing and precision in control of this offense at all levels, and his playmakers are unparalleled.
And don't forget: This Shanahan-style system can scheme it up in the run game, too. Raheem Mostert took full advantage of the light boxes, running for 121 yards and two touchdowns, including a 43-yard fourth-quarter score that proved to be the game winner.
The defense was a bit of a different story coming out of the opener, having surrendered 233 rushing yards to the Chargers - an uncharacteristically poor effort for a Vic Fangio unit. Those issues appear to have been rectified in short order, though. Miami bottled up the run game throughout, limiting Rhamondre Stevenson and Ezekiel Elliott to a combined 63 rushing yards. Fangio's pressure schemes were effective up front in the pass game, forcing Mac Jones into a frustrating night in which he averaged just 5.5 yards per attempt.
It may take some time for Miami to get the love it deserves on the national level, with the majority of the football world gravitating toward teams led by the consensus group of elite passers. But the Dolphins have as much balance as anyone else, and a quarterback approaching top-10 status himself.
There's no reason Tua can't contend for an MVP in this offense, and there's no reason the Dolphins can't hang with the big dogs in the AFC looking ahead to January.
0-2 club members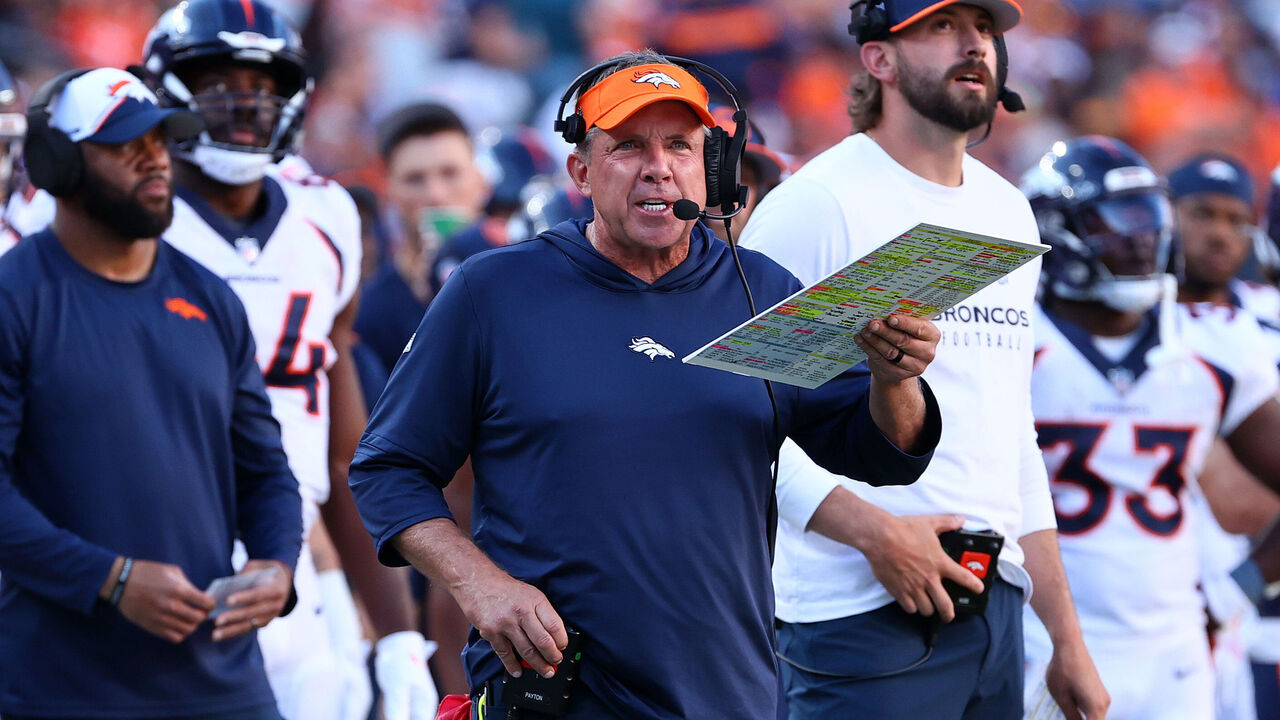 You know the drill: Start 0-2 and you're in big trouble.
Since the 1990 expansion of the playoff format, only 31 of 270 teams to start a season with consecutive losses have managed to rebound and make the playoffs, according to The Associated Press. Last season's Bengals were the first team to complete the turnaround since the Seahawks in 2018.
It would probably be wise to exercise a bit more patience with the NFL having expanded to a 17-game season, but the general point remains - there is only so much time to dig yourself out of an early-season hole. Here's a look at who is sitting 0-2 through two games, and who they've got on the schedule for virtual must-win scenarios next week.
Bengals (vs. Rams)
Chargers (vs. Vikings)
Bears (at Chiefs)
Texans (at Jaguars)
Cardinals (vs. Cowboys)
Broncos (at Dolphins)
Vikings (at Chargers)
Patriots (at Jets)
Of note: Either the Chargers or Vikings, a pair of expected playoff contenders, are about to fall to 0-3. The Rams are going to be no cakewalk for a Bengals team seeking its first win, and the Broncos are going to have a tough time avoiding a disastrous start to the Sean Payton era.
Quick slants
Evans has still got it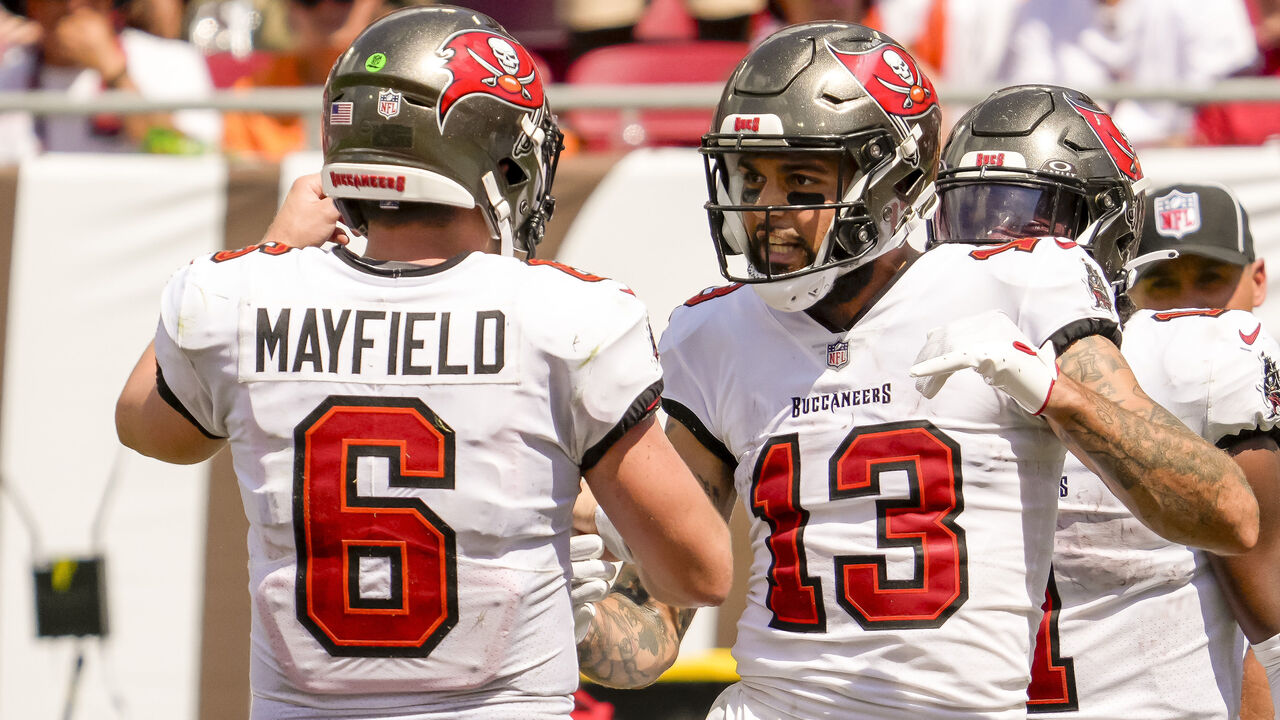 The Bucs seemingly didn't make much of an effort to extend Mike Evans over the summer, setting the stage for one of the franchise's best-ever players to potentially walk away as a free agent at season's end. Sunday's performance against the Bears - six catches for 171 yards and a touchdown - was a reminder that the perennial Pro Bowler still has the ability to take over games as he enters his 30s. Keep an eye on Evans as a trade deadline candidate if a difficult upcoming schedule erases what's been an exciting 2-0 start for Tampa Bay.
Don't give up on Toney just yet
While the national spotlight on a disappointing performance in the season opener created the impression that Kadarius Toney could fall out of favor in Kansas City, that was never actually going to happen - at least not based on one game. The Chiefs confirmed as much by immediately drawing up regular opportunities for him in Sunday's win over the Jaguars, and he finished the day with a team-high five catches. Here's hoping you didn't rush to drop him in your fantasy leagues after Week 1.
Bijan is already elite
An unhealthy obsession with position value has made for some truly insufferable draft discourse over the last few years. Auto-laughing at any early running back pick, for example, feels a little misguided when we're talking about a generational prospect. Bijan Robinson has been as advertised in that regard thus far, immediately establishing himself among the league's elite at the position. Robinson was the best player on the field in Atlanta's win over Green Bay, taking 19 carries for 124 yards and adding four catches for 48 yards. In what world is that kind of star power not worth a Day 1 pick? Drafting good players seems good.
Richardson looking good early
Anthony Richardson's second outing was cut short due to a concussion, but we couldn't let his first two drives get overlooked here. A pair of rushing touchdowns put him up to three on the year, showcasing the rare athleticism that made him such a fascinating prospect. He's essentially a Justin Fields-level runner who already possesses the pocket presence and processing ability that Bears fans are hoping their quarterback can finally start to show this season. The Colts got themselves a good one, and perhaps the best QB from this draft.
Bieniemy working his magic
The Commanders desperately needed an offensive makeover heading into 2023, having posted five consecutive seasons in which they ranked no higher than 23rd in scoring. Bieniemy may have been the perfect man for the job. Washington's offense was remarkably sound in Sunday's win in Denver, with second-year quarterback Sam Howell throwing for an efficient 299 yards and two touchdowns, and the running game racking up 122 yards on 5.3 yards per carry. The end result was 35 points - Washington's highest-scoring game since November 2020 - against a Broncos defense that finished last season ranked ninth in EPA/play, according to Ben Baldwin's database. Bieniemy has long been deserving of a head coaching job, and turning the Commanders' offense into a consistent scoring unit would further bolster an already stellar resume.
Meet Puka Nacua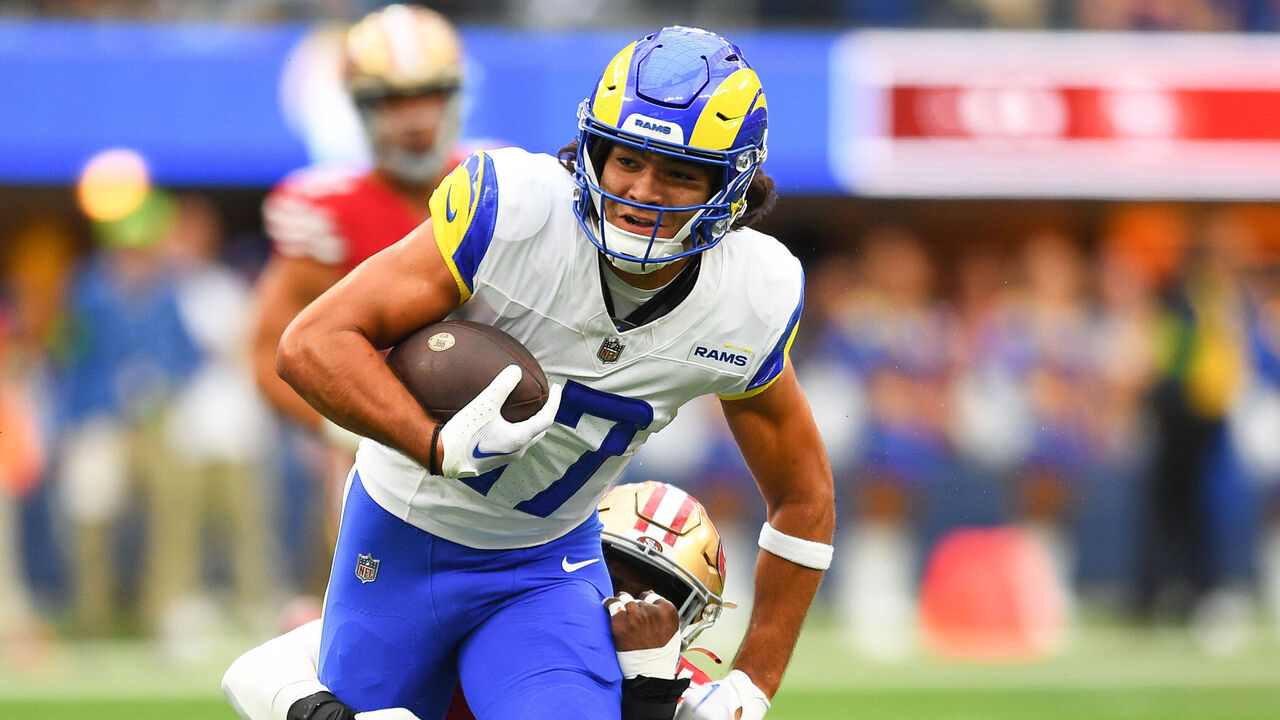 How's this for a draft find? Nacua, a fifth-round pick out of BYU, is your early front-runner for Offensive Rookie of the Year. The Rams receiver set a new NFL record with 25 catches through the first two games of his career, shattering the previous mark of 19. In the process, he also became the first player in league history to record 10-plus catches and 100-plus yards in each of his first two contests. Nacua's immediate impact has been crucial for a Rams offense that's been without superstar wideout Cooper Kupp. It'll be fascinating to see how they're deployed together when Kupp makes his eventual return from injury.
Giants avoid disaster
We did a bit of a deep dive on the Giants after their embarrassing 40-0 loss last Sunday, and the concerns about Daniel Jones and this offense were only reinforced in a scoreless first half against the Cardinals. New York finally got it together in the second half to erase the 20-0 deficit and secure the win, which was huge for this team and should be seen as encouraging. But even being in that position against the worst team in football is a rough look. Wins will be much harder to find if the Giants come out the same way in upcoming games against the 49ers, Seahawks, Dolphins, and Bills.
Chiefs' defense
Natural as it may be to focus on the rather pedestrian production from Patrick Mahomes and Co. through two games, we're not about to overthink an offense led by the best quarterback on the planet. That will be fine. The defense is the real story in Kansas City right now. In stark contrast from previous years where Steve Spagnuolo's group would stumble out of the gates before turning it on down the stretch, this unit has been flying from the jump. Keeping the Jaguars out of the end zone and limiting Trevor Lawrence to 22-of-41 passing for 216 yards with constant pressure up front and sticky coverage on the back end is a clear sign that the young defensive unit is hitting its stride.
Chargers cursed
What is there to say about the Chargers at this point? It's not like the annual preseason hype is undeserved. This is regularly one of the most talented teams in football, led by superstar players at key positions all over the field. And yet somehow this organization constantly finds a way to disappoint. The consistency is actually incredible. While there's still time to get things going in the right direction, falling to the Titans in overtime is inexcusable for a supposed contender. Brandon Staley will be on the hot seat if this team doesn't figure it out soon.
Raiders' defense outmatched
A pass-rush group headlined by Maxx Crosby has no business being this bad. The Bills put on a clinic in terms of providing chip help and double-teams to Crosby's side, giving him a chaotic path to the quarterback on almost every passing play. And with the rest of the defensive front unable to win one-on-one matchups, Josh Allen was unbothered for much of the game. Tyree Wilson may well develop into a solid pass-rusher in time, but the interior front is barely even replacement level. Passing on Jalen Carter at No. 7 could prove to be the latest in a long line of draft mistakes for the Raiders.
Stat of the week
MNF lookahead
Saints vs. Panthers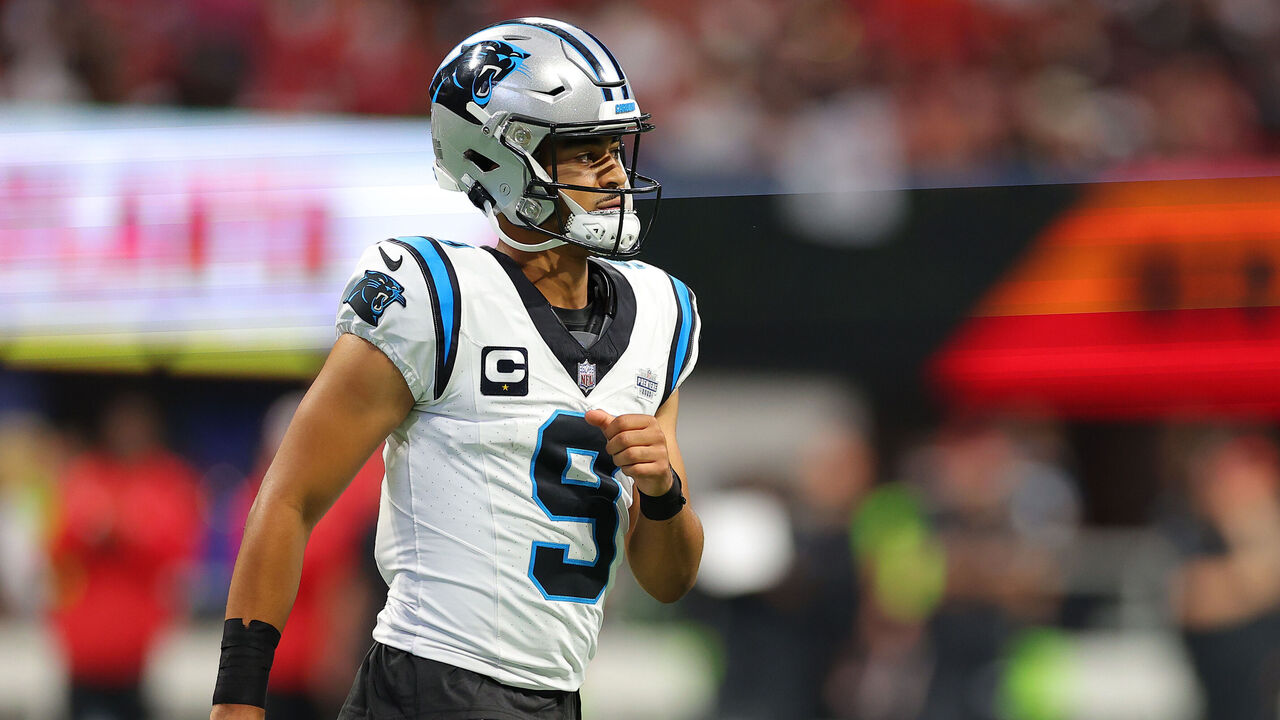 Bryce Young's NFL career didn't get off to the smoothest of starts against the Falcons last week, and it's not going to get any easier against the Saints' stout defense. D.J. Chark, who is making his season debut after missing Week 1, could be an X-factor for Carolina's chances of opening things up. An offense lacking in explosive weapons could use his speed to stretch the field vertically.
Browns vs. Steelers
This strangely feels like a massive Week 2 game for the Steelers. A competitive loss to the 49ers in the opener would have been understandable given the quality of opponent, but getting run off their own field after some major preseason hype was jarring. Kenny Pickett has to be better from the pocket, and a relentless Cleveland pass rush should present him with many of the same challenges he faced against San Francisco. This is going to be a tough test for the second-year quarterback.
Comments
✕
Key takeaways and analysis from Week 2 in the NFL
  Got something to say? Leave a comment below!