Dynasties are dwindling. Can Chiefs, Eagles, or another team buck the trend?
David Eulitt, Mitchell Leff / Getty Images
Every NFL decade has produced its own dynasty. In most, a second powerhouse team also wins multiple championships. The trend has held true since Vince Lombardi's Packers christened his namesake trophy.
These dynasties won games and rings in different ways. Pittsburgh's defense, which the Steel Curtain fronted, routinely shut down opponents. Bill Walsh brought Joe Montana and other future legends to San Francisco, then schemed pass plays that catered to their strengths. Elite defensively at first under Bill Belichick, New England started scoring at will once Tom Brady morphed into a quarterbacking cyborg.
The cores of these franchises remained intact for a while. Every Steelers title team in the '70s counted on the same 10 Pro Football Hall of Famers (five on either side of the ball). Cowboys fans saw Troy Aikman, Emmitt Smith, and Michael Irvin demoralize defenders together during the team's peak. The Brady-Belichick bond endured as the salary cap, introduced in 1994, constricted spending and as roster turnover and parity became NFL norms.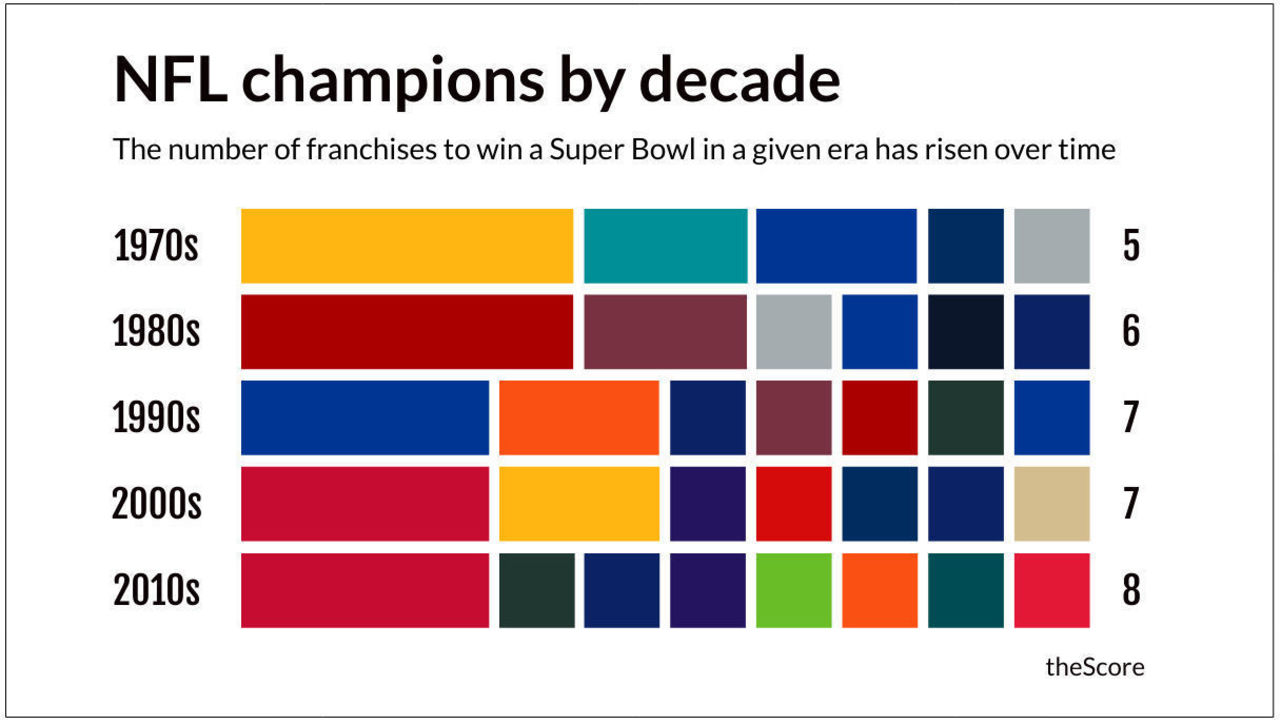 It's getting harder to field a perennial contender. This decade's first two champs, the Buccaneers and Rams, loaded up on star talent to summit the mountain once before cratering in quality this season. It's unlikely they'll reign again anytime soon. So it's meaningful that both Super Bowl LVII finalists won a title recently and are built to vie for more.
The Chiefs and Eagles won't care about this in the moment, but the inside track to become the team that dominates the 2020s is on the line Sunday. Patrick Mahomes could deliver a second championship in four seasons to Kansas City. Philadelphia last prevailed when Jalen Hurts was a college sophomore and returns to the big game at the triumphal end of his breakout NFL season.
Their matchup is compelling and inspires big-picture questions. Will Mahomes and Hurts square off in several Super Bowls before they retire? How soon will Joe Burrow and Josh Allen bounce back from the disappointment they've experienced to spearhead title runs? Could as many as 10 teams split the spoils this decade, making it anomalous in NFL history?
We won't find out until long after Sunday's game. It pits a two-way juggernaut - the Eagles rank second on offense and defense in expected points added per play, according to Ben Baldwin's database - against the supernova passer who just eliminated multiple division winners on a bum ankle.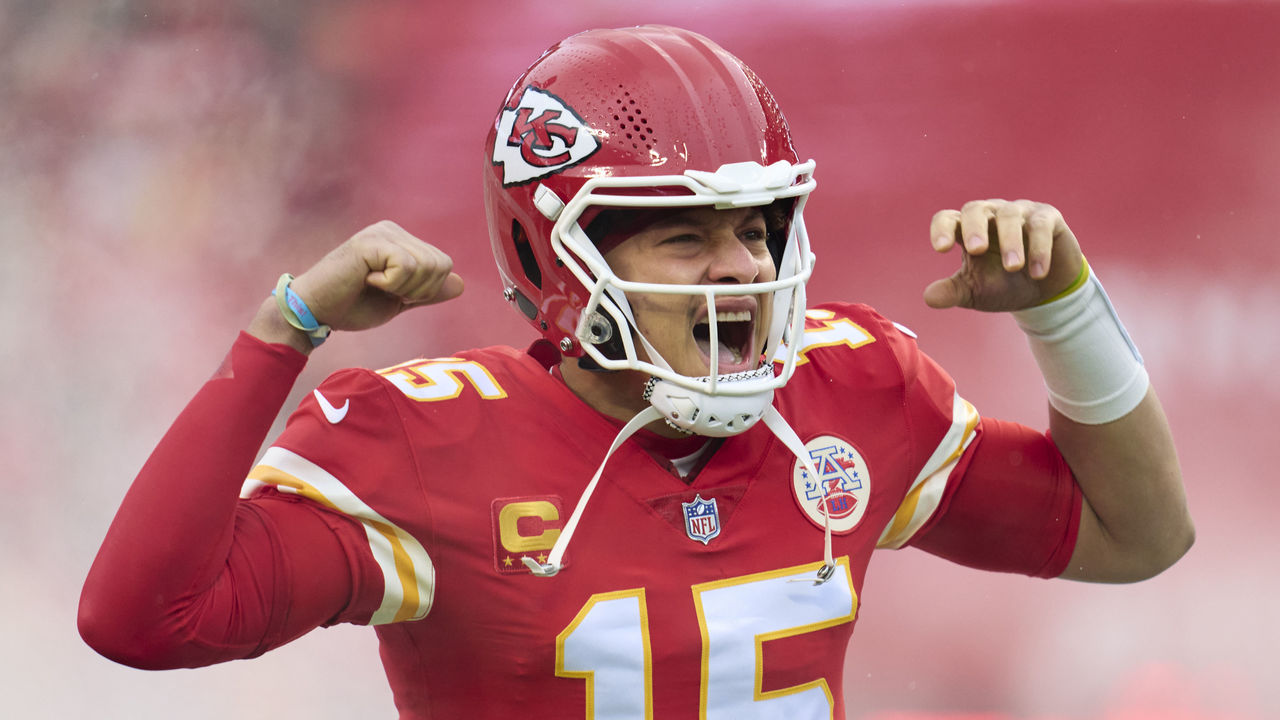 Mahomes and two fellow superstars from the 2019 title team still carry the Chiefs. Tight end Travis Kelce caught a career-best 12 touchdowns this season while lining up wide or in the slot on 74% of his pass snaps, according to PFF, to help compensate for Tyreek Hill's departure. Chris Jones led all defensive tackles in sacks (15.5) and pass rush win rate (21%, per ESPN Analytics).
This trio accounted for 35% of Kansas City's 2022 cap hit, according to Over The Cap. To make the math work, the Chiefs signed two receivers, Marquez Valdes-Scantling and JuJu Smith-Schuster, at a fraction of the cap number Hill will command when his Miami contract extension kicks in.
They also drafted shrewdly. Seven Chiefs who were drafted since 2020 - running back Isiah Pacheco, offensive linemen Creed Humphrey and Trey Smith, and defenders Nick Bolton, Trent McDuffie, L'Jarius Sneed, and Mike Danna - scored above 70 this season in PFF's grades rubric, signifying they were impact players.
Philadelphia enhanced the talent around Hurts in the midst of his rookie contract, taking advantage of his readiness to elevate a great team. Hurts' cap hit of $1.64 million this season accounted for 0.7% of the Eagles' outlay, per Over The Cap. He ranks fourth in EPA/play (postseason included) while costing less than 52 other quarterbacks.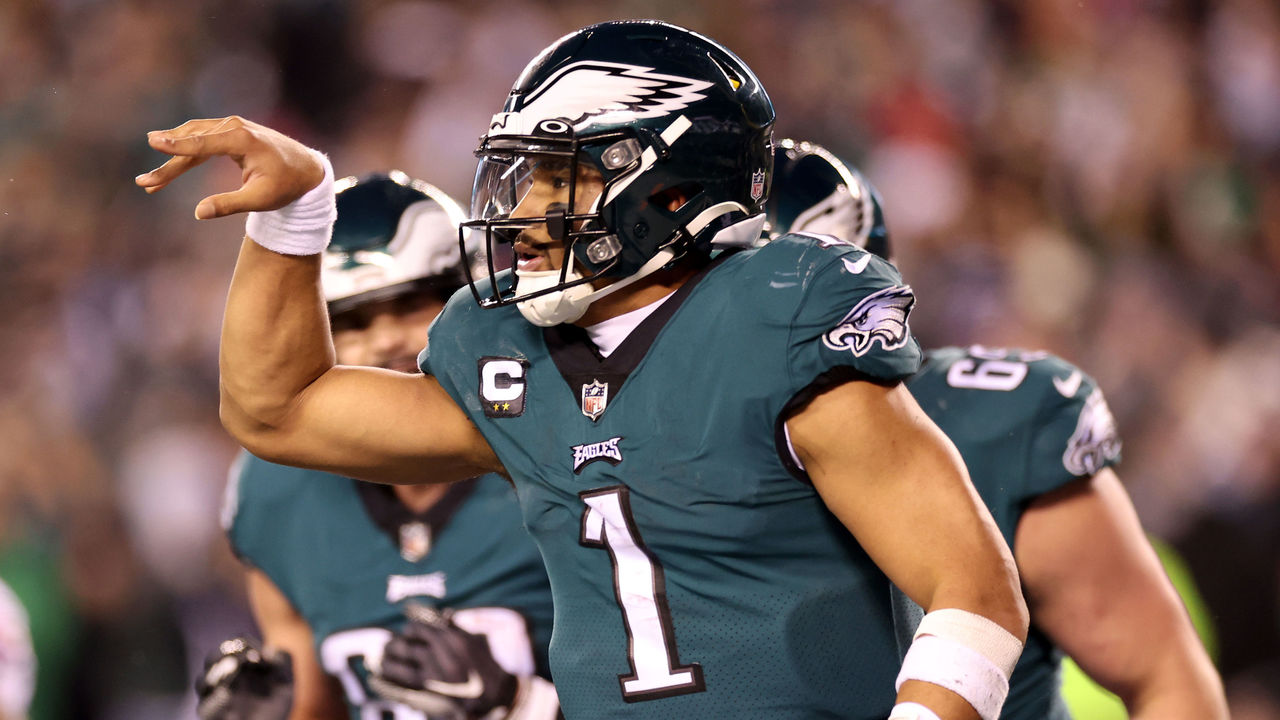 Afforded leeway to spend last spring, Philly added wideout A.J. Brown, edge rusher Haason Reddick, and cornerback James Bradberry, who all put up career seasons and became All-Pros.
The Eagles don't have a weakness. They field one of the NFL's three best pass-blocking, run-blocking, pass-rushing, and coverage units, as graded by PFF, and they boast a top-10 player at every position group except running back. The Eagles still finished fifth in rushing yards this season and led the league in rushing touchdowns by a wide margin.
Besides the Eagles and Chiefs, two teams in each conference were much stronger than the pack in the regular season.
The Cowboys hit a wall in the divisional round and, because of Dak Prescott's megadeal, face a cap crunch that theScore's Jordan Schultz recently broke down. Allen and Burrow, like Hurts, each commanded a small proportion of his squad's cap total, but injuries sidelined too many teammates.
Banged up and missing difference-makers all season, the Bills' defense yielded 412 yards and five long scoring drives when the Bengals bounced Buffalo from the playoffs. Playing behind three backup offensive linemen, Burrow absorbed five sacks in the AFC title game and produced his worst passer rating since Week 1. Mahomes outshone his positional rivals on one leg.
San Francisco's roster blueprint was unique. Stocked with superb defenders and strengthened by Christian McCaffrey's midseason arrival, the 49ers trusted unspectacular quarterbacks - Jimmy Garoppolo, then Brock Purdy - to keep their Lamborghini offense on the road. But every last Niners QB got hurt and the defense finally met its match, crumpling against Philadelphia.
Maybe the offense will hum again if either Purdy or Trey Lance rebounds well from injury and can stay healthy. Meanwhile, Allen's salary is about to spike, meaning Buffalo might have to let defensive stalwarts Tremaine Edmunds and Jordan Poyer walk in free agency.
Cincinnati has ample cap space but has to pay Burrow significantly more starting in 2024, whether on a new deal or his fifth-year option. That'll create constraints even if the cap keeps climbing.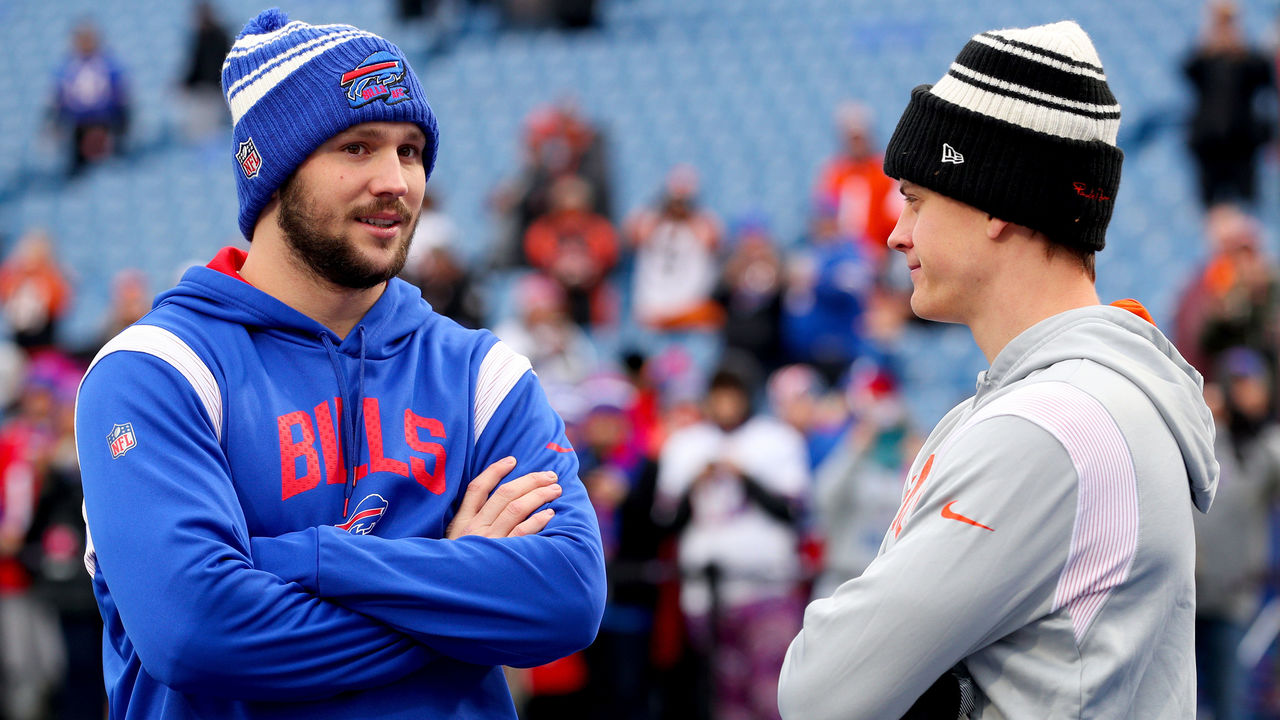 No core can stick together forever. The Eagles will lose financial flexibility when Hurts' and DeVonta Smith's rookie contracts elapse. Mahomes' favorite target, Kelce, is the same age as Rob Gronkowski. As the decade progresses and contention windows shrink, up-and-comers could supplant today's big dogs.
The ascendant Jaguars, who caught fire down the stretch to finish seventh in point differential, look primed to take another step in 2023 as Trevor Lawrence matures. The Jets' tremendous defense could swing playoff games in their favor if the club can add a decent QB. Far down the standings, the three-win Bears could use or trade the No. 1 draft pick and leverage $90 million in projected cap space to accelerate their rebuild.
Contenders rise as others fall. A year after the additions of Brady and Gronkowski powered the Bucs to glory, the Rams sold the kitchen sink to acquire Matthew Stafford, Von Miller, and Jalen Ramsey, going all-in to win while Cooper Kupp and Aaron Donald were in their primes.
Retirement, roster churn, and a rash of injuries have already enfeebled both teams. The Lions own the Rams' No. 6 pick, the cost of L.A. trading for Stafford.
At least the Bucs and Rams capitalized on their best kicks at the can. The 49ers' last six playoff teams all lost in the NFC championship or the Super Bowl. Winning the AFC East for three years running has yet to net the Bills a Super Bowl appearance. The Bengals rank second in franchise Elo rating behind Kansas City, as calculated by FiveThirtyEight, yet they remain stuck on zero championship banners.
That said, the decade is young and could wind up belonging to Allen or Burrow. They're great enough to trouble Mahomes for years to come. But Hurts earned the next crack at spoiling Mahomes' coronation. Whichever QB wins Sunday will get to savor that victory and rightfully believe he can repeat it.
Nick Faris is a features writer at theScore.
Comments
✕
Dynasties are dwindling. Can Chiefs, Eagles, or another team buck the trend?
  Got something to say? Leave a comment below!