Fantasy: Early 2023 breakout candidates for every AFC team
With free agency and the draft still ahead, NFL rosters will undergo significant changes over the next few months.
Before the shuffling begins, let's take an early look at the AFC players positioned to break out in 2023.
Breakout Candidates
AFC | NFC
Baltimore Ravens
Rashod Bateman, WR - The Ravens' front office needs to make plenty of decisions this offseason, beginning with a new contract for looming free agent Lamar Jackson. It's also likely the team brings in some much-needed help at receiver after struggling to find consistent playmakers at the position following Bateman's season-ending foot issue in October. Even if Baltimore fills out its WR depth chart, fantasy managers shouldn't discount Bateman who flashed plenty of upside during his two injury-shortened campaigns. The 23-year-old put up over 50 yards and/or a touchdown in nine of the 14 games where he's played at least 50% of snaps. He just needs to stay healthy.
Fantasy breakout potential: ★★★★☆
Buffalo Bills
James Cook, RB - Even though the Bills used a second-round pick to select Cook last year, Devin Singletary managed to hold on to the lead back job. Now, Singletary's contract is about to run out, which could open the door for Cook to carve out a bigger role in the backfield. As a rookie, the 23-year-old played limited snaps through the first three-quarters of the season but saw more opportunities down the stretch and topped 100 yards from scrimmage twice in December. One concern for Cook's fantasy outlook is the gluttony of quality veteran backs available in free agency. There's a chance the Bills end up signing someone to a team-friendly deal, which may affect Cook's fantasy ceiling.
Fantasy breakout potential: ★★★★☆
Cincinnati Bengals
Trenton Irwin, WR - For the second straight year, the Bengals don't have an obvious breakout candidate. That's because their skill positions are mostly solidified with strong talent. Tight end Hayden Hurst is a free agent, and it wouldn't be surprising to see the team invest in a rookie tight end who could fill this section. For now, we'll give some love to No. 4 receiver Irwin who stepped up on multiple occasions this season as an injury replacement and delivered some notable stat lines like 3-42-1, 2-58-1, and 3-45-2. If one of Ja'Marr Chase, Tee Higgins, or Tyler Boyd were to miss extended time, Irwin would be an intriguing fantasy add in deeper leagues.
Fantasy breakout potential: ★☆☆☆☆
Cleveland Browns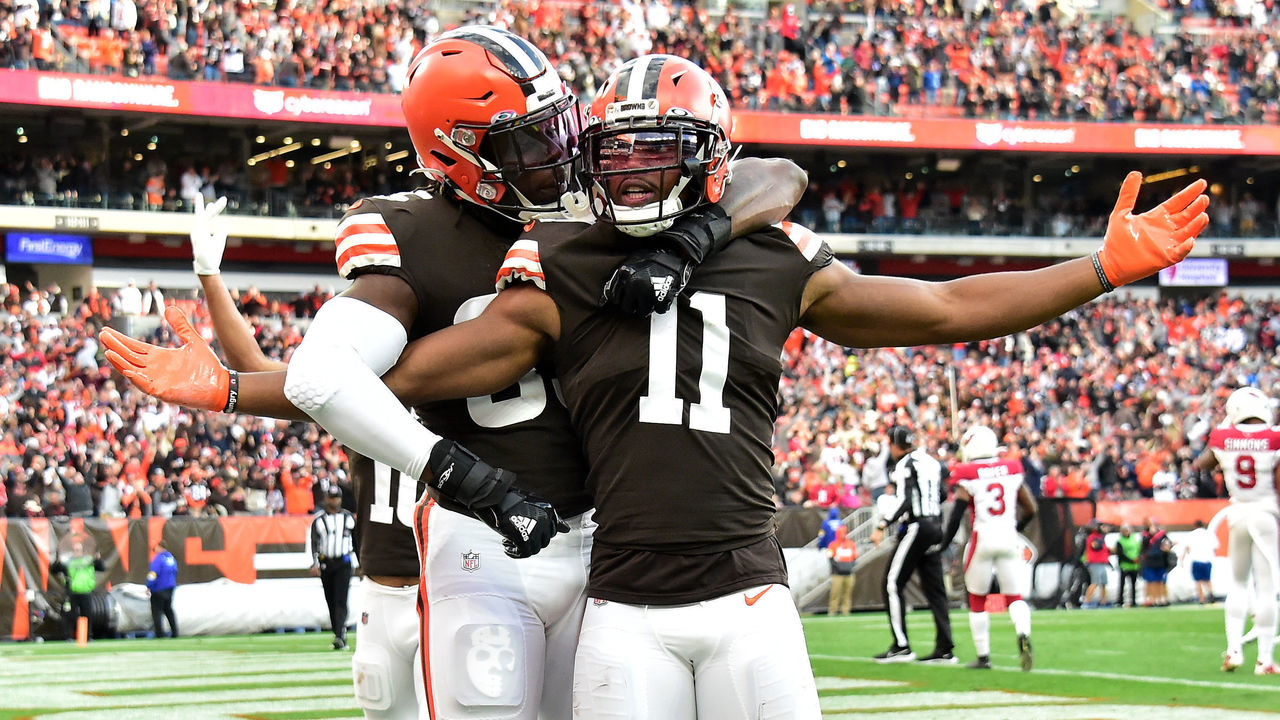 Donovan Peoples-Jones, WR - Peoples-Jones continues to be a boom-or-bust fantasy receiver but showed signs that he could develop into more when he topped 50 yards in seven straight games this season. Unfortunately, that streak happened prior to Deshaun Watson's return from suspension, after which Peoples-Jones' targets took a sharp decline. Hopefully, the duo will develop more chemistry with a full offseason together. For now, consider DPJ a fantasy WR4 with room to grow.
Fantasy breakout potential: ★★★★☆
Denver Broncos
Greg Dulcich, TE - The days of rookie tight ends being fantasy afterthoughts are over. In the last couple seasons, we've seen several first-year players make an impact at the position, including Dulcich who finished as the TE18 in fantasy points per game in 2022. Despite injuries limiting him to just 10 appearances, The 22-year-old instantly emerged as the Broncos' starter when healthy and should benefit from the arrival of new coach Sean Payton who helped athletic tight ends like Jimmy Graham, Ben Watson, and Jared Cook to top-10 fantasy finishes during his time in New Orleans.
Fantasy breakout potential: ★★★★★
Houston Texans
Nico Collins, WR - A foot injury landed Collins on injured reserve in early December, making it easy to overlook his improvement in Year 2. The 23-year-old wideout eclipsed all of his rookie totals and did it while playing in four fewer contests. The fact that he managed at least 40 yards in seven of his 10 outings while being a part of one of the league's worst passing attacks is notable. Also notable is the likely departure of veteran Brandin Cooks. Houston will probably address the position in free agency or the draft, but there's an outside chance Collins begins this season as the team's No. 1 receiver, making him an underrated fantasy pickup at the moment.
Fantasy breakout potential: ★★★★☆
Indianapolis Colts
Jelani Woods, TE - Woods' size and athleticism made him an intriguing prospect but one that was raw and would likely need time to develop. His rookie season played out as expected with some brief flashes, including an eight-catch, 98-yard performance in Week 12. However, he was mostly used as part of a committee at tight end with Mo Alie-Cox and Kylen Granson also factoring in. It wasn't until Granson missed time that Woods' snaps consistently rose, and even then he was on the field for just 60% of the plays in the final month. If the Colts make an effort to feature Woods - which they haven't done with a lone tight end in a while - he could flirt with fantasy relevance, especially given his touchdown potential.
Fantasy breakout potential: ★★★☆☆
Jacksonville Jaguars
Trevor Lawrence, QB - Lawrence doesn't qualify as a traditional breakout candidate since he finished as a top-12 quarterback in fantasy points per game among qualified passers. However, he gets the nod here because he has a path to take his fantasy production to an even higher level in 2023. Lawrence and the Jaguars made massive leaps under head coach Doug Pederson's staff, and the club put an emphasis on finding weapons for its young QB. In addition to spending in free agency to acquire Christian Kirk, Zay Jones, and Evan Engram, the Jags also made a move for the future by trading for Calvin Ridley. The team is committed to helping Lawrence reach his ceiling as a pro, and his career is headed in the right direction after a turbulent rookie campaign under Urban Meyer. If he continues to progress, we could be talking about Lawrence in the same conversation as the top fantasy players at his position.
Fantasy breakout potential: ★★★★★
Kansas City Chiefs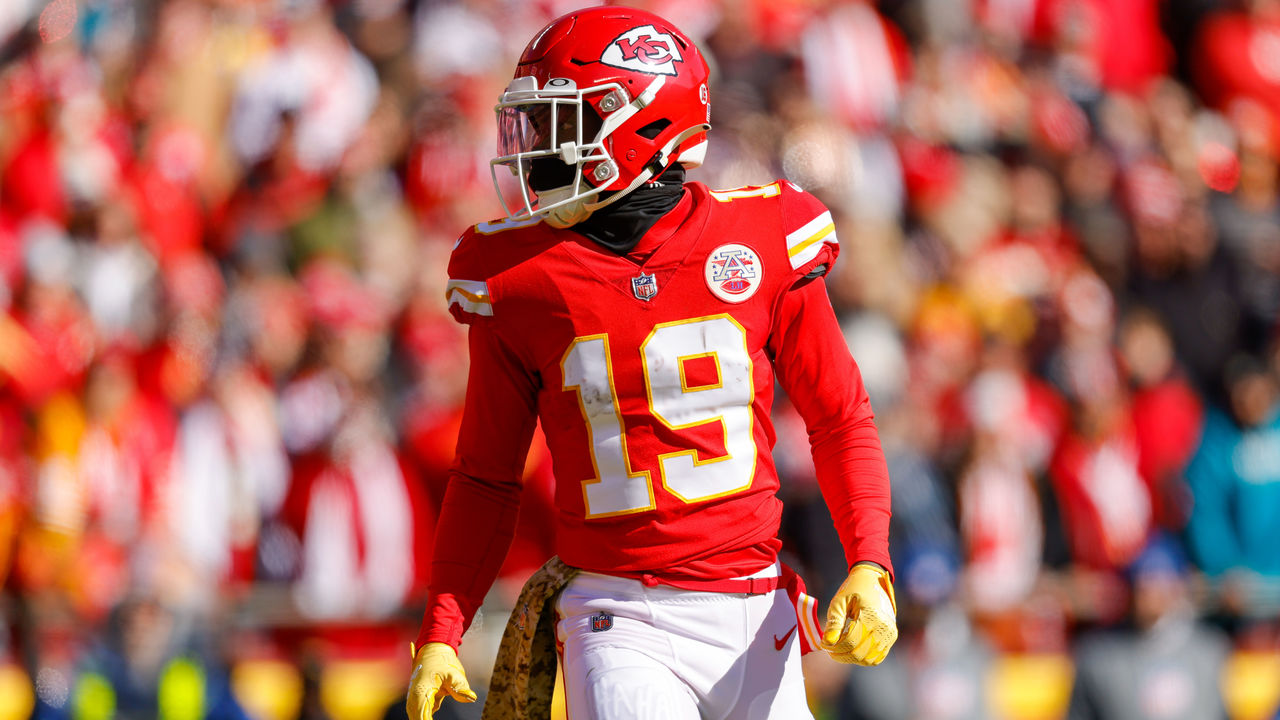 Kadarius Toney, WR - Toney's untapped fantasy value is something managers will continue to chase, even though his inability to stay healthy has held him back to this point. The 2021 first-round pick has yet to make his mark in the NFL but could enter next season as Patrick Mahomes' top receiver (not counting tight end Travis Kelce). JuJu Smith-Schuster is a free agent, and it was widely believed the trade for Toney was a long-term move. When watching Toney's rare change-of-direction ability and burst, it's hard not to envision him as an eventual star. With a full offseason to get more comfortable in the Chiefs' offense, he'll be given every opportunity to make good on his talent, and fantasy GMs would be wise to take the risk on his upside.
Fantasy breakout potential: ★★★★★
Las Vegas Raiders
Zamir White, RB - After speculation prior to the season that White might eat into Josh Jacobs' workload, we witnessed a rejuvenated Jacobs lead the league in rushing yards and finish as a top-four fantasy back. Now, Jacobs is heading toward free agency, and while a new contract or franchise tag seems likely, there are no guarantees he'll be in Vegas next season. If he departs, White will have a path to earning more touches. Turning their backfield over to an unknown fourth-round pick is a long shot, but the Raiders don't have many breakout candidates for 2023.
Fantasy breakout potential: ★☆☆☆☆
Los Angeles Chargers
Josh Palmer, WR - At this time last year, Palmer was a breakout candidate because of Mike Williams' looming free agency. Even after Williams inked a long-term deal with the Chargers, Palmer remains an intriguing fantasy asset due to 30-year-old Keenan Allen's uncertain future with the Bolts. The Athletic's Daniel Popper identified Allen as one of the most likely cuts the team could make this offseason due to the $14.8 million that would be saved against the salary cap. The most probable outcome is the Chargers finding a way to keep Allen on the roster, but if he were to leave, Palmer's value would skyrocket. The 23-year-old Palmer posted over 50 yards and/or a touchdown in eight of the 10 games where he played at least 75% of the snaps this season. Fantasy managers need to keep a close eye on this situation.
Fantasy breakout potential: ★★★★☆
Miami Dolphins
Tua Tagovailoa, QB - Tagovailoa's breakout already happened. Sadly, some people might not realize it because it was overshadowed by his concussion issues this season. Thankfully, he cleared concussion protocol in recent weeks, and the Dolphins have voiced their support for him as the starting QB in 2023. If you remove the Week 4 game where he left early, Tua averaged 19.71 fantasy points across 12 games, which would have made him the QB6 on the year. With arguably the best receiver tandem in the league at his disposal and one of the NFL's most creative play-callers in Mike McDaniel, health is the only question mark for Tua moving forward.
Fantasy breakout potential: ★★★★☆
New England Patriots
Tyquan Thornton, WR - When an NFL front office selects a receiver in the top 50, the hope is certainly for more than 22 receptions, 247 receiving yards, and three total touchdowns in his rookie campaign. That's a negative data point Thornton will have to overcome if he's going to emerge as a real-life weapon and a fantasy starter. However, there were a couple bright spots, like his two-touchdown performance in Week 6 and a 60-yard, one-score outing in Week 17. Even so, New England's embarrassing track record of WR draft busts looms large over Thornton's fantasy outlook.
Fantasy breakout potential: ★★☆☆☆
New York Jets
Elijah Moore, WR - Moore's sophomore season didn't play out as many had hoped. After a solid opening month with at least 40 yards in every game, his playing time dropped off, resulting in a trade demand and benching before he eventually reclaimed a near regular role in the offense. Most importantly, his production trended in the wrong direction after his rookie season - due in part to a revolving door at quarterback. Like most of the Jets' skill-position players, many of Moore's worst stat lines came with Zach Wilson at the helm. With a quarterback upgrade on the way, there's still an opening for Moore to step up as a quality No. 2 wideout alongside budding superstar Garrett Wilson. Keep your expectations in check, but Moore remains a buy-low target in fantasy.
Fantasy breakout potential: ★★★☆☆
Pittsburgh Steelers
George Pickens, WR - Pickens has quickly become a polarizing fantasy asset, with some arguing his hype train got out of control due to highlight-reel catches and others viewing him as the next star receiver to come out of the Steelers' system. However, both outlooks can be true in this instance. There's no doubt the casual fan can be overly impressed by a one-handed sideline catch, and considering Pickens was hauling in difficult grabs all the way back in OTAs, it's easy to see why his value was inflated early on. We also saw a first-year wideout who missed most of his last year in college with a torn ACL enter the NFL and put up top-40 fantasy numbers on a per-game basis over his last 14 contests with underwhelming quarterback play. It's too early to tell if Pickens can be a No. 1 receiver in the pros, but he displayed more than enough to keep that debate alive, especially if Kenny Pickett can improve in Year 2. If managers in your league are looking to sell at a reasonable price, Pickens remains a buy or hold.
Fantasy breakout potential: ★★★★★
Tennessee Titans
Treylon Burks, WR - Burks' rookie season was disrupted by injuries that limited him to 11 games broken up into no more than four consecutive outings at one time. He appeared to be finding his rhythm midway through the season with back-to-back stat lines of 7-111-0 and 4-70-0. And he was off to a strong start the next game too before suffering a concussion on a beautiful 25-yard touchdown grab between two defenders. When healthy, the 22-year-old earned targets at an impressive rate and showed he can be an impact player. We feel so strongly about Burks that we were leaning toward him when selecting the main image for this column, but Pickens emerging from the tunnel with the lights behind him was too hard to pass up. Burks should be near the top of your breakout list when drafting later this year.
Fantasy breakout potential: ★★★★★
Breakout Candidates
AFC | NFC
Comments
✕
Fantasy: Early 2023 breakout candidates for every AFC team
  Got something to say? Leave a comment below!