5 storylines to watch as juggernauts square off in AFC, NFC title games
David Eulitt, Bryan M. Bennett, Michael Owens, Quinn Harris / Getty Images
The 49ers visit the Eagles on Sunday at 3 p.m. ET. The Chiefs host the Bengals that evening at 6:30 p.m. ET. Keep these battlegrounds, questions, and trends in mind as the Super Bowl LVII matchup is decided.
The slate is stacked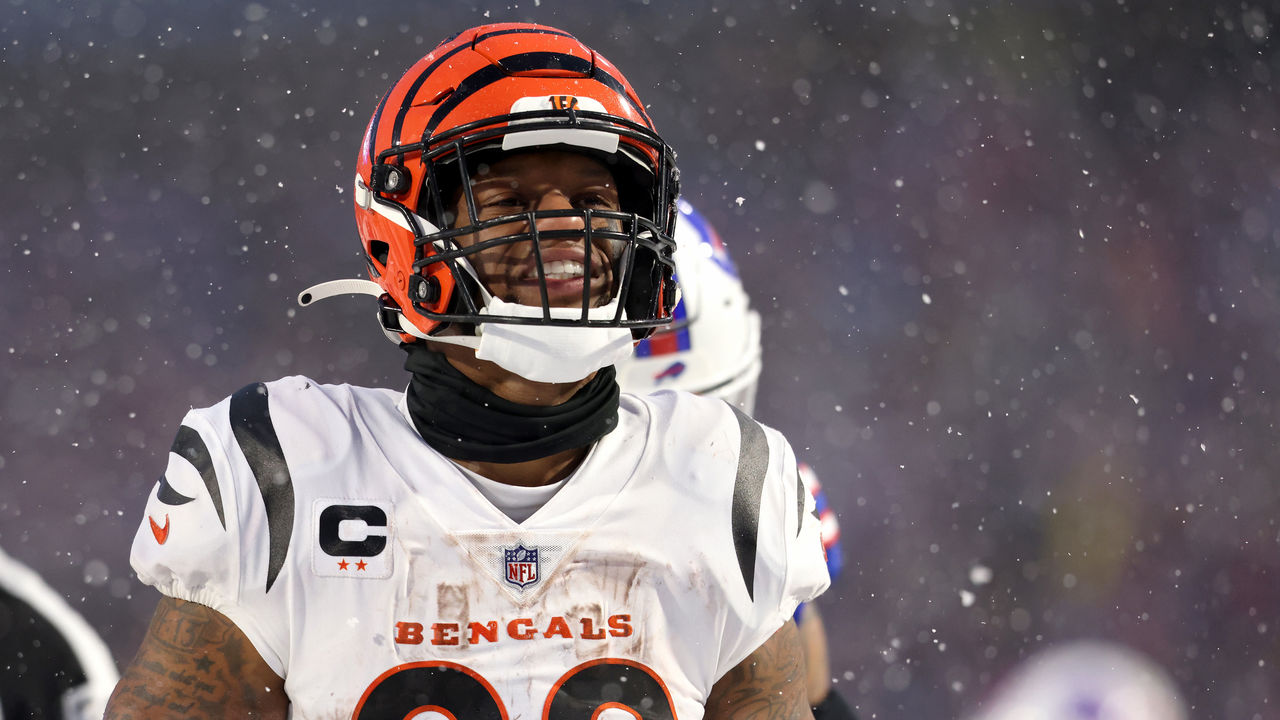 Some team's heater will end Sunday. The Bengals haven't lost a game since Oct. 31, the 49ers are perfect since Oct. 23, and Cincinnati is the only club that's beaten the Chiefs since Oct. 16.
This trio's collective record since the beginning of November is 31-1. The Eagles are 8-1 in that span and 15-1 overall when Jalen Hurts starts. By expected points added per play, the conference title games feature four of the NFL's five best offenses and three of its seven best defenses, per Ben Baldwin's database. The Chiefs are the outlier, ranking 15th in defensive EPA/play, but they can score at whim.
The repeat conference finalists - the Chiefs, Bengals, and 49ers - all posted higher point differentials than they did last season. The Eagles are stronger on both sides of the ball than the 2021 Rams, the reigning Super Bowl champion. No set of finalists since 2018 compiled a higher cumulative point differential than this group (plus-529, ranging from San Francisco's plus-173 figure to Cincinnati's plus-96).
The 2016 Patriots were the last Super Bowl champ to end the postseason on a double-digit win streak. The high mark this century belongs to the 2003 Patriots, whose 15 straight victories culminated in a title. If their momentum abides, the Bengals and 49ers could match up in Arizona in a couple of weeks riding 11-win and 13-win streaks, respectively.
Cincy D vs. Mahomes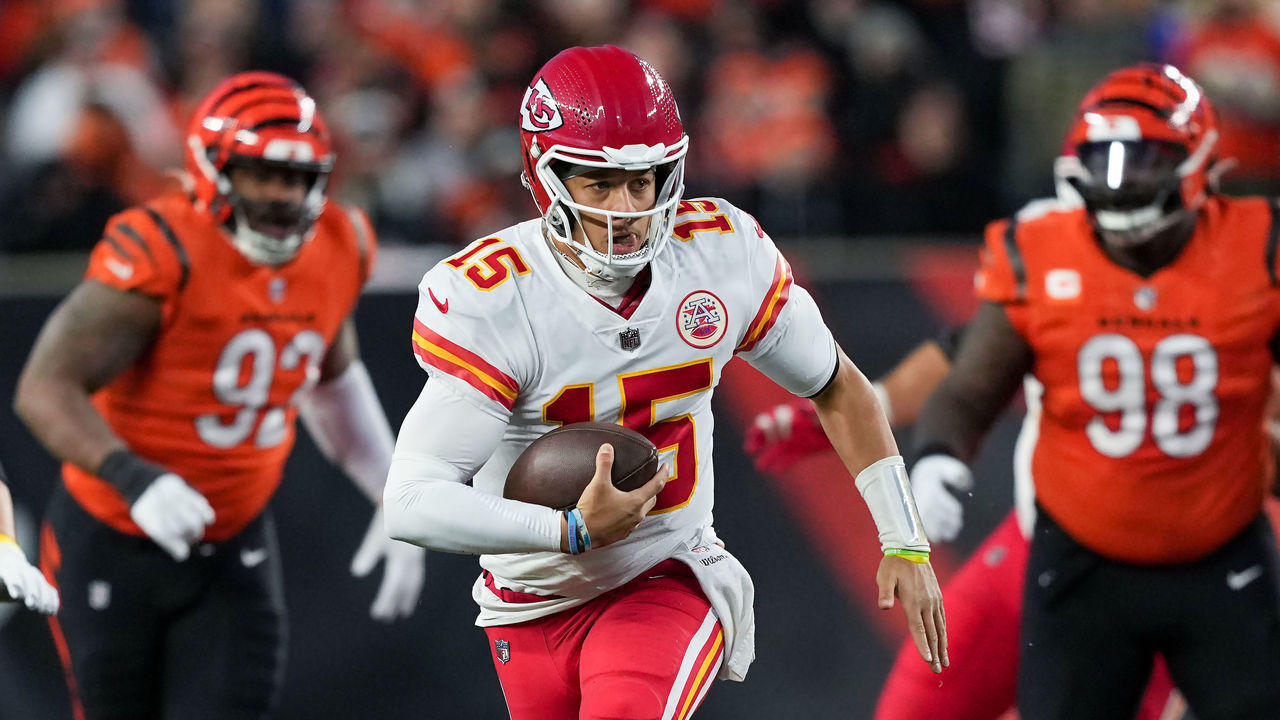 The Bengals are 3-0 against the Chiefs since Joe Burrow turned pro in 2020. All three wins came by a field goal. They intercepted Patrick Mahomes twice last January in the AFC championship and quieted the MVP favorite again in Week 13 (Mahomes went 16-for-27 for 223 yards and one touchdown, well below his usual output).
Cincinnati took time to spark to life in last year's AFC title game. It trailed 21-3 late in the second quarter but sacked Mahomes four times and held him to a measly 55 passing yards in the second half and overtime.
The Bengals barely blitzed. They dropped eight men into coverage to envelop Mahomes' targets even when he scrambled to buy time. Occasionally, they deployed a spy to contain his movements. Defensive tackle B.J. Hill and safety Jessie Bates made athletic plays to deflect the passes that were picked.
Mahomes posted the league's best passer rating this season on dropbacks where he was kept clean, per PFF. Will the Bengals, who ranked 22nd in blitz frequency, change tack and send the house to try to hurry him? Or will they pack the defensive backfield and stick with what worked at Arrowhead Stadium a year ago, knowing Mahomes is less mobile now with a sprained right ankle?
QBs face adversity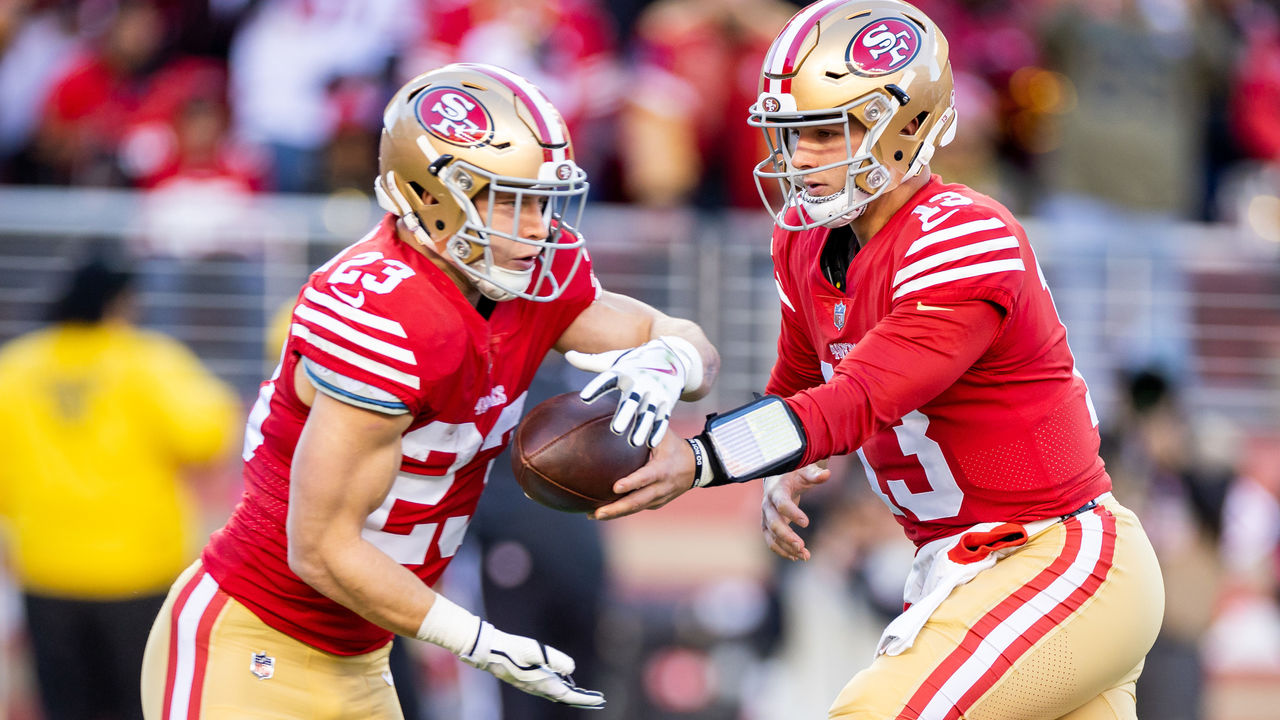 Mahomes isn't the only passer confronting some sort of limitation. Burrow's offensive line is depleted, Hurts' sprained throwing shoulder still nags him, and Brock Purdy's NFL experience is comparatively scant.
These burdens have yet to overwhelm them. Mahomes and Burrow have definitively overtaken Josh Allen as the AFC's top dogs. The NFC championship tilt pits the breakout player of the season against the seventh-round rookie revelation who's never lost a start.
Hurts came out firing against the Giants in the divisional round, recording seven of his 16 completions on the first-quarter scoring drives that initiated Philadelphia's blowout win. Meanwhile, Purdy's scoreless outing against the Cowboys ended his seven-game run of throwing multiple touchdown passes. But he didn't blink or turn the ball over against the league's top takeaway defense, and he helped orchestrate the Niners' 91-yard, go-ahead TD drive.
The quarterbacks' average age of 25 years, 98 days as of Sunday makes them the youngest quartet to start in the conference championships, per the NFL.
They're a confident bunch, Burrow especially. Cool as the snow blew in Buffalo, he led five 60-yard scoring drives and didn't throw a pick for the third straight week despite missing three starters on the O-line, all of whom remain injured. As Burrow said, Cincinnati's Super Bowl window is wide open.
Feed the RBs, TEs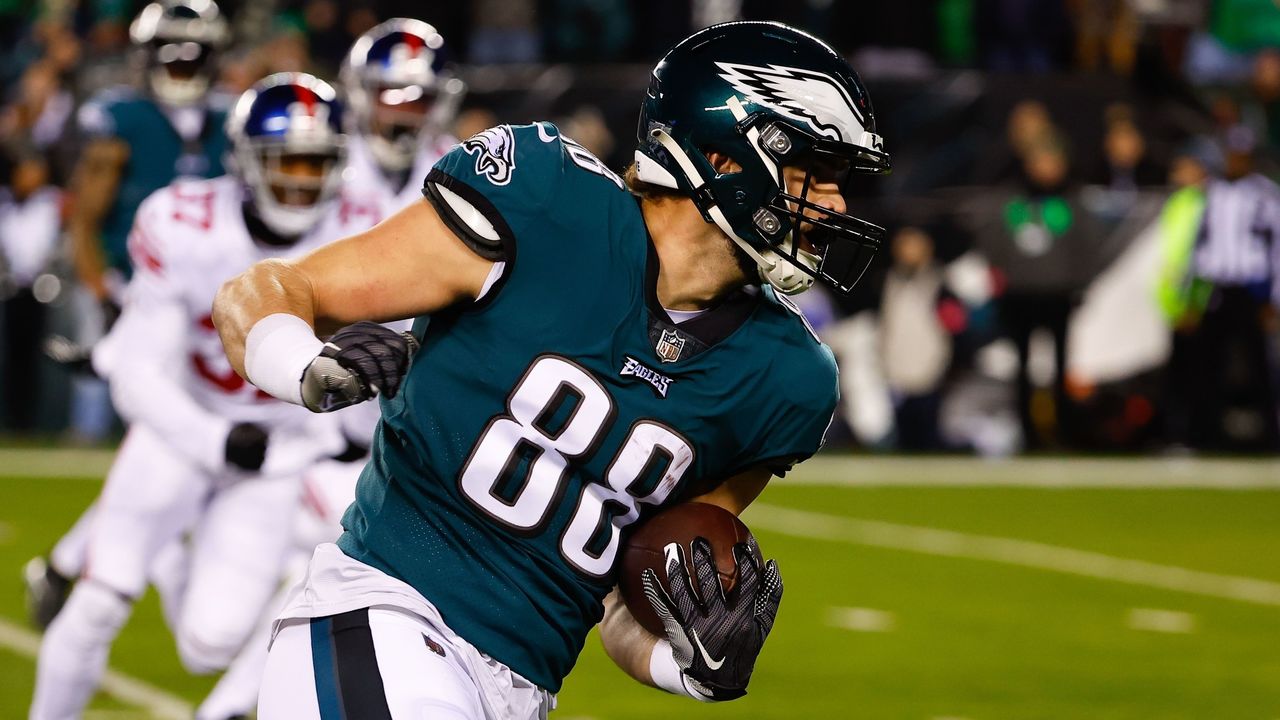 The four remaining offenses love to engage their running backs and tight ends. Those players are powering playoff victories.
Eagles running backs Kenneth Gainwell and Miles Sanders combined in the divisional round to gain 202 yards on 29 carries. Replete with so many options, Philadelphia's four-pronged ground attack consistently wrong-footed the Giants and sprung Gainwell, Hurts, and Boston Scott for a touchdown apiece.
Elsewhere, Cincinnati's Joe Mixon ran for 105 yards and a score against the Bills. The Jaguars let Chiefs rookie Isiah Pacheco pick up 95 yards on a mere 12 carries. Jacksonville's Travis Etienne burned the Chargers for 109 yards back in the wild-card round. Christian McCaffrey, the league's finest midseason acquisition, collected 119 yards to help the Niners smoke the Seahawks in their playoff opener.
On balance, tight ends are upstaging wideouts in the passing game. Tight ends rank first through fifth in PFF's receiver grades this postseason and hold down eight spots in the top 20. Collectively, Kansas City's Travis Kelce, Cincinnati's Hayden Hurst, Philadelphia's Dallas Goedert, and San Francisco's George Kittle caught 85.4% of the passes targeted to them (35 of 41).
Last weekend alone, Goedert's one-handed snag in the red zone enabled him to spin and score; Kittle's dexterous juggling grab at midfield jump-started the 49ers' game-winning drive; Hurst's stylish hurdle for first down extended a Bengals touchdown series; and Kelce's gravitational pull routed a safety away from Marquez Valdes-Scantling, who broke open and hauled in Mahomes' one-footed pass at the back of the end zone.
Kelce gained 98 yards and scored twice himself on a career-high 14 receptions, continually burning the Jaguars on short routes. The Bengals will present a stiffer challenge if he plays Sunday (Kelce's questionable with a back injury). Cincinnati ranked fifth in DVOA this season when defending tight ends, per Football Outsiders, while Jacksonville was No. 32.
Potential defensive epic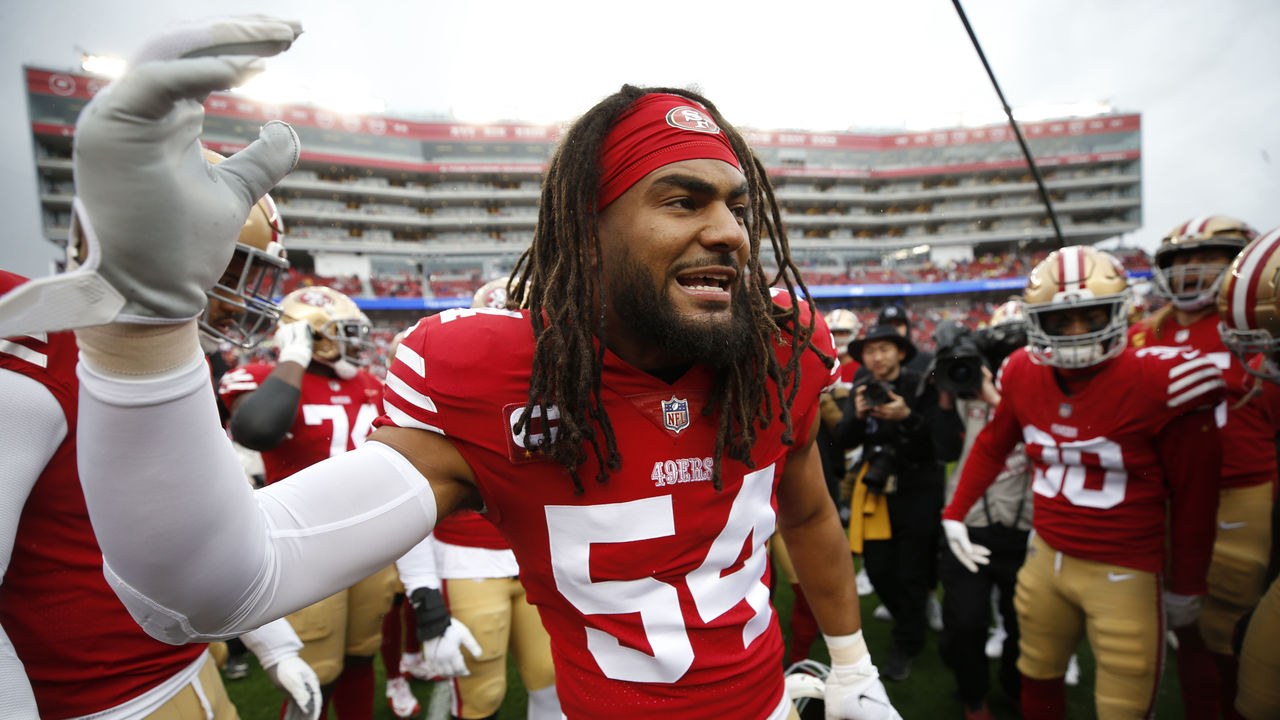 Either side could stonewall the opponent in the Eagles-49ers contest. These defenses allowed the fewest yards per game in the league this season. Both ranked in the top five in takeaways.
The Niners were first in points against and snared an NFL-high 20 interceptions, nine from the safety duo of Tashaun Gipson and Talanoa Hufanga. Eagles pass-rushers menaced the quarterback, racking up 70 sacks as a unit to rank third in league history, per Stathead.
Playmakers abound at all levels of this matchup. Nick Bosa was the NFL sack champ with 18.5, but four Eagles hit double-digit marks. T.J. Edwards joined Fred Warner and Dre Greenlaw in the top six of PFF's linebacker grades. Eagles safety C.J. Gardner-Johnson picked off six passes in a five-game span; cornerback James Bradberry is a first-time All-Pro, like Hufanga. Which of them will shine Sunday?
Nick Faris is a features writer at theScore.