Dak's Cowboys are contenders, what's next for Zach Wilson?
Dak Prescott and the Cowboys played their most complete game of the season Sunday in a 40-3 throttling of the Vikings on the road.
But it isn't just the lopsided score that has the league talking; it's the way the Cowboys looked doing it. Prescott is fully healthy. Perhaps no throw was more indicative of that than the final play of the first half. Flushed to his right, he delivered a 27-yard strike to CeeDee Lamb on the sideline. These are the plays that make Prescott such a challenging matchup. He's so adept at moving the pocket and waiting patiently for his receiver to come back - there's no panic. But you can't make these throws when you're injured. You can't extend a play like that when you're not healthy. Better yet, completing passes to 10 different receivers signals he's fully in sync.
To that point, I asked a veteran NFL scout if the Cowboys are contenders: "If Dak's healthy, with that defense, yes."
About Zach Wilson ...
The panic button has been pressed on Wilson. "One of the worst quarterbacking performances I've seen in the last five years," the scout told me. "No command and no feel."
Perhaps the most surprising part about Wilson's struggles is the lack of arm talent on display. What made him such a hot commodity throughout the draft process was his ability to create magic. His off-platform throws and flick-of-the-wrist 50-yard strikes even garnered him the nickname "Mormon Mahomes."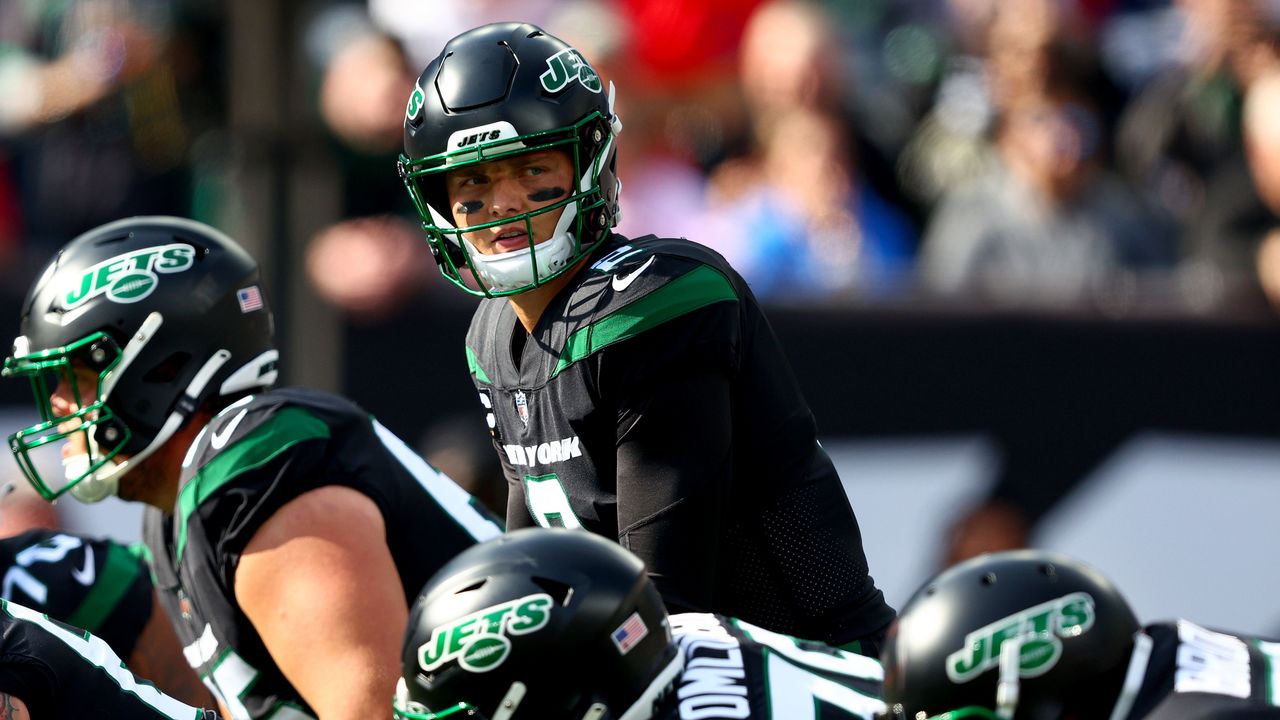 In Sunday's 10-3 loss to the Patriots, however, Wilson looked anything but the enticing, swashbuckling assassin that made him the No. 2 pick in 2021.
The second half was particularly vile for Gang Green: nine completions, 10 punts, 2.77 inches per play, and minus-21 yards. The dilemma for head coach Robert Saleh and general manager Joe Douglas is that it's too early to deem Wilson a bust, but at 6-4, the team's firmly in the playoff picture.
Saleh called his team's offensive performance "dogshit."
As ESPN's Bill Barnwell notes, it's basically all bad when it comes to Wilson, but the following stands out in particular:
His minus-7.0% completion percentage over expectation and 20.5% off-target rate are each the second-worst marks in football.

... More than 31% of Wilson's pass attempts are at or behind the line of scrimmage, the third-highest mark in football. Wilson has the worst completion percentage in the league on those throws.
With Wilson set to watch Sunday's game against the Bears from the bench, the more pressing questions become: Who is the short-term solution at QB for the Jets? And can Wilson be saved?
Short yardage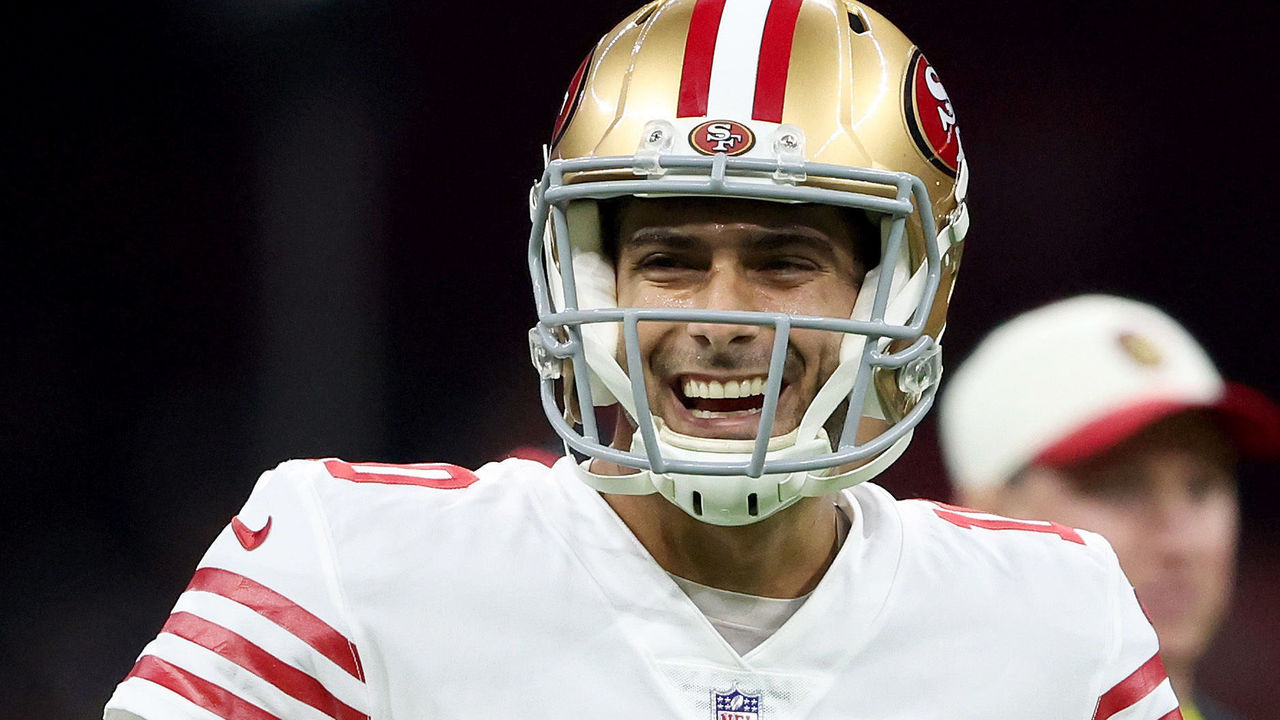 ◾️I said this before Monday's dominant 38-10 performance against the Cardinals, and I'll say it again: I'm not convinced the 49ers are going to move away from Jimmy Garoppolo - even after this season. This isn't a knock on Trey Lance, but he's still just two years in, which means John Lynch and Kyle Shanahan don't have to make a decision on him - not for another two years, technically. Garoppolo, meanwhile, just went for four touchdowns to put his club in first place. Lynch is a forward-thinker, and the idea that you can win with a significantly cheaper QB while bolstering the rest of your team is one he will entertain.
◾️ Let's make the case for Travis Kelce as Offensive Player of the Year. A tight end has never won the award, but Kelce is no regular tight end. The six-time All-Pro leads the league in touchdown catches (11) and is sixth in total receiving yards. Think about it: Tyreek Hill gets traded and the Chiefs' offense rolls on. It's also no coincidence that Patrick Mahomes is playing the best football of his career. Kelce is an unstoppable force who does his best work in the clutch. His game-winning 17-yard TD catch Monday against the Chargers was the perfect embodiment of what makes him special.
◾️ I'm not the least bit worried about Jalen Hurts and the Eagles. Despite two consecutive lackluster performances against the Commanders and Colts, this remains a 9-1 team with an MVP candidate under center, a dominant rushing attack, and championship-caliber defense. Let's also not forget that both Washington and Indianapolis boast stingy defenses themselves (fifth and sixth, respectively). Losing tight end Dallas Goedert for a month is a huge blow for Philly, but having him back for the playoffs is far more important.
◾️ Don't look now, but the Falcons beat the Bears and moved to 5-6, firmly in the NFC South playoff picture. They don't win pretty, but they're in every game. I like how they're running the ball, too. Cordarrelle Patterson is a baller, but it's been helpful to have rookies Tyler Allgeier and Caleb Huntley in the mix. That's what has allowed Atlanta the freedom to put Patterson back there on kick returns and ultimately have him break the NFL's all-time record for kick-return touchdowns, which helped seal the 27-24 win. Head coach Arthur Smith has a deliberate way of running his offense with Marcus Mariota at the helm, and as unconventional as it is in the modern game, it continues to produce positive results.
◾️ Jamaal Williams is awesome at football. That's the simplest way to put it. He's probably not running a sub-4.6, but he's a goal-line machine who leads the league in touchdowns with a whopping 12. Watch him play and you'll see what makes a good running back. He boasts stellar vision and patience, but he's also a true asset in protection, which is why Williams is often on the field on third down. "You can't trust a running back more than (the Lions) trust him," an AFC defensive coach told me.
In Sunday's 31-18 road win over the Giants, Williams recorded multiple rushing touchdowns for the fifth time this season, tying the immortal Barry Sanders for the Lions' franchise record. The 27-year-old signed a two-year deal in 2021 and is in line for a healthy, well-deserved payday in 2023.
◾️ The Bears hit the lottery with rookie safety Jaquan Brisker. I praised him at Penn State for his hard hitting and coverage chops, which have both translated well to the pros. Against the Falcons, Brisker was in 23 coverage snaps, allowing one catch for only 2 yards. He added 11 tackles and a forced fumble. Brisker and fellow rookie defensive back Kyler Gordon (also a second-round pick) have been so impressive. Gordon, for his part, is a big, physical corner who can press and run. I love this duo.
◾️ I watched UCLA-USC on Saturday night and couldn't help but come away flabbergasted by Trojans sophomore quarterback Caleb Williams. The arm talent and footwork are otherworldly, as is his ability to extend plays - all traits that NFL clubs covet. The Oklahoma transfer and Heisman Trophy front-runner has been on a tear of late, highlighted by his 470 passing yards and three total touchdowns in a 48-45 shootout win over the crosstown rival Bruins.
Sixth-ranked USC (10-1) is firmly in the College Football Playoff mix, with a chance at its best finish since 2008 - Pete Carroll's second-last season in L.A. with Mark Sanchez under center.
"He's a phenomenal talent," the scout told me of the 20-year-old Williams.
"He has so many different skills and ways to beat a defense. I'm not sure how well he'd run, but he plays fast and decisive. He could be a top-five NFL quarterback in five years because he's that talented."
Jordan Schultz is theScore's NFL insider and senior NBA reporter. Follow him on Twitter, Instagram, and TikTok.
Comments
✕
Dak's Cowboys are contenders, what's next for Zach Wilson?
  Got something to say? Leave a comment below!