theScore's 2022 NFL midseason All-Pro team
At the halfway point of the 2022 campaign, theScore's NFL editors join forces to assemble our midseason All-Pro roster.
* = unanimous selection
Quarterback
Patrick Mahomes, Chiefs
The NFL is accustomed to Mahomes' brilliance, but that doesn't make what he's doing in 2022 any less special. The four-time Pro Bowler is having one of his best seasons under center, and he's doing it without longtime top receiving mate Tyreek Hill. While Josh Allen garnered a few votes in our selection process, Mahomes' work with a new receiving corps gave him the edge. After all, the Chiefs passer has thrown for a league-leading 21 touchdowns and holds one of the top passer ratings at 109.5.
Running back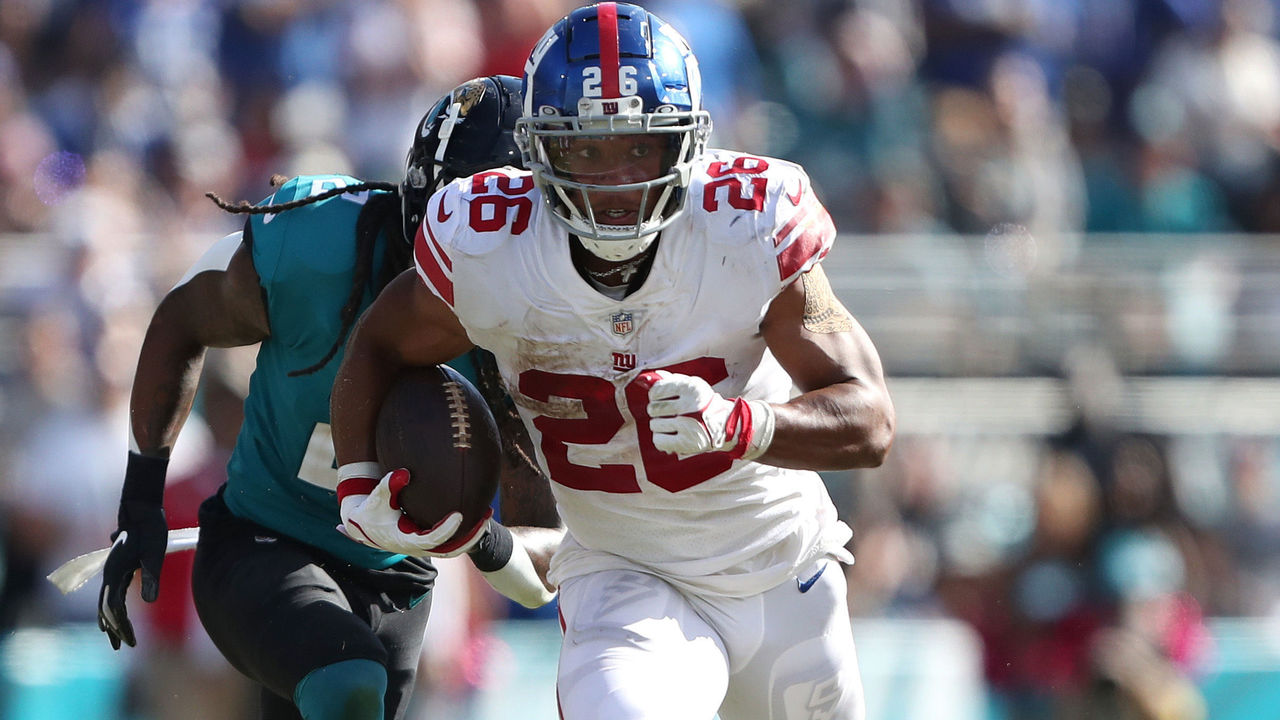 Saquon Barkley, Giants
Following two maligned seasons, Barkley is once again proving why he was so highly regarded coming out of Penn State in 2018. The former No. 2 pick has cruised to 968 scrimmage yards to go along with five touchdowns for the ascending Giants, who've received minimal production from everyone else on offense. Barkley, though, is picking up the slack, recording nearly 70% of his 779 rushing yards after contact. Whether he's taking flight to punctuate a win over the Ravens or cooking the Cowboys on a dazzling 36-yard TD run, Barkley's dynamic play has elevated the Giants into contention.
Wide receiver
Tyreek Hill, Dolphins
Stefon Diggs, Bills
Hill's been unstoppable in his first year with the Dolphins. The six-time Pro Bowler leads the NFL in receptions (76) and yards (1,104) despite Miami using three different quarterbacks. Across the NFL, there have been nine games of 160-plus receiving yards this year, and four of them belong to Hill. "Cheetah" also tops all receivers with 48 first downs. Maybe Hill was right when he said he could put up numbers with literally anyone at QB.
Diggs has formed one of football's deadliest duos with Allen as his quarterback in Buffalo. The star wideout is the only player with at least 60 receiving yards in every game this season, and no other pass-catcher has as many performances of 100-plus yards and one touchdown (five). Allen has a 138.4 passer rating when targeting Diggs, making his teammate the most efficient receiver with at least 35 targets based on that metric.
Tight end
Travis Kelce, Chiefs*
Like a fine wine, Kelce seems to get better with age. The 33-year-old has once again been the go-to target for the most efficient offense in the league, and he's on pace for a position-record seventh straight 1,000-yard season. Kelce, who will likely pass Shannon Sharpe for fourth on the all-time receiving list for tight ends by the end of the year, has re-established himself as the best tight end in the game after Mark Andrews threatened to wrestle that title away from him last year.
Flex
Nick Chubb, Browns
Chubb was efficient, explosive, and arguably the best pure runner in football over the first half of the campaign. He leads the NFL with 10 rushing touchdowns and has been playing with the sort of physicality that perhaps only Derrick Henry can match. Chubb's ball security has also been top-notch, as he hasn't fumbled on 159 touches. Look no further than his 118-yard, three-touchdown performance versus the Chargers in Week 5 for proof of the determination Chubb runs with.
Offensive tackle
Andrew Thomas, Giants
Lane Johnson, Eagles
Thomas entered the league as a project, despite being drafted at No. 4 overall in 2020. After some early-career struggles, the left tackle has put it all together this season. His athleticism and power jump off the screen, while his dominance at the point of attack is one reason for Barkley's resurgence. Moreover, Thomas has allowed zero sacks and just one quarterback hit through nine weeks.
One of the most consistent tackles over the last decade, Johnson is showing no signs of decline. While the veteran is a solid run-blocker, his pass-blocking skills continue to be elite. Johnson is helping keep Jalen Hurts ridiculously clean this season, allowing just one pressure for every 49 pass snaps. The quarterback has taken a big step as a processor, but he's often afforded all the time he needs to survey the field, thanks to Johnson and Co.
Guard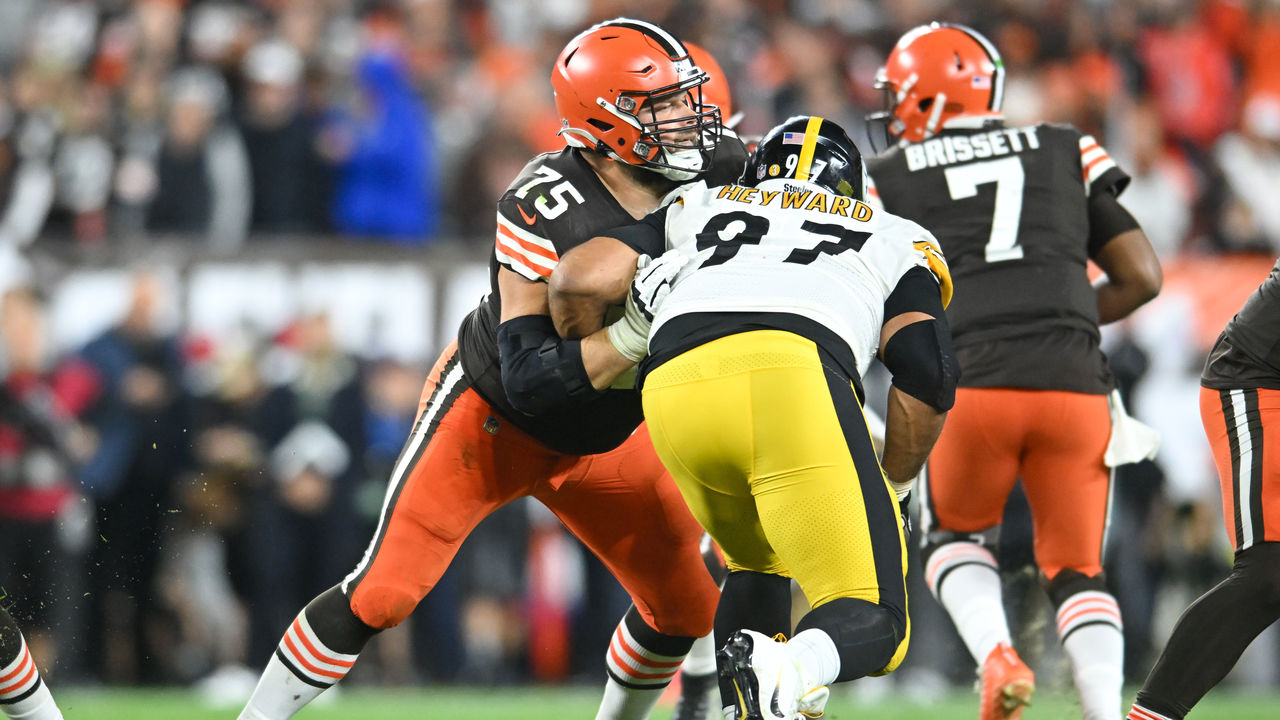 Joel Bitonio, Browns
Wyatt Teller, Browns
Bitonio looks well on his way to a second straight All-Pro campaign. While trench warfare never receives the attention it deserves, the proof is in the numbers for how good Bitonio and the Browns have been up front. Cleveland owns the third-most rushing yards per game, and a large part of that is due to Bitonio's ability to consistently open holes for a Browns offense that relies heavily on the ground game.
It's a clean sweep for the Browns' guards in the All-Pro selections as Teller joins Bitonio on our list. While Bitonio has received the majority of the praise, Teller is doing a phenomenal job himself. The 27-year-old has developed into one of the best run-blockers in the league and is a key reason why the Browns have rushed for over 170 yards in all but two games.
Center
Jason Kelce, Eagles
The anchor of one of the top offensive lines in the league, Kelce hasn't allowed a sack for the undefeated Eagles. The 35-year-old briefly showed hints of decline a few years ago but has gone back to being the most solid center the NFL has to offer since the beginning of 2021. It's safe to say the Eagles won't be looking to move on from him any time soon.
Edge rusher
Micah Parsons, Cowboys*
Nick Bosa, 49ers
Parsons continues to be an offensive coordinator's worst nightmare, stuffing the stat sheet with 36 tackles, eight sacks, nine tackles for loss, and 14 QB hits. The 23-year-old has picked up where he left off in 2021, recording four multi-sack efforts through nine weeks. Parsons' disruption as a pass-rusher and sideline-to-sideline defender could lead to a possible Defensive Player of the Year nod.
Bosa possesses the ideal blend of power and speed that's needed in an elite edge rusher. The two-time Pro Bowler has half a sack more than Parsons, to go along with eight tackles for loss and 16 QB hurries. He also boasts an impressive 24.1% win rate when rushing the passer. The younger Bosa brother held off Myles Garrett from making another appearance on our All-Pro list.
Interior defensive line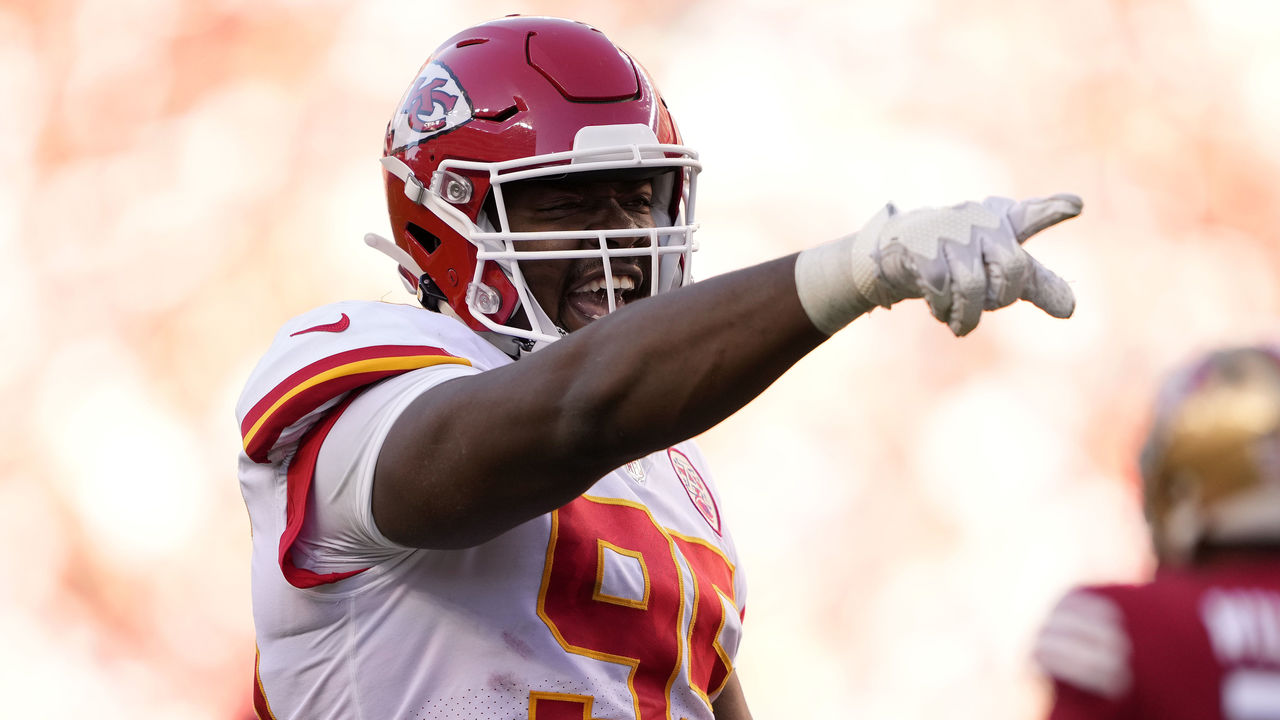 Chris Jones, Chiefs
Quinnen Williams, Jets
There hasn't been a more complete interior defender this season than Jones, the defensive MVP of the Chiefs. Whether it's stuffing the run or breaking through offensive lines, Jones has been on top of his game and could finish with the best overall year of his career. The veteran is turning in consistent performance after consistent performance, with some of his best work coming against highly rated units such as the Chargers and 49ers.
Williams teased us with glimpses over the last three seasons, but he's really turning a corner in 2022. The former No. 3 pick has been a disruptor for opposing offensive lines all year and has gotten to the quarterback in six different games. His two-sack performance against the Packers is a big reason why the Jets were able to pull off one of the biggest upsets of the year so far. He earned our nod over All-Pro mainstay Aaron Donald.
Linebacker
Demario Davis, Saints
Matt Milano, Bills
Lavonte David, Buccaneers
Davis might be the most well-rounded linebacker in the game; he can simply do it all and often needs to for New Orleans. He's first on the team in sacks (six) and second in total tackles (50), and he's held passers to a manageable 84.5 rating in coverage at a time when linebackers are constantly forced into mismatches.
Rarely mentioned among the NFL's top off-ball linebackers, Milano is proving this season that it has been a mistake to leave him out of those conversations. As a perfect complement to Buffalo's high-scoring offense, Milano is a star in pass coverage. Quarterbacks attacking him through the air have a passer rating of just 55.2, the best mark among linebackers.
Tampa Bay's offense hasn't held up its side of the bargain, but the defense remains as potent as ever - and David is still its beating heart. The 32-year-old rarely makes mistakes (a 1.6% missed tackle percentage), which has helped compensate for Devin White's struggles. David is also still a rock in coverage, allowing an average of just 2.5 yards after the catch on receptions given up.
Cornerback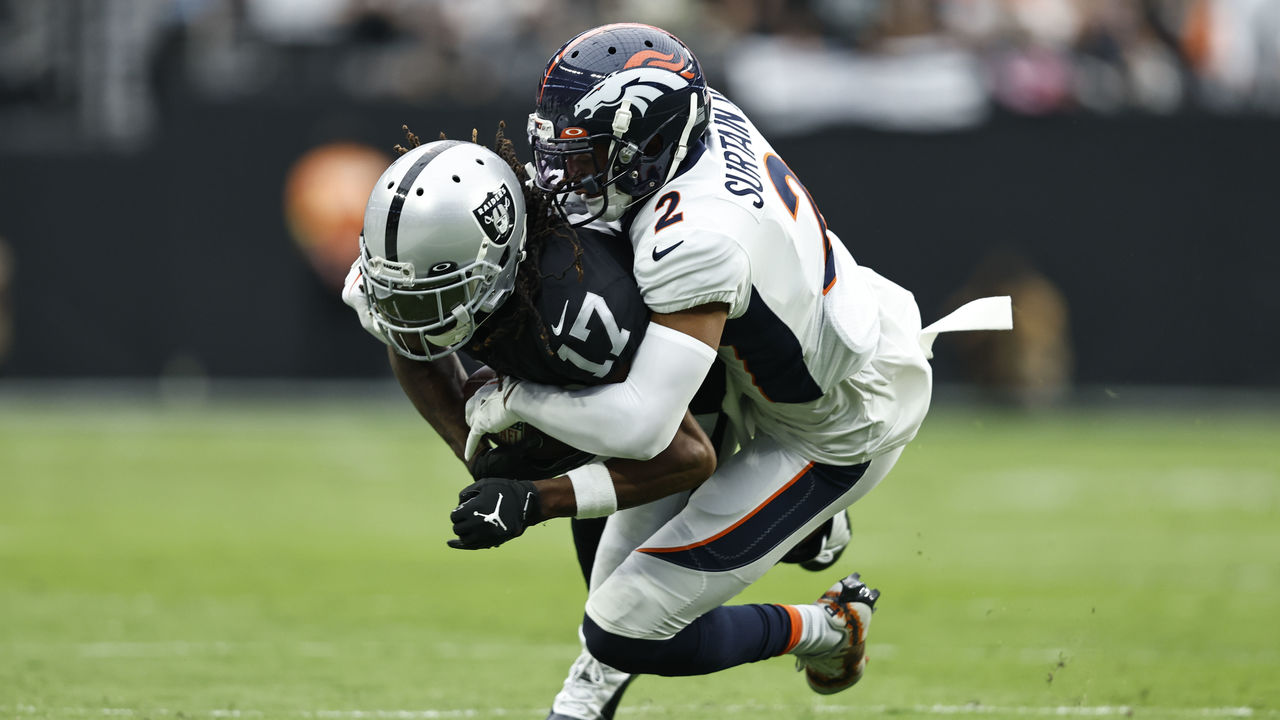 Patrick Surtain, Broncos
Sauce Gardner, Jets
Nobody is playing the cornerback position better than Surtain right now. The 22-year-old, whom Denver drafted ninth overall in 2021, has already cemented himself as a shutdown corner thanks to his athleticism, instincts, and sound technique. He's allowed a 65.3 passer rating when targeted and has yet to give up a touchdown despite lining up against the likes of Davante Adams, DK Metcalf, and Mike Williams.
Given what Gardner has done in these first nine weeks, NFL draft experts might want to rethink the notion that rookie cornerbacks struggle with their transition to the pros. The No. 4 pick has allowed just 189 yards in coverage and leads the NFL with 13 pass breakups. He's helped change the identity of Robert Saleh's defense and is one of the greatest reasons the unit found success in the first half of the season.
Safety
Talanoa Hufanga, 49ers
Minkah Fitzpatrick, Steelers
One of the surprise breakout stars of the season, Hufanga has been everywhere for San Francisco's defense. His penchant for game-changing plays has helped win multiple games for the 49ers. While previously viewed as a box safety, Hufanga's skills in coverage have shined this year. He's racked up three interceptions and six pass breakups while routinely shutting down completions for minimal gains.
Fitzpatrick continues to be the standard for NFL safeties and is well on his way to a third first-team All-Pro nod in four seasons. Not many players in the secondary make as many big plays as Fitzpatrick while also committing such few errors. He's on pace to set new career highs after snagging three interceptions and six pass breakups in seven games.
Defensive back
Jordan Poyer, Bills
Buffalo ranks first in scoring defense yet again, but Poyer's impact on the unit might be larger than it's been in the past. The ball-hawking safety already has four interceptions, including one that saved the Bills against the Ravens in Week 4. The Bills needed more from Poyer after fellow safety Micah Hyde went down with a season-ending injury, and the 31-year-old has delivered.
Kicker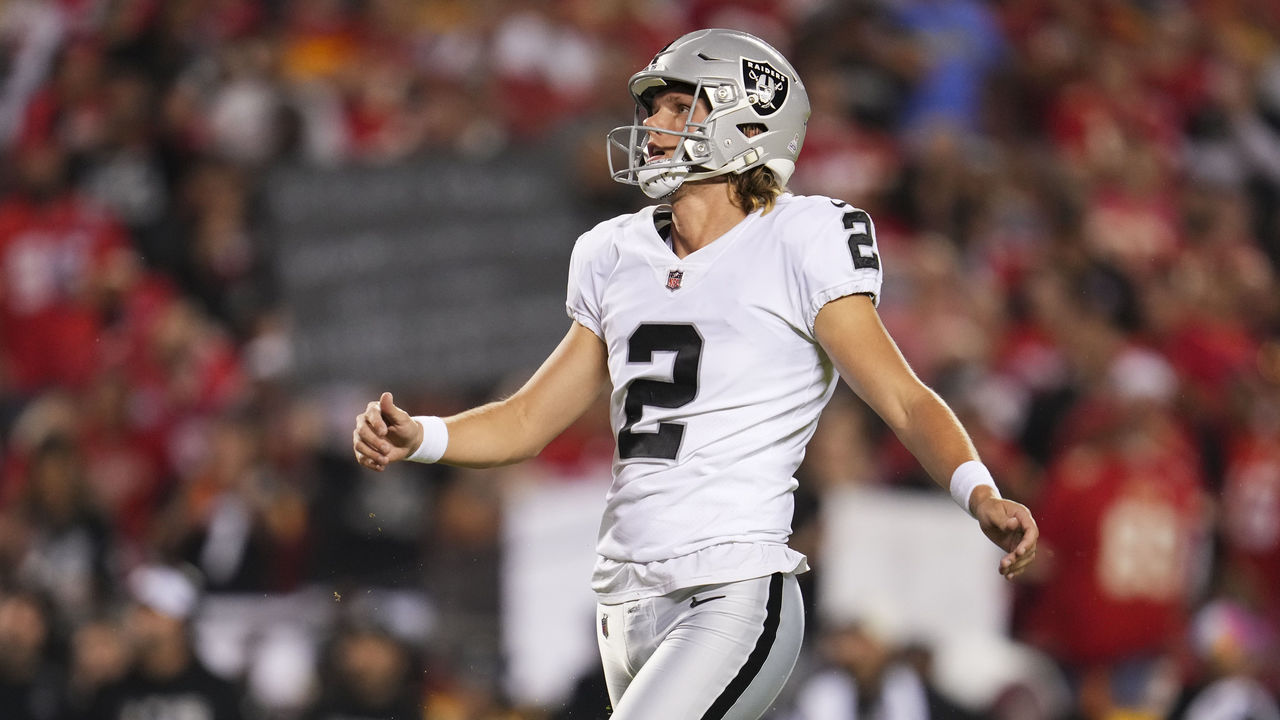 Daniel Carlson, Raiders
While Justin Tucker is widely regarded as the NFL's preeminent kicker, Carlson and Cairo Santos are the only two full-time kickers who are perfect on field goals this year. Carlson's unblemished mark includes a 5-for-5 effort on tries from 50-plus yards.
Punter
Tommy Townsend, Chiefs
Townsend doesn't punt often for the high-octane Chiefs, but he's on point any time Andy Reid summons his services. The third-year pro leads the league in net yards per punt, has pinned his opponents inside the 20-yard line on over 40% of his knocks, and has booted it into the end zone for touchbacks just three times. What more could you want from your punter?
Return specialist
Devin Duvernay, Ravens
The Ravens always boast one of the league's top special teams units under John Harbaugh, and this season has been no different. Duvernay is the only player in the NFL with a return touchdown, and he'd be near the top of the leaderboard in average returns on both kickoffs and punts if he had enough attempts to qualify.
Comments
✕
theScore's 2022 NFL midseason All-Pro team
  Got something to say? Leave a comment below!