Schultz: Geno Smith is for real, and he's been spectacular
Nic Antaya / Getty Images
Geno Smith has been waiting for this.
A month into the season, no quarterback in football has been more accurate, and few have played better.
In Seattle's Week 4 shootout win at Detroit - from which Smith earned NFC Offensive Player of the Week honors - he finished a sparkling 23-of-30 for 320 yards and 2 TDs while adding another 49 on the ground along with another score. It also marked the first back-to-back 300-yard passing games of his nine-year career.
"Geno's always thrown a beautiful ball," an NFL executive told theScore.
"He can layer it, he'll take his shots, he's a good athlete. But he's been sitting for so long behind (Russell) Wilson that it's almost like people forgot, 'Hey, this is a talented guy.'"
Credit Smith's maturity as well. We see it in his demeanor, his play, and his decision-making.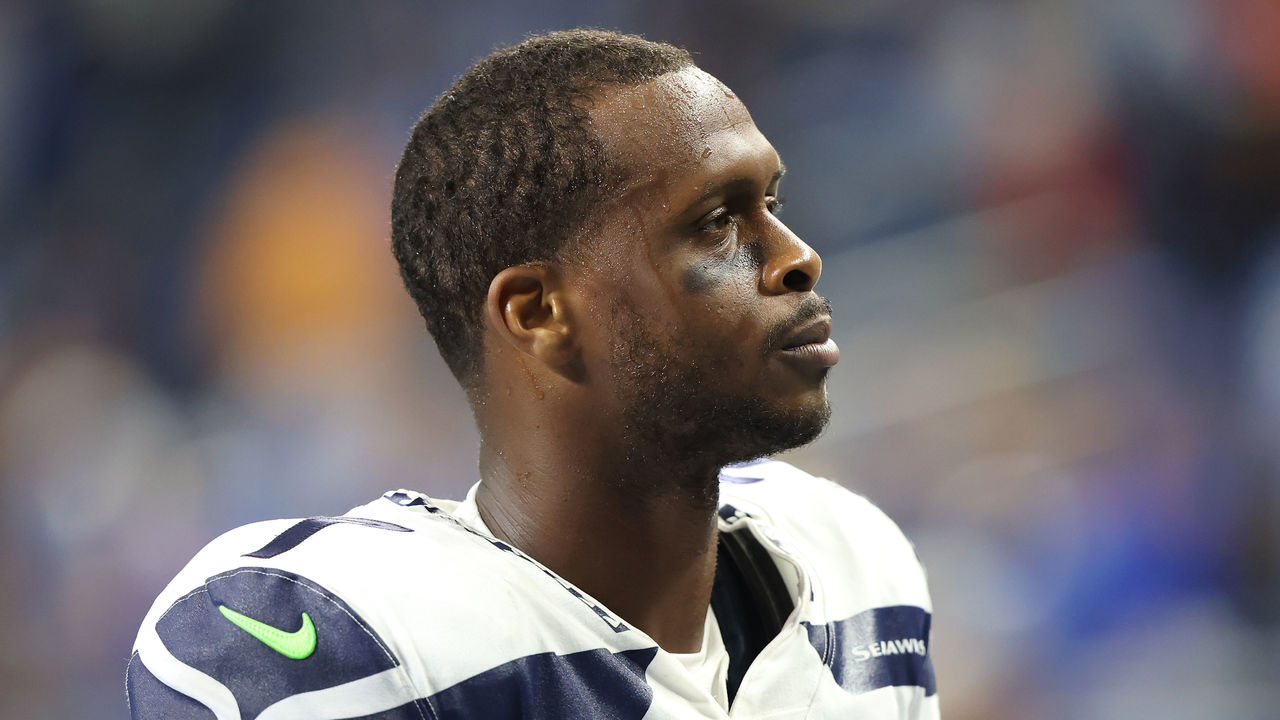 The former second-round pick - who turns 32 next week - is currently on pace for 26 touchdown passes with just nine picks. Those are Pro Bowl-caliber numbers.
As he told reporters before the season: "I don't have to make every play; I don't have to play hero ball."
Fair or not, Seahawks fans will always compare No. 7 to No. 3. Thus far, the comparison is staggering.
Smith's 108.0 passer rating is not only 17 points higher than Wilson's, but it also outpaces Aaron Rodgers, Tom Brady, Josh Allen, and Justin Herbert. In fact, he trails just Tua Tagovailoa and Patrick Mahomes in the category.
"I don't think anyone ever doubted his tools," the executive said.
"It came down to opportunity. Now that he's starting and playing well, you can see his confidence growing. You can see him wanting to take calculated risks that other good quarterbacks make. … Geno's the real deal. Someone's gonna pay him a ton of money, and if I'm John (Schneider, the Seahawks GM), I'm probably looking at extending him now before the price goes up."
In Seattle's Week 1 win over Wilson's Broncos, Smith made several plays that signaled the beginning of something special.
Case in point: Smith's first TD pass of the season. In essence, it was a broken play that looked like a sack or perhaps a modest rushing gain. Instead, Smith - at the last second with three Broncos rushing at him - sees a wide-open Will Dissly for the 38-yard score.
It's less the throw that stands out and more the fact he's able to flip the last-second switch from runner back to thrower and have the presence of mind to look up and find his man. To that point, Timo Riske of PFF reports 76% of Smith's dropbacks under pressure have resulted in attempts to a target. That's the highest rate in the NFL (the average is 59%). He's keeping his eyes downfield and still looking to read the defense, even under pressure.
"I think the natural reaction is to wonder if he keeps pace with his accuracy," an NFL scout told theScore.
But why wouldn't he? He ranks fourth in play success rate (54%) and fifth in expected points added per attempt, according to Ben Baldwin's database. He's also No. 1 in completion percentage over expectation.
Warren Sharp notes that NFL's Next Gen Stats show 49% of Smith's passes on early downs are "in rhythm" (under four seconds from the snap), which slots him sixth among all quarterbacks.
Compare that to Wilson, for example, who last year had only 34% of early down passes thrown "in rhythm," which ranked 33rd of 42 QBs - and 20 points lower than his successor.
When told about Smith's sixth-ranked "rhythm" stat, the scout says: "Geno's always been a rhythm guy. Go back to his West Virginia days: It's a hitch-and-throw. It's quick strike. It's 'OK, one, two, three, ball's out.' That's what he's doing right now, too."
Keep in mind that Smith isn't merely checking down and living to play another down. To his credit, he's consistently taking his shots, those aforementioned calculated risks.
In fact, his 7.9 yards per attempt average slots him tied for fourth this season. He's 7-of-13 on passes of 20 or more air yards for 167 yards, three touchdowns, and one interception.
"Russell Wilson's on his way to the Hall of Fame," the executive said. "But I don't think we can question that Geno's been the better player after a month of football."
Jordan Schultz is theScore's NFL insider and senior NBA reporter. Follow him on Twitter, Instagram, and TikTok.
Comments
✕
Schultz: Geno Smith is for real, and he's been spectacular
  Got something to say? Leave a comment below!