NFL Power Rankings - Week 2
theScore's NFL Power Rankings take a weekly spin around the league to assess where every team stands.
1. Buffalo Bills (1-0)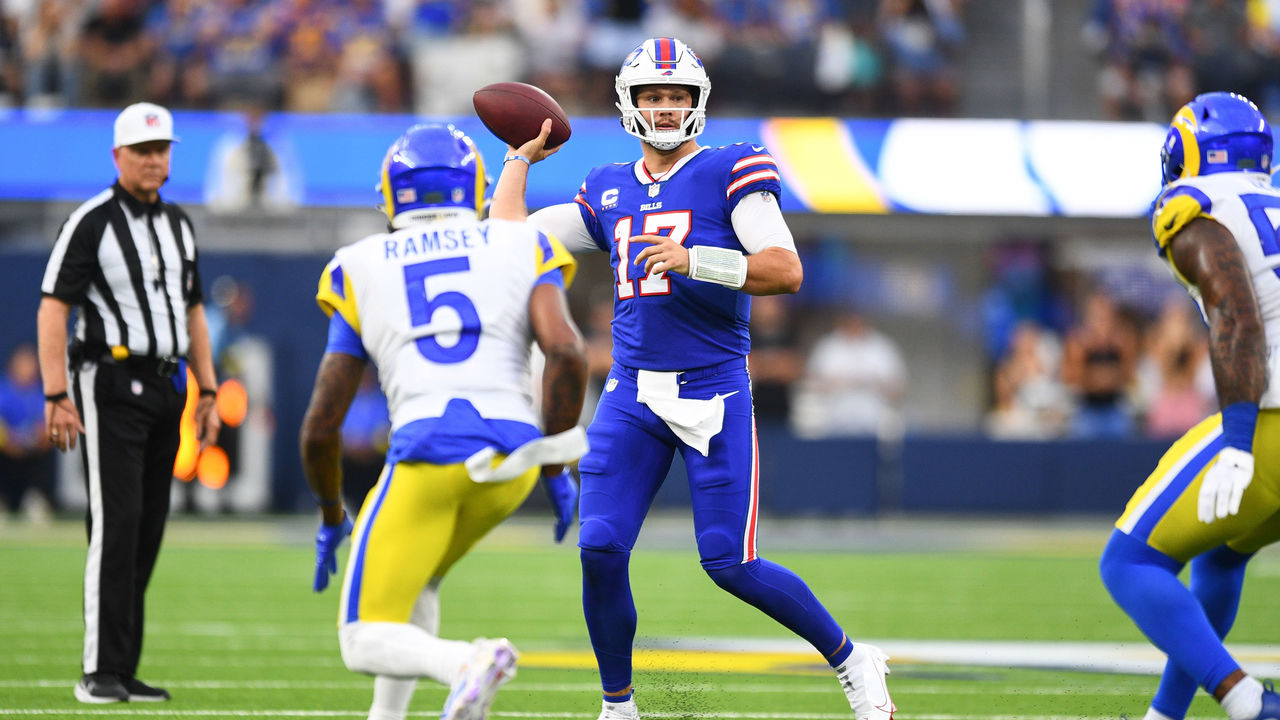 Previous rank: 1
After Week 1, no one can say that the Bills didn't put the NFL on notice. By humiliating the reigning Super Bowl champion Rams on the road, Buffalo has sent a warning shot to the rest of the league.
2. Los Angeles Chargers (1-0)
Previous rank: 2
The Chargers struck first in an early battle of AFC West heavyweights with a victory against the Raiders. Justin Herbert did Herbert-like things with his three touchdown passes before offseason acquisition Khalil Mack put the game on ice with a fourth-down strip sack.
3. Kansas City Chiefs (1-0)
Previous rank: 3
Does the Chiefs' offense miss Tyreek Hill? If it does, it was hard to tell after Patrick Mahomes threw for 360 yards and five touchdown passes in an absolute beatdown of the Cardinals.
4. Tampa Bay Buccaneers (1-0)
Previous rank: 4
A convincing win over the Cowboys should put to rest any questions about whether Tom Brady's mysterious vacation from training camp would negatively impact the Bucs. A Brady-led team is inevitable. Them's the rules.
5. Baltimore Ravens (1-0)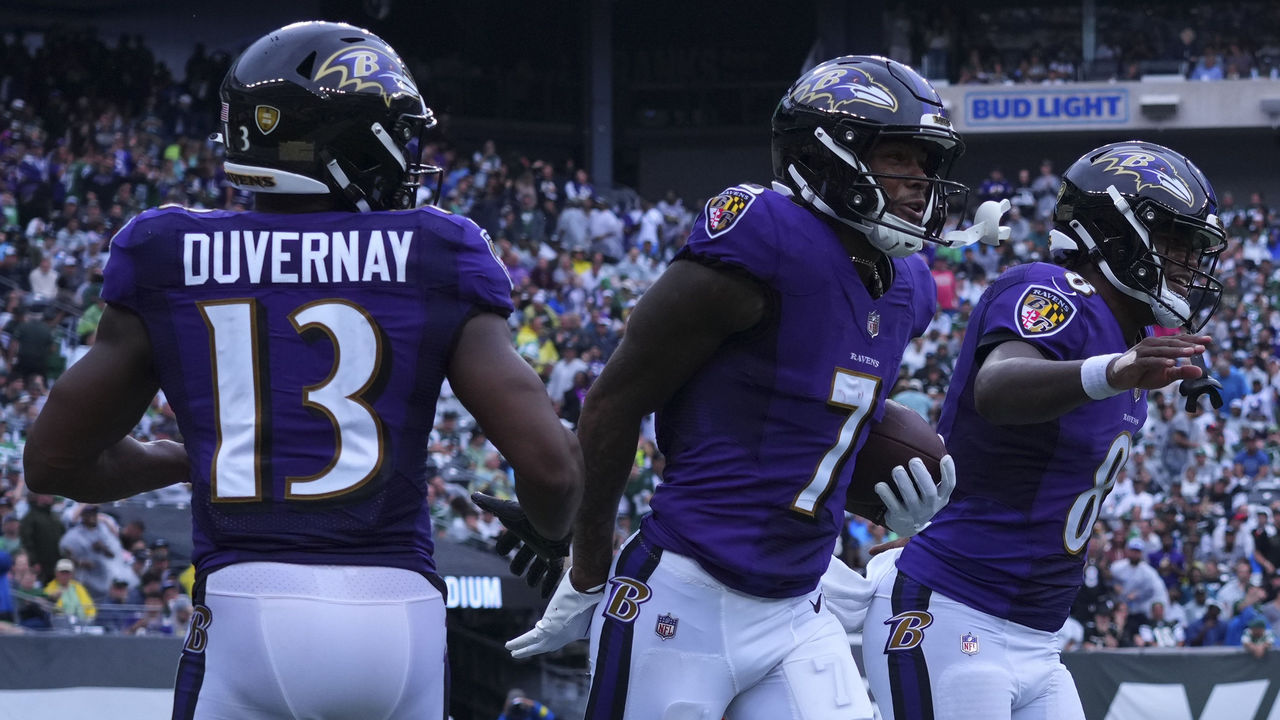 Previous rank: 7
Just days after failing to come to an agreement on a contract extension, Lamar Jackson put on a show for the entire NFL landscape to see. Rashod Bateman's and Devin Duvernay's performances should also inspire confidence in the Ravens' receiving corps.
6. Los Angeles Rams (0-1)
Previous rank: 5
The Rams slide a bit after a terrible showing to kick off the season, but we can't knock the defending champs too much. Here's to assuming they'll look much better this week when they're not facing the juggernaut Bills.
7. Philadelphia Eagles (1-0)
Previous rank: 8
There was a lot to like about Philly's season-opening win over the Lions, including the way the offense is taking shape with A.J. Brown in the mix. If the defense can play closer to its talent level, this ranking might be the floor for the Eagles.
8. Green Bay Packers (0-1)
Previous rank: 6
Make it two years in a row for the Packers opening the campaign with an absolute dud. We'll give Aaron Rodgers and Co. every opportunity to bounce back, but it's tough not to be extremely concerned by his receiving corps.
9. Cincinnati Bengals (0-1)
Previous rank: 9
The Bengals could chalk up their Week 1 gong show to a Super Bowl hangover after a disastrous performance from Joe Burrow and the offensive line. Thankfully, they should be able to recover quickly with matchups against the Cowboys and Jets on the horizon.
10. Minnesota Vikings (1-0)
Previous rank: 15
A win over the Packers doesn't mean the Vikings get ranked higher than their division rivals - as we try not to overreact to Week 1 - but they're on the rise nonetheless. Justin Jefferson may be the best playmaker in football.
11. Las Vegas Raiders (0-1)
Previous rank: 11
The good news? Davante Adams looked well worth his price tag in his first game donning silver and black. The bad news? It still wasn't enough to overcome Derek Carr's three picks in a tight loss to the Chargers.
12. Miami Dolphins (1-0)
Previous rank: 17
Mike McDaniel earned a victory in his head coaching debut, and while all eyes were on how his offense would look with Tua Tagovailoa and Hill, it was actually his defense that stole the show after limiting the Patriots to just seven points.
13. Indianapolis Colts (0-0-1)
Previous rank: 13
Arguably no team despises Week 1 more than the Colts. For the ninth straight season, Indianapolis left the opening week without a win after coming out flat in a tie with the Texans.
14. Denver Broncos (0-1)
Previous rank: 10
Russell Wilson didn't receive a warm welcome in his return to Seattle. It only got worse as he was forced to watch his running backs fumble twice on the goal line and his head coach opt for a long field goal instead of putting the ball in Wilson's hands with the game on the line.
15. San Francisco 49ers (0-1)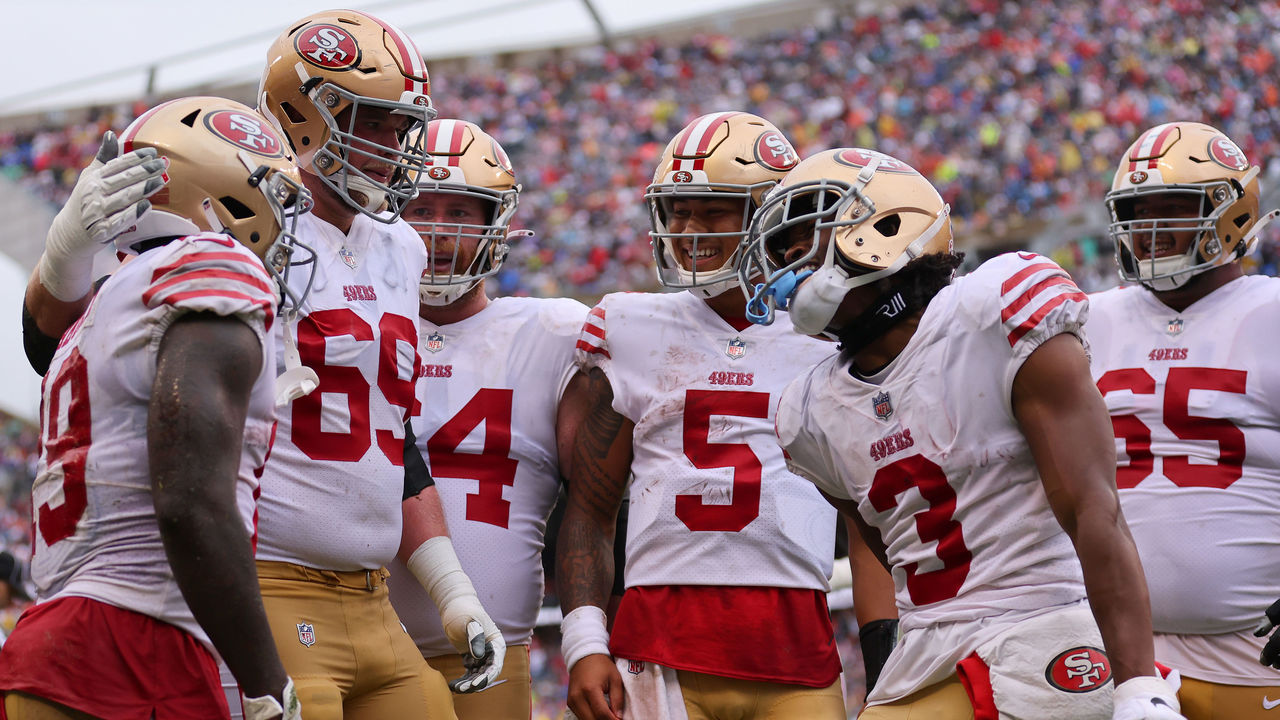 Previous rank: 12
Losing to the Bears in the opener is just about as embarrassing as it gets for the 49ers, but we're not going to panic on their behalf just yet. There's a good chance we look back at this game and chalk up the weird result to some brutal weather conditions.
16. New Orleans Saints (1-0)
Previous rank: 16
Michael Thomas leading the comeback charge for the Saints and helping them avoid the upset in Atlanta was impressive. What's not so impressive is needing a 16-point fourth-quarter comeback against the Falcons in the first place.
17. Pittsburgh Steelers (1-0)
Previous rank: 21
While the offense was still hard to watch at times, the Steelers' defense was nothing short of dominant against the current AFC champions. Whether that can continue might ride on how long T.J. Watt will be on the shelf with his pectoral injury.
18. Dallas Cowboys (0-1)
Previous rank: 14
The Cowboys dropped the Sunday night opener to the Bucs and lost Dak Prescott for the next six-to-eight weeks in the process. It's tough to see Dallas pulling out more than a handful of wins without its star quarterback.
19. Cleveland Browns (1-0)
Previous rank: 20
Nick Chubb put up 141 yards on the ground and Jacoby Brissett didn't turn the ball over as the Browns spoiled Baker Mayfield's quest for revenge in Week 1. That'll be the blueprint for success if this Cleveland team hopes to stay afloat through the first half of the season.
20. Arizona Cardinals (0-1)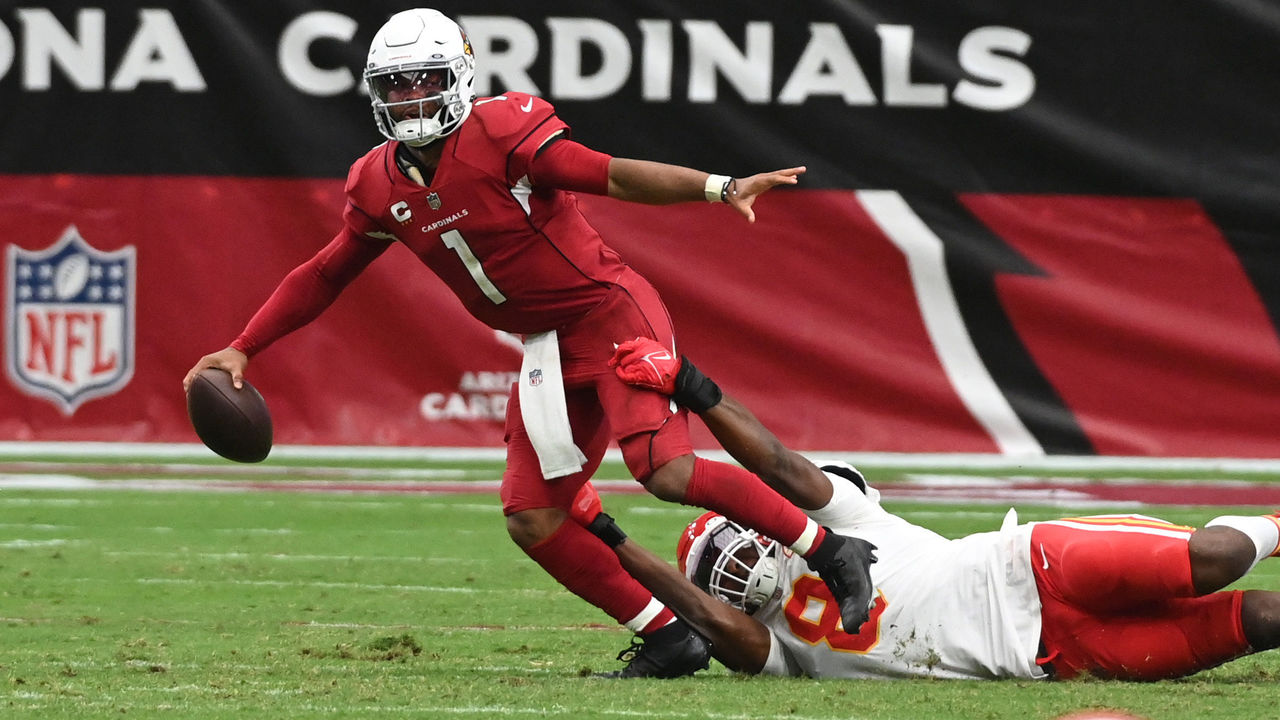 Previous rank: 19
Arizona's defense certainly isn't the first unit to be completely outmatched against Patrick Mahomes and the Chiefs. The more concerning development was the Cardinals' high-powered offense not even coming close to hanging around. Heading into the fourth quarter with seven points on the board isn't going to get it done.
21. New York Giants (1-0)
Previous rank: 28
It was the Saquon Barkley show for the Giants in a Week 1 upset of the Titans. The former top pick looked to be back in superstar form, putting up 164 yards on 18 carries while adding six catches for another 30 yards.
22. Tennessee Titans (0-1)
Previous rank: 18
The Titans were only a missed field goal away from coming out of Week 1 with a win. However, there's a lot to worry about after they surrendered over 200 rushing yards in their loss to the Giants.
23. Washington Commanders (1-0)
Previous rank: 24
Struggling to put away the Jaguars isn't exactly the most inspiring start to the season. But a win is a win, and the Commanders should be thrilled with the immediate impact of first-round receiver Jahan Dotson.
24. Seattle Seahawks (1-0)
Previous rank: 29
The difficult season we're forecasting for the Seahawks is still heavily weighted in this ranking, but they had to move up after an incredible Monday night win over the Broncos. If Seattle can make it two straight with a win over San Francisco next week, we'll all have to consider whether we were sleeping on this team too much.
25. Detroit Lions (0-1)
Previous rank: 25
Give the Lions credit - they refused to go away and stayed alive against a good Eagles team until the very end. They're heading in the right direction, but the next step is turning moral victories into real ones.
26. Carolina Panthers (0-1)
Previous rank: 23
Mayfield came up just short in his effort to get revenge over the Browns. But the more important story here should be that the Panthers' game plan somehow only led to 10 carries for Christian McCaffrey throughout a close contest. That's not a recipe for success in Carolina.
27. Jacksonville Jaguars (0-1)
Previous rank: 27
There were a lot of positives to take from the Jaguars' outing despite a one-possession loss to the Commanders. James Robinson and Travis Etienne combined for 113 yards on the ground while No. 1 overall pick Travon Walker shined in his NFL debut.
28. New England Patriots (0-1)
Previous rank: 22
The Patriots will have to do a lot of soul-searching - especially on offense - after a lifeless loss to the Dolphins. Three turnovers and seven points marked a rough debut for play-caller Matt Patricia. It could be an unusual season in New England unless its offense gets into rhythm.
29. Chicago Bears (1-0)
Previous rank: 31
Starting the campaign and the Matt Eberflus era by beating the 49ers for the biggest upset of the week has to be a great feeling. We're not going to put too much stock in that result, though. It still feels like it'll be a long season in Chicago.
30. Houston Texans (0-0-1)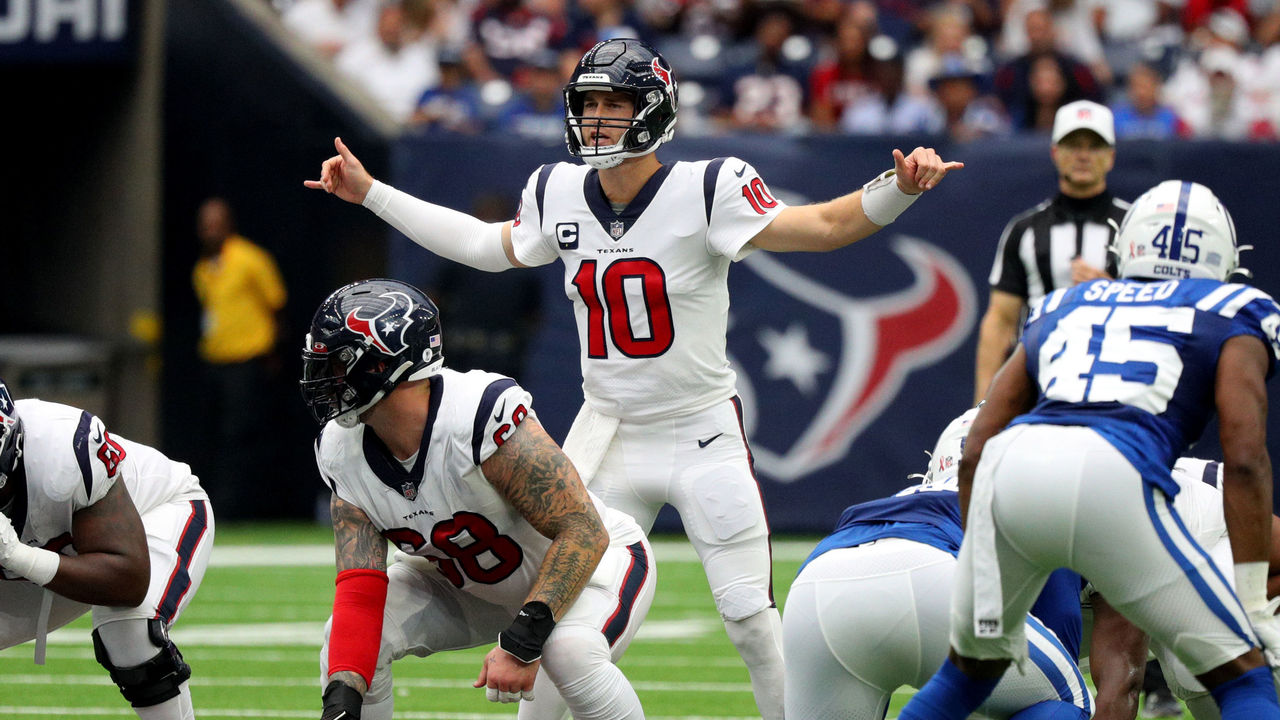 Previous rank: 32
Nobody wins in a tie. The Texans appeared well on their way to a major upset before surrendering 17 unanswered fourth-quarter points to the Colts. Regardless, credit is due to a Houston side that looks improved from last season.
31. Atlanta Falcons (0-1)
Previous rank: 30
Blowing a 16-point fourth-quarter lead against the division-rival Saints really is the most Falcons thing ever. At a certain point, this team has to shake the reputation for doing anything it can to lose a game, right? ... Right?
32. New York Jets (0-1)
Previous rank: 26
Joe Flacco has no business being a starting quarterback in the year 2022. Unfortunately, though, that's the situation the Jets find themselves in until Zach Wilson returns.
Comments
✕
NFL Power Rankings - Week 2
  Got something to say? Leave a comment below!