Lamar Jackson's contract is still up in the air. What are the risks?
Jason Miller / Getty Images
With the calendar now flipped to July and the start of training camp less than a month away, Lamar Jackson remains without a contract beyond the 2022 season. The situation isn't as dire or as urgent as it might seem - both for Jackson and the Baltimore Ravens. But the longer Jackson goes without a new deal, the greater the potential risks become for both sides.
Jackson is entering his fifth year in the NFL. According to Over the Cap's database, he earned just $9.47 million in total during his first four seasons under his rookie deal. But even at his fifth-year, team-option rate of $23.016 million for 2022, Jackson is still an enormous bargain for the Ravens: 15 other quarterbacks currently earn more on an annual basis.
Performance
Jackson's overall body of work is awfully impressive. His expected points added per play in his three full seasons as a starter was the fourth-highest in the league behind Patrick Mahomes, Aaron Rodgers, and Ryan Tannehill. He was the league MVP in 2019 when he led the NFL with 36 touchdown passes in addition to rushing for 1,206 yards - a record for quarterbacks.
Jackson is 37-12 as a starter in the regular season. Last year, he even had the Ravens sitting at 8-5 even though they far and away led the league in adjusted games lost to injury. And then an ankle injury sidelined him for the remainder of the season.
It's true that Jackson's performance in the last two seasons didn't reach quite the same heights as his scintillating 2019 campaign. But some of his issues as a passer stem from offensive coordinator Greg Roman's run-heavy scheme, which contracts the field and encourages defenses to stack the box. A video breakdown by Hall of Fame quarterback Kurt Warner lays out how many of Roman's route combinations are less than ideal at creating space for pass-catchers - a critique wideout Hollywood Brown hinted at after the Ravens honored his request for a trade by sending him to the Cardinals on draft night. Roman, for his part, adjusted the scheme for the upcoming season.
There's no denying Jackson is due for a payday that's going be ginormous. The questions are how and when.
What Jackson wants
One complicating factor is that Jackson does not have an agent; he's instead bargaining for himself with the assistance of his mother. As a result, it's impossible to know what his bargaining priorities might be, other than that he seems to be in no hurry to get a deal done. There have been no leaks. In fact, back in the spring, when some idle speculation started making the rounds that Jackson might be angling to leave Baltimore - a classic tactic of using the press in an attempt to gain leverage - Jackson was quick to shoot it down:
Similarly, while Jackson skipped the Ravens' organized team activities, he hastily made it clear he only did so because OTAs are voluntary anyway. When it came time to report for mandatory minicamp two weeks ago, Jackson was present and accounted for.
At the league meetings in late March, team owner Steve Bisciotti was at a loss to understand Jackson's negotiating strategy, which he characterized as "unique as hell because everybody expects you to say, 'I've got to get mine now.'" Bisciotti also went so far as to speculate what Jackson's motives might be in slow-walking the contract talks, adding that he's not sure the two sides will even reach an agreement by the time the season starts.
"The kid is so obsessed with winning a Super Bowl, that I think deep down, he doesn't think he's worthy," Bisciotti said. "I think he wants that to say, 'Now, I deserve to be on top.'"
What Jackson deserves
Jackson's been eligible for a second contract since the end of the 2020 season. He clearly could have secured a sizable payday with substantial guarantees at that time, but he's also benefited tremendously by waiting. Heading into the 2021 season, Mahomes, Dak Prescott, and Josh Allen were the only quarterbacks with contracts averaging $40 million or more annually; Rodgers, Deshaun Watson, Derek Carr, and Matthew Stafford have since joined them.
Watson's deal, at five years and $230 million, all fully guaranteed, provides the most comparable benchmark. Bisciotti acknowledged that the structure of Watson's deal "would make negotiations harder with others." And you better believe Jackson is aware of that.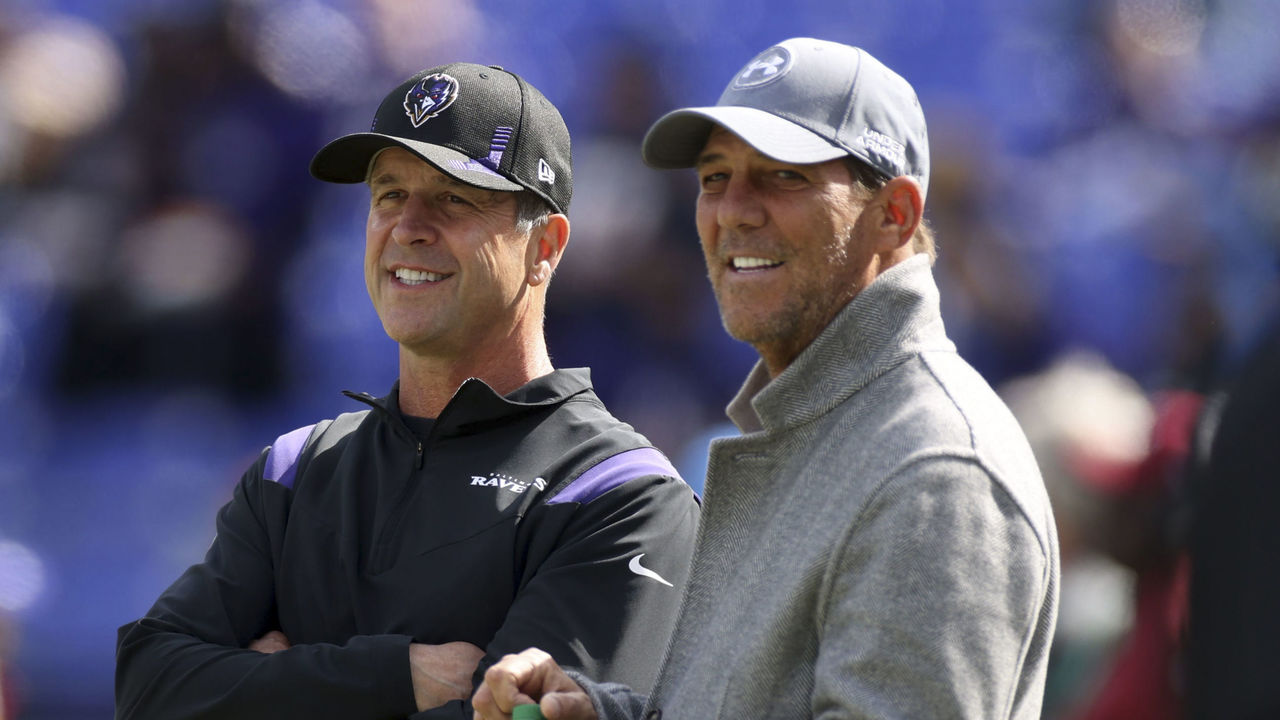 "If I were Lamar, I'm not going to take anything less than Deshaun," former Jets general manager and Dolphins executive Mike Tannenbaum told theScore.
Tannenbaum acknowledged that Jackson's mobile style of play, which results in him taking a lot of hits, might make the Ravens hesitant to commit to a multi-year, fully guaranteed contract. But the last four games of 2021 have been the only starts Jackson has missed with a non–COVID-related injury since he took over for Joe Flacco in Week 11 of 2018. And in a league in which quality QBs are in relatively short supply, Jackson has the leverage to demand a Watson-style deal.
"That would be a little bit of a concern, his durability," Tannenbaum said. "But he's played at a high level, and I don't know if you have much of an option."
The franchise tag
I wrote in May about how top quarterbacks can lead the way in establishing a trend of guaranteed contracts in the NFL. But if the Ravens refuse to budge, they can always apply the franchise tag to prevent Jackson from departing via free agency next year.
Since its creation as part of the 1993 collective bargaining agreement, the tag has been a mechanism that allows teams to restrict player movement and suppress their earning power. But it can sometimes benefit players, too. If Jackson were to get tagged, he would be one of those players who stands to gain.
There are two types of franchise tags: non-exclusive and exclusive. The rules governing them are laid out in Article 10 of the CBA. The non-exclusive tag number is determined by adding the amounts of the tags at a given position from the previous five years, dividing that total by the sum of the prior five salary caps, and multiplying that figure by the salary cap number for the year in question.
The 2023 cap is expected to increase substantially from 2022's $208.2 million. Assuming it jumps to $230 million - a 10.4% increase, a conservative estimate - the non-exclusive QB tag number ought to come in around $31.2 million (fully guaranteed), which would still be well below the top of the market. If Baltimore used a second tag on Jackson in 2024, it would have to be 120% of the 2023 number, or $37.44 million.
But this is where the non-exclusive tag gets risky for the Ravens. Applying it would still allow Jackson to negotiate with other teams. And if he were to sign elsewhere, that team would have to give Baltimore two first-round draft picks as compensation. For many years, that compensation proved to be too prohibitive a cost, which is why a player with a non-exclusive tag has never signed with another team. But in the last two years, teams have been willing to deal multiple first-rounders to acquire players like safety Jamal Adams and QBs Stafford and Watson. It's not hard to imagine another franchise would willingly part with two first-rounders to pry Jackson from Baltimore.
The Cowboys faced this dilemma two years ago when they tagged Prescott, which is why they applied the exclusive tag. The exclusive tag prevents a player from negotiating with anyone else, but it's also far more expensive: the average of the top five 2023 cap figures at a given position, up to the end of the restricted free agency signing period. At the moment, those figures for Watson, Prescott, Mahomes, Allen, and Tannehill would come to $45.46 million, though that figure will likely change based on factors like restructures, releases, or the possibility that Kyler Murray, Joe Burrow, and Justin Herbert sign new contracts by then.
The point here is that the Ravens could be on the hook to pay Jackson market-level money - all fully guaranteed - even by going the tag route. They can then tag Jackson again in 2024, but at 120% of his 2023 salary, which would come to $54.5 million. A third tag would then have to be 144% of the second tag, which would be $78.5 million.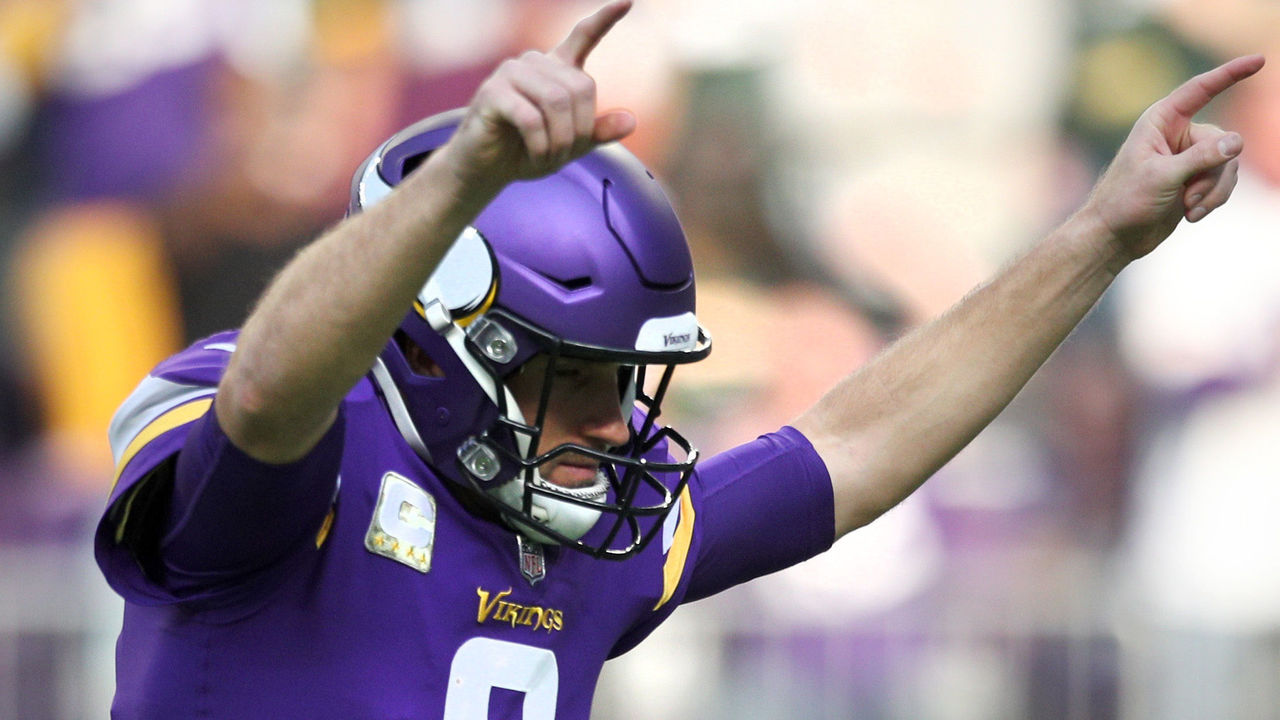 Kirk Cousins forced Washington to tag him in back-to-back seasons in 2016 and 2017, which then became the springboard for the fully guaranteed deal he signed with the Vikings in 2018. And when the Cowboys were faced with having to tag Prescott a second time, they were forced into giving him a mega-contract that paid top-of-the-market money. Remember: Good QBs are hard to find, so teams tend to move mountains to acquire or keep one. The Cousins and Prescott outcomes could certainly be influencing Jackson's negotiating strategy with the Ravens.
The risks
Going the tag route has obvious advantages for Jackson since he would either make top-of-the-market money for one or two years or be exposed so another team can acquire him for a pair of first-round picks and give him the contract he desires.
The risk is that the tag goes year-to-year, with no future security whatsoever. A serious injury or a drastic performance drop would thus be big risks for Jackson, though Prescott still secured his monster deal from Dallas after breaking his ankle while playing on the tag.
If Baltimore winds up tagging Jackson, the Ravens might be willing to give him the non-exclusive tender and accept the two first-round picks they'd get in return if he were to walk. They then could start fresh with another QB on a rookie deal, but the uncertainty of an approach like that speaks for itself.
Giving Jackson an exclusive tender would be expensive - both in the short term and toward any possibility of a long-term contract solution. And in the end the Ravens could find themselves letting Jackson leave anyway, as Washington did with Cousins.
It's still only July, and there's still plenty of time to get something done. But for Jackson and the Ravens, things stand to get much more complicated soon enough.
Dom Cosentino is a senior features writer at theScore.
Comments
✕
Lamar Jackson's contract is still up in the air. What are the risks?
  Got something to say? Leave a comment below!