The meaning of Prescott's mega-contract - for the Cowboys and beyond
Tom Pennington / Getty Images
The Dallas Cowboys and quarterback Dak Prescott finally agreed to a multi-year contract Monday night, one day before the team had to decide whether to use the franchise tag on Prescott for the second year in a row. The deal calls for Prescott to be paid a maximum of $160 million over the next four years. There's a lot that went into how this deal got done, and there are ripple effects for the rest of the quarterback market. Let's dig in.
1. This is a good deal for both Prescott and the Cowboys. Prescott's getting paid, so the benefits are obvious. But the Cowboys have the certainty of having locked down a franchise quarterback for years to come, with a contract structure that can help provide some breathing room under the salary cap in the years ahead, which I'll get to in a bit.
2. Again, this deal is a bonanza for Prescott. It includes a league-record $66-million signing bonus and an average annual value of $40 million, which is second only to Patrick Mahomes' $45 million. Prescott will collect $75 million in 2021 - also a one-year record for compensation - with a total of $95 million fully guaranteed at signing. He's set to make $126 million in the next three years, with all of that virtually guaranteed. Those are a lot of big numbers that mean nothing in isolation, but I swear I'm going to explain them in context, so please keep reading.
3. What is meant by "virtually guaranteed"? Per Pro Football Talk's Mike Florio, Prescott's $31-million base salary in 2023 becomes fully guaranteed on March 22, 2022. Why this matters: Even on the extremely off chance that Prescott degenerates into Carson Wentz in a 10-gallon hat, Dallas will be paying him a fortune in cash and cap for at least three years. Per Over the Cap, the Cowboys would be stuck with a $72.8-million dead-money hit in 2022 if they were to release Prescott after 2021, and $70.6 million if they were to try to move on after 2022.
That first figure includes $52.8 million in the remaining prorated signing bonus, plus Prescott's $20-million salary for 2022, which is already fully guaranteed. By this time next year, the prorated bonus amount will be down to $39.6 million, but that $31-million salary for 2023 will also be fully guaranteed. Add it all up, and Prescott's virtually assured of seeing $126 million from this deal.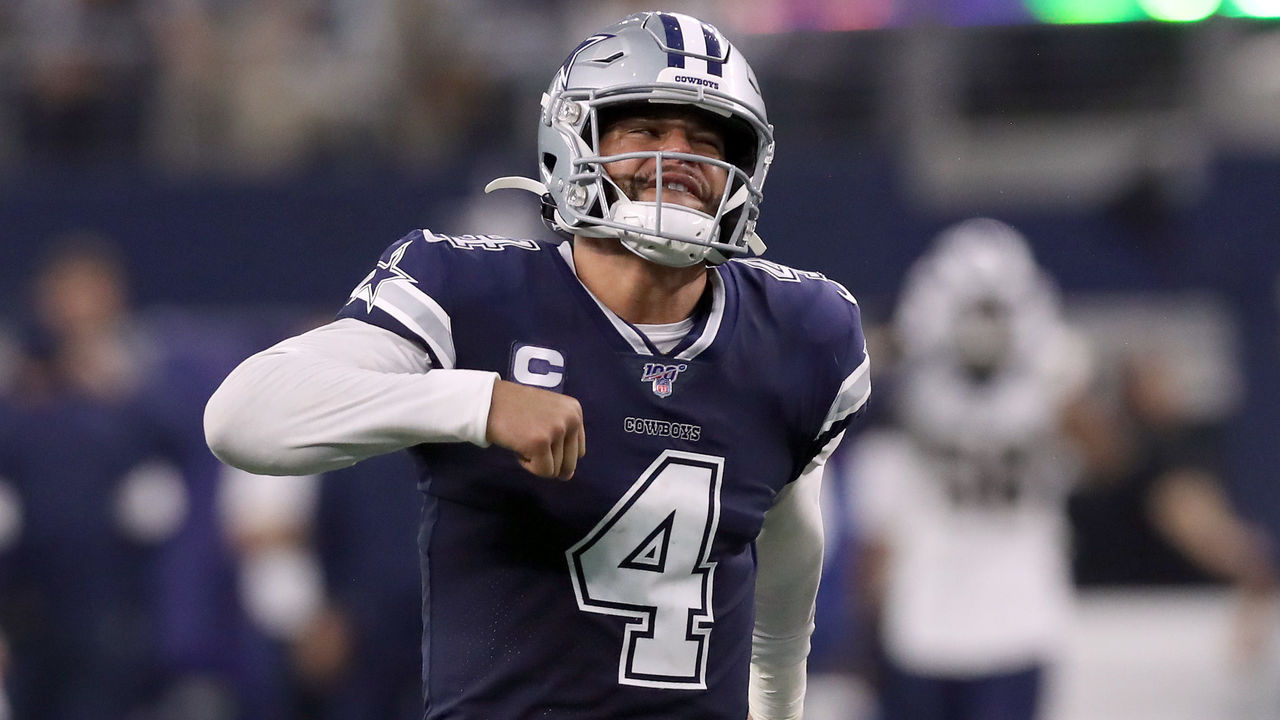 4. Prescott can also become a free agent after the 2024 season, when he will be about to turn 32. So he can presumably cash in again at that point, when the NFL's QB price point figures to be significantly higher.
5. That $66-million signing bonus is important. A lot of teams push a lot of compensation into signing bonuses because they benefit both the player and the team. The player gets that money up-front (or at least within the year), while the team can spread the salary-cap impact out by prorating it over as much as five years. This works to keep the cap consequences down in the short term: Prescott will count for just $22.2 million in 2021, or a mere 12% of the $182.5-million cap. From 2022 through 2024, when the cap presumably will rise again, his cap numbers will be $33.2 million, $44.2 million, and $47.2 million, respectively. But the Cowboys created a way to massage that a bit.
6. Prescott's deal is actually for six years, but it's scheduled to void after 2024, with the 2025 and 2026 seasons existing for cap gimmickry. Why this matters: those high 2023 and 2024 cap numbers can actually be brought down, if necessary, by converting a portion of Prescott's base salary into a signing bonus that can then be prorated toward those latter years of the deal. This obviously would mean Prescott still might count against the cap after this contract effectively expires, but by then the cap likely will have gone up by a bunch, too. And if Prescott is still playing at a high level come 2024, the Cowboys will likely extend him again.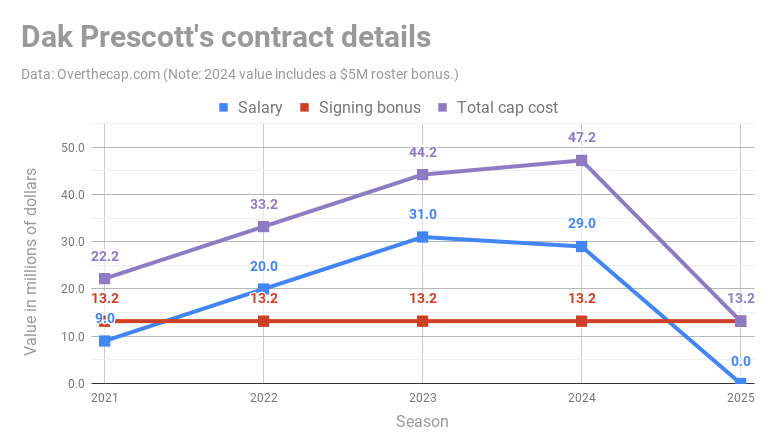 7. The Cowboys' year-to-year approach of using the franchise tag handed Prescott a ton of leverage. First, it ensured that the timing of this contract came after Mahomes and Deshaun Watson got their new deals, which resulted in an increase at the top of the market. Second, it also set a floor on what the minimum of Prescott's deal would be. (Salary for a franchise-tagged player is set at the average of the top five players at his position or 120% of his salary from last season.) Had Prescott played on a second tag this year, he would have been paid $37.7 million, and a total of $69.1 million for 2020 and 2021. In other words, that's where his camp's talks with the Cowboys began, and here we are.
8. The hang-up last year for the Cowboys was their insistence of doing a five-year deal with Prescott, instead of four years. This voidable structure they cooked up essentially solves that problem. Also, as ex-NFL executive Joe Banner tweeted, by using the tag for a year and then doing this deal, the Cowboys wound up getting the five years they sought. As Banner noted, Prescott earned a total of $34 million in the last two years, and will now make $40 million per year across the next four, which comes to $32.3 million over six years. Which, for Dallas, is a pretty reasonable price.
9. Dallas is clearly betting that Prescott will be its QB for the foreseeable future and that it won't be moving on from him anytime soon, as the Rams did with Jared Goff and the Eagles did with Wentz That's the risk calculation with franchise-caliber quarterbacks. The NFL may have a quarterback surplus, which is why this offseason will be marked by a lot of quarterback movement. But quality quarterbacks remain scarce, which is why they're so expensive. And the Cowboys did not have a quality option better than Prescott. Andy Dalton, Ben DiNucci, and Garrett Gilbert proved that after Prescott was injured last season.
10. Yes, yes: a team with a QB at the top of the market has never won a Super Bowl, and Tom Brady's willingness to play for less than he's worth in the last 10 years has allowed the teams he's played for to build around him. But Brady still cost Tampa Bay $25 million in 2020, or 12.6% of the cap - roughly the same figure Prescott will count for in 2021.
Also, with new TV deals on the horizon, the cap will be growing again in short order. Teams can still find value by signing mid-level free agents - a ton are about to hit the market as teams strain to comply with 2021's lower cap - and the draft still provides teams with the opportunity to stock their rosters with young, cheap talent that's cost-controlled for up to four years. An expensive QB tightens teams' margin for error, but it doesn't have to be an albatross.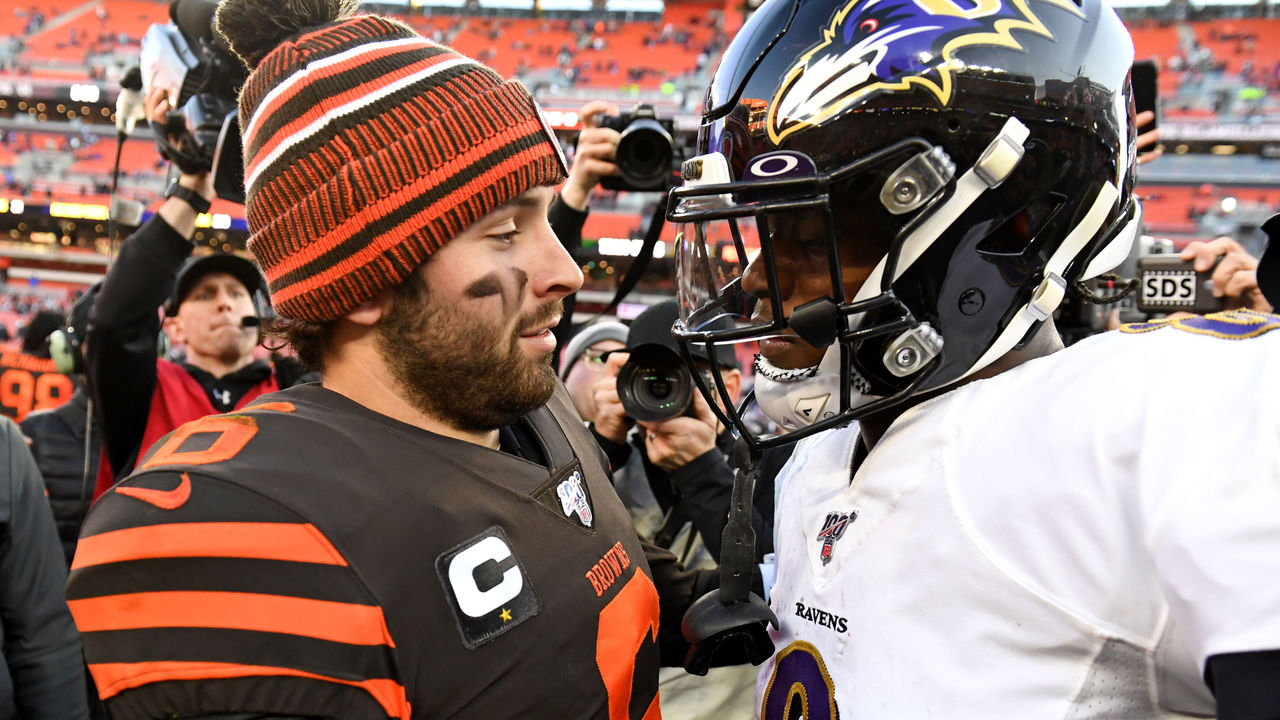 11. What about Baker Mayfield, Lamar Jackson, and Josh Allen, who are all eligible to receive second contracts that figure to be pretty dang pricey this offseason? Do the Goff and Wentz scenarios offer any lessons for teams? Before Prescott got his deal, I asked a pair of contract and cap experts via email about that.
Here's ex-agent Joel Corry: "It may make teams a little gun shy about doing a contract extension at the earliest possible point like with Goff and Wentz. The problem really isn't paying early. It's paying elite money when the player isn't elite or close to elite. Allen seems to be the safest bet of the 2018 first-round QBs. I wouldn't be in a rush to pay Mayfield or Jackson this year but waiting will cost more in the long run if they play well next season."
And here's Over the Cap founder Jason Fitzgerald: "Maybe teams will try to defer a little more money than in the past so they don't get caught with the massive signing bonus/second-year bonus structure that (Goff and Wentz) got. Maybe a little more of a hard-line stance from the teams on vesting dates on those future guarantees, which were really the death blow for the teams here since keeping them in 2021 basically meant you were also keeping them in 2022.
"But I don't think it will push teams to wait longer on the QB decision and play the franchise tag game ... unless one of the big QB extensions (Prescott, Jackson, Allen, and I guess Mayfield) comes in with a new style of contract."
Prescott's voidable structure, which gives the Cowboys the chance to smooth things out against the cap, would seem to fit that description.
Dom Cosentino is a senior features writer at theScore.
Comments
✕
The meaning of Prescott's mega-contract - for the Cowboys and beyond
  Got something to say? Leave a comment below!