What's going on with Baker Mayfield and Jimmy Garoppolo?
The draft is over. Free agency has slowed. Organized team activities are underway. In a few weeks, the NFL will hit the snooze button for a month or so before training camps ramp up again.
Yet Baker Mayfield remains with the Cleveland Browns, and Jimmy Garoppolo is still with the San Francisco 49ers. This is true even though both teams have landed quarterbacks who will replace them.
How did this happen? Where do things go from here? Why ask so many questions? Why not?
Hold up. 49ers head coach Kyle Shanahan hasn't made any announcement about who the team's starter would be, right?
Well, right. But that's just the way Shanahan operates with the media. But let's be clear: the San Francisco 49ers intend to start Trey Lance at quarterback in 2022. Their actions scream it, even if they won't come right out and say it. Anyone waiting around for an official announcement on this is going to have a pretty boring summer.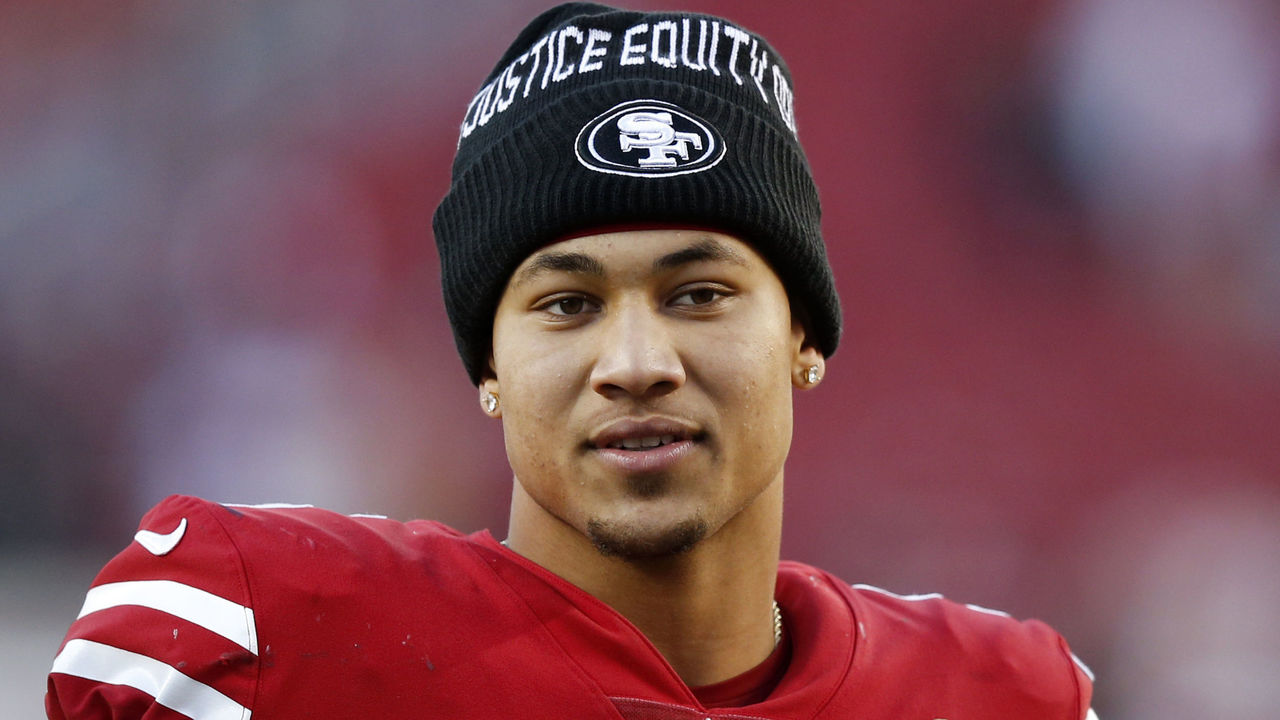 How have their actions screamed it?
They traded a ton of draft picks just last year to move up to select Lance, so they clearly see him as their future. Yeah, they gave Lance a developmental year in 2021, but they surely intend to capitalize on his rookie contract for as long as they can.
Further, they also gave Nate Sudfeld a $2 million, fully guaranteed contract for this season, which isn't what you do for a No. 3 QB, let alone a dude you intend to stash on the practice squad. Shanahan has also specifically said he hired Brian Griese out of the Monday Night Football booth to become his QB coach because of what Lance can learn from his playing experience. Oh, and Shanahan said just this week he expects the team to trade Garoppolo before the start of the season.
Why hasn't a trade happened yet?
Garoppolo had shoulder surgery on March 8, and other teams understandably weren't keen on trading for a player who wouldn't be able to throw for them at OTAs this spring - especially a dude whose contract calls for him to make $24.2 million this year. And now that the QB carousel music has stopped, there aren't too many potential trading partners. Think about it. How many teams still might want to address QB1 now that all the smoke has cleared? Carolina? Seattle? Maybe Houston?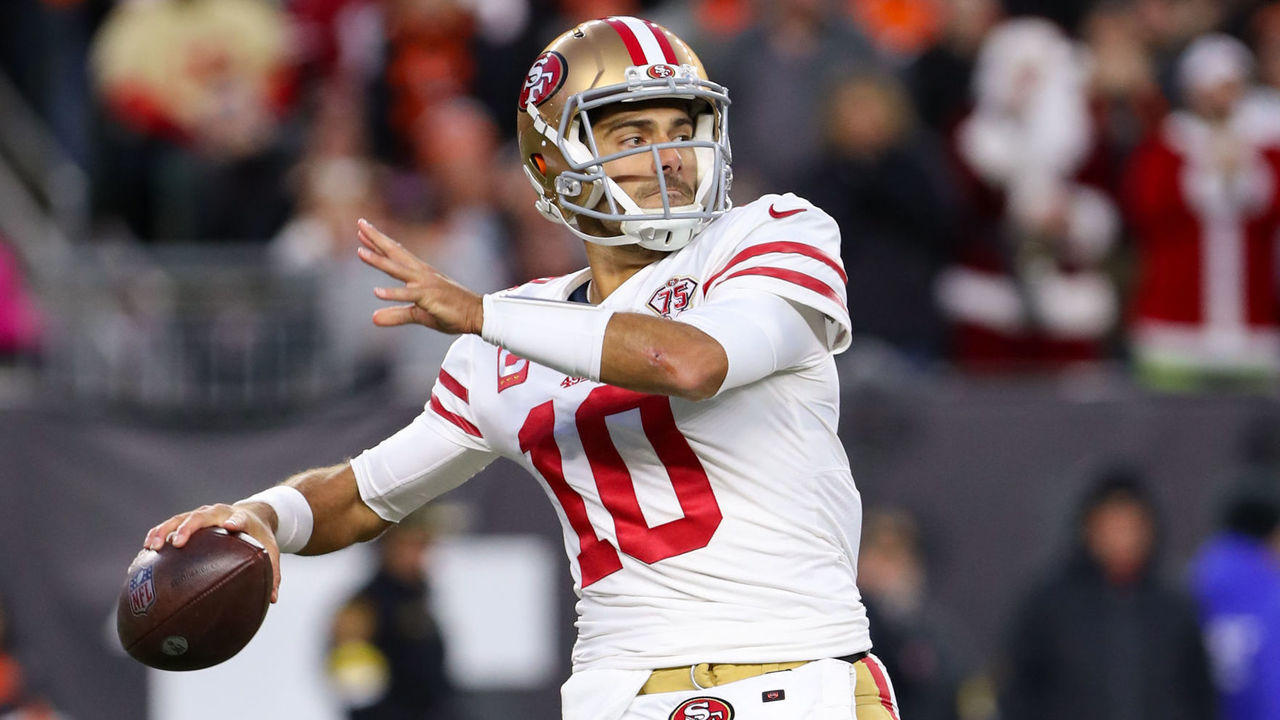 And the Niners likely aren't going to trade him to Seattle.
You're catching my drift, yes.
Is this small pool of potential trade suitors what complicates things for Mayfield, too?
That's definitely part of it, yes. But the bigger holdup on Mayfield is his contract. The Browns had to exercise his fifth-year option by May 3 of last year, and once they did that, the $18.858 million he was due in 2022 became fully guaranteed.
That's a new twist in the collective bargaining agreement, by the way. The previous CBA mandated that fifth-year options for first-round rookies were guaranteed only for injury up until they became fully locked in at the start of the following league year.
Under the old system, the Browns could have picked Mayfield's option up and traded for Deshaun Watson the following spring while releasing Mayfield around the same time without having to pay him another cent. Now they're on the hook for that $18.858 million no matter what.
Even if they trade him away?
Mayfield's rookie contract had offset language, but ...
Whoa, whoa, whoa. Slow down there, college boy. Explain this to me in plain English, please.
Mayfield is getting $18.858 million no matter what, OK? No NFL team wants to trade for that, and as we explained already, few are even in a position to even attempt to do so. And one of those teams that perhaps could do it - the Panthers - is already locked into a fully guaranteed fifth-year option on Sam Darnold for the same amount of money.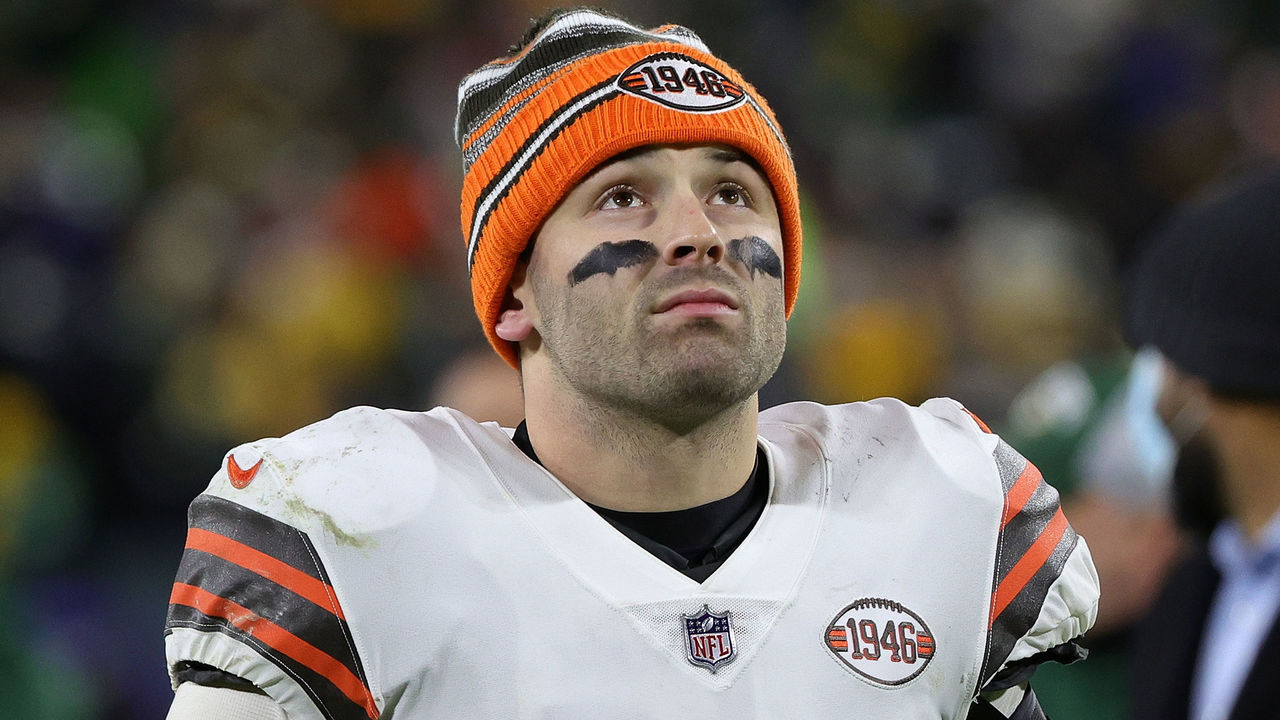 Wait. What?
Yup. When the Panthers traded for Darnold last spring, they had to make a decision on Darnold's fifth-year option, which is pegged to a set figure for QBs, though it can be higher depending on certain performance metrics, as it will be this year for Lamar Jackson. Knowing the risks, the Panthers chose to pick up his option anyway, and ... LOL.
You were about to say something about "offset language" a minute ago, though. Translation?
Oh, right. I was saying Mayfield's rookie deal had what's called offset language, which basically means that had the Browns released him during his first four seasons, whatever amount another team signed him for would offset whatever else the Browns owed him.
There are conflicting reports about whether those offsets carry forward to the fifth year in rookie deals. The point being: if they do, as Sports Illustrated's Albert Breer wrote, Mayfield would have little incentive to sign somewhere else for anything more than the $1.035-million veteran minimum, if only to stick it to the Browns and leave them holding the bag for the remaining $17.823 million. In this case, at least, it's strictly business and it's personal.
So what can the Browns do?
They can offer to eat most of that money for any potential trade partners, but the question becomes, how much are they willing to swallow? The Charlotte Observer's Jonathan M. Alexander reported this week that the Panthers wanted Cleveland to take on between $13 million and $14 million when they engaged in trade discussions during the draft. After those talks fell apart, Carolina selected Matt Corral with the 94th pick.
Now, even after the draft, Panthers GM Scott Fitterer did not rule out the possibility of adding another veteran QB. But at this point, it's fair to say that outcome is far less likely to happen.
What about the Seahawks?
Seattle's got Geno Smith and Drew Lock set to duke it out this summer, but if the trade compensation is right - both in terms of what Cleveland is willing to eat from Mayfield's contract and whatever assets the Browns stand to receive - the Seahawks could certainly be a possible landing spot, sure. That doesn't mean it will happen.
Can't the Browns just keep Mayfield?
They sure can. In fact, doing that would allow them to either move Mayfield at the trade deadline in October or ride things out for the entire season so he can hit free agency next spring. That latter outcome would also allow the Browns to reel in a 2024 compensatory draft pick. But Mayfield is famously ornery, so there's no telling how he might handle staying in Cleveland. Then again, Mayfield might benefit from being a team player under such circumstances, because doing so could potentially help his cause in free agency come 2023, particularly if he has to spend 2022 as a backup.
Couldn't the 49ers just keep Garoppolo as an expensive backup, too?
I mean, they could, but there are some key differences between Garoppolo's and Mayfield's situation. For one, Garoppolo's $24.2-million salary is not guaranteed, which means San Francisco can cut him without any cash or cap consequences.
Why haven't they just released him?
Clearly, the 49ers still think they can get something back for Garoppolo in a trade. And a market might yet develop for him. Another team's QB could sustain an injury. Or perhaps a team like the Panthers could take a good look at Darnold and Corral between now and the start of the regular season and decide the QB room needs that other veteran option after all. Same with the Texans, who currently have Kevin Hogan, Jeff Driskel, and Kyle Allen backing up Davis Mills, which seems less than ideal.
Here's something else to bear in mind: anyone on a team's Week 1 roster is guaranteed his salary for the remainder of the season. If the Niners want to avoid paying full freight on Garoppolo, they'll likely either move him or cut him by that deadline. They could also ask him to take a pay cut, and while he likely wouldn't accept one, he also might not have much of a choice. This will ring true if he gets to the end of training camp with nowhere to land except on a bad team desperate for a QB that won't be paying him anywhere close to $24.2 million as a free agent off the street.
So for both QBs, this all could take some time to shake out?
Probably, yeah.
Dom Cosentino is a senior features writer at theScore.
Comments
✕
What's going on with Baker Mayfield and Jimmy Garoppolo?
  Got something to say? Leave a comment below!