What the Panthers risked by trading for Sam Darnold
Joe Scarnici / Getty Images
The New York Jets' decision to trade quarterback Sam Darnold this week was pretty straightforward. The Jets have the No. 2 pick in a QB-rich draft, a head coach and general manager who inherited Darnold, and a bounty of draft capital and salary-cap space that they're putting toward a true rebuild, even if Jets fans are no doubt tired of starting over.
From a team-building standpoint, the move makes sense for New York, even if the actual hard work of drafting good football players is yet to come.
The Carolina Panthers' decision to acquire Darnold is a bit more difficult to understand. The Panthers pursued trades for Matthew Stafford and Deshaun Watson this offseason, so they clearly wanted an upgrade over Teddy Bridgewater. But the Panthers are coming off a five-win season, and they gave up three draft picks for Darnold - a sixth-rounder this year, plus second- and fourth-rounders in 2022 - even though they still have plenty of holes in their roster.
Just last year, Carolina committed significant cap resources and guarantees to Bridgewater that extend into 2021. They're now banking on being able to repair Darnold, and before he takes a snap, they'll have to pledge significant cap resources and guarantees to him that extend into 2022.
The San Francisco 49ers' recent trade up to the draft's No. 3 spot put the Panthers in a bit of a bind. It's all but certain that quarterbacks are coming off the board with the first three picks, and there's no way the Atlanta Falcons are going to hand a division rival the No. 4 selection to choose their signal-caller of the future.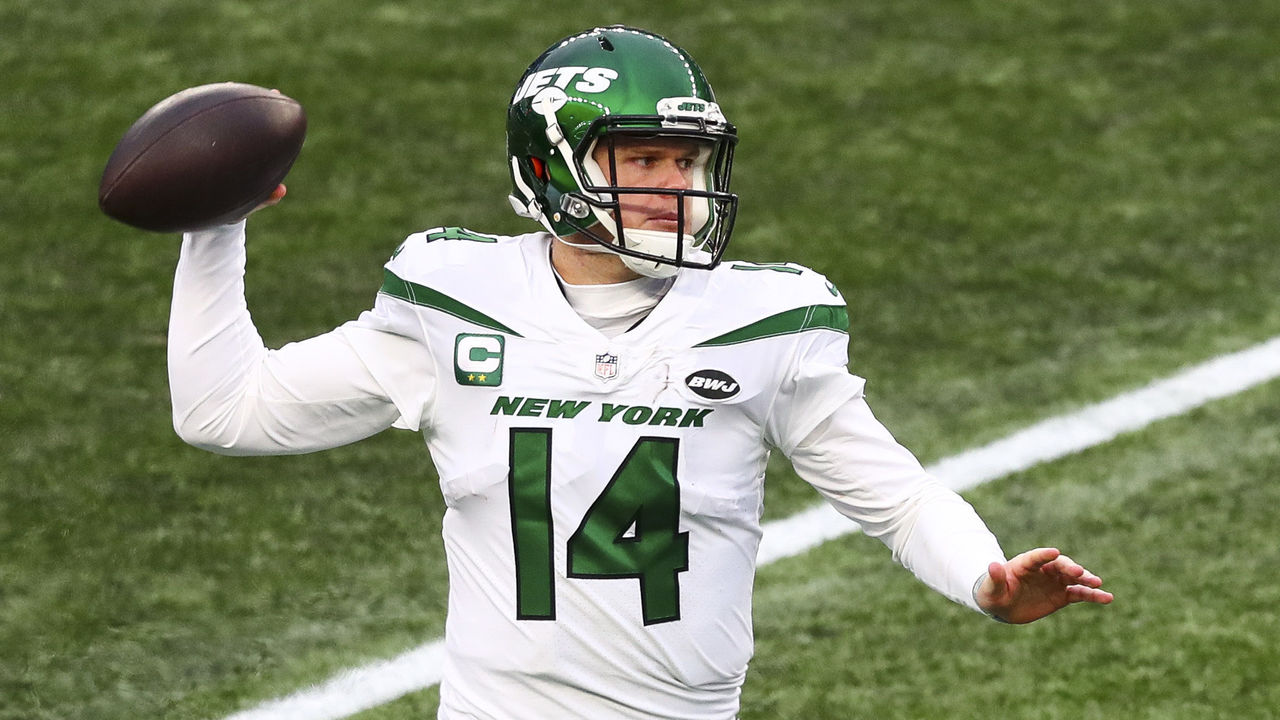 The quarterback the Panthers want could fall to them at No. 8, and GM Scott Fitterer said the Darnold trade "doesn't take us out of taking a quarterback." But the impulse to bring in Darnold is nonetheless a sizable gamble that seems panicky.
Darnold was dealt a bum hand during his time with the Jets. He was surrounded by substandard pass-catchers, a rickety offensive line, and a coaching change that belched up Adam Gase. Darnold sometimes flashed the game-breaking potential that made him the No. 3 overall pick in the 2018 draft, but those moments were fleeting. He missed 10 games with injuries across three seasons, and he rarely showed the ability to overcome his crummy circumstances. In 2020, Darnold finished last among starters in Total QBR and expected points added per play.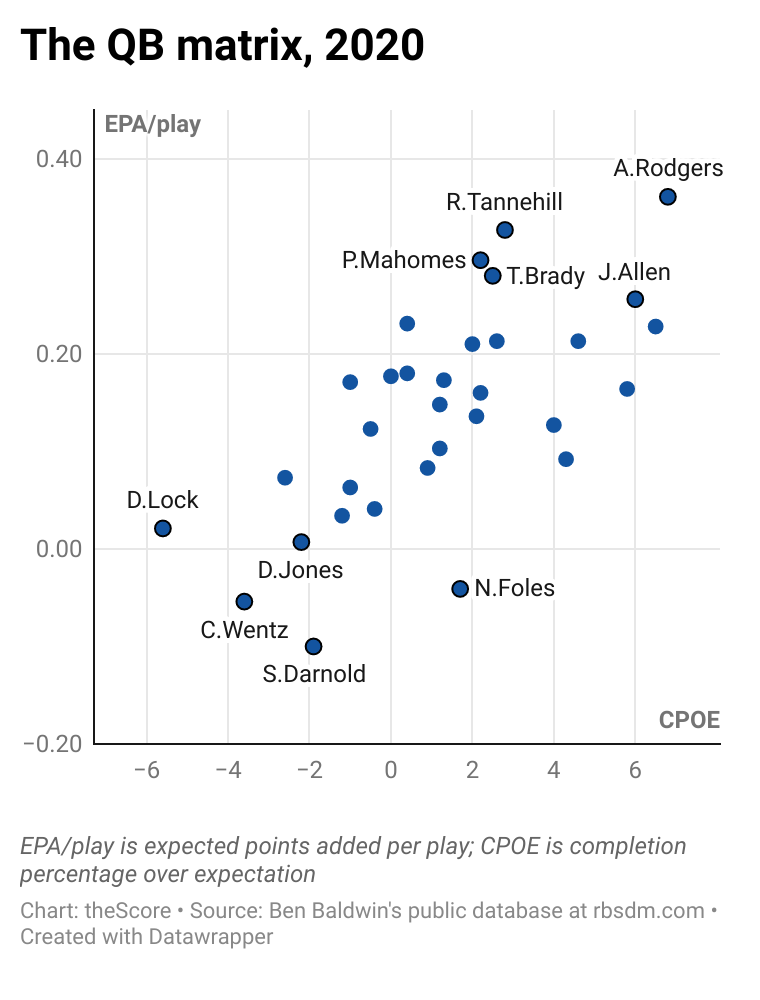 It's hard to suss out exactly how much of that lack of production is Darnold's fault and how much is the Jets'. The Panthers are betting that head coach Matt Rhule and offensive coordinator Joe Brady can prove it was more of the latter. The obvious comparison is the improvement Ryan Tannehill showed once he was able to distance himself from Gase. But as Chase Stuart of Football Perspective noted, Darnold's three-year production is in line with "some all-time draft busts," and successful reclamations of QBs with similar starts to their careers are much more the exception than the rule.
Rhule has a track record of success as a program-builder at the college level, and Brady famously did wonders for Joe Burrow's development at LSU. The franchise invested $33 million in guaranteed money in Bridgewater because it saw something Rhule and Brady could work with. But the Panthers lost nine of their last 11 games in 2020, a stretch in which Bridgewater's EPA/play ranked 26th, per Ben Baldwin's database. Bridgewater tends to be accurate and risk-averse - he ranked 27th in big-time throw percentage, per PFF - but he was also 20th in turnover-worthy throws. Even in a system tailor-made for him, he wasn't up to the task.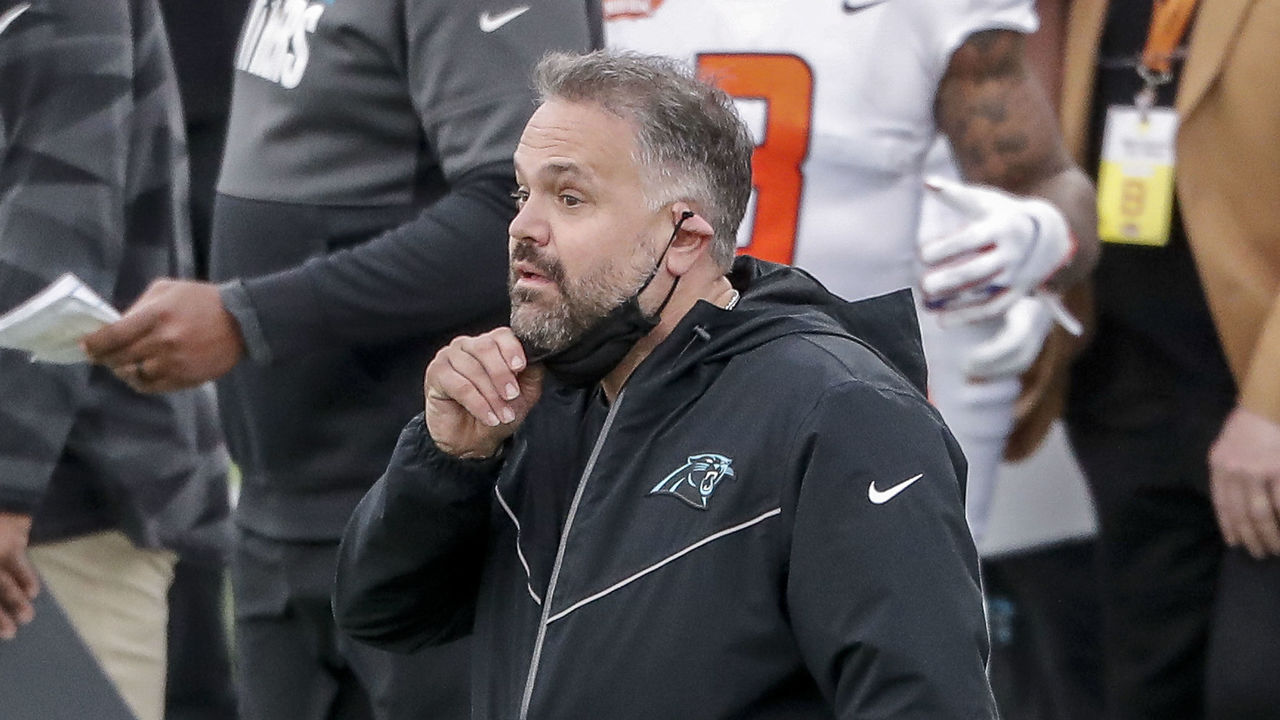 Darnold (31st in big-time throw percentage, 26th in turnover-worthy throws) was worse on both counts. He can also be reckless: During Darnold's three years in the league, only Jameis Winston and Ryan Fitzpatrick had a higher interception rate than Darnold's 3.2%. But Darnold is five years younger than Bridgewater, and the Panthers are wagering that he has a higher ceiling and that Rhule and Brady can tap into that potential.
In Carolina, Darnold will have at his disposal versatile running back Christian McCaffrey, plus wideouts Robby Anderson - a former Jets teammate - and D.J. Moore. The Panthers also added tight end Dan Arnold, who caught 31 passes and four touchdowns for the Arizona Cardinals last year.
There are still questions about the offensive line, however. It ranked 23rd in ESPN's pass block win rate metric, and while the team used the franchise tag on right tackle Taylor Moton, it also added guard Pat Elflein - who was waived by the Minnesota Vikings last season before finishing the campaign with Darnold and the Jets - along with swing tackle Cam Erving, who's on his third team in as many years and missed most of 2020 with a knee injury. The Panthers chose not to re-sign veteran left tackle Russell Okung, who remains a free agent.
Bridgewater's contract isn't a complete albatross, but it's problematic. He is set to count for $22.9 million against the Panthers' cap this season, with $10 million of his $17-million salary guaranteed, per Over the Cap. Cutting him would result in a $20-million dead-money hit. In other words, Carolina is stuck with him - unless it can trade him, which would likely require Bridgewater to agree to a substantial pay cut.
Darnold is set to count for a guaranteed $4.7 million in both cash and cap, which seems like a bargain until you consider it's nearly twice what Winston, Mitchell Trubisky, and Gardner Minshew are on the books for. And the Panthers only have until May 3 to decide whether to pick up the fifth-year option on Darnold's rookie deal, which would lock in his 2022 salary at $18.6 million. Jonathan Jones of CBS Sports reported the team intends to do this.
Yes, that's a two-year average of $11.3 million for Darnold, which isn't exorbitant for a quarterback. But compounding the risk for the Panthers, a wrinkle in the 2020 collective bargaining agreement that makes those fifth-year options for first-round picks fully guaranteed as soon as they're exercised. In the past, those options only became fully guaranteed the following March - a mechanism that would have allowed the Panthers to cut Darnold loose after 2021 without paying him another dime. They can wait until after the draft to pick up the option, but once they do, there's no going back - even if Darnold can't be salvaged.
Another issue with allocating so much toward a quarterback this year is that Carolina's defense remains a work in progress. The Panthers used all seven of their 2020 draft picks on defensive players, but their defense still finished 24th in DVOA, and it continues to have issues at cornerback, even after signing 29-year-old A.J. Bouye this week.
If the Panthers can't trade Bridgewater (again, his contract terms make it challenging), they'll essentially be left with $27.6 million in combined cap charges for their two quarterbacks, or roughly 15% of this year's unadjusted cap. Only seven teams have more of their 2021 cap resources tied to the position (excluding dead-money charges), according to Over the Cap. That's on top of the three picks in the next two drafts they just parted with. This is the reality of not having a franchise QB while also trying to chase last year's mistake with Bridgewater by betting on Darnold.
The Panthers assessed that risk and determined Rhule and Brady could do enough to fix Darnold to make this thing go. There's certainly a chance they could be right. But the evidence suggests otherwise, and the costs of being wrong again will make the next repair that much more difficult.
Dom Cosentino is a senior features writer at theScore.
Comments
✕
What the Panthers risked by trading for Sam Darnold
  Got something to say? Leave a comment below!