10 takeaways from NFL Super Wild Card Weekend
L to R (Getty Images): Timothy T Ludwig/Tim Nwachukwu/Michael Reaves
Five of the NFL's six Super Wild Card Weekend games are in the books. The Cincinnati Bengals defeated the Las Vegas Raiders, the Buffalo Bills thumped the New England Patriots, the Tampa Bay Buccaneers made easy work of the Philadelphia Eagles, the San Francisco 49ers held off the Dallas Cowboys, and the Kansas City Chiefs beat the Pittsburgh Steelers. Let's take a closer look at some of what went down and what it means.
Cowboys press self-destruct button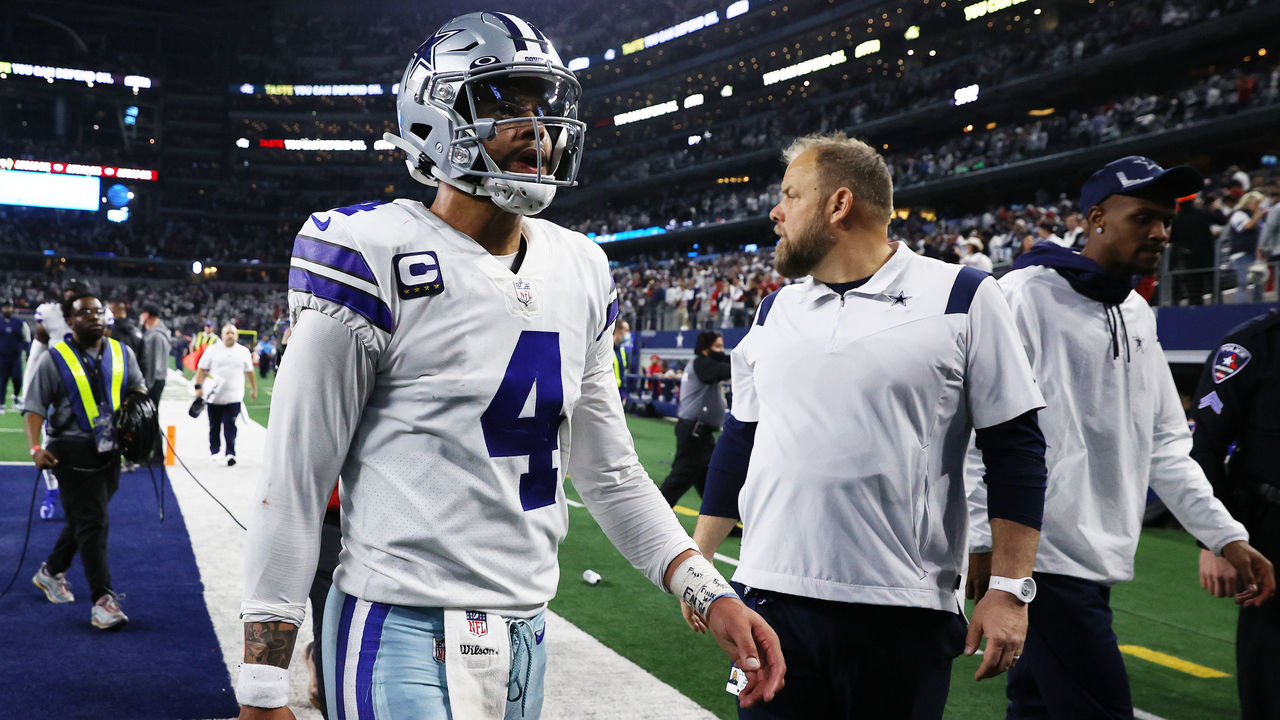 From Randy Gregory's neutral-zone infraction on the first snap to ... whatever that Fail Mary quarterback sneak was on the final play, the Cowboys presented a master class in self-sabotage in their nail-biting loss to the Niners.
Choose your favorite:
On third-and-4 from its own 31 on the first possession of the third quarter, Dallas was flagged twice in a row for a false start. Dak Prescott took a sack on the next play.
The Niners did the Cowboys a solid by roughing the punter on the play after that, but Dallas failed to capitalize.
The next time the Cowboys had the ball, an illegal block wiped out an 8-yard gain on first-and-10. Two plays later, Prescott tossed an interception.
A little while later, an illegal shift negated an 18-yard gain on second-and-20.
On the same drive, after punter Bryan Anger completed a pass to C.J. Goodwin on a fake punt for a first down, Dallas left its special teams unit on the field for several seconds, only to eventually sub in its offense and take a delay of game penalty. Bear in mind that the Cowboys were trailing 23-7 and allowed nearly an entire minute to drain from the clock when this happened. (This might be my personal favorite.)
Trailing by six with just under six minutes to go, defensive tackle Osa Odighizuwa got whistled for defensive holding because he grabbed an offensive lineman on a running play.
Three plays after that, Neville Gallimore's penalty for illegal use of hands allowed the Niners to move the sticks after an incompletion on third-and-12.
Finally, mercifully, the Cowboys ran out the clock on themselves because they didn't realize the umpire needed to spot the ball before they could snap it. "We shouldn't have had any problem getting the ball spotted there," head coach Mike McCarthy said afterward. Alas.
That about covers it, I think. It added up to 14 penalties and a lifetime of game mismanagement jokes to make at the expense of McCarthy, who might wind up getting fired.
Niners' pass rush gets it done
The 49ers were in Prescott's face most of the day, even after star defensive end Nick Bosa left the game with a concussion early in the second half.
San Francisco sacked Prescott five times. Per Next Gen Stats, it also pressured him on 45.8% of his dropbacks - a team season high. The contributions came from all over: Arik Armstead had six pressures, Charles Omenihu had five, and D.J. Jones and Samson Ebukam both had four.
The Niners didn't blitz a lot, but when they did, they were effective. Their ability to make Prescott rush his passes was typified by safety Jimmie Ward's delayed blitz with a little less than two minutes left, which forced Prescott to heave a throw to Cedrick Wilson on fourth down.
The Niners' D has been excellent in recent weeks, but the challenge gets bigger next week against Aaron Rodgers and the Packers - a team that likely won't do nearly as much to sabotage itself as Dallas did.
Hoo boy, the Bills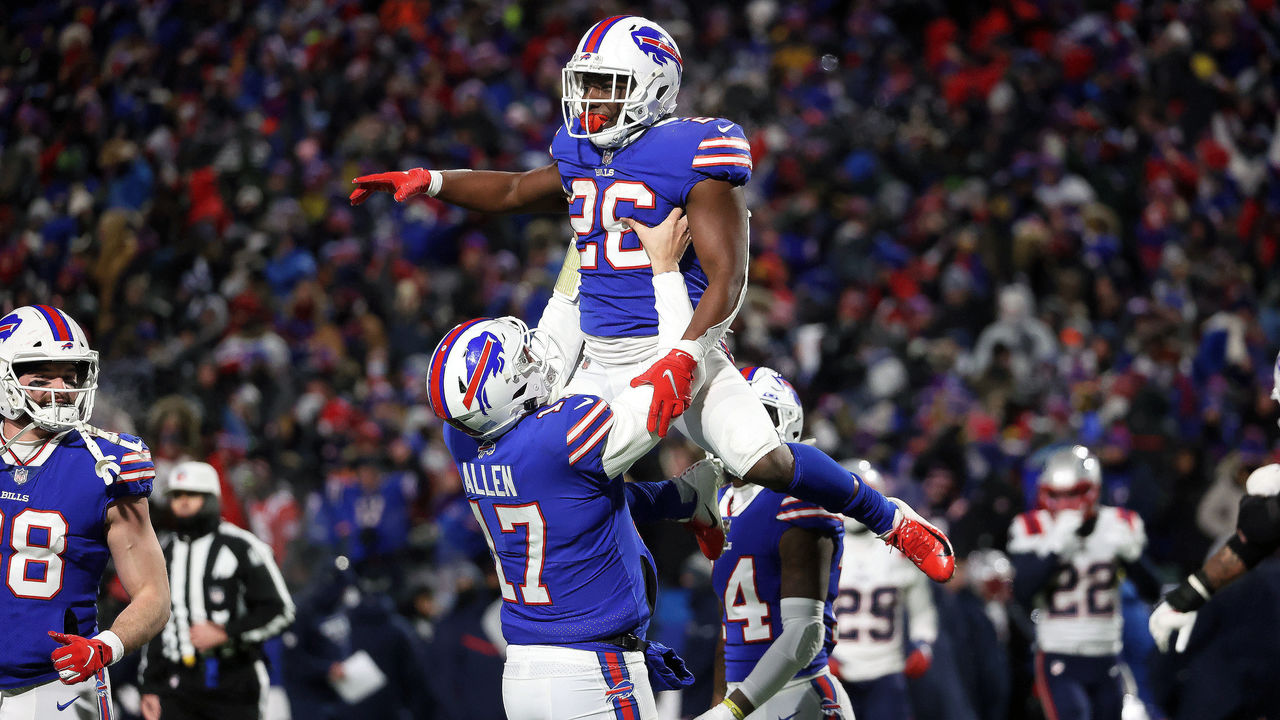 The Buffalo Bills romped past the New England Patriots with a perfect offensive performance: seven possessions, seven touchdowns. The Bills didn't punt, didn't kick a field goal, and didn't turn the ball over. And, no, that's never happened before in an NFL game, playoffs or otherwise. The only time Buffalo didn't convert on third down was when backup Mitchell Trubisky took a knee on the game's final snap. All that against a Bill Belichick-coached defense that ranked fifth in efficiency during the regular season, too.
It was a masterful showing by Josh Allen and offensive coordinator Brian Daboll. But it also shouldn't overshadow what the Bills did defensively. Buffalo pitched a near-shutout in the first half that was only averted because Belichick opted to kick a 44-yard field goal on the half's final play. But at that point, it was 27-0.
Safety Micah Hyde's sensational end-zone interception on New England's first possession set the tone. He covered 21.4 yards in 2.9 seconds and was 14.4 yards away from wideout Nelson Agholor when the ball was thrown, per Next Gen Stats. The Patriots often made life easy this season for rookie passer Mac Jones by keeping him out of third-and-long situations. During the regular season, New England had the league's fourth-best success rate on early downs (47.8%). Against the Bills, the Patriots were successful on just 29% of their first- and second-down plays.
The Bills only blitzed Jones on eight of his 43 dropbacks, but they managed 14 pressures, per PFF. All told, five Buffalo defensive linemen - Jerry Hughes, Gregory Rousseau, A.J. Epenesa, Harrison Phillips, and Ed Oliver - managed multiple pressures. And Hughes, Boogie Basham, and Star Lotulelei all registered sacks. The run defense, which was gashed in the Week 13 loss when the Patriots attempted just three passes, was much more stout in this one. Damien Harris and Rhamondre Stevenson combined for just 57 yards on 17 carries, and the Pats averaged just 1.6 yards per attempt when they played with six offensive linemen, per Andrew Callahan of the Boston Herald.
Buffalo finished the regular season ranked first in defensive DVOA, but it also led the league in variance. Saturday night was an indication that when the Bills get it together defensively, they're potentially as good as any team remaining in the playoff field.
Chiefs shrug, yawn before smacking down Steelers
Believe it or not, it took Kansas City six possessions to finally score a point against the Steelers. Pittsburgh sustained its win-ugly approach for about as long as it could before the Chiefs found their car keys and raced away to touchdowns on their next six possessions. The mismatch everyone anticipated became a reality - it just took a while.
Patrick Mahomes was his usual unfair self, Travis Kelce was virtually unstoppable, and Andy Reid again rolled out an endless supply of clever red zone and goal-to-go plays predicated on misdirection that worked seamlessly.
What's truly scary about the way the Chiefs are playing is that they plugged Jerick McKinnon in for the injured Clyde Edwards-Helaire and didn't miss a beat. The 29-year-old McKinnon, who had just 25 touches during the regular season, was effective both as a rusher and in the passing game.
The Chiefs are clicking again; the Bills are too. They're playing like the best two teams in the AFC, but only one of them will move on to the conference title game after next week, which is a pity.
Raiders have some big decisions to make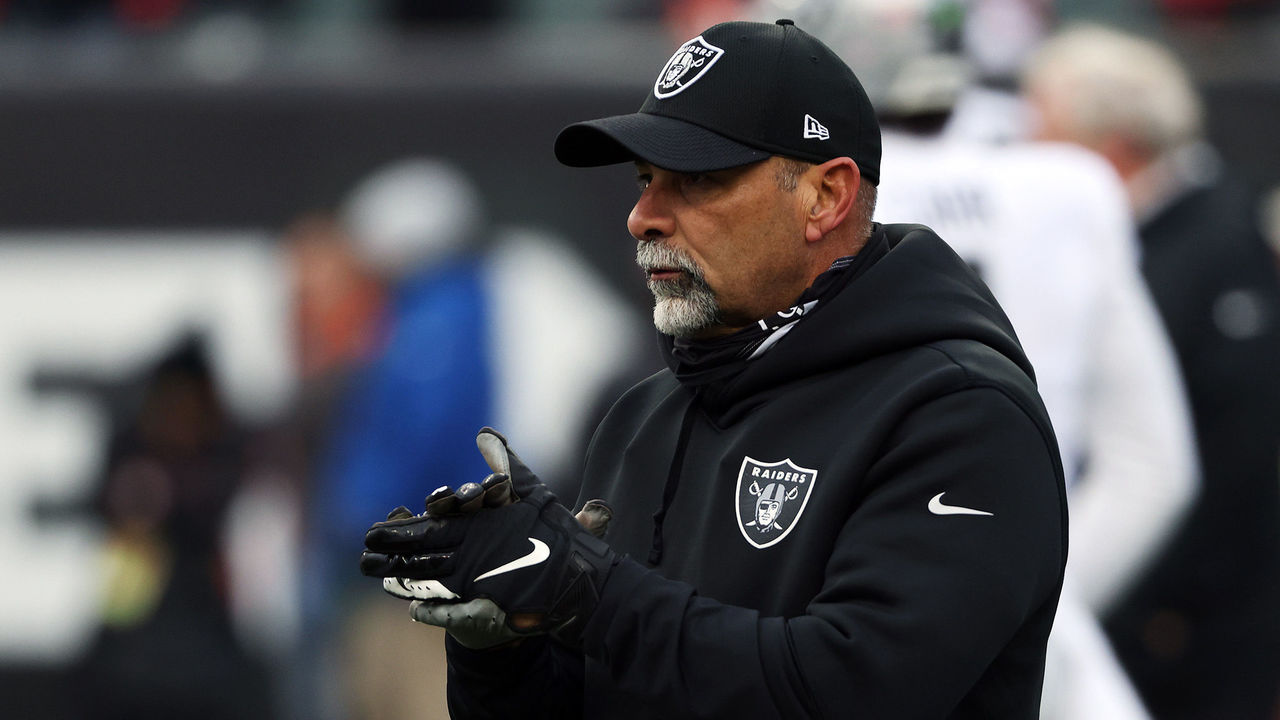 After Saturday's loss at the Cincinnati Bengals, Derek Carr and Maxx Crosby were among the Las Vegas Raiders to voice support for interim head coach Rich Bisaccia to remain in charge. Las Vegas certainly exceeded expectations under Bisaccia, but it also endured a handful of self-inflicted mistakes that kept it from prevailing against Cincinnati.
The Raiders were whistled for three false start penalties in the first quarter. Return man Peyton Barber mistakenly fielded a kickoff as it bounced out of bounds at the 2-yard line. Three offensive holding penalties short-circuited a 13-play drive that ended with a field goal. Vegas burned one timeout early in the second half because it had too many defenders on the field, then another with less than five minutes left because the play clock was winding down on fourth-and-5.
An additional timeout sure would have come in handy on the final possession when Carr wasted a down by spiking the ball to stop the clock on first-and-goal from the 9-yard line with 30 seconds to go.
The Raiders have a talent deficit compared to most of the other teams in the playoffs, but they also played hard and did a lot to beat themselves. Owner Mark Davis must decide whether to move on from Bisaccia and/or general manager Mike Mayock, and it won't be an easy call. Carr, too, is entering the final year of his contract. He's scheduled to count $19.9 million against the cap in 2022, though none of that money would stay on the books if the Raiders were to trade him.
All options appear to be on the table in what ought to be a fascinating offseason for Vegas.
Not an ideal finish for Jalen Hurts
Hurts seemed to have done enough during the regular season - particularly as an option runner - to earn the chance to remain the Eagles' starting quarterback in 2022. But when forced to throw against a healthy, elite Tampa Bay Buccaneers defense, Hurts' flaws were plain to see.
He rushed throws, didn't see open receivers, and was terribly inaccurate. Hurts threw two awful interceptions, with the first coming at the goal line at the end of the first half with the Eagles trailing 17-0. Yeah, there were some drops, but Hurts did little to distinguish himself.
Hurts went into halftime averaging a meager 4.6 yards per attempt. He managed to gin up a pair of fourth-quarter touchdown drives, but by then the score was 31-0. Hurts finished just 2-for-11 for 53 yards and an interception on throws of 20 or more air yards, per Next Gen Stats. His completion percentage over expected was minus-10.5. You get the idea.
The Bucs' defense welcomed Shaq Barrett, Jason Pierre-Paul, and Lavonte David back from injuries, and it stifled the Eagles' run-option game, with safety Jordan Whitehead racking up a pair of tackles for loss. Hurts couldn't overcome any of that with his arm. It's one difference between the Eagles and a Bucs team that won last year's Super Bowl and is poised to get back there, but it's a big one.
Philly has the 15th, 16th, and 19th picks in the draft. Could general manager Howie Roseman be tempted to grab another QB this offseason? It's a question that Philly figures to ponder quite a bit in the months ahead.
Bengals defense gets it done, but ...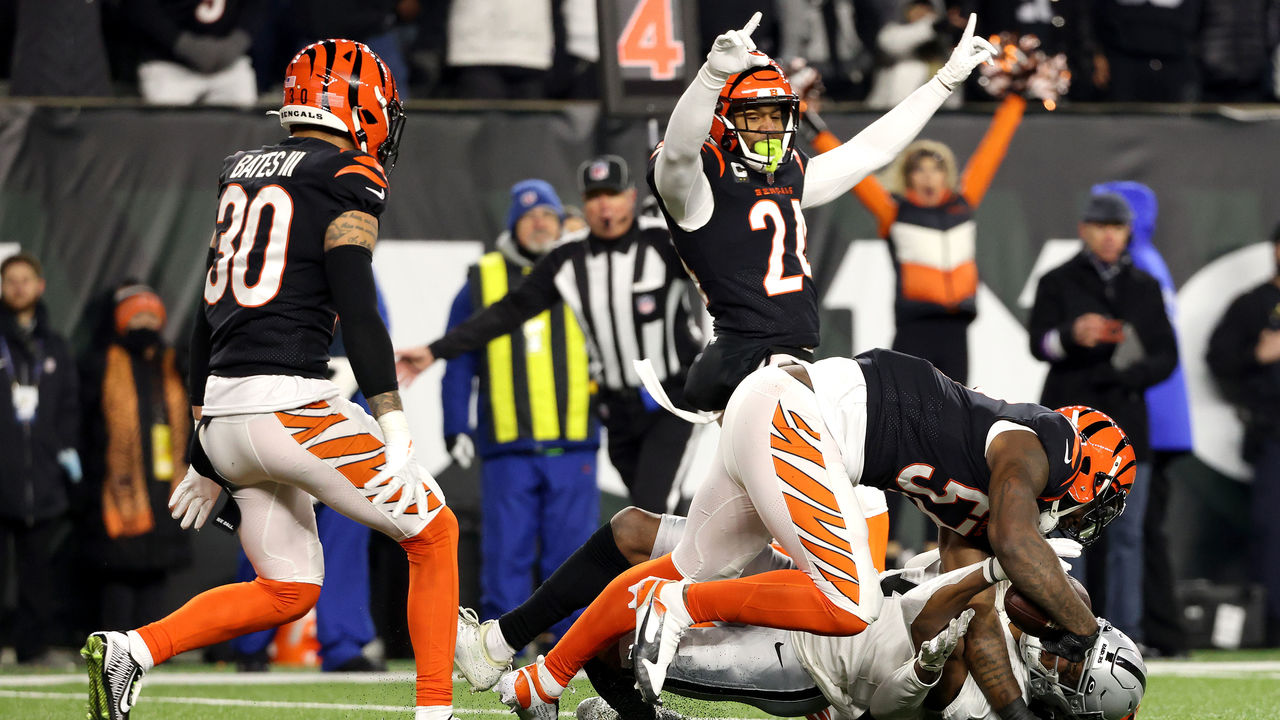 Cincinnati's Joe Burrow-Ja'Marr Chase connection is going to create headaches for the rest of the AFC for a long time. But the Bengals won their first playoff game in 31 years thanks to some huge contributions from a handful of defenders, even if injuries will create some uncertainty heading into the divisional round.
Defensive end Trey Hendrickson forced a sack/fumble and was on the field for 10 pressures in Carr's first 23 dropbacks, per Next Gen Stats. But after Hendrickson left the game in the third quarter due to a concussion, Carr wasn't pressured at all in his next 11 dropbacks. Defensive tackles Larry Ogunjobi (foot) and Mike Daniels (groin) also left the game and didn't return. Cincy's other defensive end - Sam Hubbard - accounted for a total of five pressures, per PFF, including one in the opening drive that forced Carr to deliver a late throw to an open Hunter Renfrow. Vegas had to settle for a field goal on the next play.
In the defensive backfield, safety Jessie Bates III had a pair of huge pass breakups, including one in which he knocked the ball out of Renfrow's hands after a perfect downfield throw from Carr on third down. And it was slot corner Mike Hilton who made a terrific recovery to knock down Carr's late throw to Renfrow on the Raiders' first possession.
The defensive line injuries will be worth monitoring in the days ahead, but if the Bengals are going to beat the Tennessee Titans next week, they're going to need some big plays from their defense again.
What the Patriots need
As Jones heads into his second season, New England would do well to add a legitimate deep threat who can stretch defenses.
Despite last year's offseason spending spree, the Patriots ought to have a decent war chest of cap space heading into 2022. That said, they do have some major decisions to make on pending free agents, including right tackle Trent Brown, cornerback J.C. Jackson, inside linebacker Dont'a Hightower, and center Ted Karras.
One priority, however, should be to add a receiver, either through the draft or by pursuing a big-ticket player like Allen Robinson in free agency.
The Bucs were missing how much on offense?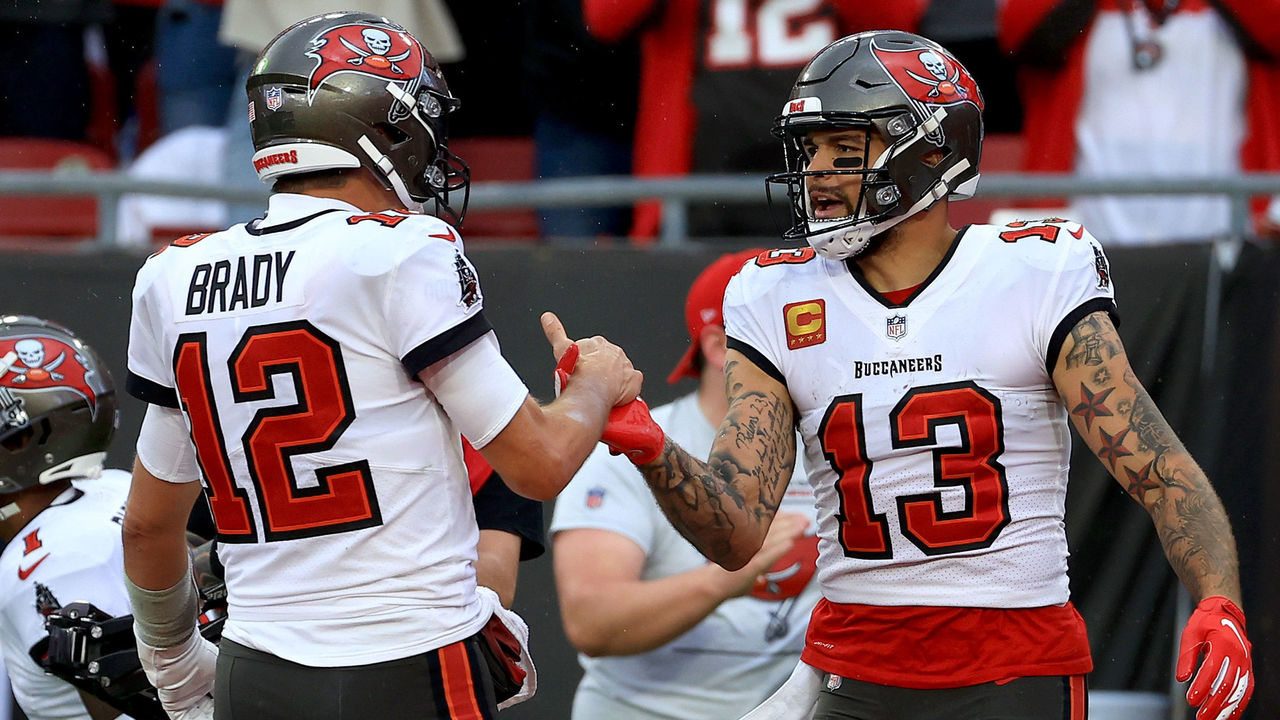 Chris Godwin, Leonard Fournette, and Ronald Jones were all out, while Antonio Brown is off doing whatever it is Antonio Brown does these days. Right tackle Tristan Wirfs hurt his ankle on the fifth scrimmage play and only made a brief reappearance. It still didn't matter.
Tom Brady (maybe you've heard of him?) torched a suspect Eagles pass defense by relying mostly on short, quick throws, leading scoring drives of 10 or more plays on three of the Bucs' first four possessions. Brady's average time to throw of 2.17 seconds was the fastest by any QB this season, per Next Gen Stats. He attempted just five passes of 10 or more air yards, mainly because he didn't need to.
Brady took four sacks and benefited from a very iffy roughing the passer penalty on Derek Barnett that wiped out what would have been a third-and-long on the game's first drive. But he still managed to complete passes to nine different receivers, with running back Giovani Bernard pulling in five on seven targets for 39 yards.
Brady's genius will always be his ability to take advantage of whatever the defense gives him. He'll get another chance with another home playoff game next week.
Steelers' QB search begins
The giant question facing the Steelers this offseason will be one they haven't had to answer for 18 years: Who will replace Ben Roethlisberger? Roethlisberger hasn't made it official, but his contract is about to expire and he's given every indication he expects to retire.
Backup Mason Rudolph is under contract for 2022, while Dwayne Haskins is scheduled to be a restricted free agent. Beyond that, the Steelers could draft a QB - their pick is expected to land at No. 20, per Tankathon - or even trade up to draft one, though trading up in the first round is something they've rarely done.
Pittsburgh also could pursue a veteran free agent like Marcus Mariota or Teddy Bridgewater, or even try to swing a deal for someone like Jimmy Garoppolo or (what the heck, let's throw a big name against the wall) Russell Wilson.
Finding a franchise QB is the most difficult personnel move in sports. There should be plenty of QB movement around the league this offseason, and the Steelers figure to explore any and all options.
Dom Cosentino is a senior features writer at theScore.
Comments
✕
10 takeaways from NFL Super Wild Card Weekend
  Got something to say? Leave a comment below!